Who's Who - 300 Famous and Interesting People: A-Z

"Glory is fleeting, but obscurity is forever." - Napoleon Bonaparte.

"How lovely to think that no one need wait a moment, we can start now, start slowly changing the world. How lovely that everyone, great and small, can make their contribution... how we can always, always give something, even if it is only kindness." - Anne Frank.

"The world, its people, and its institutions stand on the shoulders of the wise and the experienced. The eternal quest for gaining knowledge, philosophy, wisdom, judgment, and vision is what makes life worth living." - Anonymous.

The men and women who have achieved or done something extraordinary with their lives have always been a source of fascination and source of curiousity, inspiration and admiration for the rest of us.

The men and women listed here are in no way exhaustive but instead focus on people I find important and interesting. - Kim Weiss, founder & owner of TheInternationalMan.com.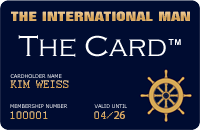 Upcoming VIP Privilege Membership Card
The International Man will in the near future be launching its own PRIVILEGE & BENEFIT VIP MEMBERSHIP CARD - named simply 'The Card'. Members will receive special privileges, benefits and preferential rates with selected partner hotels, restaurants, our LUXURY WEBSHOP, and more. Enter your name and e-mail address to receive FREE INFO about 'The Card' HERE.
RETURN TO TOP OF PAGE