Top 10 High-End Bespoke / Custom Made Bag Makers

BESPOKE is a British English word that means a clothing item made to a buyer's specification (personalised or tailored). While the term historically is applied to only men's tailored clothing, it now generally includes footwear, fine jewellery and other apparel, implying measurement and fitting. For most non-clothing items, the term build to order is usually used instead, although the term 'bespoke applications' is often used to refer to custom software built by a company for its own use by a department other than the IT department.

The distinguishing points of bespoke tailoring are the buyer's total control over the fabric used, the features and fit, and the way the garment should be made. More generally, "bespoke" describes a high degree of customisation, and involvement of the end-user, in the production of the goods. Cad & the Dandy, a modern Savile Row tailor, describes true bespoke as having a full floating canvas, basted fitting and detailed hand finishing.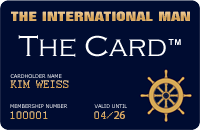 Upcoming VIP Privilege Membership Card
The International Man will in the near future be launching its own PRIVILEGE & BENEFIT VIP MEMBERSHIP CARD - named simply 'The Card'. Members will receive special privileges, benefits and preferential rates with selected partner hotels, restaurants, our LUXURY WEBSHOP, and more. Enter your name and e-mail address to receive FREE INFO about 'The Card' HERE.
RETURN TO TOP OF PAGE