Top 150 Best High-End Chocolate Brands and Makers

"All you need is love. But a little chocolate now and then doesn't hurt." - Charles M. Schulz.

"Chocolate and the King are my only passions." - Queen Marie-Thérèse, the wife of Louis XIV.

"Let's face it, a nice creamy chocolate cake does a lot for a lot of people; it does for me." - Audrey Hepburn.

CHOCOLATE is a processed, typically sweetened food produced from the seed of the tropical Theobroma cacao tree. Although cacao has been cultivated by many cultures for at least three millennia in Mexico and Central America, the earliest evidence of use traces to the Mokaya, with evidence of chocolate beverages dating back to 1900 BC. In fact, the majority of Mesoamerican people made chocolate beverages, including the Mayans and Aztecs, who made it into a beverage known as xocolātl, a Nahuatl word meaning "bitter water". The seeds of the cacao tree have an intense bitter taste and must be fermented to develop the flavor.

After fermentation, the beans are dried, cleaned, and roasted. The shell is removed to produce cacao nibs, which are then ground to cocoa mass, pure chocolate in rough form. Because the cocoa mass is usually liquefied before being molded with or without other ingredients, it is called chocolate liquor. The liquor also may be processed into two components: cocoa solids and cocoa butter. Unsweetened baking chocolate (bitter chocolate) contains primarily cocoa solids and cocoa butter in varying proportions. Much of the chocolate consumed today is in the form of sweet chocolate, a combination of cocoa solids, cocoa butter or other fat, and sugar. Milk chocolate is sweet chocolate that additionally contains milk powder or condensed milk. White chocolate contains cocoa butter, sugar, and milk but no cocoa solids.

Chocolate has become one of the most popular food types and flavors in the world, and a vast number of foodstuffs involving chocolate have been created. Chocolate chip cookies have become very common, and very popular, in most parts of Europe and North America. Gifts of chocolate molded into different shapes have become traditional on certain holidays. Chocolate is also used in cold and hot beverages such as chocolate milk and hot chocolate.

Although cocoa originated in the Americas, today Western Africa produces almost two-thirds of the world's cocoa, with Côte d'Ivoire growing almost half of it.

A CHOCOLATE BAR (Commonwealth English) or candy bar (some dialects of American English) is a confection in an oblong or rectangular form containing chocolate, which may also contain layerings or mixtures that include nuts, fruit, caramel, nougat, and wafers. A wide variety of chocolate bar brands are sold. A popular example is a Snickers bar, which consists of nougat mixed with caramel and peanuts, covered in milk chocolate.

A CHOCOLATIER is someone who makes confectionery from chocolate. Chocolatiers are distinct from chocolate makers, who create chocolate from cacao beans and other ingredients.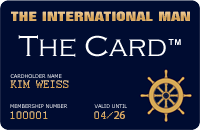 Upcoming VIP Privilege Membership Card
The International Man will in the near future be launching its own PRIVILEGE & BENEFIT VIP MEMBERSHIP CARD - named simply 'The Card'. Members will receive special privileges, benefits and preferential rates with selected partner hotels, restaurants, our LUXURY WEBSHOP, and more. Enter your name and e-mail address to receive FREE INFO about 'The Card' HERE.
RETURN TO TOP OF PAGE