Top 150 Best High-End Chocolate Brands and Makers

"All you need is love. But a little chocolate now and then doesn't hurt." - Charles M. Schulz.

"Chocolate and the King are my only passions." - Queen Marie-Thérèse, the wife of Louis XIV.

"Let's face it, a nice creamy chocolate cake does a lot for a lot of people; it does for me." - Audrey Hepburn.

CHOCOLATE is a processed, typically sweetened food produced from the seed of the tropical Theobroma cacao tree. Although cacao has been cultivated by many cultures for at least three millennia in Mexico and Central America, the earliest evidence of use traces to the Mokaya, with evidence of chocolate beverages dating back to 1900 BC. In fact, the majority of Mesoamerican people made chocolate beverages, including the Mayans and Aztecs, who made it into a beverage known as xocolātl, a Nahuatl word meaning "bitter water". The seeds of the cacao tree have an intense bitter taste and must be fermented to develop the flavor.

After fermentation, the beans are dried, cleaned, and roasted. The shell is removed to produce cacao nibs, which are then ground to cocoa mass, pure chocolate in rough form. Because the cocoa mass is usually liquefied before being molded with or without other ingredients, it is called chocolate liquor. The liquor also may be processed into two components: cocoa solids and cocoa butter. Unsweetened baking chocolate (bitter chocolate) contains primarily cocoa solids and cocoa butter in varying proportions. Much of the chocolate consumed today is in the form of sweet chocolate, a combination of cocoa solids, cocoa butter or other fat, and sugar. Milk chocolate is sweet chocolate that additionally contains milk powder or condensed milk. White chocolate contains cocoa butter, sugar, and milk but no cocoa solids.

Chocolate has become one of the most popular food types and flavors in the world, and a vast number of foodstuffs involving chocolate have been created. Chocolate chip cookies have become very common, and very popular, in most parts of Europe and North America. Gifts of chocolate molded into different shapes have become traditional on certain holidays. Chocolate is also used in cold and hot beverages such as chocolate milk and hot chocolate.

Although cocoa originated in the Americas, today Western Africa produces almost two-thirds of the world's cocoa, with Côte d'Ivoire growing almost half of it.

A CHOCOLATE BAR (Commonwealth English) or candy bar (some dialects of American English) is a confection in an oblong or rectangular form containing chocolate, which may also contain layerings or mixtures that include nuts, fruit, caramel, nougat, and wafers. A wide variety of chocolate bar brands are sold. A popular example is a Snickers bar, which consists of nougat mixed with caramel and peanuts, covered in milk chocolate.

A CHOCOLATIER is someone who makes confectionery from chocolate. Chocolatiers are distinct from chocolate makers, who create chocolate from cacao beans and other ingredients.

Events

Chocolate Museums

Top 15 Greatest Chocolate Museums

Top 150 Best Chocolate Makers & Online Suppliers by Country:

CHOCOLATE AT AMAZON.COM - as of November 28, 2023: 3,000+ results.
International Chocolate Awards 2023 - since 2012. "The World's Largest Chocolate Product Competition." The International Chocolate Awards were founded in 2012 and are run by IICCT with a group of independent international partners with years of experience tasting and evaluating chocolate and running fine chocolate related events. Judges are drawn from sensory experts and members of the IICCT Alumni. Competitions are held in a growing number of countries and regions around the world in bean-to-bar and craft chocolatier rounds. Winners of the regional competitions are judged together at the World Final, which celebrates the best entries of the year.

Austria

DEMEL - since 1786. K. u. K. Hofzuckerbäcker. Online store.

Dubai

Delice Gourmet - "Based in Dubai since 2004, Delice Gourmet offers an exquisite range of handcrafted delicacies and chocolate for every occasion."
LE CHOCOLATIER DUBAI - since 2014. "Leave a lasting impression and exceed the expectations of your clients by presenting them with our unique collection of personalised handcrafted chocolates."

Ecuador

To'ak Chocolate - since 2013. "To'ak is transforming the way that the world experiences dark chocolate, elevating its making and tasting onto the level of vintage wine and aged whisky." Ecuadorian Dark Chocolate. The world's most expensive chocolate.

Scotland

Bare Bones Chocolate - since 2018. "Award-winning Bean to Bar Chocolate." We handcraft the finest organic chocolate from bean to bar. Bean to bar is the process of making chocolate from raw cacao bean to finished chocolate bar. We are so proud to be one of very few UK producers who craft from bean to bar. 70% Philippines Dark Chocolate. A really indulgent dark chocolate - you wouldn't believe we haven't added cream! It has an incredible depth of flavour, no bitterness, and taste notes of pecan tart + crème brûlée.

Spain

BLANXART - since 1954. "Premium Chocolate from Single-Origin Cocoa." We preserve the tradition and manufacturing of chocolate from another century. A know-how we share since a long time ago. Our core essence. Artisanal chocolate made from single-origin cocoa. From bean to chocolate.
Enric Rovira - "Chocolates born in Barcelona." We make chocolate tablets, chocolates, bombolas, turrones, Easter monas and exclusive and innovative products. And tailor made products for small celebrations or large events, small or large format. Chocolates of high quality, design and character from Barcelona since 1993.
ORIOL BALAGUER - since 2002. "A harmony of flavors for your taste." Small portions of cocoa with different flavors: orange, raspberry, vanilla, wasabi, caramel, crunchy, etc.

Sweden

MARABOU - "Mmm... Marabou!" Swedish chocolate brand first launched in 1916 in Sweden. Marabou chocolate is available in a number of European countries and was until September 2011 sold by IKEA in Canada, Israel, and Poland. Marabou chocolate is sold by IKEA in Australia, Canada, Czechia, Germany, Japan, the Netherlands, Portugal, Serbia, Slovakia, Spain, Switzerland, Taiwan, the UAE, the UK and the US.

Venezuela

CHOCOLATES EL REY - since 1929. "Chocolates El Rey is a Venezuelan company that has pursed the fabrication of high quality chocolate since its establishment in 1929." Available in 9 presentations: Carernero Superior: Apamate 73.5%, Gran Saman 70%, Mijao 61%, Bucare 58.5%, Caoba (dark milk) 41% and Icoa (white). Rio Caribe: Macuro 70%, Cariaco 60.5%, and Irapa 40.5% (dark milk).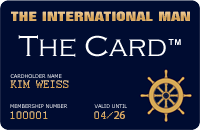 Upcoming VIP Privilege Membership Card
The International Man will in the near future be launching its own PRIVILEGE & BENEFIT VIP MEMBERSHIP CARD - named simply 'The Card'. Members will receive special privileges, benefits and preferential rates with selected partner hotels, restaurants, our LUXURY WEBSHOP, and more. Enter your name and e-mail address to receive FREE INFO about 'The Card' HERE.
RETURN TO TOP OF PAGE