World's Top 300 Greatest Artists, Painters & Sculptors

"I think that art is really disciplined phantasy." - Karen Blixen / Isak Dinesen.

"You don't need brains to be a painter, just feelings." - L. S. Lowry.

"A work of Art is the unique result of a unique temperament." - Oscar Wilde.

"The true work of art is but a shadow of the divine perfection." - Michelangelo.

"Love of beauty is Taste. The creation of beauty is Art." - Ralph Waldo Emerson.

"There's no retirement for an artist, it's your way of living so there's no end to it." - Henry Moore.

"A good painting has originality and a bad one simply repeats the ideas of others." - Peggy Guggenheim.

PAINTING is the practice of applying paint, pigment, color or other medium to a surface (support base). The medium is commonly applied to the base with a brush but other implements, such as knives, sponges, and airbrushes, can be used. In art, the term painting describes both the act and the result of the action. However, painting is also used outside of art as a common trade among craftsmen and builders. Paintings may have for their support such surfaces as walls, paper, canvas, wood, glass, lacquer, clay, leaf, copper or concrete, and may incorporate multiple other materials including sand, clay, paper, gold leaf as well as objects.

Painting is a mode of creative expression, and the forms are numerous. Drawing, composition or abstraction and other aesthetics may serve to manifest the expressive and conceptual intention of the practitioner. Paintings can be naturalistic and representational (as in a still life or landscape painting), photographic, abstract, be loaded with narrative content, symbolism, emotion or be political in nature.

SCULPTURE is the branch of the visual arts that operates in three dimensions, and one of the plastic arts. Durable sculptural processes originally used carving (the removal of material) and modelling (the addition of material, as clay), in stone, metal, ceramics, wood and other materials but, since modernism, shifts in sculptural process led to an almost complete freedom of materials and process. A wide variety of materials may be worked by removal such as carving, assembled by welding or modelling, or molded, or cast.

Sculpture in stone survives far better than works of art in perishable materials, and often represents the majority of the surviving works (other than pottery) from ancient cultures, though conversely traditions of sculpture in wood may have vanished almost entirely. However, most ancient sculpture was brightly painted, and this has been lost.

Sculpture has been central in religious devotion in many cultures, and until recent centuries large sculptures, too expensive for private individuals to create, were usually an expression of religion or politics. Those cultures whose sculptures have survived in quantities include the cultures of the Ancient Mediterranean, India and China, as well as many in South America and Africa.

The Western tradition of sculpture began in Ancient Greece, and Greece is widely seen as producing great masterpieces in the classical period. During the Middle Ages, Gothic sculpture represented the agonies and passions of the Christian faith. The revival of classical models in the Renaissance produced famous sculptures such as Michelangelo's David. Modernist sculpture moved away from traditional processes and the emphasis on the depiction of the human body, with the making of constructed sculpture, and the presentation of found objects as finished art works.

MASTERPIECE (or chef d'œuvre) in modern use refers to a creation that has been given much critical praise, especially one that is considered the greatest work of a person's career or to a work of outstanding creativity, skill, or workmanship. Historically, the word refers to a work of a very high standard produced in order to obtain membership of a Guild or Academy.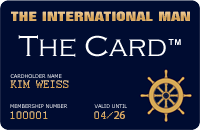 Upcoming VIP Privilege Membership Card
The International Man will in the near future be launching its own PRIVILEGE & BENEFIT VIP MEMBERSHIP CARD - named simply 'The Card'. Members will receive special privileges, benefits and preferential rates with selected partner hotels, restaurants, our LUXURY WEBSHOP, and more. Enter your name and e-mail address to receive FREE INFO about 'The Card' HERE.
RETURN TO TOP OF PAGE