Monaco: Year-Round Millionaire Hotspot and Resort

"Monaco is Alcatraz for millionaires." - Jack Nicholson.

MONACO: The glitter of Cartier and Van Cleef, the perfume of Davidoff and Dior, the harmony of palm trees and palaces, the plenitude of superstars and tycoons, the sensual purr of Lamborghinis and Rolls-Royces: this overture to the comic opera, princely domain of Monaco is not quite as it was once upon a time, when Les Grandes Horizontales vied in splendor with Les Grandes Dames - over whom choleric aristocrats fought duels to the death, and proud gaming-room losers, still in evening dress, threw themselves from the historic cliffs.

This nostalgic mecca of Russian billionaires and millionaires still mesmerizes trend setters from all over the globe, and remains sufficiently formidable to stave off at least some of the Bermuda-shorted iPhone-camera carrying summer hordes who inundate the neighboring land. But the famously painless local tax laws (and the infamously painful ones elsewhere) have wrought changes on the land. A mini-Manhattan of marble towers has risen to displace the wedding-cake pink villas dominant only yesterday. One-armed bandits have invaded the August Casino to compete with leisurely and mysterious chemin de fer. Craps and blackjack are now also at large in the mini-monarchy. When they arrived, a Herald Tribune writer pronounced this the end of civilization as we have know it, and for some aghast aristocrats, this was certainly true.

Nevertheless, brown-toasted budget tourists pale with amazement at the diamond-dripping, indescreet charm of the privileged class on stage against the creamy bonbon backdrops known as the Hôtel de Paris and Casino de Monte-Carlo. It is still a show that exists only here. Monte-Carlo teems with familiar faces and famous names. The popular monarchs appear in public - often at the golf course (like Le Beach, located in roomier France), but never in the casinos. There are fewer unscalable social barriers here than in Paris or Palm Beach. Anyone who has personality and can show it, will soon be welcomed into the international community. (A beautiful face and a handsome income, or vice-versa, are useful.)

MONACO FACTS: officially the Principality of Monaco (French: Principauté de Monaco; Monégasque: Principatu de Múnegu; Italian: Principato di Monaco; Occitan: Principat de Mónegue), is a sovereign city-state, located on the French Riviera in Western Europe. Bordered by France on three sides, with one side bordering the Mediterranean Sea, its center is about 16 km (9.9 mi) from Italy, and is only 13 km (8.1 mi) north east of Nice, France. It has an area of 2.02 km² (0.78 sq mi), and a population of 36,371, making Monaco the second smallest, and the most densely populated country in the world. Monaco has a land border of only 4.4 km (2.7 mi), a coastline of 4.1 km (2.5 mi), and a width that varies between 1.7 km (1.1 mi), and 349 metres (382 yards). The highest point in the country is a narrow pathway named Chemin des Révoires on the slopes of Mont Agel, in the Les Révoires district, which is 161 metres (528 feet) above sea level. Monaco's most populous Quartier is Monte Carlo, and the most populous Ward is Larvotto/Bas Moulins. Monaco is known for its land reclamation, which has increased its size by an estimated 20%. Current land reclamation projects include, extending the district of Fontvieille by 0.08 km² (0.031 sq mi) or 8 ha (19.8 acres).

Monaco is a principality governed under a form of constitutional monarchy, with Prince Albert II as head of state. Even though Prince Albert II is a constitutional monarch, he still has immense political power. The House of Grimaldi have ruled Monaco, with brief interruptions, since 1297. The official language is French, but Monégasque, Italian, and English are widely spoken and understood. The state's sovereignty was officially recognized by the Franco-Monegasque Treaty of 1861, with Monaco becoming a full United Nations voting member in 1993, after much political debate. Despite Monaco's independence and separate foreign policy, its defence is the responsibility of France. However, Monaco does maintain two small military units, totaling 263 officers and men, the Corps des Sapeurs-Pompiers, and the Compagnie des Carabiniers du Prince.

Economic development was spurred in the late 19th century with a railway to France, and the opening of the first casino, Monte Carlo. Since then, the principality's mild climate, splendid scenery, and gambling facilities have made Monaco world-famous as a tourist, and recreation center for the rich and famous. However, in more recent years Monaco has become a major banking center holding over €100 billion worth of funds, and has successfully sought to diversify its economy into the services and small, high-value-added, nonpolluting industries. The state has no income tax, low business taxes, and is well known for being a tax haven. Monaco boasts the world's highest GDP nominal per capita at US$153,177, GDP PPP per capita at US$132,571, and GNI per capita at US$183,150. Monaco also has the world's highest life expectancy at nearly 90 years, and the lowest unemployment rate at 0%, with over 48,000 workers who commute from France and Italy each day. For the fourth year in a row, Monaco in 2012 had the world's most expensive real estate market, at US$58,300 per square metre. According to the CIA World Factbook, Monaco has the world's lowest poverty rate, and the highest number of millionaires and billionaires per capita in the world.

Bars, Cafés & Lounges

La Condamine

Monaco-Ville

NI Hotel *** 1, rue Grimaldi, Monaco-Ville 98000

Monaco News, Reviews & Resources

Museums & Sights

Nightlife

La Condamine

LA RACASSE - "The party never ends at the legendary La Rascasse!" 1 Quai Antoine 1er.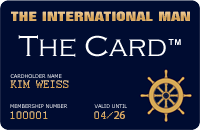 Upcoming VIP Privilege Membership Card
The International Man will in the near future be launching its own PRIVILEGE & BENEFIT VIP MEMBERSHIP CARD - named simply 'The Card'. Members will receive special privileges, benefits and preferential rates with selected partner hotels, restaurants, our LUXURY WEBSHOP, and more. Enter your name and e-mail address to receive FREE INFO about 'The Card' HERE.
RETURN TO TOP OF PAGE