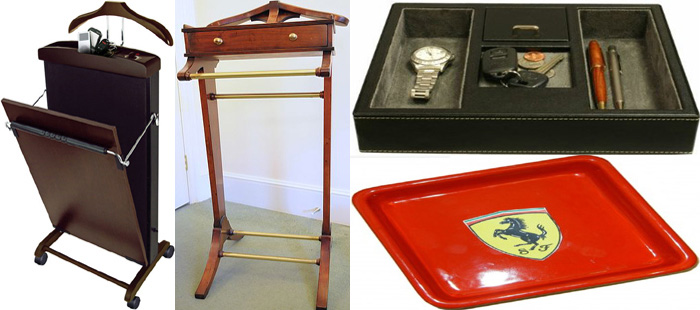 Top 10 Best High-End Pants Presses and Valet Stands

A PANTS PRESSER is an electrical home appliance used to smooth the wrinkles from a pair of trousers. They are commonly provided in hotel rooms, though may also be purchased for home use; they are generally associated with use by businessmen who require a smart formal appearance to their suit.

CLOTHES VALET, also called men's valet and valet stand, is an item of furniture on which clothes may be hung. Typical features of valets include trouser hangers, jacket hangers, shoe bars, and a tray organizer for miscellaneous, day-to-day objects like wallets and keys. Some also feature jewelry boxes. The gentleman's valet is a piece of furniture from a time where dress standards for men were much higher than those of today. The modern versions of the valet vary from the mass produced, a standard coat hanger on a basic frame, to the bespoke valet aimed at those who probably wear bespoke suits.

A VALET TRAY is a device (as a rack or tray) for holding clothing or personal effects. In the United States, the term is frequently used to refer to a non-freestanding cabinet or tray for holding small personal items such as watches, cuff links, keys, or a cell phone. In this sense, it is a men's jewelry box.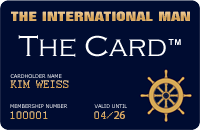 Upcoming VIP Privilege Membership Card
The International Man will in the near future be launching its own PRIVILEGE & BENEFIT VIP MEMBERSHIP CARD - named simply 'The Card'. Members will receive special privileges, benefits and preferential rates with selected partner hotels, restaurants, our LUXURY WEBSHOP, and more. Enter your name and e-mail address to receive FREE INFO about 'The Card' HERE.
RETURN TO TOP OF PAGE