Cell Phones, Smartphones, Customized & Satphones

A MOBILE PHONE (also called mobile, cellular telephone, CELL PHONE or handphone) is an electronic device used for full duplex two-way radio telecommunications over a cellular network of base stations known as cell sites. Mobile phones differ from cordless telephones, which only offer telephone service within limited range through a single base station attached to a fixed land line, for example within a home or an office.

A mobile phone allows its user to make and receive telephone calls to and from the public telephone network which includes other mobiles and fixed-line phones across the world. It does this by connecting to a cellular network owned by a mobile network operator. A key feature of the cellular network is that it enables seamless telephone calls even when the user is moving around wide areas via a process known as handoff or handover.

In addition to being a telephone, modern mobile phones also support many additional services, and accessories, such as SMS (or text) messages, e-mail, Internet access, gaming, Bluetooth and infrared short range wireless communication, camera, MMS messaging, MP3 player, radio and GPS. Low-end mobile phones are often referred to as feature phones, whereas high-end mobile phones that offer more advanced computing ability are referred to as smartphones.

A SMARTPHONE is a mobile phone built on a mobile operating system, with more advanced computing capability and connectivity than a feature phone. The first smartphones combined the functions of a personal digital assistant (PDA), including email functionality, with a mobile phone. Later models added the functionality of portable media players, low-end compact digital cameras, pocket video cameras, and GPS navigation units to form one multi-use device. Many modern smartphones also include high-resolution touchscreens and web browsers that display standard web pages as well as mobile-optimized sites. High-speed data access is provided by Wi-Fi, mobile broadband, NFC and Bluetooth. In recent years, the rapid development of mobile app markets and of mobile commerce have been drivers of smartphone adoption.

A SATELLITE TELEPHONE, or satphone is a type of mobile phone that connects to orbiting satellites instead of terrestrial cell sites. They provide similar functionality to terrestrial mobile telephones; voice, short messaging service and low-bandwidth internet access are supported through most systems. Depending on the architecture of a particular system, coverage may include the entire Earth, or only specific regions.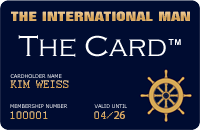 Upcoming VIP Privilege Membership Card
The International Man will in the near future be launching its own PRIVILEGE & BENEFIT VIP MEMBERSHIP CARD - named simply 'The Card'. Members will receive special privileges, benefits and preferential rates with selected partner hotels, restaurants, our LUXURY WEBSHOP, and more. Enter your name and e-mail address to receive FREE INFO about 'The Card' HERE.
RETURN TO TOP OF PAGE