Wine of May | 2022

"Only the first bottle is expensive." - French proverb.

"Wine is the most civilized thing in the world." - Ernest Hemingway.

London Wine Competition (LWC) Announces The Top Wines Of 2022 - "The wines are rated across three main criteria: quality, value and packaging. To win a medal, wines must score a top rating in each of the three categories, although the score for quality is given disproportionate weight."
The world's best vineyards for 2020 revealed - "Winner at the inaugural 2019 awards and now again in 2020, Zuccardi Valle de Uco is an Argentinian winery in the heart of the Uco Valley, at the foot of the Andes mountains. A family-run business founded in 1963, it delivers what the Best Vineyard Awards calls 'precision-made high-altitude wines' out of a stunning modernist bodega."

Wines of the Month

1991 Ridge Vineyards "Monte Bello" Santa Cruz Mountains Cabernet Sauvignon - "Mind-blowing. So amazing with delicate spices of cardigan, currants, sweet tobacco. Full body, with very velvety tannins. Ripe and complex fruit character."
Buckingham Palace Pauillac - "This spectacular wine is produced from the young vines at Chateau Lafite and the Rothschild-owned neighbouring Chateau Duhart Milon. Made by the legendary wine-making team headed by Charles Chevalier at Chateau Lafite Rothschild, it shows all the classic characteristics of a good Pauillac. A medium bodied red with autumnal hedgerow fruit flavours, particularly blackcurrant, raspberry and some redcurrant coming through on the palate. It also has undertones of pencil shavings, vanilla and cassis. This mixed vintage wine is well balanced and structured with fine tannins. The perfect gift for any special occasion. Available in large quantities for corporate gifting needs."
Pol Roger CuvÉe Sir Winston Churchill - since 1975. "Champagne Pol Roger created their Prestige Cuvée in homage to Sir Winston Churchill mindful of the qualities that he sought in his champagne: robustness, a full-bodied character and relative maturity. The exact blend is a closely guarded family secret but it is undeniable that the composition would meet with the approval of the man to whom it is dedicated: 'My tastes are simple, I am easily satisfied with the best'. Pinot Noir predominates, providing structure, breadth and robustness whilst Chardonnay contributes elegance, finesse and subtlety. Composed exclusively of grapes sourced from Grands Crus Pinot Noir and Chardonnay vineyards which were already under vine during Churchill's lifetime. Cuvée Sir Winston Churchill is only made in the very best vintages and is always released later than the other vintage dated Champagnes from Pol Roger, marking Churchill's appreciation for older wines."
ChÂteau de Cayx CuvÉe MajestÉ - "This cuvée reveals an intense and complex nose offering a refined marriage of black fruits, vanilla and chocolate, stimulated by menthol notes. The palate, at once full-bodied, velvety and suave, reveals a woody finish that is gradually fading in front of the fruit."
Zuccardi Finca Piedra Infinita Malbec 2016 - "Robert Parker's Wine Advocate: I was blown away by the 2016 Finca Piedra Infinita, a wine I have been anticipating because I've seen the progression of the wine over the last few years. They use almost 40 different components to make this wine from small plots within the vineyard, especially the soils they call 'supercalcáreo' (super limestone). The other type of soil they use is what they call 'gravas calcáreas' (limestone gravels), and they don't use any of the grapes from the deeper soils that go into the Q range. The wine has reached a stratospheric level of precision, symmetry and elegance in 2016 that is really captivating. Everything seems to be in its place; there is great harmony, the aromatics are clean and pure and the texture is like liquid chalk. There is power and elegance, energy and finesse. This is a really outstanding wine that summarizes the hard work at Zuccardi in the last few years. Bravo! 6,400 bottles were filled in February 2017."
CVNE Rioja Imperial Reserva 2015 - "The grapes for Imperial Reserva come from our best and oldest vineyards around Villalba, Briones and Torremontalbo, and which are over 40 years old. Rigorous work in the vineyard followed by hand harvesting into 20kg boxes with exhaustive selection in the field ensured the collection of great quality grapes. Once in the winery, the grapes were held in a refrigerated chamber for 24 hours and then subjected to a second manual selection on a selection table. To ensure gentle handling, the grapes were fed by gravity to French oak vats for the alcoholic fermentation. Once completed, the wine was then aged in French and American oak barrels for 24 months, followed by another 24 months bottle ageing in our century-old cellars until being released to market."
Domaine Leroy Bourgogne Blanc 2014 - "MAN is this good. The nose is INCREDIBLE. Pineapple, peaches, chalk and a hint of oak on the nose. The palate is surprisingly rich with really nice acidity. Was expecting more of that chalky note on the palate than what we got, but really this is just fantastic."
La TÂche - Appellation d'Origine Contrôlée (AOC) and Grand Cru vineyard for red wine in the Côte de Nuits subregion of Burgundy, with Pinot noir as the main grape variety. It is situated within the commune of Vosne-Romanéee and is a monopole of the winery Domaine de la Romanéee-Conti. La Tâche borders on La Grande Rue in the north, and mostly on Vosne-Romanéee Premier Cru vineyards in the east, south and west.
Tavel Le Mas Duclaux RosÉ 2016 - Tavel is a wine-growing Appellation d'Origine Contrôlée in the southern Rhône wine region of France, across the Rhône River from Châteauneuf-du-Pape AOC and just north of Avignon. Tavel wines are all rosé wines and must have a minimum alcohol content of 11%.
Jean-Marc Roulot 'R' Meursault - "Domaine Roulot is an old family estate based in Meursault since 1820. Jean-Marc Roulot has been in charge since 1989. The vineyards have been farmed organically since 1999, with some experiments in biodynamics.
Dominio de Pingus - Spanish winery located in Quintanilla de Onésimo in Valladolid province with vineyards in the La Horra area of the Ribera del Duero region. The wine produced, Pingus, is considered a "cult wine", sold at extremely high prices while remaining very inaccessible.
LE PIN - Bordeaux wine from the appellation Pomerol. The unusually small estate is located on the Right Bank of France's Gironde estuary in the commune of Pomerol in the hamlet of Catusseau, and its wine is frequently one of the world's most expensive red wines.
Domaine Tempier: Bandol RosÉ - "The grapes used to make our rosé come from selected parcels where the vines are on average 20 years old. The yields are low, which explains the intense concentration and distinct expression of each varietal in this wine. The presence of Mourvedre gives this wine its strong character, balance and complexity. An intense fruit and floral nose make this an attractive rosé."
Domaine de la Romanée-Conti Pinot Noir Romanée-Conti Grand Cru 1994 - €8211. A Pinot Noir wine from Burgundy in France. 1994 Domaine de la Romanée-Conti 750ml.
MIRAVAL - "Mis en bouteille par Jolie-Pitt & Perrin." Wine château in the village of Correns, just north of Brignoles, a village in the Var départment in the south of France. Partowners: Angelina Jolie & Brad Pitt. Château Miraval is best known for its outstanding rose called "Pink Floyd." Internationally applauded for its light, flinty and quite unique flavors, Pink Floyd is much sought after. In 2013, Château Miraval Côtes de Provence Rosé '12 received a 90 from Wine Spectator magazine.
ARMAND DE BRIGNAC - "Rated No. 1 Champagne in the World." Non-vintage Champagne brand produced by Champagne Cattier, and sold in opaque metallic bottles. The brand's first bottling, Armand de Brignac Brut Gold, is identifiable by its distinctive gold bottle with pewter Ace of Spades labels. Like much Champagne, the Brut Gold cuvée is a blend of the grape varieties Pinot noir, Pinot meunier and Chardonnay, making use of only Premier Cru and Grand Cru-rated grapes. Two other cuvées, a Rosé and a Blanc de Blancs (100% Chardonnay) were released in 2008. In November 2009, FINE Champagne Magazine published the results of a blind tasting of 1,000 champagne brands, with Armand de Brignac the top finisher.
LUXOR CHAMPAGNE - by Bellorr.
HENRI GIRAUD - "This may be the finest Champagne house virtually no one has ever heard of." - Robert Parker.
Bordeauxthèque - world's largest Bordeaux wine store in Paris flagship luxury department store Galeries Lafayette.
DOMAINE ETIENNE SAUZET - Burgundy white wines. The le Montarchet is glorious, and the Chevalair Montrachet is also magnificent.
VINA CASA MARIN - Syrah San Antonio Valley Miramar Vinyard 2005: US$68.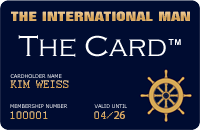 Upcoming VIP Privilege Membership Card
The International Man will in the near future be launching its own PRIVILEGE & BENEFIT VIP MEMBERSHIP CARD - named simply 'The Card'. Members will receive special privileges, benefits and preferential rates with selected partner hotels, restaurants, our LUXURY WEBSHOP, and more. Enter your name and e-mail address to receive FREE INFO about 'The Card' HERE.
RETURN TO TOP OF PAGE