Top 500 Men's Fashion Brands & Designers: A-Z

"Being perfectly well-dressed gives one a tranquillity that no religion can bestow." - Ralph Waldo Emerson.

"A man with a good coat upon his back meets with a better reception than he who has a bad one." - Dr. Johnson.

FASHION DESIGN is the art of the application of design and aesthetics or natural beauty to clothing and accessories. Fashion design is influenced by cultural and social latitudes, and has varied over time and place. Fashion designers work in a number of ways in designing clothing and accessories. Some work alone or as part of a team. They attempt to satisfy consumer desire for aesthetically designed clothing; and, because of the time required to bring a garment onto the market, must at times anticipate changing consumer tastes.

FASHION DESIGNERS attempt to design clothes which are functional as well as aesthetically pleasing. They must consider who is likely to wear a garment and the situations in which it will be worn. They have a wide range and combinations of materials to work with and a wide range of colors, patterns and styles to choose from. Though most clothing worn for everyday wear falls within a narrow range of conventional styles, unusual garments are usually sought for special occasions, such as evening wear or party dresses.

Some clothes are made specifically for an individual, as in the case of haute couture or bespoke tailoring. Today, most clothing is designed for the mass market, especially casual and every-day wear.

HAUTE COUTURE (French for "high sewing" or "high dressmaking") refers to the creation of exclusive custom-fitted clothing. Haute couture is made to order for a specific customer, and it is usually made from high-quality, expensive fabric and sewn with extreme attention to detail and finished by the most experienced and capable seamstresses, often using time-consuming, hand-executed techniques. Couture is a common abbreviation of haute couture and refers to the same thing in spirit.

It originally referred to Englishman Charles Frederick Worth's work, produced in Paris in the mid-nineteenth century. In modern France, haute couture is a "protected name" that can be used only by firms that meet certain well-defined standards. However, the term is also used loosely to describe all high-fashion custom-fitted clothing, whether it is produced in Paris or in other fashion capitals such as Milan, London, New York and Tokyo.

PRÊT-À-PORTER or READY-TO-WEAR (often abbreviated RTW; "off-the-rack" or "off-the-peg" in casual use) is the term for factory-made clothing, sold in finished condition, in standardized sizes, as distinct from made to measure or bespoke clothing tailored to a particular person's frame. Off-the-peg is sometimes used for items which are not clothing.

Ready-to-wear has rather different connotations in the spheres of fashion and classic clothing. In the fashion industry, designers produce ready-to-wear clothing intended to be worn without significant alteration, because clothing made to standard sizes fits most people. They use standard patterns, factory equipment, and faster construction techniques to keep costs low, compared to a custom-sewn version of the same item. Some fashion houses and fashion designers produce mass-produced and industrially manufactured ready-to-wear lines, while others offer garments that, while not unique, are produced in limited numbers.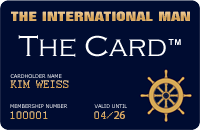 Upcoming VIP Privilege Membership Card
The International Man will in the near future be launching its own PRIVILEGE & BENEFIT VIP MEMBERSHIP CARD - named simply 'The Card'. Members will receive special privileges, benefits and preferential rates with selected partner hotels, restaurants, our LUXURY WEBSHOP, and more. Enter your name and e-mail address to receive FREE INFO about 'The Card' HERE.
RETURN TO TOP OF PAGE