Top 10 (Alternative) Android & iOS Mobile Apps Stores

An APP STORE (or app marketplace) is a type of digital distribution platform for computer software, often in a mobile context. Apps provide a specific set of functions which, by definition, do not include the running of the computer itself. Apps are designed to run on specific devices, and are written for a specific operating system (such as iOS, macOS, Windows, or Android). Complex software designed for use on a personal computer, for example, may have a related app designed for use on a mobile device.

Such a mobile app may offer similar, if limited, functionality compared to the complete software running on the computer. Apps optimize the appearance of displayed data, taking into consideration the device screen size and resolution. Besides providing continuity of functionality over two different types of devices, such apps may also be capable of a file synchronization between two dissimilar devices, even between two different operating system platforms. App stores typically organize the apps they offer based on these considerations: the function(s) provided by the app (including games, multimedia or productivity), the device for which the app was designed, and the operating system on which the app will run.

App stores typically take the form of an online store, where users can browse through these different app categories, view information about each app (such as reviews or ratings), and acquire the app (including app purchase, if necessary - many apps are offered at no cost). The selected app is offered as an automatic download, after which the app installs. Some app stores may also include a system to automatically remove an installed program from devices under certain conditions, with the goal of protecting the user against malicious software.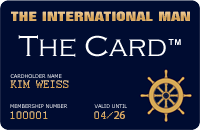 Upcoming VIP Privilege Membership Card
The International Man will in the near future be launching its own PRIVILEGE & BENEFIT VIP MEMBERSHIP CARD - named simply 'The Card'. Members will receive special privileges, benefits and preferential rates with selected partner hotels, restaurants, our LUXURY WEBSHOP, and more. Enter your name and e-mail address to receive FREE INFO about 'The Card' HERE.
RETURN TO TOP OF PAGE