Top 10 Best High-End Home Video Game Consoles

A HOME VIDEO GAME CONSOLE, or simply home console, is a video game device that is primarily used for home gamers, as opposed to in arcades or some other commercial establishment. Home consoles are one type of video game consoles, in contrast to the handheld game consoles which are smaller and portable, allowing people to carry them and play them at any time or place, along with microconsoles and dedicated consoles.

Top 10 Best Home Video Game Consoles

Kinect - the new Xbox 360 250GB Elite Console featuring a brand new, leaner machine in a black gloss finish with built-in Wi-Fi for the first time.
NINTENDO Switch - the seventh major video game console developed by Nintendo. Known in development by its codename NX, it was unveiled in October 2016 and was released worldwide on March 3, 2017.
PLAYSTATION 4 - "Greatness Awaits."
PLAYSTATION 4 Pro - "Game Worlds Come Alive." Dynamic 4K Gaming & 4K Entertainment.
PLAYSTATION MOVE - "It only does everything."
Samsung Smartphone GamePad - advanced console-quality games can now be enjoyed on mobile devices at home and on-the-go.
SONY NEXT GENERATION PLAYSTATION | NGP - PCWorld.
Xbox One - a new generation of games and entertainment. All-in-one.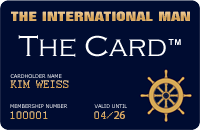 Upcoming VIP Privilege Membership Card
The International Man will in the near future be launching its own PRIVILEGE & BENEFIT VIP MEMBERSHIP CARD - named simply 'The Card'. Members will receive special privileges, benefits and preferential rates with selected partner hotels, restaurants, our LUXURY WEBSHOP, and more. Enter your name and e-mail address to receive FREE INFO about 'The Card' HERE.
RETURN TO TOP OF PAGE