Top 35 Best High-End Hunting & Gunsmiths Resources

HUNTING is the practice of killing or trapping any living organism, or pursuing it with the intent of doing so. Hunting wildlife or feral animals is most commonly done by humans for food, recreation, or trade. In present-day use, lawful hunting is distinguished from poaching, which is the killing, trapping or capture of the hunted species contrary to applicable law. The species that are hunted are referred to as game and are usually mammals and birds.

Hunting can also be a means of pest control. Hunting advocates state that hunting can be a necessary component of modern wildlife management, for example, to help maintain a population of healthy animals within an environment's ecological carrying capacity when natural checks such as predators are absent. In the United States, wildlife managers are frequently part of hunting regulatory and licensing bodies, where they help to set rules on the number, manner and conditions in which game may be hunted.

The pursuit, capture and release, or capture for food of fish is called fishing, which is not commonly categorised as a form of hunting. Trapping is also usually considered a separate activity. It is also not considered hunting to pursue animals without intent to kill them, as in wildlife photography or birdwatching. The practice of foraging or gathering materials from plants and mushrooms is also considered separate.

A GUNSMITH is a person who repairs, modifies, designs, or builds guns. This occupation differs from an armorer. A gunsmith does factory level repairs, renovation (such as applying metal finishes), and makes modifications and alterations for special uses. Gunsmiths may also apply carvings, engravings and other decorative features to an otherwise finished gun.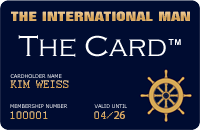 Upcoming VIP Privilege Membership Card
The International Man will in the near future be launching its own PRIVILEGE & BENEFIT VIP MEMBERSHIP CARD - named simply 'The Card'. Members will receive special privileges, benefits and preferential rates with selected partner hotels, restaurants, our LUXURY WEBSHOP, and more. Enter your name and e-mail address to receive FREE INFO about 'The Card' HERE.
RETURN TO TOP OF PAGE