Top 100 High-End Men's and Women's Luxury Gloves

A GLOVE is a garment covering the hand. Gloves have separate sheaths or openings for each finger and the thumb; if there is an opening but no covering sheath for each finger they are called "fingerless gloves". Fingerless gloves with one large opening rather than individual openings for each finger are sometimes called gauntlets. Gloves which cover the entire hand or fist but do not have separate finger openings or sheaths are called mittens. Mittens are warmer than gloves made of the same material because fingers maintain their warmth better when they are in contact with each other. Reduced surface area reduces heat loss.

Gloves appear to be of great antiquity. According to some translations of Homer's The Odyssey, Laërtes is described as wearing gloves while walking in his garden so as to avoid the brambles. Among the Romans also there are occasional references to the use of gloves. During the 13th century, gloves began to be worn by ladies as a fashion ornament. It was not until the 16th century that they reached their greatest elaboration, however, when Queen Elizabeth I set the fashion for wearing them richly embroidered and jewelled, and for putting them on and taking them off during audiences, to draw attention to her beautiful hands. Embroidered and jewelled gloves also formed part of the insignia of emperors and kings. Pontifical gloves are liturgical ornaments used primarily by the pope, the cardinals, and bishops.

Western lady's gloves for formal and semi-formal wear come in three lengths: wrist ("matinee"), elbow, and opera or full-length (over the elbow, reaching to the biceps). Some expensive gloves are made of kid leather. Satin and stretch satin are popular and mass-produced. Some women wear gloves as part of "dressy" outfits, such as for church and weddings. Long white gloves are common accessories for teenage girls attending formal events such as prom, cotillion, or formal ceremonies at church such as confirmation.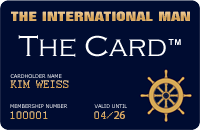 Upcoming VIP Privilege Membership Card
The International Man will in the near future be launching its own PRIVILEGE & BENEFIT VIP MEMBERSHIP CARD - named simply 'The Card'. Members will receive special privileges, benefits and preferential rates with selected partner hotels, restaurants, our LUXURY WEBSHOP, and more. Enter your name and e-mail address to receive FREE INFO about 'The Card' HERE.
RETURN TO TOP OF PAGE