Top 900 Food & Restaurant News, Recipes, Resources

"There is no love sincerer than the love of food." - George Bernard Shaw.

GOURMET RESTAURANTS BY REGION (105 countries) :

Food & Restaurant News, Recipes, Resources, Reviews & Services:

A B C D E F G H I J K L M N O P Q R S T U V W X Y Z

- A -

007's Taste In Food & Drink - Part One - "With The Return Of 007, His Tastes In Food, Wine And Martinis Have A Long History."
007's Taste In Food & Drink - Part Two - "In this, Part Two, of my assessment of the British agent's tastes, as detailed in both the 15 original Ian Fleming novels and the 25 films to follow, will give some general information on Bond's preferences in the novels, which were all written during the Cold War and reflect the tastes and mores of the period. In coming chapters (to appear intermittently) I will treat each of the individual books and movies, which often have little to do with each other."
2 Minutes of Walking After a Meal Is Surprisingly Good for you - "A new paper suggests that it takes far less exercise than was previously thought to lower blood sugar after eating."
3 meals a day? - "The idea that we should eat three meals a day is surprisingly modern. How many meals a day is best for our health?"
3 Michelin stars! Meet the first woman to smash America's boys' club - "Dominique Crenn is the first woman in the US to be awarded the top honor by the prestigious French restaurant guide for her restaurant Atelier Crenn."
3 Siblings Are Shaking Up the London Restaurant World - "You can face a lengthy wait in electronic queues for a table at Hoppers, a Sri Lankan restaurant in London's Soho, or for Chinese dumplings at nearby Bao. Want to eat right now? Good luck. You could try for Spanish fare at Sabor. The upstairs dining room is often full, and seats at the ground-floor counter are first-come-first-served. Other options, if you can get in, include European cooking at Kitchen Table; a British menu at Lyle's; hot dogs at Bubbledogs; Persian cuisine at Berenjak; Taiwanese specialties at Xu or Indian cuisine at Trishna and Brigadiers or at Michelin-starred Gymkhana in Mayfair."
3 simple, flavour-packed plant-based dinner recipes - "From crunchy black rice to a spicy stir-fry, these dishes, compiled for animal sanctuary Edgar's Mission, have taste and heart."
4 dressings that work for every salad - "Upping your salad dressing repertoire allows you to transform a dull bowl of leaves into something fancy."
4 plant-based foods to eat every week & why science suggests they're good for you - "A review of research published in May 2021 looked at 12 studies with more than 500,000 people who were followed for up to 25 years. It found those who ate the most plant foods were less likely to die from any cause over follow-up time periods that varied across the studies from five to 25 years, compared to those who ate the least."
4 Ways to Make Grilling Healthier This Summer - TIME Magazine.
5 benefits of apple cider vinegar (and a few duds), according to experts - "Apple cider vinegar is one of the most popular natural health products around, with claims that it can do almost anything, including sanitizing toothbrushes, curing diabetes and whittling waistlines."
5 of Anthony Bourdain's favourite food destinations - "The co-author of World Travel: An Irreverent Guide reveals the places and dishes at the top of the late chef and food presenter's list."
5 of Europe's best restaurants with incredible views - The Telegraph.
5 Sauces for the Modern Cook - The New York Times.
5-second rule - sometimes also the three-second rule, is a western cultural food hygiene concept, that states that there is a defined window where it is permissible to pick up food (or sometimes cutlery) after it has been dropped and thus exposed to contamination.
5 stars or fake? How to beat fraudulent online reviews - "Internet sales are growing - and so is the threat of false endorsements."
5 Tips From Chefs on Cooking From Your Pantry If You're at Home - "With health and government officials urging people to stay home as much as possible in the midst of the COVID-19 pandemic, many people are looking for productive and comforting ways to pass the time indoors. Cue the resurgence of cooking and baking as two of the most tried-and-true activities for not only keeping busy, but also learning valuable life skills."
5 Ways to Adapt Our Famous Plum Torte Recipe - The New York Times.
5 ways to replace food rewards for fitness motivation - "Positive reinforcement, such as rewarding yourself with a treat, plays an important role in maintaining motivation and perseverance when it comes to reaching your ultimate goals. These small wins can help you stay on track, research has shown. By dividing one large goal into various smaller ones, each step becomes an achievement."
6 Foods & Drinks To Avoid Before Bed, According To A Dietitian - "Want to stay asleep through the entire night? avoid these 6 foods before bed."
7 delicious French destinations you've probably never heard of - The Telegraph.
'8 hours' sleep & you must eat breakfast!' The truth behind 10 of the biggest health beliefs - "Should we really be aiming to walk 10,000 steps a day, or drink two litres of water? Time to sift fact from fiction."
8 of the best picnic baskets & hampers for 2018 - The Telegraph.
8 of the most epic food wars of all time - "What belongs on a pizza? And seven more all-time epic food wars."
9-seat Araki sushi restaurant wins 3 Michelin stars - The Guardian.
10 best Alghero Lobster restaurants - Tripadvisor.
10 best cuisines in the world - "When it comes to choosing where to go for a vacation, what we're going to eat and drink can be a big part of making travel plans. Of course, it's subjective according to personal tastes, but this is CNN Travel's take on some of the best food cultures and destinations around the world."
10 best fish & chip shops in the U.K. - The Telegraph.
10 delicious, healthy ways to start the day - from shakshuka to pancakes - "From a simple but tasty porridge to an Indian omelette, here are some great reasons to get out of bed in the morning."
10 deliciously selfish cupcake recipes - "A lavish sugar hit that you don't have to share? No wonder cupcakes are having a moment. These easy bakes will see you through from breakfast to dessert."
10 delicious ways to make the most of watermelon - "There's nothing more refreshing than a chunk of cool, juicy watermelon - but even the smallest fruit generates a lot of leftovers. Here's how to turn them into quick and easy salads, granita, gazpacho ..."
10 easy, comforting dishes to banish a hangover - chosen by chefs - "Pubs have reopened in England this week. If the excitement has got too much, here are cooks' tips for the morning after, from mac and cheese to spicy chorizo eggs."
10 food hacks you need to know - The Telegraph.
10 Hot Dogs Taste-Tested. Here Are the Best - The New York Times.
10 most dangerous foods - "These are the most climate-damaging foods."
10 mouthwatering quiche recipes to try - from seafood to blue cheese - "Forget the stodgy staple of dreary picnics - it's only a lack of imagination that holds back this easy-to-transform egg tart. You'll never eat quiche lorraine again!"
10 nut roast recipes that won't let you down - "If you're not eating meat, big feasts such as Christmas can be very hit and miss. But help is at hand."
10 of Bilbao's best pintxos bars - The Guardian.
10 of the best places to eat in Marrakech, Morocco - "Food from these colourful markets, street-food stalls and cafes is not only delicious, it's often cheap, too - and a great way to explore this bustling city."
10 of the best restaurants in Italy - The Guardian.
10 of the strangest burgers that money can buy - The Telegraph.
10 rules for freezing food - from berries to beef - "Scared to find out what's lurking at the back of your freezer? Here are expert tips for how to get it organised - and what you should never put in there."
10 signs you're a pretentious foodie - The Telegraph.
10 TOP-EARNING CELEBRITY CHEFS - Forbes.
11 Toughest Restaurants in the World to get a reservation - and How to Get Them.
12 Meals Bringing Comfort to TIME 100 Leaders Right Now - "In times of uncertainty, a familiar recipe that reminds you of better days - sitting around the table with family or inhaling snacks alongside friends - can provide solace and strength."
13 Best Burgers, From Meaty to Meatless - The New York Times.
£14 for a sandwich? What are restaurants playing at? - "From Japanese-style sandos to ham-hock-filled focaccia, the once-humble sarnie is going upmarket – and with a price tag to match."
15 best Polish food - "If Polish cuisine were to be described in just one word, 'heartfelt' would perhaps be the most fitting choice."
15-Minute Pasta Will Make You Feel Like an Italian Millionaire - "One magic ingredient will send your taste buds on vacation to the Amalfi Coast."
15 new restaurants to try in 2019 - CNN travel.
16 Coolest Places To Eat In 2016 - Forbes.
16 Different Types of Salt (And How to Use Them) - Smoked BBQ Source.
17 chefs on the customer antics that most enrage them - "The diner is always right - only that isn't true. From heavy petting to no-shows, restaurateurs share their biggest bugbears."
17 delicious no-cook meals with four ingredients or fewer - "Best served cold. The hottest days can make you yearn for a simple, cooling dinner. Here are a plethora of options that will tickle your taste buds without testing your patience."
17 fantastic almond recipes, from apricot tarts to lamb tagines - "A bumper crop means almonds are a bargain right now. Here's how to make the most of them in pesto, marzipan, hotpots, macaroons ..."
17 greatest cities for food in the world - The Telegraph.
17 Most-Read Food Stories of 2018 - "The deaths of Anthony Bourdain and Jonathan Gold, the continuing reverberations of the #MeToo movement throughout the restaurant world, comfort foods both savory and sweet - these were the subjects that drew the most readers to New York Times Food in 2018."
17 mouth-watering apple recipes - from tarte tatin to roast pork belly - "Baked apples are your starting point as the autumn evenings close in, but there are many more delicious ways of using the fruit, including savoury and salad dishes, and an unusual cocktail."
17% of all food available at consumer levels is wasted - "An estimated 931 million tonnes of food, or 17% of total food available to consumers in 2019, went into the waste bins of households, retailers, restaurants and other food services, according to new UN research conducted to support global efforts to halve food waste by 2030."
17 of the world's best hotel restaurants - The Telegraph.
17 ridiculous restaurant menus from the Far East - The Telegraph.
17 rules of expiry dates - from eggs to meat to oils - "Use-by dates are a food-safety matter so you should always take them seriously. Here's a guide to where you do - and definitely don't - have some leeway."
17 unbeatable rice recipes - from pilafs to puddings - "This store cupboard staple can be transformed into the star attraction with just a few extra ingredients."
17 ways to cook mushrooms - from spiced rice to pasta with prosciutto - "Fungi recipes are incredibly varied and versatile. Keep it simple and serve them on toast, or push the boat out and craft a pithivier."
17 ways to cook using peanut butter - from blondies to quesadillas - "Combine with jam, chocolate, bananas and cream for delicious confectionery, spice it up for a main meal - or make your own to dollop on toast for the ultimate comfort snack."
17 ways to cook with cherries - from sorbet to vodka to black forest gateau - "Paired with chocolate for dessert or pickled and served over mackerel, there's so much you can do with cherries this season - just invest in a stoner first."
17 ways to go beyond porridge, from fruity granola to Scottish cranachan - "Porridge is by no means the beginning and end of oats - here are loads of other ideas, from biscuits and cakes to curry and fish tacos."
17 ways to make the most of asparagus season - "From tarts to salads and soups to puddings, asparagus is one of our most versatile vegetables - and right now it's at its freshest. Here are some inspiring ideas to try at home."
18 arguments for eating meat debunked - "Unpalatable as it may be for those wedded to producing and eating meat, the environmental and health evidence for a plant-based diet is clear."
18 Chicken Breast Recipes for Busy Nights - The New York Times.
20 best cheese recipes - "From Simon Hopkinson's classic roquefort salad to Meera Sodha's paneer butter masala, this versatile ingredient is given a starring role."
20 best Christmas recipes - our all-time favourites - "From canapés to the ultimate turkey and roast potatoes, a celebratory vegetarian pie to steam ginger pudding and custard, we've got Christmas covered."
20 best curry recipes - "From Asma Khan's saag paneer to Lopè Ariyo's suya lamb, our exploration of the wider world of curry takes in recipes from south Asia, Nigeria and Japan."
20 best easy Mediterranean recipes - "Dishes that read like poetry: pomegranate fattoush, burrata on bruschetta, huevos a la flamenca, strawberries in moscatel with sandcakes. Twenty delicious and easy recipes from the north and south of the Mediterranean."
20 best German foods - "German food is rich, hearty and diverse. It's comfort eating with high-quality, often locally sourced ingredients."
20 best Mediterranean recipes: part 1 - The Guardian.
20 best Mediterranean recipes: part 2 - The Guardian.
20 best Mediterranean recipes: part 3 - The Guardian.
20 best Nigella Lawson recipes: part 1 - The Guardian.
20 best Nigella Lawson recipes: part 2 - The Guardian.
20 best Nigella Lawson recipes: part 3 - The Guardian.
20 best sandwich recipes - "Pierre Koffmann's croque monsieur, Rick Stein's mackerel baguette, and Claire Ptak's peanut butter and jelly: the recipes to transform your working-from-home lunch."
20 chefs on the best hot sandwiches to make in a hurry - "Languishing in a lunch rut? Extremely bored of omelettes? Here are some super-fast, super-tasty alternatives - from crab crumpets to a roast pepper delight."
20 chefs pick their favourite starter cookbooks - "'Every page makes you hungry'. What would an expert like Tom Kerridge or Gizzi Erskine recommend to someone just starting out in the kitchen? This fantasy bookshelf would help you tackle everything from kimchi to anchovy butter roast chicken."
20 classic French dishes everyone needs to try - "The foundations of the country's culinary empire were laid as early as the mid-1600s when chef François Pierre La Varenne penned his hugely influential 'Le Cuisinier François' recipe book, which emphasized regional and seasonal ingredients and highlighted complementary flavors. 'French cooking is, at its core, about making beautiful, refined food out of simple ingredients,' said Maryann Tebben, author of 'Savoir-Faire: A History of Food in France.' Whether it's country fare or haute cuisine that inspires, take a look at 20 classic French dishes."
20 of the world's best new restaurants for 2020 - "From Mexican dishes with a stellar view across the rooftops of London to Ethiopian cuisine in upstate New York, Mediterranean creativity in Bangkok to a Texas-inspired grill in Hong Kong, many of the most exciting new restaurants opening this year take their cue from global cuisines."
20 of the world's most delicious rice dishes - "With thousands of varieties of rice in the world - jasmine, basmati, arborio and Carolina Gold, to name just a few - is it any surprise the grain defines iconic meals everywhere from Singapore to South Carolina? Plus, half the world's population relies on rice as a staple, so there have been plenty of culinary innovators over its long history."
'21' Club Closes Its Doors During Pandemic After 90 Years Of Gastronomic History - "The closure of '21' Club is an enormous loss for New York City and American gastronomy. Unless the owners can somehow re-purpose the place without ruining it, this is as stunning a closure as that of Le Cirque, Lüchow's, Windows on the World, the original Four Seasons, Mamma Leone's, Palm and a very few others."
21 ingredients to add to the shopping list and shake up your cooking - The Telegraph.
23 of the world's best sandwiches - "Is there a food more humble yet universally adored than the sandwich? And while one person's go-to hamburger snack might be another's katsu sando or chivito, there's hardly a country on the planet that doesn't turn to some type of bread with something stuffed inside it to cure a craving. Traveling the world's sandwiches is, in a way, like traveling the world."
24 of the tastiest Greek food dishes - "Best Greek food: 24 of the tastiest selections."
25 delicious dishes to help you escape it - from quiche to quesadillas - "If you are tired of limp sandwiches, here is a host of affordable, simple, tasty recipes to expand your horizons, whether you fancy curry, omelette or a pasta bake."
30 classic Italian dishes that everyone should try - "Think of Italy and you're likely to think of food first, and all the other beautiful things it offers second. Italian cuisine - or some version of it - has colonized the rest of the world so successfully that there are probably uncharted corners of the Amazon rainforest where you can sit down at a red-and-white checkered tablecloth and order up a plate of pasta and sauce. There's a reason it's so good. Actually, there are hundreds of reasons scattered throughout the different regions Italy. But here are 30 of them."
30 of the best fried foods around the world - "These are the world's best fried foods. How many have you tried?"
30 Photos of Anthony Bourdain That Prove He's Always Been a Badass - "Anthony Bourdain's career began in the kitchen. He worked in New York's restaurant world for more than 20 years, starting in 1978 and culminating with his appointment to executive chef of the French restaurant Les Halles. His life as an author, TV personality, producer, and de facto ambassador for Brazilian jiu jitsu didn't begin until the early 2000s. Here's a look at the evolution of Bourdain's career."
35 of the best restaurants in Europe - "From Ireland to Italy, our local writers reveal their favourite places to eat across the continent."
40% of Americans Eat Fast Food on Any Given Day, Report Says - "Large numbers of Americans say they avoid eating things like excess sugar, salt and fat, and seek out plants and whole foods. But at the same time, recent federal data found that 90% of adults don't eat enough fruits and vegetables."
50 Best Restaurants 2017 - The Telegraph.
50 Best Restaurants Announced Amid Criticism Over Voting - The New York Times.
50 Next Awards: World's 50 Best Names The Future Of Gastronomy - "For 20 years, World's 50 Best celebrated the hospitality industry with annual rankings of the finest restaurants and bars on the planet. Now the UK-based organization is looking for future stars in the gastronomical galaxy with a new list - 50 Next."
50 of the world's best breads - "What is bread? You likely don't have to think for long, and whether you're hungry for a slice of sourdough or craving some tortillas, what you imagine says a lot about where you're from."
50 of the world's best desserts - "Imagine the best dessert on Earth. Better yet, turn to a stranger on the street and ask them. Odds are good -- dollars to doughnuts -- their answer is different from yours."
50 Top Pizza - "The 50 Best Pizzas In The World."
67 Best Restaurants in London - "If you're a foodie, then living in or around London is truly a godsend."
$600 dinner. Have we all gone mad? - The Guardian.
1,000 remarkable restaurants - LA LISTE.
1944: The Times Discovers Pizza - The New York Times.
2015 World's 50 Best Restaurants - Restaurant Magazine.
2017 World's 50 Best Restaurants - Restaurant Magazine.
2018 World's 50 Best Restaurants - since 2002. British Restaurant magazine.
2019 World's 50 Best Restaurants - "Since 2002, The World's 50 Best Restaurants has reflected the diversity of the world's culinary landscape. Thanks to its panel of more than 1,000 culinary experts, as well as its structured and audited voting procedure, the annual list of the world's finest restaurants provides a snapshot of some of the best destinations for unique culinary experiences, in addition to being a barometer for global gastronomic trends."
2022 World's 50 Best Restaurants | The best restaurants in the world - "Geranium, Copenhagen. The World's Best Restaurant 2022."
A beginner's guide to Asia's best noodles - "An unsung hero, noodles give texture and substance to a dish."
A Blurry Line Between Bar and Restaurant - The New York Times.
A Chinese Delicacy Straight From the Swiftlet's Mouth - Bird's nest soup.
A Cook's Tour - (2002-2003). Travel and food show that aired on the Food Network. Host Anthony Bourdain visits exotic countries and cities worldwide where hosts treat him to local culture and cuisine.
a dark chocolate & coconut twist on a classic 70s recipe - "Ideal to make with kids, impossible pies are a textural treat - crunchy on top and wobbly in the middle."
A Field Guide to the American Sandwich - The New York Times.
A Finnish fashion brand is turning McDonald's uniforms into stylish workwear - "The Helsinki-based fashion label VAIN has just released a unique collaboration with the fast food giant. The brand used McDonald's employee uniforms as the base ingredients for a collection of upcycled garments."
A Food Tour of Seinfeld's New York - The New York Times.
A Guide To A Clean Eating Diet Over The Holidays - And Why A Year-Round Regimen Makes A Difference - "Clean eating is more than a movement. It's a holistic approach to food that can lead to a tougher immune system, increased energy levels, a stronger heart, improved brain health and more. So what does eating clean for beginners look like in practice - and what does it take to reap the benefits?"
A Helping of Science With Your Thanksgiving Dinner - "Biology. Chemistry. Physics. It's all there on your plate. Take a moment to appreciate it before you dig in."
À LA CARTE - definition & explanation.
A List Of Anthony Bourdain's Favourite Restaurants Around The World - "To say Anthony Bourdain accrued a fair few favourite restaurants throughout his storied, globe-trotting career would be the understatement of the century. The acerbic chef turned celebrated author and CNN fixture lived to eat, and he had the ultra-extensive log book to show for it."
A neglected protein-rich 'superfood' - "Insects are a nutrition-dense source of protein embraced by much of the world. Why are some of us so squeamish about eating them?"
A new app lets women charge for a night out - The Verge.
A return to vegetarian Jewish cuisine - "Pastrami, schnitzel, gefilte fish: Jewish food isn't often known as plant-based. But there is a long tradition of Ashkenazi Jewish vegetarianism – one a new crop of chefs is reviving."
A superfood fit for a pharaoh - "Dubbed the 'food of kings', the unassuming green gloop called molokhia was once outlawed in Egypt because of its alleged aphrodisiac effect."
A Superior Chicken Soup - The New York Times.
'A thing of shame:' Rome's pizza machine - "What pizza from a vending machine really tastes like. Rome's newest pizzaiolo (pizza-maker), 'Mr. Go,' is a vending machine pumping out four types of pizza for whenever you feel like one."
Adding salt to food at table can cut years off your life, study finds - "Research involving 500,000 Britons reveals link to earlier death for those who always season their meals."
Advice for Dinner Hosts From a French Event Organizer - "In her book, 'Mistress of Ceremonies,' Françoise Dumas reveals the secrets to a successful formal meal."
After 32 years, McDonald's plans to sell its Russia business - "'This is a complicated issue that's without precedent and with profound consequences,' said Chris Kempczinski, the chief executive of McDonald's."
After Losing $1 Billion, a Russian Exile Rebounds With Bond's Favorite Bubbly - "Evgeny Chichvarkin's Mayfair wine shop has shaken up London's wine scene. Now he's adding a restaurant with $800 tasting menus."
AI narration of chef Anthony Bourdain's voice sparks row - "A new documentary about Anthony Bourdain has ignited a debate, after film-makers revealed they had used an AI simulation of the late chef's voice."
Ajvar: The vegan 'caviar' of the Balkans - "Similar to how hummus is viewed in the Arab world, practically every Balkan country claims ajvar - a popular vegetable spread based on roasted red peppers - as its own."
ALAIN DUCASSE - official website. "Taste of the Essence."
Alain Ducasse at the Dorchester - The Telegraph.
Alain Ducasse declares war on dry January - "Star chef says he is 'obsessed with selling wine' and wants to diners to drink more, not less."
Alain Ducasse On Life After Earning 21 Michelin Stars - "There are Michelin-starred chefs, and then there's Alain Ducasse. As well as being the first chef to own three restaurants with three Michelin Stars (the institute's highest rating) each, Ducasse is one of just two chefs in the world to be awarded over 20 stars altogether."
Albert Roux's legacy goes far beyond his food - "Impact of culinary expertise Roux bestowed upon his adopted country cannot be overestimated."
Alcohol &chefs: a real kitchen nightmare - "For Craig Strippel, the stress of being a chef was cushioned by drink and drugs. Here, he talks about his recovery from a problem that plagues the restaurant industry."
Alcohol linked to more cancers than thought, study finds - "Imperial College London researchers also find that drinking coffee protects against liver cancer."
All the butter: how chefs are transforming the world's greatest spread - "Once neglected in favour of supposedly healthier products or mass-produced substitutes, butter is back, and better than ever, thanks to chefs who are adding bone marrow, chocolate and churning their own."
All the presidents' den: Trump follows the gilded trail to the 21 Club - "To celebrate his election win, the president-elect chose a former speakeasy in New York beloved by the famous and powerful."
America's best restaurant in Puerto Rico? - "Rooted in the rural tradition of cocinaos (casual cookouts), Bacoa takes rustic whimsy and elevates it into culinary excellence and once-in-a-lifetime meals."
America's favorite ice-cream flavor revealed - The Guardian.
AMERICAN ACADEMY OF HOSPITALITY SCIENCES - an establishment of reviewers specializing in the reviewing of hotels, resorts, spas, airlines, cruise lines, automobiles, products, restaurants and chefs. The most known aspect of the American Academy of Hospitality Sciences is the International Star Diamond Award. The award is the most prestigious award of true excellence in hospitality, gastronomy, attitude, quality, cleanliness and above all service.
American Thanksgiving - The New York Times.
amuse-bouche - definition & explanation.
An epic food journey in the Arctic Circle - "Chef Poul Andrias Ziska of Koks restaurant honed his craft in the harsh North Atlantic but has now reimagined his signature locavore cooking for a Greenlandic terroir."
And the award for 'Restaurant of the Year' goes to .... - "Paris hosts inaugural World Restaurant Awards."
Andrea Petrini - journalist, food writer and creative advisor. He spends a large part of the year on the road, travelling throughout the world to discover contemporary cuisine.
ANDY HAYLER'S RESTAURANT GUIDE - "The only person who has been to every 3 star Michelin restaurant in the world." This site reviews the top restaurants of the world, including extensive coverage of 3-star Michelin restaurants across the globe.
Anne-Sophie Pic, Star Chef Of Lausanne's Beau Rivage Palace & The Only Female Chef With Three Michelin Stars In France - "Switzerland has always had strong patriarchal roots, but nowadays, life for women is finally changing for the better. After 600 years, the first female ever appointed to the role of night watch in Lausanne now calls out loudly on the hour. Just down the hill at the famous Beau-Rivage Palace, three women are at the helm: the general manager, the head of sales, and the chef."
Anthony Bourdain - (1956-2018). Was an American celebrity chef, author, travel documentarian, and television personality who starred in programs focusing on the exploration of international culture, cuisine, and the human condition. He was considered one of the most influential chefs in the world.
Anthony Bourdain Doc Is No Hagiography - "Roadrunner is a brilliant, sometimes troubling documentary about a brilliant, sometimes troubling man."
Anthony Bourdain: No Reservations - (2005-2012). American travel and food show that airs on the Travel Channel; it also airs on the Discovery Travel & Living channel around the world. In it, host Anthony Bourdain visits overseas countries, cities worldwide, and places within the U.S., where hosts treat him to local culture and cuisine.
Anthony Bourdain: Parts Unknown - (2013-2018). American travel and food show on CNN which premiered on April 14, 2013. In the show, Anthony Bourdain travels the world uncovering lesser known places and exploring cultures and cuisine. Bourdain was working on an episode of the show in Strasbourg, France at the time of his death on June 8, 2018.
Anthony Bourdain 'Parts Unknown' in London: Just the One-Liners - "The globetrotting host hangs with Nigella Lawson and Marco Pierre White."
Anthony Bourdain: The French Brasserie That Changed Anthony Bourdain's Life - "During one of many family vacations to France, the Bourdains would stop at a brasserie called Quick Elysee. Bourdain writes that 'a thin slice of humble rumsteak with curiously blond frites soon became a treasured taste memory.' The experiences at Quick Elysee would go on to inform the rest of Bourdain's life."
Anthony Bourdain's abiding love for the Philippines - CNN travel.
Anthony Bourdain's final book to be published this year - "The final book by renowned chef, travel writer and television host Anthony Bourdain will be published in October, more than two years after he killed himself."
Anthony Bourdain's last interview: Trump, Weinstein & travel - The Guardian.
antipasti - definition & explanation.
APPETITE MAGAZINE - "Looking for an article, restaurant review or a recipe is now made hassle-free".
Appetizer - definition & explanation.
Apple's latest invention: a pizza box - The Telegraph.
Are Mushrooms Healthy? Here's What Experts Say - TIME Magazine.
Are Onions & Garlic Healthy? Here's What Experts Say - TIME Magazine.
Are Protein Bars Actually Good for You? - "Or are they just glorified candy bars? Despite the advertising, though, nutrition experts say that protein bars aren't all that healthy. 'You can put 'keto' or 'protein' on a candy bar and sell it, and people don't even question it,' said Janet Chrzan, an adjunct assistant professor of nutritional anthropology at the University of Pennsylvania."
Are there health benefits to going vegan? - "More and more people are eating vegan meals - and part of the reason is it's seen as healthier. Is it really better for you?"
Are we eating ourselves to extinction? - "It's not just animals that are at risk of dying out, the world's crops are in rapid decline. Here's why it matters what is on your plate."
Are You a Buffet Smuggler or a Stacker? 5 Types of Breakfast Buffet Behaviours - "How you approach the breakfast buffet at a hotel says a lot more about you than you think."
ASI | Association de la Sommellerie Internationale - founded in June 1969 in France with the aim of developing and promoting the Sommelier profession, organises the International Competition for the World's Best Sommelier.
Asia's 50 best restaurants in 2019 - CNN travel.
Asia's version of the 'greasy spoon' - "Hong Kong's 'greasy spoon' cafes. Serving up a rarely changing menu of quirky Canto-European concoctions, the cha chaan teng is at the heart of the city's singular cultural identity."
Asparagus: How to use the entire asparagus from butt to tip - recipe - "Asparagus season is so short, it's a shame to waste even the tough end bits - use them up, along with their springtime partner, wild garlic, in this creamy, cheesy tart."
Average westerner's eating habits lead to loss of four trees every year - "Research links consumption of foods such as coffee and chocolate to global deforestation."
Awaken your senses! How to bring your body back to life - "Do you feel disconnected from the world? I did, too - then I discovered some easy, practical ways to enhance my sight, hearing, smell, taste and touch."

A B C D E F G H I J K L M N O P Q R S T U V W X Y Z

- B -

Bakeries are central to the French way of life. Now they're fighting for survival - "In November, the United Nations Educational Scientific and Cultural Organization, or UNESCO, designated the French baguette as part of 'intangible cultural heritage,' owing to the specific knowledge and techniques needed to produce it, as well as the central role it plays in French daily life. But, despite their cherished status, many bakeries are struggling - and some are on the brink of closure - as energy prices and the costs of their ingredients have spiked."
BASIC TASTES - bitterness, saltiness, sourness, sweetness, umami, and piquance.
Beef Wellington - preparation of fillet steak coated with pâté (often pâté de foie gras) and duxelles, which is then wrapped in puff pastry and baked. Some recipes include wrapping the coated meat in a crêpe to retain the moisture and prevent it from making the pastry soggy.
Beefsteak Club - the name or nickname of several 18th and 19th-century male dining clubs that celebrated the beefsteak as a symbol of patriotic and often Whig concepts of liberty and prosperity. The first beefsteak club was founded about 1705 in London by the actor Richard Estcourt and others in the arts and politics. In 1876, a Beefsteak Club was formed that became an essential after-theatre club for the bohemian theatre set, including W. S. Gilbert, and still meets today in Irving Street.
beginner's guide to growing vegetables - "It's possible to help keep your household stocked with fresh greens, even if you don't have a garden. Here's how to get started."
Behold the Fruit Sandwich - "In this Japanese treat, ripe, seasonal gems are enrobed in cream and nestled between slices of milk bread."
best al fresco restaurants in London - The Telegraph.
Best beach foods & snacks - CNN.
Best breakfasts around the world - "Breakfast around the world: How different countries start the day."
Best Chinese food: 32 must-try dishes - "With one of the world's most diverse food scenes, China makes it nearly impossible to put together one single list that truly encompasses the 'best' Chinese dishes. But with such a huge variety of flavors on offer, it's immensely helpful to go into the country with an introductory list of essential eats that will give you a well-rounded culinary experience."
BEST EMERGING CHEFS AND CREATORS / THINKERS IN THE KITCHEN - Scoffiermagazine, Cahier Food & Gastronomy #1.
Best Green Salad in the World - The New York Times.
Best Halloween Party Snack Ideas That Will Haunt Your Friends Forever, According to Pastry Chefs - "Here are the best tips from pastry chefs about what candy and treats to serve at your spooky festivities this Halloween."
best ice cream shops in NYC - CNN travel.
best online resources for quarantine cooking at all skill levels - "They include beginner-friendly recipes and ways to use what you have on hand."
Best Pizza Joint in Every U.S. State - "Though there's no right or wrong pizza, most U.S. regions will defend their preferred variation to the end. Is your favorite on the list?"
Best Turkish foods: 23 delicious dishes - "Turkey may be famous for its kebabs, but the popular dish is just the tip of the iceberg when it comes to Turkish cuisine."
Best vegan & vegetarian food tours in European cities - "Plant-based tours are springing up in cities where meaty cuisine traditionally rules – and these choices also explore some of Europe's coolest urban districts."
Bezos, Gates back fake meat & dairy made from fungus as next big alt-protein - "As consumers become increasingly comfortable eating faux-meat burgers that look, cook and taste like the real thing, a food-tech start-up backed by Jeff Bezos and Bill Gates is using fungus as the primary ingredient to create alt-meat foods."
big beef's climate messaging machine: confuse, defend & downplay - "A Masters of Beef Advocacy program teaches 'scientific sounding' arguments on cattle's sustainability in an all-out public relations war."
BIG HOSPITALITY - latest restaurant, hotel, bar product news, & business advice.
big restaurant review of 2017 - The Telegraph.
Bistro - is, in its original Parisian incarnation, a small restaurant, serving moderately priced simple meals in a modest setting. Bistros are defined mostly by the foods they serve. French home-style cooking, and slow-cooked foods like cassoulet, a bean stew, are typical.
Bistronomy - expertly cooked food in a fun and relaxed environment at prices people can actually afford.
Black light experiment shows how quickly a virus like Covid-19 can spread at a restaurant - "A viral video from Japan aims to show how easily germs and viruses can spread in restaurants when just one person is infected."
Black Sheep Restaurants 2020 - COVID-19 Playbook - "What started as an internal set of guidelines has become so much more than we ever imagined. To everyone who has sent us messages of support from around the world - thank you so much. It has been incredible to hear how you have adapted the playbook and made it work where you are."
BLT SANDWICH - (bacon, lettuce, and tomato) is a type of bacon sandwich.
BOCUSE D'OR FINAL 2021 - "The Bocuse d'Or goes to the French team led by DAVY TISSOT, the Bocuse d'Argent goes to the Danish team led by RONNI VEXØE MORTENSEN and the Bocuse de Bronze goes to the Norwegian team led by CHRISTIAN ANDRE PETTERSEN."
Bok choy - (American English, Canadian English, and Australian English), pak choi (British English) or pok choi (Brassica rapa subsp. chinensis) is a type of Chinese cabbage, used as food. It has a flavor between spinach and water chestnuts but is slightly sweeter, with a mildly peppery undertone. The green leaves have a stronger flavor than the white bulb.
Boliche - pot roast dish from Cuban cuisine consisting of eye round beef roast stuffed with ham. The stuffed roast is browned in olive oil simmered in water with onions until the meat is soft, and then quartered potatoes added. Additional ingredients can include green peppers and various spices such as coriander, oregano and bay leaf, and salt and pepper.
Booking Office 1869: London's Hottest New Restaurant & The Man Behind It - "One can't help but feel in awe when entering the St. Pancras Renaissance Hotel. It's less a building than it is a part of history, with steeped in highs and lows, struggles and successes, and all else that has made it into the iconic building it is today; a building that has shaped the vibrant area of Kings Cross as we know it. And now, guests to the building have a chance to experience something entirely new."
Borsch: a culinary symbol of Ukraine - "Vegetarian borsch with vushka (dumplings). Meat features in many borsch recipes. However, Ukranian chef Ievgen Klopotenko makes a vegetarian version with potatoes, red beans and cabbage - and of course, beetroot as the star."
BOUILLABAISSE - traditional Provençal fish stew originating from the port city of Marseille.
Bovril - since 1866. Is the trademarked name of a thick and salty meat extract paste similar to a yeast extract, developed in the 1870s by John Lawson Johnston.
Brain food: what to eat to keep your mind sharp - The Telegraph.
BRASSERIE - in France and the Francophone world, a brasserie is a type of French restaurant with a relaxed setting, which serves single dishes and other meals.
Breakfast around the world: How 21 different places start the day - "From creamy cornbread cake in Brazil and savory Tunisian chickpea soup to fluffy Ukrainian pancakes and sweet coconut jam toasts in Singapore, these 21 international specialties offer a food option for every palate."
Breakfast You Should Order, Based on Your Zodiac Sign - "Read on to hear from an astrologer about the breakfast you should order, based on your zodiac sign. Will you get pancakes, bacon and eggs, or something really exciting like huevos rancheros?"
Bsissa: North Africa's ancient convenience food - "When blended with olive oil and honey, this unassuming brown powder - which has been eaten by Tunisians and Libyans for millennia - transforms into a breakfast of champions."
Buenos Aires' unusual pizza topping - "A century ago, Italian immigrants in Argentina's capital gave pizza an unusual new topping: a chickpea pancake known as 'fainá'."
Buffet - Wikipedia.
Burger King's plant-based Whopper gets glowing review - from a meat lobbyist - "Impossible Whopper's realistic taste is a 'wake-up call' to livestock farmers, Eric Bohl of the Missouri Farm Bureau said."
butcher's shop that lasted 300 years (give or take) - "Frank Fisher, now 90, was a traditional high street butcher his whole working life - as were three generations of his family before him. How does a man dedicated to serving his community decide when it's time to hang up his white coat?"
BYOB - initialism meant to stand for "bring your own booze", "bring your own bottle", "bring your own beer" or "bring your own beverage".

A B C D E F G H I J K L M N O P Q R S T U V W X Y Z

- C -

Cacio e pepe: Italy's beloved three-ingredient pasta dish - "With only three simple ingredients, cacio e pepe is a rich pasta dish that's hard not to love. And when you do get that elusive texture, it becomes the ideal comfort food."
CAESAR'S SALAD - has romaine lettuce and croutons dressed with parmesan cheese, lemon juice, olive oil, egg, Worcestershire sauce, and black pepper.
Cafeteria - type of food service location in which there is little or no waiting staff table service, whether a restaurant or within an institution such as a large office building or school.
Cake Recipe That Was a Secret for Two Decades - "With an origin story out of Old Hollywood, chiffon cake is at once airy and rich. It is almost nothing, this cake, and yet so rich: angel and devil at once."
Calories on menus 'may not be helpful' in drive against obesity - "Campaigners say compulsory menu labelling could put too much emphasis on calorie counting."
Can a book make you vegan? - "The novel Tender is the Flesh imagines a world where carnivores have turned to cannibalism. It's the latest artwork to fly the flag for plant-based diets, writes Elizabeth Sulis Kim."
Can a meat-free filet mignon convert carnivores? - "When it comes to recreating the taste, texture and look of real meat, whole cuts have been called the 'holy grail' of plant-based products. But producing them is not easy. With its plant-based prime cut steak, Juicy Marbles thinks it's mastered the art. The Slovenian company's filet mignon contains many ingredients used widely in plant-based beef - soy protein concentrate, sunflower oil, beetroot powder and yeast extract, for example - but it claims to be distinct from other brands because of its marbling effect of protein and fat."
Can certain foods suppress your appetite? - "Some foods promise the ability to stave off hunger pangs. Can any foods really suppress our appetite?"
Can chicken soup cure the common cold? - "Cold remedies: Old wives' tales... or legitimate science? From orange juice to zinc lozenges, chicken soup to garlic capsules, there are plenty of home remedies for the common cold. But is there any evidence that they work?"
Can eating fish ever be sustainable? - "Finding sustainable seafood can be complex. Jocelyn Timperley digs into out how to make the most environmentally-friendly choices."
Can Olive Oil Do All That? - "Starbucks recently announced that they're mixing this Mediterranean staple into their coffee drinks. Nutrition experts weigh in on what we know about the health benefits of olive oil."
Can spices really benefit your health? - "Are there benefits to eating turmeric and other spices? Spices have been eaten for millennia. Turmeric and chilli, in particular, have been researched extensively in recent decades. And while consuming them is correlated with some health benefits, those benefits – and the reasons for them - are not what you might think."
Can we change your mind about eating meat? - The Telegraph.
Can What We Eat Affect How We Feel? - "Nutritional psychiatrists counsel patients on how better eating may be another tool in helping to ease depression and anxiety and may lead to better mental health."
Can you learn to cook like a chef by watching YouTube? - The Guardian.
Can't cook, won't cook? Here are the tips that saved me from a life of terrible meals - "I used to survive on tinned lentils, microwaved eggs and the kindness of more gifted cooks. Then I learned to pull my weight in the kitchen - and if I can do it, so can anyone."
Cana - since 2022. "Rethink your drink. Maximum taste. Minimum waste. Cana One is the world's first molecular beverage printer. Any beverage. Any time. Zero trash." 1000s of beverages. Cana One serves an infinite variety of drinks, including cold brew coffee, tea, soda, juice, hard seltzers, and specialty cocktails. Cana updates its beverage catalog with new brands from partners and creators from around the world. Cana One will cost $499 for the first 10,000 orders, rising to $799 after that. The company expects to start shipping the machine in early 2023.
Cannibal sandwiches: Wisconsinites urged against eating traditional raw meat - "State health department warns that eating 'tiger meat' or 'steak tartare' risks illnesses from bacteria that thrive in raw meat."
Cape Town's most famous fast food - "The Gatsby is one of Cape Town's most famous sandwiches. But there's more to the takeaway than simply being a solid hangover fix."
CarÊme - (1784-1833). One of the first celebrity chefs known as the "chef of kings and king of chefs".
Carl Ruiz, celebrity chef, dies at 44 - "Celebrity chef Carl Ruiz, the owner of La Cubana restaurant who made frequent appearances on The Food Network, has died, the New York restaurant said. He was 44."
CATERERSEARCH - the leading website for the UK hospitality community covering the hotel, restaurant, foodservice, pubs and bar sectors.
Caviar Russe | Buy Caviar Online | Miami & New York - since 1978. "Caviar Russe is the retail division of the largest caviar importer to the U.S. Buy caviar online, with overnight delivery, and visit us in New York and Miami." Our restaurants: Miami, 1441 Brickell Avenue & 538 Madison Ave, New York, NY 10022, USA.
Celebrating Food & Wine in Bordeaux - The New York Times.
Celebrity chef - kitchen chef who has become famous and well known. Today celebrity chefs often become celebrities by presenting cookery advice and demonstrations via mass media, especially television. Several chefs have been credited with being the first celebrity chef, among them historically Bartolomeo Scappi and Marie-Antoine Carême.
CHAÎNE DES RÔTISSEURS - since 1950. An international gastronomic association dedicated to bringing together both professional and non-professional members worldwide who appreciate and share a mutual interest in cuisine, wine and fine dining.
Cheesecake Fit for a Maestro - "This simple recipe just might have changed the course of musical history."
CHEF - Wikipedia.
chef demands removal from Michelin Guide - "Marc Veyrat of Le Maison des Bois said he had been depressed for months after losing a coveted star following 'amateur' inspection."
Chef Spotlight: Jessica PrÉalpato - "At only 33 years old, the pastry chef of Alain Ducasse au Plaza Athénée is a force to be reckoned with."
chefs' 20 top kitchen tips - "Learning new kitchen skills could be just the thing you need to get your cooking out of a rut. Chefs offer their most vital techniques - from mastering sauces to dealing with too much salt."
Chef's Salad - American salad consisting of hard-boiled eggs; one or more varieties of meat, such as ham, turkey, chicken, or roast beef; tomatoes; cucumbers; and cheese; all placed upon a bed of tossed lettuce or other leaf vegetables. Several early recipes also include anchovies. A variety of dressings may be used with this salad.
Chef's Table - (2015-). American documentary series released on Netflix. Each episode of the series profiles a single world-renowned chef.
chefs on food waste & using leftovers - The Guardian.
ChefJet - by 3D Systems: 3D printed food.
Chicken Kiev - dish made of chicken fillet pounded and rolled around cold butter, then coated with eggs and bread crumbs, and either fried or baked.
Chicken Marengo - French dish consisting of a chicken sautéed in oil with garlic and tomato, garnished with fried eggs and crayfish. The original dish was named to celebrate the Battle of Marengo, a Napoleonic victory of June 1800.
chicken soup - The Guardian.
Chinese restautant syndrome: has MSG been unfairly demonised? - "The additive monosodium glutamate has been blamed for everything from headaches to chest pain. Now, some chefs, including Heston Blumenthal, are saying that's nonsense."
Chowder - thick soup prepared with milk or cream, a roux, and seafood or vegetables. Oyster crackers or saltines may accompany chowders as a side item, and cracker pieces may be dropped atop the dish.
Christian Millau obituary - "Food critic and co-founder of the restaurant guide at the heart of the nouvelle cuisine movement."
Cicchetti - small snacks or side dishes, typically served in traditional "bàcari" (cicchetti bars or osterie) in Venice, Italy. Common cicchetti include tiny sandwiches, plates of olives or other vegetables, halved hard boiled eggs, small servings of a combination of one or more of seafood, meat and vegetable ingredients laid on top of a slice of bread or polenta, and very small servings of typical full-course plates.
Clare Smyth - (born 1978) is a Northern Irish chef. She was Chef Patron at Restaurant Gordon Ramsay from 2012 to 2016. She became the first female British chef to hold and retain three Michelin stars. Smyth won the Chef of the Year award in 2013 and achieved a perfect score in the 2015 edition of the Good Food Guide.
Classic Dishes You Should Master - The New York Times.
Classic Thanksgiving Dinner Menu - The New York Times.
Claude Terrail - owner of La Tour d'Argent, Paris, France.
Climate-friendly diets can make a huge difference - even if you don't go all-out vegan - "Changing habits can be hard but even partial shifts from meat-based menus could significantly decrease planet-heating emissions."
Club des Chefs des Chefs | CCC - founded in 1977. "The most exclusive Gastronomic Association in the world." Extremely strict membership criteria: to be accepted into this highly elite club, you need to be the current personal chef of a head of state.
CLUB SANDWICH - is a sandwich with two layers of fillings between 3 slices of bread.
CNN goes inside rebranded McDonald's restaurant in Russia - "Russia has relaunched McDonald's under new branding and ownership. CNN's Fred Pleitgen visited Moscow's Pushkinskaya Square, the same location where McDonald's first opened in Russia in 1990."
cocktail party - definition & explanation.
Competitive hotdog eaters nearing limit of human performance - "A maximum of 84 hotdogs in 10 minutes is possible, says sports science study."
Convenience food - or tertiary processed food, is food that is commercially prepared (often through processing) to optimise ease of consumption. Such food is usually ready to eat without further preparation.
CONVEYOR BELT SUSHI - Wikipedia.
Cooking With Fire - The New York Times.
CORKAGE FEE - definition & explanation.
Coronavirus Baking Boom Has Made It Hard to Find Flour. Here's How Americans Coped With 'Wheatless Wednesdays' in WWI - "As the Coronavirus pandemic continues to sweep across the globe, many Americans confined at home have enthusiastically turned bread-baking into the de facto new hobby of social isolation."
Coronavirus: The slow death of the American all-you-can-eat buffet - "A dining experience beloved by generations of hungry Americans is in danger of being spoiled by the coronavirus pandemic."
coronation food reflects the times - "Coronation dishes: The food fit for royalty. Whether served at grand banquets or celebratory street parties, coronation food offers a reflection of the time or a first glimpse into the values of the newly crowned monarch."
Could a chatbot write my restaurant reviews? - "Artificial intelligence's ChatGPT is becoming more sophisticated and polished than ever. In seconds, it will knock out essays, lyrics, poems, almost anything... But could it beat Jay Rayner at his own game?"
Could eating ants help us live longer? - "Crunchy and curvy, these ample-bottomed queen ants are as prized in Colombia as caviar. But to find them, you'll have to make it past thousands of soldier ants."
Could fake meat burgers make cows obsolete? - "The battle over the future of meat."
Could flexitarianism save the planet? - "Scientists say a drastic cut in meat consumption is needed, but this requires political will."
Covid-19 could kill the world's oldest restaurant - "Can the world's oldest restaurant escape the pandemic's grasp?"
Crave Sydney International Food Festival - month long celebration of Sydney's obsession with food.
CrÈme brÛlÉe - dessert consisting of a rich custard base topped with a contrasting layer of hard caramel. It is normally served at room temperature. The custard base is traditionally flavored with vanilla, but can have a variety of other flavorings.
Crispr gene-editing will change the way Americans eat - here's what's coming - "The technology will be labeled and subject to stringent health and environment review in the EU, but not in the US, where produce could be radically changed."
Croque Monsieur - is a hot sandwich made with ham and cheese. The dish originated in French cafés and bars as a quick snack. The name is based on the verb croquer ("to crunch") and the word croquer ("mister"). The sandwich's first recorded appearance on a Paris café menu was in 1910. Its earliest mention in literature appears to be in volume two of Proust's In Search of Lost Time in 1918.
Crowdsourced Recipe App SideChef Needs - "The guided-cooking app has thousands of recipes, but needs an editor."
CUISINE - Wikipedia.
Culinary Institute of America (CIA) - since 1946. "The World's Premier Culinary College." Private culinary school with its primary campus in Hyde Park, New York, and branch campuses in St. Helena and Napa, California; San Antonio, Texas; and Singapore. The college, which was the first to teach culinary arts in the United States, offers associate, bachelor's, and master's degrees, and has the largest staff of American Culinary Federation Certified Master Chefs.
Culinary tourism - or food tourism is the exploration of food as the purpose of tourism. It is now considered a vital component of the tourism experience. Dining out is common among tourists and "food is believed to rank alongside climate, accommodation, and scenery" in importance to tourists.
Culture shock for 'big yoghurt' as foodies switch to DIY - "Commercial sales dip but environmental concerns make home yoghurt kits a growth area."
Cut meat consumption to two burgers a week to save planet, study suggests - "Climate crisis report says 'we are not winning in any sector' as experts call for urgent action on fossil fuels."
CUTLERY - definition & explanation.
Cutting salt likely to prevent future heart disease, even if you're not at risk now - "What's the leading cause of heart disease? High blood pressure, which is often triggered by high sodium (salt) intake in the food we eat. Hypertension is also the leading cause of stroke, heart failure and kidney disease."

A B C D E F G H I J K L M N O P Q R S T U V W X Y Z

- D -

daily special: Why you should NEVER order the daily special in a restaurant - "And you should steer clear of the salad too. Chefs and waiters have lifted the lid on what really goes on in the kitchens - and it might put you off these dishes."
Danish Hot Dogs at Grand Central Terminal, New York City - The New York Times.
Danish recipes: hotdogs, mussels & a chocolate marzipan bar - "The Danes know all about hot dishes for cold nights. Here is a selection of recipes from Trine Hahnemann's latest cookbook, Copenhagen Food."
DEFINITIVE GUIDE TO HOW MUCH YOU SHOULD TIP WORLDWIDE - Goodhouse Keeping.
Dessert made from 55,000 ants - "Melbourne Cup Birdcage: Where VIPs eat ants and drink space champagne."
Devil's dung or dinner delight? The story behind hing, one of India's most divisive ingredients - "An appetizer or an abhorrent? A medicine or a pesticide? Asafoetida sounds innocent enough - it's a wild fennel plant native to Afghanistan, Iran and Uzbekistan. The resin from its roots is used in Indian cooking - usually after it's ground into powder and mixed with flour. To say it has a powerful smell would be an understatement. In fact, its scent is so pungent it might just be the most divisive ingredient in the country. 'Asa' means gum in Persian, and 'foetida' means stinky in Latin. But in India, it's just called hing."
Dictators' Dinners: The Bad Taste Guide to Entertaining Tyrants - Amazon.com.
Dining in paradise: The Maldives' finest tables - CNN travel.
Disgusting Food Museum - "80 of the world's most disgusting foods." Adventurous visitors will appreciate the opportunity to smell and taste some of these notorious foods. Do you dare smell the world's stinkiest cheese? Or taste sweets made with metal cleansing chemicals? Carlsgatan 12, 211 20 Malmoe, Sweden.
DIM SUM - Cantonese term for snack. Dim sum more typically refers to a style of Chinese food prepared as small bite-sized or individual portions of food, traditionally served in small steamer baskets or on small plates.
DÎner en blanc - "Launched with just a handful of friends by François Pasquier nearly 30 years ago, Le Dîner en Blanc de Paris now assembles over 10,000 guest every year, with a record 15,000 people attending the 25th anniversary in 2013. Le Dîner en Blanc began as a strictly word-of-mouth event. Today, it has grown to rely on the Internet and social media to communicate with its members and others who are curious about the event. Although the technology behind this fantastic event may have changed over the years, the principles fueling it have not; guests continue to gather at a secret location with the sole purpose of sharing a gourmet meal with good friends at the heart of one of their city's most beautiful locations."
Dining etiquette: How to eat with your hands - "Not all foods are meant to be eaten with a knife and fork, but before you get your hands dirty, Margaret Visser lays down some etiquette rules."
Dinner and Deception - The New York Times.
Dinner As We Know it Is Hurting the Planet - "But What If We Radically Rethink How We Make Food? Farmers have grown food in roughly the same way for thousands of years. Now, entrepreneurs say they have a better idea."
DINNER IN THE SKY - is hosted at a table suspended at a height of 50 metres, by a team of professionals.
Dining Dead - A couple that eats at restaurants in total silence, very awkward, very sad.
Dining Impossible - since 2009. "Three day eating extravaganza hosted by culinary ambassador Kristian Brask Thomsen, exploring the world through its finest cuisines in the company of jet setting gourmands and international notabilities."
Dining out during the coronavirus pandemic - in pictures - "Around the world, whether seated in bubbles or next to teddy bears, customers are coming to terms with the new norms of eating out."
Does 'authentic' Mexican food exist? - "Chicana author Stephanie Elizondo Griest searches through a digitised archive of old Mexican recipes hoping to find the answer to one question: what is 'real' Mexican food?"
Doggy Bag - definition & explanation.
Dom PÉrignon offers the ultimate dining experience with Alain Ducasse at the ChÂteau de Versailles - The Telegraph.
Domino's realizes free pizza for life promotion was a bad idea - New York Post.
Domino's tried to sell pizza to Italians. It failed - "Seven years after its debut in the country, the American pizza giant has formally shut its stores after it failed to win over locals who preferred homegrown options, according to a report by Milano Today."
Dominos Near Me - "This site is not associated with Domino's Pizza corporation, we only provide information about the near by locations of the Dominos Pizza."
Don't be shy about asking for a doggy bag: you deserve a round of applause - "The government may soon force restaurants to offer takeaway leftovers - a sensible solution for a nation that wastes 10.2m tonnes of food every year."
Don't like eating breakfast? A new study might change your mind - "Skipping breakfast tied to higher risk of heart-related death, study finds."
Dutch city of Haarlem may be world's first to ban most meat ads - "Haarlem in The Netherlands is set to ban most meat ads from public spaces because of the food's climate impact."
Dying to go out to eat? Here's how viruses like Covid-19 spread in a restaurant - "As US states begin loosening restrictions, a recent viral video from Japan gives an idea of how easily coronavirus might spread."

A B C D E F G H I J K L M N O P Q R S T U V W X Y Z

- E -

easy meals from a handful of ingredients - "Need something simple that doesn't require many ingredients? We've put together our most basic recipes for when supplies are low and your time is in demand."
Eating a hot dog could take 36 minutes off your life, study says - "You may want to skip the toppings on your next hot dog, or skip it altogether: Health researchers at the University of Michigan have found that eating a single hot dog could take 36 minutes off your life. In their study, published this month in the journal Nature Food, researchers looked at 5,853 foods in the US diet and measured their effects in minutes of healthy life gained or lost."
Eating alone in public - in pictures - "For three decades, New York photographer Nancy A Scherl has shot solo diners in fancy eateries, burger joints and even makeshift tents during the pandemic. What do her images say about loneliness, social behaviour and our evolving attitudes in public spaces?"
Eating processed meat raises risk of heart disease by a fifth - "Oxford University researchers urge people to reduce consumption by three-quarters or give it up."
'Eating that meal could kill you': when cooks don't take food allergies seriously - "For those with severe food allergies, every meal can feel like a game of Russian roulette. But many find chefs, friends and even relations trying to trick them into eating dangerously."
Ecovado could be a greener alternative to 'green gold' - "Our love of avocados comes at a significant cost to the environment: approximately 2,000 liters of water are used to grow just one kilogram of avocados, while forests are cleared to make space for avocado trees. That's why London-based researcher and designer Arina Shokouhi decided to develop an eco-friendly avocado alternative. Called the 'Ecovado'."
Edible tape invented to stop your burrito from falling apart - "The exact ingredients are a closely guarded secret due to a pending patent application, but the team says everything used is 'edible, food safe, GRAS [generally recognized as safe], and are common food ingredients or additives.'"
Eggporn - It's a popular tag with egg lovers and millions of users used that tag for their photos.
Eggs: It's Time for a Reality Check on Eggs - "They're expensive, difficult to find and myths about them abound on social media. Here's what to know."
ELEGANT-AFFAIRS - "Impeccable design for life's most important occasions." The Hamptons' famous catering firm.
EL BULLI MOVIE 'Cooking in Progress' - by Gereon Wetzel.
ENTERTAINMENT BOOK & CARD - Dine. Shop. Travel. Save.
ENTRÉE - definition & explanation.
ESCOFFIER - French chef, restaurateur and culinary writer who popularized and updated traditional French cooking methods.
etiquette for eating sushi - The Telegraph.
EugÉnie Brazier: The legendary 'mother of French cuisine' - "The 'scandalous' chef the world forgot. Uneducated, a single mother and the first person ever to receive six Michelin stars, Eugénie Brazier was a tour de force. So why doesn't the world know about her?"
Europe's first underwater restaurant opens - CNN style.
Every Michelin-starred restaurant on Earth - The Telegraph.
EVERYTHING THE QUEEN EATS IN A DAY, ACCORDING TO ROYAL CHEFS - "'The Queen eats to live whereas Prince Philip lives to eat,' says former royal chef Darren McGrady."
Exceptionally well-preserved snack bar unearthed in Pompeii - "The frescoed thermopolium, a Roman-era fast-food stall, is the first to be fully excavated."

A B C D E F G H I J K L M N O P Q R S T U V W X Y Z

- F -

Fast food fever: how ultra-processed meals are unhealthier than you think - "UPFs form 50% of Britons' calorie intake - and vegans beware, this includes many plant-based meals. Now food scientists are learning more about what makes them so damaging."
Fed up of food fads: it's time for a return to fine dining - The Telegraph.
feeding the super rich - "Money is no object when it comes to feeding the super rich. London ... This exclusive series follows the renowned food-finders who cater for the nouveau riche."
FERRAN ADRIÀ - famed head chef of the El Bulli restaurant in Roses on the Costa Brava.
Fights Over 'Authentic' Chinese Food Have a Long & Complicated History. Now They're Tearing the Culinary World Apart - "A series of recent controversies over Chinese restaurants in the U.S. and the U.K. have raised questions over cultural appropriation."
Filet de Sole Marie Walewska - "A new level of seafood decadence."
Fin-to-gill eating: how to cook fish without discarding a thing - "When it comes to fish, in Britain we rarely eat anything other than fillets and discard everything else. Now a new breed of chefs is trying to encourage a more adventurous approach."
Finally, Heinz is teaching us how to pour ketchup correctly - "Heinz ketchup was first introduced in 1876, which means we've endured almost 150 years of shaking, rattling, knife-poking and centrifuge in futile attempts to get that sweet tomato nectar out of the darn bottle."
Fine Dining & the Ethics of Noma's Meticulously Crafted Fruit Beetle - "Recent reports have spurred a backlash against the 1 percent of restaurants. What is the human cost of this type of eating, and will it last?"
Fish & chip shops battered by soaring costs & freak weather - "Brexit, online delivery services and bans on plastic threaten Britain's national dish."
flavonols may be key for preventing memory loss, study says - "Eating more flavonols, antioxidants found in many vegetables, fruits, tea and wine, may slow your rate of memory loss, a new study finds."
flavour begins with saliva - "The secrets inside your saliva. Saliva is more than just a way to keep your mouth comfortably lubricated. Its cocktail of substances, scientists are discovering, are the x factor behind the flavours we taste."
flexitarianism - a combination of flexible + vegetarian + -ism.
Foie gras, truffles, birds drowned in brandy: a menu fit for Queen Victoria - "A royal lunch served at Waddesdon Manor in Buckinghamshire forms part of an exhibition on its kitchen."
Food brands are phasing out racist mascots. Will sports teams follow? - "As support for Black Lives Matter spreads, attention has turned to how stereotypical images of people of color are an inherent facet of mainstream culture, right down to our breakfast option."
food historian who outraged Italy - "It's been claimed pizza and carbonara are American. Here's how that went down in Italy."
FOOD REFERENCE WEBSITE - everything about food: from articles and history to recipes and trivia quotes.
Food tastes better when you eat at a table with a tablecloth, study finds - "Cooking for someone special this Valentine's Day? Don't forget the tablecloth."
Food Trends That Shaped 2015 - The New York Times.
FOODIE - person who has an ardent or refined interest in food and alcoholic beverages. A Foodie seeks new food experiences as a hobby rather than simply eating out of convenience or hunger. The word was coined in 1981 by Paul Levy and Ann Barr, who used it in the title of their 1984 The Official Foodie Handbook
For Gen Z, TikTok Is the New Search Engine - "Need to find a restaurant or figure out how to do something? Young people are turning to TikTok to search for answers. Google has noticed."
Forget Nathan's, this is NYC's best hot dog - New York Post.
Forget smoked salmon: eel is having a revival - The Telegraph.
Forget sourdough! How to make 10 of the world's easiest breads - "Keen to bake for your family or housemates, but put off by previous attempts? Here are delicious options – including some that don't require yeast, and one that doesn't even need an oven."
France Investigates Secret Mask-Free Restaurants for the Paris Elite - "Champagne, lobster and no masks: That's what a French TV documentary says is on the menu at one of multiple high-end 'clandestine restaurants' catering to the Paris elite, in violation of nationwide pandemic restrictions."
France Investigates Secret Mask-Free Restaurants for the Paris Elite - "Champagne, lobster and no masks: That's what a French TV documentary says is on the menu at one of multiple high-end 'clandestine restaurants' catering to the Paris elite, in violation of nationwide pandemic restrictions."
France's 'fish soup' pizza beats Italy in World Pizza Championships - The Telegraph.
FranÇois Vatel - (1631 - 1671). Was the majordomo (in French, maître d'hôtel) of Nicolas Fouquet and prince Louis II de Bourbon-Condé. He is widely credited with creating crème Chantilly (Chantilly cream), a sweet, vanilla-flavoured whipped cream, but there is no contemporary documentation for this claim, and whipped, flavored cream was known at least a century earlier.
French baguette gets Unesco heritage status - "There are arguably few things more quintessentially French than the humble baguette. After all, the country is said to produce some 16 million a day. Now there's something to celebrate, as Unesco adds the baguette to its 'intangible cultural heritage' list."
FRENCH PARADOX - is the observation that the French suffer a relatively low incidence of coronary heart disease, despite having a diet relatively rich in saturated fats.
From farm to factory: the unstoppable rise of American chicken - "How industrial chicken farming transformed an 'alternative' meat to the most consumed meat in the US."
From Ramen to Pancakes, Here Are 12 Meals Bringing Comfort to TIME 100 Leaders Right Now - "In times of uncertainty, a familiar recipe that reminds you of better days—sitting around the table with family or inhaling snacks alongside friends—can provide solace and strength."
From tofu lamb chops to vegan steak bakes: the 1,000-year history of fake meat - "Plant-based burgers are all the rage in 2020, but meat substitutes date back to at least 965. Will we ever invent the perfect proxy - or should we forget about meat altogether?"
Fruit Sandwich - "In this Japanese treat, ripe, seasonal gems are enrobed in cream and nestled between slices of milk bread."
'Fuah!' sure: the vegan foie gras selling out across Spain - "The plant-based pate has exceeded the Spanish startup's expectations as orders fly in."
Fugu - Japan's diners divided over killer puffer fish - The Guardian.
'fungal awakening': how we came to love & fear fungi - "After centuries of distrust and disdain, mushrooms are having their moment. From sci-fi smash hits to drug trials, an emerging league of mycophiles are bringing fungi out of the shadows."

A B C D E F G H I J K L M N O P Q R S T U V W X Y Z

- G -

GASTRONOMY - Wikipedia.
Get ready to eat bugs if you want to live beyond 2050 - "Beef won't be what's for dinner much longer."
Ghost kitchen - (also known as a delivery-only restaurant, virtual kitchen, shadow kitchen, commissary kitchen, cloud kitchen or dark kitchen) is a professional food preparation and cooking facility set up for the preparation of delivery-only meals.
Give Your Smartphone a Kitchen Apron, Too - The New York Times.
Glimpses of a Gilded Past at Fowler & Wells - The New York Times.
Go with your gut: scientist Tim Spector on why food is not just fuel - "The scientist has spent years studying how gut health relates not just to nutrition, but to all aspects of our everyday wellbeing. He explains why it really is what's inside that counts."
Going Dutch - term that indicates that each person participating in a group activity pays for themselves, rather than any person paying for anyone else, particularly in a restaurant bill.
Grains of truth: what the flour shortage tells us about who we are - "The current crisis has prompted a rush on baking ingredients. It shows the daily loaf retains its ancient, essential role - providing sustenance, social bonding and satisfaction."
GREAT CHEFS TELEVISION - a franchise of cooking shows and cookbooks.
Greek island with an ancient 'sushi' tradition - "On verdant Skopelos, locals have been curing and rolling fish for generations in a 'sushi-style' preparation that dates back to medieval times."
GUERILLA DINING - eating experience in which chefs and restauranteurs create temporary and exclusive dining opportunities in various untraditional locations.
Guide To A Clean Eating Diet Over The Holidays - And Why A Year-Round Regimen Makes A Difference - "Clean eating is more than a movement. It's a holistic approach to food that can lead to a tougher immune system, increased energy levels, a stronger heart, improved brain health and more. So what does eating clean for beginners look like in practice - and what does it take to reap the benefits?"
Guinness names Shanghai eatery as world's highest restaurant in a building - "It's official, there's a new 'world's highest restaurant in a building.' In February, officials from the Guinness World Records awarded the accolade to the Heavenly Jin restaurant inside the J Hotel Shanghai Tower in Shanghai, China."
Gut health scientist reveals the five surprising foods you should NEVER eat - "'It's not worth the risk.'"
Guy Savoy - (born 24 July 1953) is a French chef who is the head chef and owner of the eponymous Guy Savoy restaurant in Paris and its sister restaurant in Las Vegas, both of which have gained multiple Michelin stars. He owns three other restaurants in Paris. Rather unexpectedly, it was announced on 27 February 2023 by Michelin, only days before the release of the 2023 Michelin Guide for France, that Savoy's eponymous flagship 3 Michelin star restaurant in Paris would be demoted to 2 stars, sparking shock and outrage across the country.

A B C D E F G H I J K L M N O P Q R S T U V W X Y Z

- H -

Hack the Menu - The Ultimate List of Secret Menu Items." Your one-stop resource for all Secret Menu items at all fast food restaurants. Secret Menus at restaurants are comprised of unofficial and unadvertised selections that fast food chains will make when ordered but that do not exist on their regular menus.
Hakkasan - "Elegance, energy, invention." All locations.
HAPPY HOUR - definition & explanation.
Has this food actually expired? Why label dates don't mean what you think - "While many in the US rely on the label for guidance to keep or toss food, experts say 'there are no standards'."
Hate washing up? You'll love these delicious one-pot vegetarian wonders - "From biryani to shakshuka, via paneer and tagines, these mouth-watering recipes will help you spend less time at the kitchen sink."
HAUTE CUISINE - definition & explanation.
'Headphones make food taste better!': 10 readers' tips for a better holiday - "From wearing an 'airport shirt' to travelling solo, our tipsters share their secrets for easier, stress-free breaks."
Heinz Remix is the sauce dispenser of our dreams - "Smoky chipotle mango ketchup, anyone?"
Hell's Kitchen - American reality-television cooking competition broadcast on FOX. It is hosted by celebrity chef Gordon Ramsay.
Here's what comfort food looks like around the world - "Mac and cheese? Noodle soup? Top chefs share their go-to comfort foods."
Here's What Eating a Thanksgiving Feast Actually Does to Your Body - "Does eating one giant meal actually affect your health and weight? Here's what the experts say."
HervÉ This - French physical chemist who works for the Institut National de la Recherche Agronomique at AgroParisTech, in Paris (France). His main area of scientific research is molecular gastronomy, that is the science of culinary phenomena (more precisely, looking for the mechanisms of phenomena occurring during culinary transformations).
Hey pesto! The definitive A-Z of the world's most versatile ingredient - "The midweek-meal saviour is possibly the most customisable food ever. From salads to sauces and stews, here's how to get the best from the Italian classic."
Hipster Michelin-starred restaurant uses iPads instead of plates - The Telegraph.
Hold the beef: how plant-based meat went mainstream - "With McDonald's, Burger King, KFC and every major UK supermarket selling their own ranges of 'authentic' animal substitutes, fake meat now means big business."
Hong Kong bids farewell to Jumbo Kingdom, the world's largest floating restaurant - "A unique icon for residents and tourists alike, Jumbo Floating Restaurant has stood proud in the Southern District of Hong Kong Island for the past 46 years. Throughout this journey, it has been a great honor for us to share beautiful collective memories with local and foreign visitors."
hors d'Œuvre - definition & explanation.
HOSPITALITY NET - at the forefront of online publishing within the hospitality industry since 1994.
How a tiny country became a leader in food tech - "What's fueling the boom in food technology?"
How Anthony Bourdain's Longtime Assistant Made His New Book a Reality - "With 'World Travel,' Laurie Woolever makes it possible for fans to travel with Anthony Bourdain once again."
How Budapest became a fine dining force to be reckoned with - "Europe's new hot fine dining destination."
How China Could Change the World By Taking Meat Off the Menu - "China came by its love of meat only recently; in the 1960s, the average Chinese person consumed less than 5 kg of meat annually. But as in comes soared following Deng Xiaoping's market-driven "reform and opening" of the late 1970s, consumption rose to 20 kg per capita by the late 1980s and has now reached 63 kg. Today, China consumes 28% of the world's meat, including half of all pork."
How clean cooking helps the climate - "Wood-fired stoves have powered Nigerian cooking for time immemorial. But cleaner cooking could go a long way to saving lives, and carbon emissions, in Africa's most populous nation."
how comfort food conquered the world's best restaurants - "From crumpets to pies to ham and cheese toasties, restaurants are replacing 'challenging' dishes with those that remind us of home and childhood. Why is this change happening now?"
How do I make authentic paella? - "Wars have been fought over less controversial issues, but the secret of a proper paella lies in its humble Valencian origins."
How do you make chapatis at home? - "To produce these beautifully pliable Indian flatbreads, and not paving slabs, a few precise steps are required ..."
How food on social media affects you - "How food influencers affect what we eat. It is hard to browse through social media without coming across a banquet's worth of mouth-watering posts, but do these actually alter your own food choices?"
How France has lost its mustard - "Why there's no 'Dijon' in Dijon mustard. France is facing a widespread dearth of Dijon mustard, which news outlets wasted no time in attributing to the war in Ukraine. But the story is a whole lot spicier than that."
How KFC became a Christmas tradition in Japan - "Every year since the mid-1980s, life-size Colonel Sanders statues - dressed as Santa during the holiday - have welcomed droves of locals and tourists alike across the country. Almost every year since she was a child, Hokkaido resident Naomi has looked forward to her family's traditional Christmas meal: a KFC 'party barrel' brimming with salad, cake and lots of fried chicken. 'In Japan, it is customary to eat chicken at Christmas,' says the 30-something Japanese woman."
How much do you really know about Anthony Bourdain? - "You can now take a college course on all things Anthony Bourdain."
how Nigella Lawson changed food writing - The Guardian.
How not to be a 'sushi terrorist' - "The 'right' way to eat sushi: Tips from the experts on sushi rules to follow. With the recent spate of sushi pranks that have rocked Japanese society, we set the record straight on the 'right way' to eat one of the world's greatest food delights."
How orange juice took over the breakfast table - "Orange juice used to be a treat you had to squeeze out yourself. More than a century ago, an overproduction of oranges helped create the morning staple we know and love."
how plane food compares on 10 major airlines - The Telegraph.
How processed foods became so unhealthy - "From putrid water to fizzy cola, food processing gave us preservation, consistency and innovation. So how did it become associated with unhealthy food?"
how restaurateurs choose the perfect dinner playlist - "There has never been a greater awareness of how music can affect our mood. Little wonder restaurants are employing consultants to select music for their diners."
How the hamburger became an American staple & where to get classic burgers today - "The surprising origins of the classic American hamburger. The hamburger has a well-traveled history. The hamburger's origin story starts in 13th-century Mongolia when Mongols and Tatars were fighting."
how the pandemic changed the way we eat - "From wonky veg to distanced restaurants, Covid-19 has transformed the way we shop, cook and eat. Have we fixed our relationship with food for good?"
How the sushi boom is fuelling tapeworm infections - The Guardian.
How tiny tweaks to your dinner can help save the planet - "Vegetarian? More like planetarian - how tiny tweaks to your dinner can help save the planet. Eating less meat and dairy is one of the ways we can have a positive impact on the future of the planet, as multiple studies on climate change have demonstrated."
How to avoid the 21 biggest baking disasters - from burnt cakes to soggy pastry - "If your dough is too sticky to knead, or your icing is full of crumbs, don't despair. Here's how to solve common kitchen problems and avoid them next time."
how to barbecue every food perfectly - from steak to fish to tender veg - "Now that lockdown rules have been relaxed, here's how to avoid shredding your salmon, serving raw chicken or giving your cauliflower too much crunch."
How to Beat the Line & Get Reservations at Hot New Restaurants - The New York Times.
How to boil an egg: three experts on cracking the perfect technique - "Do you start with cold water, or a rolling boil? And what's the best way to peel them when you're done? A food scientist, a chef and a farmer lay it out."
how to choose pasta shapes - "Rigatoni or paccheri? Does it matter which pasta goes with which sauce? Italian food experts dish out advice."
How to Complain at a Restaurant? Just Ask Our Critic - "Our restaurant critic, Pete Wells, explains why bringing your gripes to the management instead of anonymously torching the place online will make everybody happier."
How to cook borscht - recipe - "The east European favourite is a great soup to have in your repertoire."
how to cook fish without discarding a thing - "When it comes to fish, in Britain we rarely eat anything other than fillets and discard everything else. Now a new breed of chefs is trying to encourage a more adventurous approach."
How to cook the perfect beef stroganoff - The Guardian.
How to cook the perfect bowl of fried rice? Asia's best restaurant shares its secret - "The science behind 'the breath of a wok,' an essential ingredient in the perfect bowl of fried rice."
How to cook the Perfect Meal, according to Sam Sifton - "The New York Times food editor guides a bachelor through cooking for a dinner date."
How to cook the perfect shepherd's pie - The Guardian.
How to cook wagyu steak, the best beef in the world - The Telegraph.
How to eat: a crisp sandwich - "How to eat is munching on a complex dish rarely discussed in polite society. Do you use butter or mayo? Is white bread essential? Do Wotsits work?"
How to eat: a steak sandwich - "It is, arguably, king of the bread-based snack scene. But should that bread be sourdough or ciabatta? Do caramelised onions trump stilton? And does it ever need chips on the side?"
How to eat: apple crumble - "In the bleak mid-winter, How to Eat is seeking comfort in apple crumble. But with custard or cream? Should other fruit get a look-in? And is dessert wine gilding the lily?"
How to eat: chocolate brownies - "This month, How to Eat is savouring a chocolate brownie. Is this a snack or a dessert? Does it need ice-cream? And would you pair it with tea, coffee or, erm, sauvignon blanc?"
How to Eat Healthy Meals at Restaruants - The New York Times.
How to Eat in 2019 - "Alison Roman wants you to spend less time in the kitchen and more time at the table."
How to eat in a heatwave - "When the weather makes food seem daunting, there's always gazpacho. But don't reach for a Magnum, they are for children."
How to eat: spaghetti bolognese - "Should the sauce be dolloped on top or stirred through? Can you crown it with parmesan? And do chips have a place?"
How to eat sushi: lay off the wasabi & dip the fish - not the rice - into the soy sauce - "Nobu's first female head chef has told us we're doing it all wrong. Here are some of her tips for getting the most out of the Japanese dish."
How to eat sushi: Tips for ordering & eating like a Tokyo local - "In theory, sushi is a simple thing to be enjoyed in almost any way you like. Eat it standing or seated, with fingers or chopsticks, dipped in soy sauce, mixed with wasabi, swallowed in one mouthful or more. However, if you want to eat it like a Tokyo local, remember that sushi etiquette changes with the setting."
How to eat your way through Italy's most delicious region - The Telegraph.
How to Enjoy Fine Dining on a Fast Food Budget - The New York Times.
How to Fry an Egg the Right Way - "There are few things as beautiful as a dish topped with a perfectly fried egg. Learn how to fry an egg like a restaurant pro."
How to Get Ketchup From a Bottle Without the Wait, Watery Goo & Splatter - The New York Times.
How to Grill the Perfect Steak - "Reverse-seared tri-tip may be the tastiest dish you grill all summer. Steven Raichlen guides you through the process."
HOW TO GROW MUSHROOMS OUTDOORS - "Cultivating fungi at home is a fantastic way to see just how amazing nature is."
How to grow your own food - with or without a garden - "There's no such thing as an effortless crop, but plenty that are pretty foolproof - even if you have just a windowsill or room for a few pots."
how to have the perfect picnic - Don't forget the cocktails - "Picnics will be a huge part of Britain's physically distanced summer - but we usually get them spectacularly wrong. Experts share their tips on everything from food to booze - and where to sit."
How to make a delicious burger in lockdown - from searing the meat to placing your pickle - "It's not difficult to create a top-quality burger in your kitchen - but you need to know what bun to use, how to properly sear the meat and the best cheese to pair it with. Here's the expert guide"
How to make a proper old-school chocolate mousse - "Use decent chocolate, keep it simple."
How to make aeroplane food taste better - The Telegraph.
How to make American pancakes - The Guardian.
How to make baked beans - recipe - "How to turn a bag of humble dried haricot beans into that special, sweet tomato toast topper we love."
How to make burgers - The New York Times.
How to make caesar salad - recipe - "A guide to making the classic American salad that was, in fact, invented by an Italian restaurateur in Mexico."
How to make croque monsieur - recipe - "There may not seem much to 'master' with what is in effect just a posh cheese and ham toastie, but a proper croque monsieur requires attention to detail."
How to make hummus - recipe - "How to make the nation's favourite dip with just a few store-cupboard ingredients."
How to make kimchi - recipe - "How to make the Korean staple that conquered the world."
How to make much better home pizzas - from flavour-filled bases to next-level toppings - "Anyone can make pizza from scratch, but these expert tips will make an everyday dish outstanding."
How to make omelette Arnold Bennett - recipe - "A step-by-step guide to mastering the super-rich brunch classic, featuring a smoky, fish-studded sauce and a melting, cheesy topping."
How to make pasta without a machine - "To the uninitiated, making pasta from scratch can appear more trouble than it's worth. After all, why spend your hard-earned cash on a large, expensive, hyper-specialised pasta machine when you can buy a packet of dried supermarket spaghetti for $2? When it comes to pici, cavatelli and orecchiette, Melbourne's Hope Street Radio say all you need is flour, water and a wooden bench."
How to make sauerkraut - recipe - "All you need to know to make the classic fermented cabbage at home."
How to make shepherd's pie - recipe - "A step-by-step guide to the British classic, perfect made with leftover roast lamb from the Easter Sunday lunch or from scratch with mince."
How to make the perfect bowl of fried rice - "The science behind 'the breath of a wok,' an essential ingredient in the perfect bowl of fried rice."
How to make the perfect chocolate & pear pudding - recipe - "The sweet mellowness of pear is the perfect foil for bitter dark chocolate in this classic British pudding."
How to make the perfect French toast - recipe - "A step-by-step guide to the breakfast (or any time) classic."
How to make the perfect knickerbocker glory - recipe - "Layer upon layer of ridiculous ice-cream decadence: is it even possible to make the definitive knickerbocker glory?"
How to make the perfect meat & potato pie - recipe - "The classic northern pie gets the Felicity Cloake treatment."
How to make the perfect pie - "It all starts with great ingredients, then fill with care – and don't overwork that dough."
How to make the perfect Sachertorte - recipe - "Soft but firm, delicately chocolatey, luscious with apricot jam - a 'grown-up chocolate cake' that gets better with age."
How to make the perfect vegetarian scotch eggs - The Guardian.
How to make the perfect vegetarian wellington - recipe - "This stand-alone dish has the wow factor to cut it for the most special of occasions."
How to make vanilla ice-cream - recipe - "Vanilla ice-cream is easy to make, especially with an ice-cream maker. Get churning!"
How to make your own pasta - "Angela Hartnett's method for the best homemade pasta, plus her recipe for tagliatelle with peas and parma ham."
How to Order Dim Sum - According to the Head Chef of the First Chinese Restaurant in North America to Receive a Michelin Star. Dim sum is a feast of textures and flavors consumed to the cadences of Cantonese, clinking plates and squeaky wheels as servers push hand carts from table to table.
how to pack a delicious school lunch box every day of the week - "As children begin to return to school, some parents will be preparing their first packed lunches. But don't panic - here's how to make it go smoothly."
How to Snag a Reservation at That Oh-So-Popular Restaurant - The New York Times.
How to Spend Your Money to Help Keep Your Favorite Restaurants Afloat - "A new round of economic relief is on its way to the pockets of millions of Americans, with the recent passage of a $900 billion stimulus bill. But there is one industry that, while struggling more than others, has not received any special help in the new bill. That's the restaurant industry, which has been hit hard recently by another wave of restrictions. Local authorities from New York City to Los Angeles have imposed bans on indoor dining to try and tamp down a surge in coronavirus cases."
How to start the Mediterranean diet - meal by meal - "Considered one of the healthiest diets in the world, the Mediterranean way of eating cuts processed foods and red meats, focusing instead on fresh fruits and vegetables, nuts and seeds, healthy whole grains and extra-virgin olive oil. Eating this way has been shown to reduce the risk for diabetes, high cholesterol, dementia, memory loss, depression and breast cancer and has been linked to stronger bones, a healthier heart and longer life. Oh, and don't forget weight loss!"
How to take the bland out of a low-sodium diet - "Serious cooks may quibble about the best way to sear a steak or bake a cake. But on one point, there is virtually unanimous agreement: To make food taste good, you've got to have salt."
How to throw a cheap (but elegant) dinner party - The New York Times.
How to turn veg trimmings into dinner - "Vegetable peelings, stalks and offcuts have many more culinary uses than just stock."
How to use the entire asparagus from butt to tip - recipe - "Asparagus season is so short, it's a shame to waste even the tough end bits - use them up, along with their springtime partner, wild garlic, in this creamy, cheesy tart."
How to visit the world's 10 best restaurants The Telegraph.
How we are falling in love with tinned fish - from artisanal anchovies to vintage sardines - "Vogue loves the retro-artwork on the labels, while chefs love the high-end ingredients inside. Forget dusty cans of dry tuna – posh cans of fish are now surprisingly cool."
How we lost our sensory connection with food & how to restore it - "To eat in the modern world is often to eat in a state of profound sensory disengagement. It shouldn't have to be this way."
How well do you know the foods of the world? Take our national dish quiz to find out - "Are you hot stuff or just cold leftovers? Find out in our food and travel quizathon."
How what you eat affects climate change - "Your Questions About Food and Climate Change, Answered. How to shop, cook and eat in a warming world."
How you can honor Anthony Bourdain's legacy - "What would Bourdain do? How to honor the intrepid traveler's legacy."
How your aeroplane food is cooked - The Telegraph.

A B C D E F G H I J K L M N O P Q R S T U V W X Y Z

- I -

'I don't want a Michelin star,' says French chef in 'Cheddargate' row - "Marc Veyrat, who lost court battle to guide, in defiant mood as he opens new Paris restaurant."
'I have more than 100 different food rules': how healthy eating became an obsession - "For years I binged on diet books: paleo, keto, vegan, the 16:8. But can you have too much of a good thing?"
I never order fish on Monday - wrote Anthony Bourdain in his 1999 memoir Kitchen Confidential, explaining that restaurants typically work with supplies purchased the previous Thursday. It was a vivid insider's detail in a popular book, and it took hold.
Ibiza's meaty stew reminds me why I love the island - here's the recipe - "For this chef and writer classic Ibiza isn't dance music and DJs but sofrit pagès, an aromatic dish savoured on special occasions."
'Ice-cream toothache': Cold food & drinks pain explained - "Scientists believe they have worked out why biting down on ice or drinking something really cold causes excruciating pain for some people."
Iceland livestreams 10-year-old McDonald's cheeseburger - "When McDonald's closed all its restaurants in Iceland in 2009, one man decided to buy his last hamburger and fries."
Impossible Foods' rising empire of almost-meat - "How a burger maker became a 'platform'."
In Australia, Noma Forages for Ingredients & Inspiration - The New York Times.
IN DEFENSE OF THE VEGAN HOT DOG - Wired.
In search of America's best hot dog - "14 supermarket varieties, taste-tested."
Incredible restaurant interiors - The Telegraph.
India's ancient 'smart food' - "Why 2023 is the year of millets. Once a forgotten staple of traditional Indian cuisine, nutritionally dense millets are becoming popular the world over. So much so that 2023 is being dubbed 'the year of millets'."
Indian food: The best dishes in each region - CNN travel.
Indoor neon-lit mushroom farms are New York's hottest new food trend - "As well as looking pretty, inventor Smallhold claims its far more sustainable than traditional farming."
Inside food's new Silicon Valley - "Meet the Copenhagen chefs creating the food of the future."
inside Gucci's first restaurant - The Guardian.
Inside Noryangjin, Seoul's largest indoor seafood market - CNN travel.
inside scoop on ice cream innovation - "This traditional treat dates back centuries, but today many frozen desserts are the culmination of months of research and development."
Instagram's influence on restaurants - engadget.
Is fake meat getting too much like the real thing? - "From the bleeding Impossible Burger to 'full-muscle' mushroom steaks, we've entered the uncanny valley of meat alternatives."
Is French cuisine forever changed? - "Alain Ducasse says the pandemic accelerated the evolution of French cuisine. But some are in no hurry to abandon the generations-old rituals that define the Gallic art of eating."
Is It Better to Cook With Coconut Oil or Olive Oil? - The New York Times.
Is old yeast OK? The 17 rules of expiry dates - from eggs to meat to oils - "Use-by dates are a food-safety matter so you should always take them seriously. Here's a guide to where you do - and definitely don't - have some leeway."
Is reheated rice safe to eat? - "So long as you store it properly, there's no reason to be afraid of reheating cooked rice. It's the building block for many a great dish."
Is sugar really bad for you? - "People who eat more sweets are at higher risk of type 2 diabetes, heart disease and cancer… but that may not actually be sugar's fault. BBC Future investigates the latest findings."
Is That Real Tuna in Your Sushi? - The New York Times.
Is this the best pizza in the world? - The Guardian.
Is this the world's best sandwich? - "On the hunt for Vietnam's best banh mi."
Isso vade: The spicy snack that unites Sri Lanka - "These prawn-topped lentil fritters are beloved throughout Sri Lanka, managing to bring together locals across ethnicities, religion and class."
It's not 8 glasses a day anymore - "Here's how much water you should drink each day. The National Academy of Science, Engineering and Medicine recommends an average daily water intake of about 125 ounces for men and about 91 ounces for women. If you're not filling up a bottle to exactly that amount every day, you're probably still close or even over, because you also get water from food, says Scott."
Italian food: Classic dishes everyone needs to try - "Italian cuisine – or some version of it – has colonized the rest of the world so successfully that there are probably uncharted corners of the Amazon rainforest where you can sit down at a red-and-white checkered tablecloth and order up a plate of pasta and sauce. There's a reason the food is so good. Actually, there are hundreds of reasons scattered throughout the different regions of Italy. If you can't get to them all, here are some top classics."
Italian pasta prices are soaring. Rome is in crisis talks with producers - "Adolfo Urso, the country's minister for enterprise, chaired a commission of lawmakers, pasta producers and consumer rights groups in Rome to discuss what could be done to bring down pasta prices, which soared 17.5% in March from the same month in 2022."
Italy seeks Unesco heritage status for espresso coffee - "Italy is to apply for Unesco status for espresso coffee, claiming it is 'much more than a simple drink'. The drink quickly became an integral part of the national identity after its creation in Turin in the 19th century. It follows the art of the Neapolitan pizza-maker being added to the UN agency's list of the world's intangible heritage in 2017 as Italy aims to secure the worldwide status for another of its successful symbols."
Italy's debated gluten-free pasta - "Pizzoccheri: Italy's debated buckwheat pasta recipe."
Italy's rare, surprisingly bitter honey - "Obtained from the autumnal flowering of the strawberry tree on the island of Sardinia, corbezzolo honey isn't sweet and has a history that dates back more than 2,000 years."

A B C D E F G H I J K L M N O P Q R S T U V W X Y Z

- J -

JAMIE OLIVER - "Official website for recipes, books, tv shows and restaurants."
Jamie Oliver on fame, failure and fighting obesity: 'I'm actually quite shy. I don't like a ruck' - "Every time the chef talks about the UK's diet, it gets him in trouble. Remember Turkey Twizzlers? But he's too passionate to give up."
Jamie Oliver's restaurants crash leaving 1,300 jobs at risk - "Well over 1,000 jobs are at risk as the restaurant chain set up by the celebrity chef Jamie Oliver prepares to crash into administration just two years after narrowly averting an earlier collapse."
Japan's most meticulous meal? - "Japan's ancient vegetarian meal. Believed to align the mind, body and soul, shojin ryori is a fascinating insight into the careful balance of new and old perfected by Japan."
Japan's delicious fire-seared delicacy - "In one of the country's least-visited prefectures, chefs dramatically sear bonito over towering flames."
Japan's secret udon mecca - "For the past 13 years, a family has been rolling, preparing and serving mouth-wateringly fresh noodles inside a nondescript factory – but you better come early to eat here."
Japan's simple street snack - "Eaten right off the coals, yaki-imo (roasted sweet potatoes) are a beloved centuries-old food, whether they're served by old-fashioned street vendors or modern 'imo' girls and boys."
Japan's Yanagiya - is this the best restaurant on the planet? - The Guardian.
Japanese Chefs Make Their Mark in Paris - The New York Times.
Joe Allen, Broadway's Quiet Man - The New York Times.
JoËl Robuchon, Michelin star French chef, dies aged 73 - "French celebrity chef Joël Robuchon will be remembered for many reasons: earning more than 30 Michelin stars, creating the world's best mashed potato, and hurling a plate at a young and "difficult" Gordon Ramsay."
JRE | JEUNES RESTAURATEURS D'EUROPE - founded in 1974. Association of young restaurateurs. They have in common that they want to share their talent and passion for the profession with each other. In total there are more than 350 JRE restaurants in Europe.
Jumbo Iconic floating restaurant Hong Kong sinks - "A floating restaurant that was a famous Hong Kong landmark has sunk, days after it was towed away from the harbour where it operated for nearly 50 years."
JUST-EAT - Europe's leading online food ordering provider. Operates in 8 countries, has 8,000+ restaurants online.

A B C D E F G H I J K L M N O P Q R S T U V W X Y Z

- K -

Kaiseki - traditional multi-course Japanese dinner. The term also refers to the collection of skills and techniques that allow the preparation of such meals, and is analogous to Western haute cuisine.
Kaiserschmarrn - (Emperor's Mess) is a sweet dessert that takes its name from the Austrian emperor (Kaiser) Franz Joseph I, who was very fond of this kind of fluffy shredded pancake.
Kanye West's team name-dropped world-famous Noma to get a last-minute table at S.F. restaurant - "On a recent afternoon, someone called San Francisco Thai destination Nari wanting a last-minute reservation for six people - 'it's going to be a table of Noma people,' the person said, according to restaurant owner Pim Techamuanvivit. Techamuanvivit's staffers thought maybe Danish chef and Noma owner René Redzepi, whose New Nordic restaurant has repeatedly been ranked the best restaurant on Earth on the World's 50 Best list, was in San Francisco. Fortunately, Nari's semi-private dining room was open that night."
Kedgeree - "Ian Fleming always served the same menu to his guests - salmon kedgeree or sausages, washed down with champagne and whisky, and followed by coffee." - Ian Fleming by Andrew Lycett.
Kenyans cash in on avocado craze - BBC News.
'Keto-like' diet may be associated with a higher risk of heart disease, according to new research - "A low-carb, high-fat 'keto-like' diet may be linked to higher levels of 'bad' cholesterol and double the risk of cardiovascular events such as blocked arteries, heart attacks and strokes, according to new research."
Ketogenic diet - high-fat, adequate-protein, low-carbohydrate diet that in medicine is used mainly to treat hard-to-control (refractory) epilepsy in children. The diet forces the body to burn fats rather than carbohydrates.
KFC's top secret '11 herbs & spices' was leaked by Colonel Sanders' nephew - "The secret recipe was revealed by Colonel Sanders' own family. KFC is one of the world's most popular fast-food joints and a lot of its success is down to the hype of its 'finger-lickin' chicken. The classified information of what exactly goes into the mysterious '11 herbs and spices' has been leaked - and from an unlikely source. Down to precise measurements, keep on reading to find out just what those top-secret ingredients are."
Kneading to relax? How coronavirus prompted a surge in stress baking - "With the pandemic confining millions to their homes, bread baking has become a meditative and empowering act."
KOBE BEEF - refers to beef from the Tajima strain of Wagyu cattle, raised in Japan's Hyogo Prefecture according to rules as set out by the Kobe Beef Marketing and Distribution Promotion Association. The meat is a delicacy renowned for its flavor, tenderness, and fatty, well-marbled texture. Kobe beef can be prepared as steak, sukiyaki, shabu shabu, sashimi, and teppanyaki.

A B C D E F G H I J K L M N O P Q R S T U V W X Y Z

- L -

'La Liste' reveals world's best 20 restaurants 2017 - The Telegraph.
Lab analysis of Subway tuna sandwiches fails to identify tuna DNA - "New York Times commissions test of 60in worth of tuna sandwiches but researchers were unable to pinpoint a species."
LADIES WHO LUNCHED - Vanity Fair. "They were the ladies who lunched, when "lunching" was a verb and was—at such shrines as the Colony Club, La Côte Basque, and Le Cirque—impossibly glamorous, hugely entertaining, and utterly without purpose."
Last supper? Japan's diners divided over killer puffer fish - The Guardian.
Le Cinq, Paris: restaurant review - "It was supposed to be a joyous trip to one of France's famous gastro palaces – what could possibly go wrong?"
Le Cordon Bleu - Wikipedia.
LE CORDON BLEU INTERNATIONAL COOKING SCHOOLS - founded in 1885. The world's largest hospitality education institution, with over 50 schools on five continents serving 20,000 students annually. Its education focus is on hospitality management, culinary arts and gastronomy.
LE GUIDE CULINAIRE - Georges Auguste Escoffier's pivotal book in the history of European haute cuisine.
lemon pancakes with strawberry sauce - Nigel Slater's recipe.
Leonardo DiCaprio & Jeff Bezos have backed this lab-grown sushi startup - "How lab-grown sushi could help tackle overfishing."
'Let's consider the type of food we eat, not fixate on calories' - "The scientist and broadcaster, Giles Yeo, discusses the drawbacks of calorie-counting and BMI in measuring obesity, and how our growing understanding of genetics is leading to new treatments."
Life after Veganuary: the ethical guide to eating meat, eggs & dairy - "If you have slunk back to burgers after a month of avoiding meat, all is not lost. Here's how British shoppers can track down high-welfare, eco-friendly produce."
Life-changing dishes that inspired famous chefs to start cooking - "These dishes made famous chefs fall in love with cooking."
LIMECHILLI - the travelling chef.
List of food days - Wikipedia.
LIST OF FOODS NAMED AFTER PEOPLE - Wikipedia.
List of Michelin 3-star restaurants - three stars mean "exceptional cuisine that is worth a special journey". Wikipedia.
List of Michelin starred restaurants - Wikipedia.
Lobster Thermidor - French dish of lobster meat cooked in a rich wine sauce, stuffed back into a lobster shell, and browned. The sauce is often a creamy mixture of egg yolks and Brandy (such as Cognac), served with an oven-browned cheese crust, typically Gruyère.
London's best brunches - The Telegraph.
London's Le Caprice restaurant to close its doors in the West End - "A-list celebrity eatery, closed since the Covid-19 pandemic, will reopen at new location."
London's most authentic Indian food? - "This unassuming street in north London is the city's original 'Little India' - and nowhere else captures the original South Asian experience quite like it."
Louis Sherry - (1855-1926). Was an American restaurateur, caterer, confectioner and hotelier during the Gilded Age and early 20th century.

A B C D E F G H I J K L M N O P Q R S T U V W X Y Z

- M -

MÂchon: The French breakfast you don't know - "While France is renowned for its pains au chocolat and croissants, Lyon has a long-standing tradition of tucking into wine and offal at breakfast."
Madame Wu, famed Westside restaurateur who served the stars, dies at 106 - "On a given night, Frank Sinatra and his young bride, Mia Farrow, would be enjoying a plate of Wu's beef, stir-fried shards of flank steak with onions and oyster sauce. Mae West showed up on Sundays and faithfully ordered the cold melon soup, while Gregory Peck and Paul Newman fancied the shrimp toast and crab puffs. Princess Grace of Monaco gushed about the Peking roast duck."
Madrid Chefs Rethink the City's Classic Cuisine - "A strong contingent of rising culinary stars has emerged in the Spanish capital, adding a needed dose of personality to Madrid's contemporary dining scene."
Magnificent 10: Restaurants That Changed How We Eat - The New York Times.
MaÎtre d' - manages the public part, or "front of the house", of a formal restaurant. Generally include supervising the waiting staff, welcoming guests and assigning tables to them, taking reservations and ensuring that guests are satisfied.
Manhan Quanxi - Manchu Han Imperial Feast. One of the grandest meals ever documented in Chinese cuisine. It consisted of at least 108 unique dishes from the Manchu and Han Chinese culture during the Qing Dynasty, and it is only reserved and intended for the emperors.
Mapped: Every Michelin-starred restaurant on Earth - The Telegraph.
MARCO PIERRE WHITE - British chef, restaurateur, and television personality from Leeds. White has been dubbed the first celebrity chef, and the enfant terrible of the UK restaurant scene.
Marie-Antoine CarÊme - (1784-1833). One of the first celebrity chefs known as the "chef of kings and king of chefs".
Massimo Bottura, the Chef Behind the World's Best Restaurant - The New York Times.
Mastering the Art of Beef Stew - The New York Times.
matchstaff.com - "World's largest database of educated bar staff. for you. for free."
McDonald's announces new chicken sandwich & 'McPlant' burger - "The company said Monday that it will test the new plant-based burger in key markets next year."
McDonald's launches Nutella burger - The Independent.
McDonald's new 'menu hack' includes a 'Land, Air & Sea' burger - "Burger giant McDonalds is causing something of a flap with a bizarre new set of forthcoming 'menu hacks' that includes a sandwich called 'Land, Air & Sea,' combining fish, beef and a bird with dismal flying abilities - the chicken."
McDonald's plans to sell its Russia business - "'This is a complicated issue that's without precedent and with profound consequences,' said Chris Kempczinski, the chief executive of McDonald's."
McDonald's restaurant in Russia - "Russia has relaunched McDonald's under new branding and ownership. CNN's Fred Pleitgen visited Moscow's Pushkinskaya Square, the same location where McDonald's first opened in Russia in 1990."
MEAL - Wikipedia.
Meal of a lifetime: what to eat at every age - "From training toddlers to socialising septuagenarians - here are the ideal ingredients to eat healthily at every stage of life."
Meatball from long-extinct mammoth created by food firm - "Australian company resurrects flesh of lost species to demonstrate potential of meat grown from cells."
Mediterranean diet may lower dementia risk by a quarter, study suggests - "Data from more than 60,000 Britons suggests plant-rich diet may help regardless of person's genetic risk."
Mediterranean diet named best diet for 2022 - "It's a winning streak that just won't quit. For the fifth year in a row, the Mediterranean diet was first across the finish line in the annual race for best diet, according to ratings announced Tuesday by U.S. News & World Report. Coming in a close second, in a tie: The DASH diet, which stands for dietary approaches to stop hypertension and emphasizes reducing salt intake; and the flexitarian diet, which encourages being a vegetarian most of the time - but is flexible enough to allow a burger once in a while."
Melting marvels: the top 10 toasties of all time - "Lockdown has made us obsessed with bread, and now it's time to choose the best fillings for toasted sandwiches - from cheese and ham to Nutella and Snickers."
menu tweaks that lower diners' emissions - "Beyond ingredients, seasonality and even calorie content, some restaurants are now offering information on their food's carbon emissions - and it may help diners make more sustainable choices."
Michelin 3-star restaurants - three stars mean "exceptional cuisine that is worth a special journey". Wikipedia.
MICHELIN 3 STAR RESTAURANTS AROUND THE WORLD - Andy Hayler's Restaurant Guide.
Michelin awards star to vegan restaurant for the first time in France - "A vegan restaurant in south-west France has won a Michelin star, the first for an establishment serving only animal-free products in France. Restaurant ONA in the city of Ares rewarded after initially struggling to get funding to open its doors."
Michelin Guide 2020: The New Sustainability Emblem - "To coincide with the release of the Nordic Countries Guide 2020, Michelin has launched its new Sustainability Emblem for the Nordic Countries (Denmark, Finland, Iceland, Norway and Sweden) on the Michelin Guide website https://guide.michelin.com/en. Those at the forefront with their sustainable gastronomy practices are highlighted by a new symbol, with the restaurant's vision also outlined via a quote from the chef. For other restaurants taking smaller steps to work in a greener way, there are short descriptions on their initiatives."
MICHELIN RED GUIDES - a series of annual hotel and restaurant guides published by Michelin. First published in 1900 for France, Michelin introduced additional guides thereafter for other European countries. In 2005, it published the first guide for the United States focusing on New York City; followed by its first Asian guide in 2007 for Tokyo. In 2012, the Michelin Guide collection had 27 guide books covering 23 countries on three continents, with over 45,000 worldwide addresses.
MICHELIN STARS - "'Michelin Stars II - Nordic By Nature' is a greater culinary documentary filmed over an 18-months period, that follows the equally endearing and brutal destiny and everyday life of the Faroe Islands, and its culinary pearl, KOKS helmed by chef Poul Andrias Ziska."
Millennials Are Being Accused of Killing Canned Tuna - TIME Magazine.
Mindful eating could change your food habits & overall life. Here's how to start - "Mindful eating means using all your physical and emotional senses to experience and enjoy the food choices you make without judgment, said Lilian Cheung, a lecturer and director of health promotion and communication in the nutrition department at Harvard T.H. Chan School of Public Health, via email."
Mirazur experience: What it's like to eat at the world's best restaurant - "Inside the world's best restaurant."
MOLECULAR GASTRONOMY - subdiscipline of food science that seeks to investigate the physical and chemical transformations of ingredients that occur while cooking. Favored by EL BULLI.
More than 30,000 pubs & restaurants 'may not reopen after lockdown' - "Coronavirus crisis could prove final straw for some businesses in hospitality sector, poll finds."
More Than Coffee: New York's Vanishing Diner Culture - The New York Times.
Moscow falls for the rodent burger - The Guardian.
MSC Standards - since 1996. "When you see fish or seafood products with the blue MSC label, you can be sure they come from a sustainable fishery that has met the MSC Fisheries Standard. Businesses trading in these products have met our Chain of Custody Standard for traceability." The MSC Standards meet international best practice guidelines for certification and ecolabelling. The Standards were developed through consultation with the fishing industry, scientists, conservationists, experts and stakeholders.
MSG is the most misunderstood ingredient of the century. That's finally changing - "Calvin Eng, the owner of New York-based Cantonese-American restaurant Bonnie's, isn't shy about his love for monosodium glutamate. Calvin Eng, the owner of New York-based Cantonese-American restaurant Bonnie's, isn't shy about his love for monosodium glutamate. 'Things just taste better with MSG, whether it's Western food or Cantonese food,' the chef tells CNN."
Mulligatawny soup recipe - A richly flavoured soup, spiced with curry powder. Perfect for a cold day, serve with a dollop of tangy sour cream. Christian Dior's favourite soup. BBC Food.
My week as a foodie vegan - "Can ditching meat and dairy open up new taste sensations?"

A B C D E F G H I J K L M N O P Q R S T U V W X Y Z

- N -

Naomichi Yasuda - "The Sushi Legend."
National Pizza Day 2023: Slice into some absurd facts - "The reason so many of us crave pizza."
Neapolitan art of making pizza - The Telegraph.
NEW NORDIC CUISINE - has been developed in the Nordic countries and Scandinavia in particular since the 2000s. New Nordic Cuisine was propelled by and found inspiration in ideas and a manifesto written by food activist and entrepreneur Claus Meyer and a number of Scandinavian chefs in 2004 in Copenhagen.
New Year's food traditions around the world - "They eat what? New Year's food traditions around the world."
New York City restaurant unveils $200 french fries - "The Crème de la Crème Pommes Frites start out as Chipperbec potatoes. They are blanched -- or scalded -- in vinegar and champagne. Then they fry in pure goose fat, not oil, and not once but twice, so they are crispy on the outside and fluffy on the inside. Sprinkled with edible gold and seasoned with truffle salt and truffle oil, they are served on a crystal plate with an orchid, thin-sliced truffles, and a Mornay cheese dip. The sauce, too, is infused with truffles, a rare seasonal mushroom."
New York hotels with Michelin-starred restaurants - The Telegraph.
Nigella Lawson butters her toast twice, and Britain is really angry about it - "There are a handful of culinary quagmires that, for no clear reason and to the bafflement of the rest of the world, bitterly divide Britain: the correct pronunciation of 'scone,' for example, or at what stage in the tea-making process one should add milk. Now, one of the country's favorite TV chefs has added another debate to the list -- how, exactly, to butter toast."
Nitro cold brews tipped to re-energise coffee shops - The Guardian.
No flour, eggs or butter? No problem! 23 cake recipes for when you're missing an ingredient - "On lockdown and feeling the urge to bake, but missing something apparently vital? Then pinch some ideas from great bakers past and present."
No flour, pasta or eggs? The perfect substitutes for 20 common ingredients - "Getting your hands on everyday staples is not always as quick and easy as it used to be - but you can still rustle up delicious dishes by making a few judicious substitutions."
No soil, seeds or space? No problem! A beginner's guide to growing vegetables - "It's possible to help keep your household stocked with fresh greens, even if you don't have a garden. Here's how to get started."
Noma chef RenÉ Redzepi's journey from angry beast to humane mentor - "Noma has once again been named the world's best restaurant. To think that its famous cofounder, René Redzepi, became a chef only because he had few other prospects."
Noma Kyoto - "Noma Kyoto at Ace Hotel Kyoto will run from March 15th to May 20th 2023."
Nordic Food Court Rises at Grand Central, With an Order to Leave No Trace - The New York Times.
NORDIC FOOD LAB - non-profit self-governed institution, with the purpose of scientifically exploring the New Nordic Cuisine.
North America's sacred trio of foods - "In Quebec, the tale of the 'three sisters' isn't just a myth about cooperation; it's a message from Wendat ancestors that teaches modern people about ancient, life-sustaining food. They're crops: corn, squash and beans."
North of Nordic: A Young Chef Invents 'Neo-Fjordic' Cuisine - The New York Times.
Note by Note cuisine - style of cooking based on molecular gastronomy, created by Hervé This. Dishes are made using pure compounds instead of using animal or plant tissues. Hervé This said the cuisine is like "a painter using primary colours, or a musician composing note by note".
Notting Hill Yummy Mummy - "I am a self-confessed sybarite, who loves the pleasures of eating out in great restaurants, traveling to awe-inspiring places and staying in amazing hotels."
NOUVELLE CUISINE - (French, "new cuisine") is an approach to cooking and food presentation in French cuisine. In contrast to cuisine classique, an older form of haute cuisine, nouvelle cuisine is characterized by lighter, more delicate dishes and an increased emphasis on presentation. It was popularized in the 1960s by the food critics Henri Gault, who invented the phrase, his colleagues André Gayot and Christian Millau in a new restaurant guide, the Gault-Millau, or Le Nouveau Guide.
NYC restaurant with only one table - "New York's hottest West African table. Chef Ayo Balogun of Dept of Culture is introducing North-Central Nigerian cuisine to American palates. And with only one table, the accolade-winning restaurant is booked for months."

A B C D E F G H I J K L M N O P Q R S T U V W X Y Z

- O -

Oatmeal! Oatmeal! Oatmeal! - The New York Times.
Occupy 50 best - "Online petition launched to protest World's 50 Best Restaurants awards."
Offal - also called variety meats or organ meats, refers to the internal organs and entrails of a butchered animal.
offal is banned in the US. In Scotland it's a fine-dining treat - "Anthony Bourdain loved haggis. But even the late, great American chef, writer and television host recognized that Scotland's national dish, with its 'sinister sheep parts' wrapped in a shroud of mystery and half-invented history, could be a hard sell."
OFM Awards 2019: Best food personality - Jamie Oliver - "'I'm a bit battered and bruised, but I'm optimistic,' says the campaigning chef who has been voted by OFM readers as their personality of the year."
oldest three-star michelin restaurant downgraded - "'L'Auberge du Pont de Collonges,' known simply as Paul Bocuse, had held its créme de la créme rating since 1965 - a world record. The restaurant of famed French chef Paul Bocuse has lost its three-star Michelin rating, stirring controversy."
Omakase - Japanese phrase, used when ordering food in restaurants, that means 'I'll leave it up to you'.
Omelette Arnold Bennett - "This indulgent omelette recipe is rich, creamy and perfect for a weekend treat. Fluffy eggs, béchamel sauce and smoked haddock are topped with cheese and grilled to create a crisp top."
On Eating Alone in Paris - The New York Times.
On Strawberry Fanta & Other Treats Imbued With Divine Status - "Whether because of religion, fad dieting or Instagram, humans have long made food offerings in the hope of connecting with the sublime."
On 'Succession,' if You're Eating, You're Losing - "When it comes to the high-powered Roy dynasty, food is for the weak and striving."
On the Carnivore Diet, People Are Eating Only Meat: Here's What to Know - "Everyday Health. High-protein diets are all the rage, but one outdoes all the rest. It's aptly named the carnivore diet, and it focuses on meat, just meat. If that sounds questionable from a health perspective, that's because it is."
One of the world's best Chinese restaurants is in Tokyo - "Inside a dimly lit dining room, chef Tomoya Kawada of Sazenka is drawing a yin-yang diagram on a notepad as he explains his dreams for the distant future. After all, this Japanese chef has achieved a feat no other restaurateur has before; he's created the world's only three-Michelin-star Chinese restaurant in a non-Chinese-speaking city. Not an easy task in the tightly guarded world of Chinese kitchens."
OPEN TABLE - "Make restaurant reservations the easy way: Find a restaurant, Choose a table, Book online: free, instant, confirmed. Trusted by 15,000 restaurants & 175 million diners."
'Operation empty plate': Xi Jinping makes food waste his next target - "Restaurant diners told to order one dish fewer than number of people under new system criticised as overly controlling."
Ortolan bunting - bird in the bunting family Emberizidae, a passerine family now separated by most modern scholars from the finches, Fringillidae. In September 2007, the French government announced its intent to enforce long ignored laws protecting the bird. The ortolan is force-fed by being placed in a dark box with millet, where as a reaction to darkness it proceeds to eat continuously. One way French diners ate ortolans was to cover their heads and face with a large napkin for the gourmet's aesthetic desire to absorb the maximum odour with the flavour. This famous use of the towel was launched by a priest, a friend of Jean Anthelme Brillat-Savarin. In 1996, François Mitterrand's last meal included this specially prepared bird.
Our Diets Are Changing Because of the Coronavirus Pandemic. Is It for the Better? - "People are cooking more during the coronavirus pandemic. But dietary shifts aren't affecting everyone the same way."
Our food system isn't ready for the climate crisis - "The world's farms produce only a handful of varieties of bananas, avocados, coffee and other foods - leaving them more vulnerable to the climate breakdown."
Out with the meat, in with the plants as world's top chefs offer vegan menus - "From London to San Francisco, haute cuisine is joining the food revolution. Michelin-starred chefs explain they're going meat-free."
Outlery - Collapsible Cutlery - since 2018. "The world's smallest cutlery set!" Plastic-free | reusable | forking awesome. It all started with a thought to replace single-use plastic cutlery...for Mother needs us to step up and take a stand! Outlery is portable and designed to be your pocket-sized partner for life.
Owamni: The US' best new restaurant? - "Through The Sioux Chef, Sean Sherman and Dana Thompson use food as a guidepost to a hidden part of history, all while sparking a (r)evolution of 'true' North American foods."
Oyakodon Is Bliss in a Bowl - "Also soothing and satisfying: crisp gnocchi with sausage and peas, soy sauce noodles with cabbage and fried eggs."

A B C D E F G H I J K L M N O P Q R S T U V W X Y Z

- P -

Paris Hilton's cooking show is really about something else - "Critics are taking issue with Hilton as host of a show about food, but be under no illusion, this woman isn't pretending she can cook. In fact, she's probably pretending she can't, but that hasn't deterred much of the internet from scoffing at her poor culinary skills, and wondering at the point of a food show that doesn't include knockout recipes."
Pasta e fagioli - meaning "pasta and beans", is a traditional Italian pasta soup. It is often called pasta fasul or pasta fazool in the New York Italian dialect, derived from its Neapolitan name, pasta e fasule.
'pasta revolution' sweeping Italy - "Cacio e pepe en vessie: A new (old) twist on cacio e pepe. On the shores of Lake Garda, Italian chef Riccardo Camanini is bringing ancient Italian recipes - like cacio e pepe - into the modern day at his restaurant Lido 84."
Paul Bocuse, Celebrated French Chef, Dies at 91 - The New York Times.
PAUL BOCUSE RESTAURANTS - 3-star Chef. Official website.
Peanut Butter - "The Best Creamy Peanut Butter." Few things in Americana are at once as commonplace and unique as peanut butter.
Peanut butter pasta dish among Nigella Lawson's £1.25-a-portion budget recipes - "Budget dishes created by celebrity cook include peanut butter pasta and feta, black bean and clementine couscous."
Peranakan cuisine - or Nyonya cuisine comes from the Peranakans, descendants of early Chinese migrants who settled in Penang, Malacca, Singapore and Indonesia inter-marrying with local Malays and combines Chinese, Malay and other influences.
Peranakan food: A guide to one of Southeast Asia's most popular cuisines - "One of Southeast Asia's most interesting cuisines, Peranakan food is primarily found in Singapore, Malaysia and Indonesia."
PERFECT SOFT BOILED & HARD BOILED EGGS (EVERY TIME) - "Learn how to make hard boiled eggs (and soft boiled eggs) so they turn out perfectly every time. My hard boiled eggs recipe is super easy and allows you to cook a variety of eggs for the entire family - all in one pot."
Persian Cuisine, Fragrant & Rich With Symbolism - The New York Times.
Pescetarianism - the practice of adhering to a diet that incorporates seafood as the only source of meat in an otherwise vegetarian diet.[1] Most pescetarians are ovo-lacto vegetarians who eat seafood along with dairy products and eggs.
Pesticides explained: the toxic chemicals in up to 70% of produce - "Studies have linked long-term health issues, while regulators insist breaches of safe limits are rare."
PHO - is a Vietnamese beef and noodle soup.
Pho: the humble soup that caused an outrage - "When an American blogger controversially dubbed her quick noodle soup recipe 'chicken pho', it shone a fresh light on Vietnam's beloved national dish."
Pies around the world - sweet & savory pastries to celebrate Pi Day - "March 14 is Pi Day in honor of the first three digits of the mathematical constant (3.1415...). But it's also a flimsy, yet delicious, excuse to celebrate an enduring culinary concept: the many edible varieties of pie around the world."
Pizza for Breakfast, but Not What You Think - The New York Times.
Pizza: The reason so many of us crave pizza - "National Pizza Day 2023: Slice into some absurd facts."
Pizzoccheri: Italy's debated buckwheat pasta recipe - "Italy's debated gluten-free pasta."
Poached Salmon - "Poach delicious salmon steaks or fillets in only 15 minutes! Salmon poached in white wine, seasoned with fresh dill."
Pop-up restaurant - also called supper clubs, are temporary restaurants. These restaurants often operate from a private home, former factory, or similar and during festivals.
poppy seeds: Pentagon warns troops eating poppy seeds could lead to failed drugs tests - "A memo distributed on Friday from Gilbert Cisneros, the under secretary of Defense for personnel and readiness, directed military service leaders to 'notify service members to avoid consumption of all poppy seeds to include food products and baked goods containing poppy seeds.'"
Porridge could be key to a long and healthy life, says Harvard University - "Eating porridge, brown rice or corn each day could protect the heart against disease, Harvard University has found."
Porterhouse - are steaks are cut from the rear end of the short loin and thus include more tenderloin steak, along with (on the other side of the bone) a large strip steak.
Posh salt is having a moment - does enjoying it make me pretentious? - "Believe it or not, you really can tell the difference between fleur de sel and bog-standard table salt."
Pot roast - beef dish made by slow-cooking a usually tough cut of beef in moist heat. Tougher cuts such as chuck steak, bottom round, short ribs and 7-bone roast are preferred for this technique. While the toughness of the fibers makes them unsuitable for oven roasting, slow cooking tenderizes the meat as the liquid exchanges some of its flavor with the beef. In the US, where it is also known as "Yankee pot roast", the dish is often served with vegetables such as carrots, potatoes and onions simmered in the cooking liquid. Pot roast is a dish with influences from the French dish boeuf à la mode, the German dish sauerbraten, and Ashkenazi meat stews.
POWER BREAKFAST / LUNCH / DINNER - definition & explanation.
Prahok: The pungent fish elevating Cambodian cuisine - "While the world is familiar with the food from neighbouring Thailand and Vietnam, Cambodian cuisine is still relatively unknown. Can a sharp-smelling fish change that?"
Pret A Diner: This is not a pop up restaurant - This is a dining experience. - "Berlin, Rio de Janeiro, Venice, Basel, Ibiza, London, Sao Paolo & Miami. Where will we pop up next?"
PRIX FIXE - definition & explanation.
proffee principle: Is it really a good idea to add protein to your morning coffee? - "Caffeine is a stimulant, protein helps muscle recovery, and thousands of people are posting online about combining the two for a sludgy beige take on breakfast."

A B C D E F G H I J K L M N O P Q R S T U V W X Y Z

- Q -

Queen launches own brand ketchup & brown sauce - "Her Majesty is selling The Queen's Tomato Sauce and Brown Sauce for £6.99. Flavoured with dates, apple juice and spices, it is on sale at Sandringham shop."
queen's favorite soup - "The muddy history of Brown Windsor Soup. Considered an appetiser of choice for British royalty for centuries, Brown Windsor Soup has long held a peculiar role in the national psyche. And it likely never existed at all."
Queens of Mayfair - 17 Queen St, Mayfair, London W1J 5PH, England, U.K. "UK's Most Expensive Coffee. Experience for One." This is the award winning Cup of Excellence from Ethipoia. Served through a v60 filter after being ground table side by our Head Barista you will enjoy some of the finest coffee in the world. Not only is this a rare commodity but the farmers were paid more than 150 × the usual trade price for these award winning beans, makign a real difference to comunities in Ethiopia.
Quiche: King Charles & Camilla choose coronation quiche as signature dish - "Recipe follows coronation chicken and platinum pudding as suggested centrepiece for parties and events."
Quiche Lorraine - French tart with a filling made of cream, eggs, and bacon or ham, in an open pastry case. It was little known outside the French region of Lorraine until the mid-20th century.
Quiche: Salmon, stress & a delicious surprise! Tim Dowling makes readers' favourite quiches - "Unlike the coronation quiche, there wasn't a broad bean in sight when we asked readers to name their most-loved combinations. From chorizo to asparagus to king trumpet mushrooms, which should you try?"
Quinto quarto - in the cuisine of modern Rome quinto quarto (literally the "fifth quarter") is the offal of butchered animals.
Quiz: What is 7pm the peak time for? - BBC News.

A B C D E F G H I J K L M N O P Q R S T U V W X Y Z

- R -

RAMEN - Japanese noodle dish that originated in China.
Rate My Plate - since 2012.
RAW FOODISM - Wikipedia.
Recreate the 2022 Met Gala Dinner With These Recipes - "Not everyone can attend the Met Gala dinner - but now, everyone can enjoy it. The chefs behind this year's menu - Lauren Von der Pool, Melissa King, Marcus Samuelsson, and Amirah Kassem - are sharing their recipes for the delectable dishes served on fashion's biggest night."
Regina Bistecca, Florence: 'My favourite steak' - restaurant review - "Regina Bistecca, Via Ricasoli 14r, Florence 50122, Italy (+39 055 269 3772; reginabistecca.com). Starters €8-€14, main courses €15-€29, T-bone steaks for two to share €60-€90, wines from €23."
Reuben sandwich - American grilled sandwich composed of corned beef, Swiss cheese, sauerkraut, and Russian dressing, grilled between slices of rye bread. It is associated with kosher-style delicatessens, but it is not kosher, because it combines meat and cheese.
Revealed: The surprising secrets to making plane food taste better - The Telegraph.
Relais de Porquerolles - when the 1966 edition appeared, the then-popular Paris fish restaurant Relais de Porquerolles found that it had not merely lost its two stars but that it had been dropped. Not too long thereafter the chef, Alain Zick, killed himself. He left no note.
Renowned Restaurant Noma to Close - The New York Times.
Restaurant - Wikipedia.
RESTAURANT DAY - "A food carnival when anyone can open a restaurant for a day."
Restaurant wine lists: how to choose a good bottle - The Telegraph.
Restaurant Where Bathroom Soap Complements Meal - The New York Times.
Restaurants That Changed How We Eat - The New York Times.
restaurant's menu offers bluntly honest descriptions of the dishes - "Feigang Fei, owner of Cuisine AuntDai in Montreal, wants to be honest with you."
Rick Stein: 'Oh God, I've had a lot of therapy' - "The chef talks about his restaurant business and laying off staff during the lockdown, his two marriages and how his father's bipolar disorder affected his childhood."
'Roadrunner: A Film About Anthony Bourdain': Film Review - "Oscar-winning director Morgan Neville tackles chef, author and TV host Anthony Bourdain's complicated life and tragic death in two-hour documentary form."
roasted pigeon dish that may have changed the course of modern Chinese history - "A massive blue and red neon sign hovers above a narrow alley off busy Nathan Road in Hong Kong's Yau Ma Tei area. Its five bold Chinese characters read 'Tai Ping Koon Restaurant' - the famous name of the very first Chinese-owned 'Western' restaurant in China. Today, it's one of the longest operating family-run restaurants in Hong Kong. Most diners come for one dish in particular - the TPK Style Roasted Pigeon. It's brought to the table by a bowtie-wearing server along with an unlikely accessory - plastic gloves. Because there's is no better way to devour the crispy and juicy poultry than with your hands."
Rome debuts hot pizza vending machine - "Raffaele Esposito, the 19th century Neapolitan credited with inventing Italy's most famous type of pizza, may be turning in his grave: Rome has a new vending machine which slides out freshly cooked pizzas in just three minutes."
Rome's pizza machine - "What pizza from a vending machine really tastes like. Rome's newest pizzaiolo (pizza-maker), 'Mr. Go,' is a vending machine pumping out four types of pizza for whenever you feel like one."
Row after Chinese tourists charged £3,280 at Israeli restaurant - The Guardian.
Russell Crowe contributes to GoFundMe campaign for Beirut restaurant beloved by Anthony Bourdain - "The initial GoFundMe goal for Beirut restaurant Le Chef was set at an attainable $13,000."
Ruth Reichl -American chef, food writer, co-producer of PBS's Gourmet's Diary of a Foodie, culinary editor for the Modern Library, host of PBS's Gourmet's Adventures With Ruth, and the last editor-in-chief of the now shuttered Gourmet magazine.

A B C D E F G H I J K L M N O P Q R S T U V W X Y Z

- S -

Salade niÇoise - "One of the best combinations of salad ingredients ever invented." Salad that originated in the French city of Nice. It is traditionally made of tomatoes, hard-boiled eggs, Niçoise olives and anchovies or tuna, dressed with olive oil.
Salmagundi - dish of seasoned meats, stewed with vegetables.
Salt Bae - Turkish butcher, chef, food entertainer and restaurateur whose technique for preparing and seasoning meat became an Internet meme in January 2017. He owns Nusr-Et, a chain of luxury steak houses. As of 2021, he has Nusr-Et branches in Turkey, Greece, the United States, the United Kingdom, the United Arab Emirates, Qatar, and Saudi Arabia. The name of his restaurant chain comes from his own name and "Et", which means "meat" in Turkish.
Sashimi - Japanese delicacy consisting of fresh raw fish or meat sliced into thin pieces and often eaten with soy sauce.
Sausage & peppers - dish in Italian-American cuisine prepared using Italian sausage and peppers (such as bell peppers) as primary ingredients. It is served as a dish on its own, sometimes with the use of additional ingredients such as tomato sauce, onions and pasta, and is sometimes served in the form of a sandwich.
SAVEUR - authentic recipes, food, drinks, and travel.
Science of Comfort Food - "Much of the joy we get from our favorite dishes stems from the memories we associate with them."
Scientists discover 'sixth taste' - and it could explain our love of pasta, potatoes and bread.
Scientists have made this food from thin air - "This company says it's making food from 'thin air' ... plus a dash of water and clean energy."
Seafood to avoid at the grocery store - Greenpeace USA.
Secrets & pies: the battle to get lab-grown meat on the menu - "Sustainable alternatives to livestock farming are being held back by patents, a reluctance to share research and lack of government support."
Seed banks: the last line of defense against a threatening global food crisis - "As climate breakdown and worldwide conflict continue to place the food system at risk, seed banks from the Arctic to Lebanon try to safeguard biodiversity."
Seychelles' island cuisine - "Seychelles' fragrant, spice-laden cuisine is increasingly hard to find - but travellers-in-the-know can still feast on delicious traditional dishes around the Indian Ocean archipelago."
Should meat be banned to save the planet? - "A barrister has called for new laws against practices that harm the environment - including eating meat. But some experts say criminalising carnivores could do more harm than good."
SHU | SCOVILLE HEAT UNITS - the "heat" unit of chili peppers is measured in.
Shakshuka - "Another savoury egg sensation - there are so many recipes for this hugely popular Middle Eastern dish and we think it makes a great one-pot lunch or supper as well as a brunch. Here's our latest version, which is packed full of herbs and spices. Give it a try and you'll never look back."
Shark finning: why the ocean's most barbaric practice continues to boom - "The recent seizure of the biggest shipment of illegal fins in Hong Kong history shows the taste for shark is still going strong."
'Should I use potato milk in my porridge?': what you should really eat for breakfast - "From drinking coffee on an empty stomach to the merits of fasting, have we been getting breakfast all wrong?"
Should I worry about eating too many takeaways? - "We all know they tend to be full of salt, sugar and additives - but when does an occasional treat become an unhealthy habit? We separate the fat from the fiction."
Should we be eating three meals a day? - "The idea that we should eat three meals a day is surprisingly modern. How many meals a day is best for our health?"
should we eat like our ancestors? - "Are eating plans like the paleo diet really healthier - or more ethical - than the way we eat now?"
Silphion - This miracle plant was eaten into extinction 2,000 years ago - or was it? - "Silphion cured diseases and made food tasty, but Emperor Nero allegedly consumed the last stalk. Now, a Turkish researcher thinks he's found a botanical survivor."
Singapore street food added to Unesco heritage list - "The city-state's cosmopolitan 'hawker culture' has been added to the prestigious list - welcome recognition after a tough year for vendors. Plus five of the best food centres to visit."
Slider (sandwich) - a small sandwich, typically around 3 in (7.6 cm) across, served in a bun. The term primarily refers to small hamburgers, but can also cover any small sandwich served on a slider roll.
Slow burn: a fast guide to slow cooking - "Slow cookers can deliver deep, luxurious flavours and textures, or a hot soggy mess. Katrina Meynink offers a foolproof guide to the fundamentals."
SLOW FOOD - good, clean and fair food: to counteract fast food and fast life.
Social jetlag - are late nights and chaotic sleep patterns making you ill? - "Waking later at weekends can have the same effect as jetlag – and lead to weight gain, reduced mental performance and chronic illness. But there is a solution."
SoufflÉ Furstenberg - Recipes by Truman Capote.
Southeast Asia's 600-year-old fusion cuisine - "Six hundred years ago, women created Peranakan cooking - a Southeast Asian cuisine with multicultural roots - and have been shaping it ever since."
Spain's 'white gold' super-drink - "Gluten-free, sweet and nutritionally dense, tiger nuts are being hailed as a rising 'superfood'. But in Valencia, Spain, these tasty tubers have been popular for centuries."
'Spoons are so brutal!' Paris Hilton's cooking show is a rare work of comic genius - "In Cooking with Paris, the heiress and her dog dressed as a French maid struggle to make a lasagne. It's either a baffling vanity project – or an instant classic."
Spumoni - molded Italian ice cream made with layers of different colors and flavors, usually containing candied fruits and nuts.
Stagiaire - unpaid internship when a cook or chef works briefly, for free, in another chef's kitchen to learn and be exposed to new techniques and cuisines.
Start your day the Scandi way - The Guardian.
Steak slices, burgers, kebabs: how fast food went posh - The Telegraph.
Steak tartare - meat dish made from raw ground (minced) beef or horse meat. It is usually served with onions, capers, pepper, Worcestershire sauce, and other seasonings, often presented to the diner separately, to be added for taste. It is often served with a raw egg yolk on top of the dish.
Stop eating fish. It's the only way to save the life in our seas - "Unhindered by regulation, driven by greed, the fishing industry is the greatest threat to our oceans. We must take action."
Stopping the rot: the fight to save fresh food - "An American firm has developed an organic coating that extends the shelf-life of fruit and vegetables. Might it save the world?"
STRANGFORD LOUGH OYSTERS - (Coounty Down, Northern Ireland) nominated as world's best.
Stuckey's - "Since our humble beginnings in 1937, Stuckey's has become an American icon and treasure, serving delicious candy and hospitality to travelers across the United States."
SUPERFOOD - definition & explanation.
Superior Chicken Soup - The New York Times.
surprising truth about the hot dog - "The truth about the US' most iconic food. A sizzling symbol of Americana eaten at stadiums and barbecues, the humble hot dog originated in a very unlikely place: the beach."
Sushi - Japanese dish of prepared vinegared rice (sushi-meshi), usually with some sugar and salt, accompanied by a variety of ingredients (neta), such as seafood, often raw, and vegetables. Styles of sushi and its presentation vary widely, but the one key ingredient is "sushi rice", also referred to as shari, or sumeshi.
Sushi burgers are the latest viral food trend - The Telegraph.
sushi donut has made its way to NYC - Mashable.
SUSHI GLOSSARY - "Secrets of Sushi."
'Sushi terrorism' prank videos in Japan are hurting their famous conveyor belt restaurants - "Sushi train restaurants have long been an iconic part of Japan's food culture. Now, videos of people licking shared soy sauce bottles and messing with plates of food on conveyor belts are prompting critics to question their prospects in a Covid-conscious world."
'Sushi terrorism' sees Japan's conveyor belt restaurants grind to a halt - "Chains across the country have taken action after viral videos showed people licking communal bottles and touching passing food."
Sushi: These Are the Most Overrated & Underrated Types of Sushi - "Here are some very raw opinions from actual sashimi masters around the country."
SUSTAINABLE SEAFOOD ADVISORY LISTS & CERTIFICATION - Wikipedia.
Swapping salt for substitutes reduces risk of stroke & heart conditions - study - "High blood pressure contributes to around half of all heart attacks and strokes in the UK."
Sweden admits meatballs are Turkish - The Guardian.
Sweeten your tinned tomatoes - and 29 other tips for simpler, tastier home cooking - "A former chef shares what she learned over three decades, from how to keep your pans good as new to the virtue of storing ginger in the freezer."

A B C D E F G H I J K L M N O P Q R S T U V W X Y Z

- T -

'Taste. Think. Tweak' - chefs' 20 top kitchen tips - "Learning new kitchen skills could be just the thing you need to get your cooking out of a rut. Chefs offer their most vital techniques - from mastering sauces to dealing with too much salt."
Tattoos, karaoke & a touch of film noir: What it was like to work with Anthony Bourdain in Thailand - "No food celebrity was more widely loved than Anthony Bourdain at the time, and his posthumous fame and recognition have only grown since. In an era where chefs are the new rockstars, he was Johnny Cash, keeping it raw and real."
Tabelog - "For those who do not want to choose the wrong restaurant, 'Tabelog' posts information about restaurants and eating places in Japan."
TABLE D'HÔTE - definition & explanation.
Tafelspitz - boiled veal or beef in broth, served with a mix of minced apples and horseradish. It is a classic dish of the Viennese cuisine and popular in entire Austria and the neighboring German state of Bavaria.
TAKE-AWAY FOOD - definition & explanation.
T-bone steak - steaks of beef cut from the short loin (called the sirloin in Commonwealth countries and Ireland). Both steaks include a "T"-shaped bone with meat on each side. Porterhouse steaks are cut from the rear end of the short loin and thus include more tenderloin steak, along with (on the other side of the bone) a large strip steak.
TEPPANYAKI - Wikipedia.
The beloved 'snack of wealth' made on Delhi's streets - "Some vendors say moonlight and dew are the magic ingredients, but modern developments are moving this beloved sweet treat off the streets and into fine-dining restaurants."
The Best Hearty Mail-Order Meats - "While many restaurants remain closed and social distancing is still an important concern, a virtual dinner date with dad may be the most viable option. Shipping all the components of a perfect steakhouse dinner might be the perfect way to mark the occasion."
The big idea: should we eat like our ancestors? - "Are eating plans like the paleo diet really healthier - or more ethical - than the way we eat now?"
The brown bomber: how the likes of HP Sauce fell out of fashion - "Brown sauce has lost yet more ground in the condiment sales wars, as the British have their heads turned by fancy foreign stuff."
The clever science behind frozen ramen - "Instant ramen might be a hunger beater, but they are little like the real thing. However, food scientists can make them much more like restaurant noodles with one new step - freezing."
The 'Consummate' London Restaurateur Is Briskly Shown the Exit - "Jeremy King fell out with his Bangkok-based partner. His A-list customers vow never to return to the restaurants he made famous. It was a swift defenestration for a celebrated London restaurateur whose travails had become an anxious topic of conversation among his devoted diners. They spoke of it, sotto voce, as Mr. King glided past their tables at the Wolseley, the Delaunay, Bellanger, Colbert, Fischer's and Zédel - glittering jewels in a gastronomic empire that many credit with transforming the city's once-fusty restaurant scene. Princess Diana was a regular at his first place, Le Caprice."
The Culinary Institute of America (CIA) - since 1946. "The World's Premier Culinary College." Private culinary school with its primary campus in Hyde Park, New York, and branch campuses in St. Helena and Napa, California; San Antonio, Texas; and Singapore. The college, which was the first to teach culinary arts in the United States, offers associate, bachelor's, and master's degrees, and has the largest staff of American Culinary Federation Certified Master Chefs.
The dish that defines Brazil - "Where a meal without beans is incomplete. In Brazil, poverty, colonisation and modernism turned beans into the culinary symbol of this continent-sized nation."
The edible insects coming to a supermarket near you - "It has long been suggested that we should start eating insects to help the environment, but for many of us it is not a palatable thought. One Israeli firm is hoping to win over the squeamish by adding different flavourings."
The everyday foods that could become luxuries - "Everyday foods such as coffee, meat and spices could become luxury items due to global climate impacts and changing tastes."
The Explorers Club Once Served Mammoth at a Meal. Or Did It? - The New York Times.
The (Fake) Meat Revolution - The New York Times.
The food that can feed, and maybe save, the planet: Bugs - "On a morning in the not-too-distant future, you might toast bread made with cricket flour, drink a protein smoothie made from locust powder, and eat scrambled eggs (made extra-creamy with the fat from mopane caterpillars) with a side of mealworm bacon. That meal will give you four times the iron, more than three times the protein and more key vitamins and minerals than the bread, smoothie, eggs and bacon you eat today -- all while saving the planet."
The food that took thousands of years to perfect - "Food in Egypt: 13 delicious dishes and drinks you shouldn't miss."
The French take on a trendy 'superfood' - "Fisherwoman Scarlette Le Corre has spent a lifetime quietly revolutionising fishing in France and the greater story of seaweed cultivation, culture and cuisine in Brittany."
The golden age of plane food - In pictures - The Telegraph.
The gooey 'biscake' eaten by millions - "Alfajores are synonymous with Argentina - the biggest producer and consumer - where they are as central to the national culinary identity as steak and Malbec."
The great snack divide: should you eat three square meals a day - or 17 tiny ones? - "Scientists are split on how often we should eat. Personally, I always have food in my pockets - fine when it's rice cakes, less so when it's cheese."
The hidden history of the peas in your freezer - "Think of frozen vegetables and chances are you're thinking of the humble green pea. How did it become a staple of the freezer drawer?"
The hidden risks of cooking your food - "From creating toxic chemicals to an increased risk of lung cancer, the latest evidence suggests that some types of cooking come with health risks. What can be done to avoid them?"
The ingredients for a longer life - "A handful of small towns have remarkable longevity. What is it about their lifestyle that can increase your chances of living to 100?"
The Jewish Deli: An American Tale Told in Pickles & Pastrami - "'I'll Have What She's Having,' a traveling exhibit on the Jewish delicatessen, looks back at a vibrant institution fueled by immigration and irresistible food."
The joy of pancakes: 10 top chefs on their favourite recipes - from apple crepes to duck dosa - "Pancake day is upon us, but don't feel restricted to sugar and lemon juice. Celebrated chefs, including Heston Blumenthal and Ravinder Bhogal, share their suggestions."
The Layover - (2011-2013). Travel and food show on the Travel Channel hosted by Anthony Bourdain.
The luxury meals once served on airplanes - "Cognac and cigars: The golden age of inflight meals."
The man who discovered umami - "For centuries, humanity lived with the concept of sweet, salty, bitter and sour - but another flavour was hiding on the sidelines, writes Veronique Greenwood."
The meats that are hard to make vegan - "The reason some vegan alternatives don't taste like meat. Some of the qualities that make meat 'meaty' are hard to reproduce with plant-based alternatives. Should we be focusing on replicating them - or trying to make new, tasty alternatives?"
The most remote fine dining experience in the world? - "Koks, the Faroe Islands' first Michelin-starred restaurant, is well off the beaten path, and sits in a remote location of the tiny North Atlantic archipelago, midway between Iceland and Norway."
The most-viewed episodes of 'Anthony Bourdain: Parts Unknown' - "The legacy of the late Anthony Bourdain is a long and complicated one. The new CNN Film 'Roadrunner: A Film About Anthony Bourdain' attempts to contend with that legacy and reopen the conversation about how Bourdain is remembered. It may inspire you to do some remembering as well by revisiting Bourdain's extensive television catalog."
The mysterious origin of Zanzibar pizza - "Mixing Indian, European, Arabic and Indian flavours, Zanzibar pizza embodies the islands themselves. But where does this wildly popular street food come from?"
THE NAKED CHEF - was Jamie Oliver's first series. The title was a reference to the simplicity of Oliver's recipes.
The New Noma: Frequently Asked Questions - The New York Times.
The Ocean Farmers Trying to Save the World With Seaweed - TIME Magazine.
The old paintings revealing what food used to look like - "What did our food look like hundreds of years ago? Art history may have the answers."
The only 4 spaghetti recipes you'll ever need - The Guardian.
The 'other' pizza of Italy - "'Pizza fritta', the lesser-known cousin of Neapolitan pizza, emerged as a result of poverty amid World War Two and was known as 'the pizza of the people'."
The power of pickles: a guide to preserving almost everything - from jam-making to chutneys - "You don't need a glut of garden apples or courgettes to create mouth-watering preserves that will last you through the months ahead."
The psychology of small plates: why food service radically changes how much we eat - "Two hundred years ago a group of aristocrats changed the way we eat - for the worse. If you ever worry you'll still be hungry after dessert, here's why."
The race to make a multipurpose vegan egg - "Vegan eggs now come scrambled, fried, boiled and even poached - but none can yet match the versatility of those produced by chickens."
The real meaning of the word 'curry' - "From Pakistan to the Caribbean: Curry's journey around the world."
The rice of the sea: how a tiny grain could change the way humanity eats - "Lab tests hinted at its tremendous potential: gluten-free, high in omega-6 and -9 fatty acids, and contains 50% more protein than rice per grain, according to Aponiente's research. And all of it growing without freshwater or fertiliser."
The right way to settle a restaurant check - "How to split a check: Evenly or itemize?"
The rise & fall of French cuisine - "French food was the envy of the world – before it became trapped by its own history. Can a new school of traditionalists revive its glories?"
The Rise of the Virtual Restaurant - "Food delivery apps are reshaping the restaurant industry - and how we eat - by inspiring digital-only establishments that don't need a dining room or waiters."
The science of making sourdough bread - "The transformation of dough into a loaf is chemistry in action. With a bit of physics and microbiology. And love..."
The Secret To Perfect Scrambled Eggs, According To Anthony Bourdain - "Anthony Bourdain had a cardinal rule when it came to eggs: Always use a flat surface to crack eggs instead of using a bowl. Bourdain said that this method allowed him to ensure that no eggshells got into the mixture in the vessel. Another piece of advice? Beat your eggs well with a fork, but don't overdo it if you're after the perfect colors and texture."
The slow death of the American all-you-can-eat buffet - "A dining experience beloved by generations of hungry Americans is in danger of being spoiled by the coronavirus pandemic."
THE STARS ROUTE - "Gourmet Festival. Michelin Stars." Created in 2010, "The Stars Route' is identified as one of the most important high quality gastronomic festivals that take place in Portugal, involving, since that date, more than half a hundred national and foreign chefs awarded with the famous Michelin Guide stars.
The Story Behind Our Most Requested Recipe Ever - The New York Times.
THE SUPER GREEN LIST - connecting human and ocean health.
The surprising origin of sushi - "Funazushi: the fermented predecessor of modern sushi. For the past 18 generations, one family has preserved a 400-year-old recipe showing how sushi once tasted, and it doesn't use raw seafood, but fish aged for three years."
The surprising truth about caesar salad - "It was once called 'the greatest recipe to originate in the Americas in 50 years', but its origins are shrouded in mystery."
The Tastes of Summer, Ranked - The New York Times.
THE TIPPING EQUATION - The New York Times.
The tragedy behind Italy's famous pasta dish - "What's Italy's best pasta sauce? That's the kind of question that can start a fight in the home of spaghetti and tortellini."
The tree cutting emissions from Brazilian beef - "With the help of the fast-growing eucalyptus tree, Brazil has created its first carbon-neutral beef."
The truth about eating eggs - "Are eggs helpful to our health... or a cause of heart disease? BBC Future examines the evidence."
The truth about processed foods' environmental impact - "Processed food conjures up images of giant, resource-guzzling factories - hardly good for the planet. But could processing actually help reduce food's carbon footprint?"
The truth about takeaway: why leftover curry & pizza taste better - "Food scientist Charles Spence says flavours develop after a night in the fridge and many dishes benefit from reheating. Maybe not scrambled eggs, though."
There's a Reason You're Drinking So Much Aperol Spritz - "It's officially the drink of the summer, thanks to an aggressive marketing campaign by Campari."
'There's no ****ing way I eat on planes' - Gordon Ramsey.
Thermomix TM6 - since 1961. "Meet Your Kitchen Assistant. Fast. Easy. Flawless." Start with the amazing range of features on the TM6. Add the 60,000+ guided recipes of Cookidoo. 24 cooking modes. High quality construction. User friendly interface. All in one device that preps ingredients and cooks them to perfection. TM6 sets a new standard in all-in-one multicookers. And then there's Cookidoo. Thousands of guided recipes that lead you through every step, ensuring your meal is flawless. Every time. Cookidoo's recipes span the globe, every dish chef-tested for tasty goodness.
Thermomix TM6 all-in-one cooking machine does it all & it will change your life - "With a $1,499 price tag, the Thermomix TM6 is not just a splurge, it's a commitment. However, if you're a fan of geeked-out, do-it-all kitchen appliances, the German-made Thermomix is the best of them all."
These are New York City's best pizza restaurants - CNN travel.
They eat what? New Year's food traditions around the world - "New Year's Day is meant for food. As the new year arrives around the world, special cakes and breads abound, as do long noodles (representing long life), field peas (representing coins), herring (representing abundance) and pigs (representing good luck). The particulars vary, but the general theme is the same: Enjoy food and drink to usher in a year of prosperity. Here are some of the New Year's food traditions around the world."
'They killed my best friend for supper!' - "Gunda, the farmyard film that could put you off eating meat for ever. A sow, two cows and a one-legged chicken are the stars of Victor Kossakovsky's unique documentary, which Hollywood's most famous vegan, Joaquin Phoenix, has helped to get the audience it deserves."
Think you've mastered tacos? Here are five ways to up your game - "If your tacos are basically some ground beef in a shell with a jar of salsa, fine – but you're missing out on a world of tastiness."
This Is the Best Airport Food, According to Pilots - TIME Magazine.
This is the ultimate snack food - and it's better for you than you think - "It's a snack that really fills you up. Popcorn is an unprocessed whole grain: In fact, it's the combination of a starchy core inside a fibrous outer hull that makes popcorn pop. It's also high in fiber, containing nearly 4 grams per 4-cup serving, and contains a significant amount of polyphenols that can help lower blood sugar levels and help digestion. In addition, 'popcorn is a filling snack due to the volume it takes up in your stomach, which keeps us from over-snacking,' said registered dietitian nutritionist Julien Chamoun of RDN Nutrition Counseling in New Jersey. Popcorn has been shown to be more satiating than potato chips, meaning you'll feel fuller after eating it."
Tihany Design - founded in 1978, by designer Adam D. Tihany. Internationally renowned hospitality designer based in New York. He founded multidisciplinary design firm Tihany Design in 1978, and is considered the originator of the title 'restaurant designer.' His firm has created hotel and dining properties acclaimed for their luxury and innovation at some of the most iconic properties in the world. Tihany was named one of the greatest American interior architects by The New York Times in 2001. In the restaurant industry, he was one of the first designers to collaborate with acclaimed culinary stars such as Thomas Keller, Daniel Boulud, Jean-Georges Vongerichten, Charlie Palmer, Heston Blumenthal, Paul Bocuse, and Pierre Gagnaire. Tihany has created several restaurants for Chef Thomas Keller, including the celebrated Per Se and Bouchon restaurants, as well as recently opened The Grill on Seabourn Quest. He worked extensively with the Maccioni family, collaborating on eight projects including Le Cirque 2000, Osteria del Circo and the contemporary Italian restaurant, Sirio. Chef Daniel Boulud and the designer have created three restaurants together, including Boulud's flagship, Daniel, in New York City.
Tinned fish: your easy meal fix - "Canned sardines, mackerel and shellfish make a quick and easy dinner. Just add bread or pasta ..."
tinned fruit & vegetables are offensive no longer - "Far from being a lesser choice, tinned produce can be a convenient, speedy and low-waste way to diversify your diet."
TIPS ON TABLES - vintage reviews of famous nightclubs and restaurants, mostly from the New York area.
Tomatoes are the perfect no-cook food for a heat wave - "On their own, tomatoes are just what the doctor ordered. 'Raw tomatoes are a source of lycopene, an antioxidant, and they're also a good source of vitamin C, potassium, and folate,' said Lauren Manganiello, a registered dietitian and sports nutritionist in Long Island, New York."
'Too much' nitrite-cured meat brings clear risk of cancer, say scientists - "Call for UK government ban of chemical in processed meat such as bacon and ham after mice tumours study."
Top 4 Food Trends To Watch In 2021 - "Projecting how people will eat and drink in 2021 isn't quite the same as before. Given what's happening in 2020, it's absurd to focus on hot ingredients or trendy ways to eat when lives and jobs are on the line."
Top 10 dinner parties in fiction - "From Arthurian feasts to awkward moments with Ian McEwan and mealtime at the Macbeths, these miniature dramas are literary staples. Tuck in."
Top 10 Restaurant Dishes of 2015 - The New York Times.
top 10 toasties of all time - "Lockdown has made us obsessed with bread, and now it's time to choose the best fillings for toasted sandwiches - from cheese and ham to Nutella and Snickers."
top 30 garden restaurants & cafes - The Telegraph.
Top 100 Restaurant Lists - Opinionated About Dining.
Top 200 U.S. Restaurants 2017 - Opinionated About Dining.
Top Chef - American reality competition show on the cable television network Bravo, that first aired in 2006, in which chefs compete against each other in culinary challenges. They are judged by a panel of professional chefs and other notables from the food and wine industry with one or more contestants eliminated in each episode.
Top New York Restaurants of 2015 - The New York Times.
Tournedos Rossini - French steak dish, named after 19th century composer Gioachino Rossini. Its invention is attributed to French master chef Marie-Antoine Carême or Adolphe Dugléré, or Savoy Hotel chef Auguste Escoffier. The dish comprises a beef tournedos (filet mignon), pan-fried in butter, served on a crouton, and topped with a hot slice of fresh whole foie gras briefly pan-fried at the last minute. The dish is garnished with slices of black truffle and finished with a Madeira demi-glace sauce.
Tortoni - ice cream made with eggs and heavy cream, often containing chopped cherries or topped with minced almonds or crumbled macaroons.
TRIPADVISOR - reviews of vacations, hotels, resorts, restaurants, vacation and travel packages.
True World Foods - one of the largest wholesale distributors of fresh and frozen seafood and specialty grocery items in North America.
Trust Me. Butter Is Better - The New York Times.
Trustpilot - founded in 2007. Portal gathering reviews on online shops to be used as advertising for their clients. Trustpilot is active in 16 countries including Denmark, Sweden, Norway, the Netherlands, the United Kingdom, Germany, France, Italy and USA.
TSUKIJI FISH MARKET - Tokyo, Japan. The biggest wholesale fish and seafood market in the world and also one of the largest wholesale food markets of any kind.
Tucci family's must-have snack - "For the Tucci family, a feast is not complete without one Italian staple. Zeppole are deep-fried doughnuts that Stanley Tucci calls 'addictively delicious.'"

A B C D E F G H I J K L M N O P Q R S T U V W X Y Z

- U -

UberEats is coming to 10 more towns - "Now your Uber driver will bring food to you rather than the other way around."
UK's 60 best fish & chip shops 2022 revealed - "Brits are mad about fish and chips, and eat almost 400million portions of the stuff a year. Now the very best chippies have been revealed by using thousands of secret diners."
Ukraine war has stoked global food crisis that could last years, says UN - "Shortages of grain and fertiliser could cause 'mass hunger and famine, says chief, as World Bank pledges another $12bn to ease shortfall."
Ultimate Dinner Party Guests - "Who wants to dance and drink and eat alone? Certainly none of the soigne bons viveurs celebrated here. Though they were all well acquainted with the finest wines and the most succulent dishes known to man, this magnificent seven were far from being simply 'browsers and sluicers', as Sir PG Wodehouse used to put it."
ultimate hipster-food glossary - The Guardian.
Ultimate kung pao chicken - The Telegraph.
ultimate vip diner - Queen pictured at London's Ivy restaurant on rare public night out.
UMAMI - savory taste, is one of the five basic tastes, together with sweet, sour, bitter, and salty.
Uncle Roger controversy: Why people are outraged by a video about cooking rice - "In the video, Ng slammed BBC Food presenter Hersha Patel's unconventional way of cooking Chinese-style egg-fried rice, which included draining the rice through a strainer after boiling."
US foods are increasingly full of nano-scale additives - "'I wash all my food like crazy': scientists voice concern about nanoparticles."

A B C D E F G H I J K L M N O P Q R S T U V W X Y Z

- V -

vegan revolution: why the latest 'meat' is made entirely from thin air - "A US startup claims it can convert CO2 into nutrients. Could innovations such as this and 3D-printed steaks provide a sustainable food future?"
Vegetarian women more likely to fracture hips in later life, study shows - "Research suggests some vegetarians may not get sufficient nutrients for good bone and muscle health."
Veggie boxes 101: how to use up everything from a mystery produce haul - "With restaurant-only producers now selling to the public, it's a great time to try a vegetable box. Here's what to do once you've opened it."
Victoria Beckham Has Eaten the Same Meal Every Day for 25 Years - "'She only eats grilled fish, steamed vegetables.'"
Victoria Beckham has eaten the exact same meal every day for 25 years - "David Beckham has admitted he and wife Victoria Beckham have only ever shared the same meal once throughout their entire marriage - with the former footballer calling the solo incident 'the most amazing thing'. 'Unfortunately, I'm married to someone who has eaten the same thing for the last 25 years. Since I've met Victoria, she only eats grilled fish, steamed vegetables. She'll very rarely deviate away from there.'"
Viennese cuisine - Wikipedia.
Vital Restaurant Inspection Information - "What You Need to Prepare for and Survive an Inspection."

A B C D E F G H I J K L M N O P Q R S T U V W X Y Z

- W -

WAGYU ("KOBE") MEAT - from Australia.
Wakayama, one of Japan's most underrated destinations for foodies - "There's no denying Tokyo is one of the world's food capitals. But if you look beyond the Michelin stars and take a deep dive into the origins of Japanese cuisine and the many ingredients that define it, you'll find Wakayama prefecture, south of the city of Osaka, offers an unexpectedly diverse abundance of flavors."
WATER CAKE: A DAIRY-FREE, EGG-FREE, MAGIC CAKE - "This magic cake that doesn't use any milk, eggs or butter is perfect for self-isolation."
WBP STARS - "We review the best restaurants in the world! Today the wbpstars.com team has dined at more than 2,500 fine dining restaurants in more than 100 countries and we are now ready to tell you what we have come up with so far."
We Are Cooking More Than Ever. Here's How to Make the Most of a Small Kitchen - "Whether you're throwing together a quick-and-easy lunch or making a decadent three-course dinner, here are some tools that will help you make the most of your small kitchen."
We are what we eat, so we're right not to trust what goes into American food - "Forgoing our links with European suppliers makes no sense economically or health-wise."
'We don't have to grow the whole animal:' See how lab-grown meat is made - "What if you could eat meat without killing or farming animals? Investors in the cultivated meat industry believe this is not only possible but will one day be profitable. CNN visits Ivy Farm Technologies to taste a lab-grown product that their scientists have been developing for years."
'We want carbs!': how comfort food conquered the world's best restaurants - "From crumpets to pies to ham and cheese toasties, restaurants are replacing 'challenging' dishes with those that remind us of home and childhood. Why is this change happening now?"
We're drowning in a sea of salt. The FDA says we have to help save ourselves - "'I never add salt to my food at home or in restaurants. Nor do I add salt to any recipe while I'm cooking. I'm well aware of the link between salt, high blood pressure and heart disease, which is the leading killer of American men and women. Yet I am still getting over the recommended daily limit of 2300 milligrams of sodium by eating out or by adding processed or prepared ingredients to the meals I make.'"
What a $1,200 steak dinner looks like - "Over-the-top Las Vegas steak to satisfy share-plate critics."
What are floating breakfasts & why have they become so popular? - "While these breakfasts have become more common on resort menus over the last five years, the coronavirus pandemic has made them more popular than ever as hotel guests are avoiding buffets and communal dining rooms."
What did the ancient Romans eat? - "A chef is unearthing recipes from one of the world's oldest cookbooks to reveal the origin of Italian food."
What Do Rich People Eat On Private Jets? - "It's not easy to eat well on airplanes. Despite the obvious disadvantages - like not possessing kitchens - most airlines settle for terribly boring, terribly 'cooked' plates of food that never quite feel, well, edible. And then, of course, there are private jets. In spite of their size, these seem to be the singular route to eat well in the sky. Over the last few years we've seen Cardi B chowing down on crab legs in hers, Kanye West bingeing on Chick-fil-A in his, and Dwayne 'The Rock' Johnson sharing an enormous hand-crafted birthday cake—a gift from his flight crew—on Instagram."
What eating in a restaurant may look like during the pandemic - "Given the safety precautions that will need to be put in place, post-pandemic dining is going to look very different than a couple of months ago."
What happens when Michelin restaurants do takeouts - "Fine dining restaurants find comforting ways to set the table at home."
What I learnt eating at 8,000 Chinese restaurants - "Mr Chan, a 72-year-old former tax lawyer based in Los Angeles, claims to have dined at nearly 8,000 Chinese restaurants across the US and counting. Each is archived in a spreadsheet that he has maintained for four decades, along with thousands of restaurant business cards and menus. If one visits a Chinese restaurant per day, it would take more than 20 years to reach his current count - 7812 restaurants."
What is the healthiest bread? - "One of the foods many people hate to love is bread. Is there a type of bread that is more nutritious than the others? It depends on what you are looking for. Wheat breads offer more vitamins, whole grains and fiber, and they have less of a negative impact on blood sugar, which can be helpful for people who have insulin resistance."
What is the true cost of eating meat? - The Guardian.
What it was really like to work with Anthony Bourdain - "Kamau Bell opens up about working with the late great Anthony Bourdain."
What Jackie Kennedy Ate in a Day - "Jackie Kennedy took her breakfast in bed. Every morning, a White House butler brought a tray of toast with honey, orange juice, and coffee with skim milk. For lunch, the first lady had a cup of broth and a slim sandwich (which, on occasion, was grilled cheese.) Her dinner of choice? Cold poached salmon, followed by lamb with potatoes, string beans, and ice cream."
What makes a restaurant a classic? - "During this grim, hopefully fairly brief time when it's impossible to go out to eat, Jay ponders what it is that the really great places have in common."
What Noma did next: how the 'New Nordic' is reshaping the food world - "In our time of climate crisis and inequality, as top chefs dream less of Michelin stars and more of changing the world, the New Nordic movement is reaching beyond haute cuisine into classrooms, supermarkets and parliaments."
What pancakes look like around the world - "World's most delicious pancakes. The traditional Christian feast day before the start of Lent on Ash Wednesday is celebrated as a chance to eat well before the 40 days of sacrifices in the lead-up to Easter. Shrove Tuesday, which falls on March 1 this year, is also a great excuse - as if one were needed - to eat pancakes, as they usually combine butter and eggs, rich foods that were historically given up for the season of reflection."
What to Do With a Perfect Avocado - The New York Times.
What will we be eating next year? - The Guardian.
What you should know to master portion control, according to an expert - "Portion sizes of some of your favorite foods have been getting bigger and bigger. Ultraprocessed foods and beverages, including chocolate, french fries, fast-food hamburgers and soda, are being sold in sizes up to five times larger than when they were first introduced, according to a December 2021 study in the American Journal of Public Health."
what you should really eat for breakfast - "From drinking coffee on an empty stomach to the merits of fasting, have we been getting breakfast all wrong?"
What's for breakfast in 21 different nations - "Breakfast around the world: How different countries start the day."
What's the Best Way to Get Rid of a Bad Aftertaste? - "Eating foods like garlic and onions can cause a bad aftertaste. But there are certain foods you can eat, like mint, to get rid of one."
What's the use of tofu? - "Tofu is nutritious, full of protein, and a superb stand-in for meat in many dishes."
Where people drink beer for breakfast - "Known as a 'Weißwurstfrühstück', this traditional sausage-pretzel-and-beer-breakfast might be Germany's most 'German' meal."
Where to eat the best oysters in London - The Telegraph.
Which country has the best food? - CNN travel.
'Who doesn't love a nugget?' How the fast food favourite got posh - "We've come a long way from the humble Chicken McNugget, with high-end restaurants serving their own versions using cod cheeks, salt beef and even trotters. But why have they become so popular?"
Who needs cutlery anyway? Why food is more delicious when you eat with your hands - "But just as there is an etiquette to using knives and forks (best simplified as: start on the outside and work your way in), eating with hands is no free-for-all. It is widely practised around the world, with cultures across the Middle East, Africa and Asia eating with their hands as a matter of course - but what is surprisingly common is the etiquette rules surrounding it."
Who needs recipes? Why it's time to trust your senses and cook intuitively - "Could off-the-cuff cooking help you be more relaxed and confident in the kitchen? Here are some tips for making dishes you love from what you have to hand."
why 1970s foods are back - from corned beef to packet trifle - "The UK has been re-embracing its culinary past during lockdown, with instant mashed potato, tinned pineapple slices and custard powder all back on the nation's shopping lists."
Why aren't waiters given the respect - or salary - they deserve? - "The waiting staff in a restaurant can make or break a meal just as much as the people in the kitchen. Yet they are rarely celebrated - and quite often traduced."
Why Basque food tastes so good - "Where barbecue culture began? Basque cuisine is an exploration of just how far wood, smoke and flame can be taken as a cooking technique when it's expertly harnessed and applied to the finest ingredients."
why bowl food is so wildly popular - The Guardian.
Why British food is misunderstood - "British food: 20 classic dishes."
Why cooking & baking fill a void - "During lockdown, so many people have run to their kitchens to bake and create. Why does cooking so perfectly fill a hole in our lives?"
Why do people hate vegans? - "It has left the beige-tinted margins and become social media's most glamorous look. But why does veganism still provoke so much anger?"
why do restaurants give us bread at the start of the meal? - "'Because more food is eaten. Bread causes a glucose and insulin spike, which results in you eating more and subsequently a blood-sugar crash 90 minutes later, so you are also more likely to order dessert.'" Readers reply.
Why Do Rich Guys Love Diners? - "Logan Roy doesn't need to indulge in fine dining to be powerful; he'd rather a plate of eggs. And he isn't alone."
Why Do You Get Sleepy After Eating? These Are the Top Theories - "Researchers have turned up evidence of 'postprandial sleepiness,' also known as a food coma, in insects, snakes, worms and rats."
Why food doesn't taste as good on planes - "Why does food taste different on planes?"
Why I never share my food at restaurants - "Share it all or all to yourself? Dining out debate stirs food feelings."
Why Ikea sells Swedish meatballs - "Ikea's restaurants were failing. Then it turned to Swedish meatballs."
Why is caviar still on the menu? - "The demand for its eggs almost made the beluga sturgeon extinct. Even now, when most caviar comes from farms, eating it is controversial. So why do so many restaurants refuse to give it up?"
Why is everybody so mad about carbonara? - "The iconic pasta causing an Italian-American dispute. An article claiming the American paternity of carbonara has caused an uproar in Italy and a spike in curiosity in the US. But where is the famous dish really from, and why do people care so much?"
Why Marrakech is the perfect city break for foodies - The Telegraph.
Why Michelin chefs are handing back their stars - "Being awarded a Michelin star was once the ultimate culinary accolade -- a reward for the punishing hours and dedication to detail that helped usher chefs into the upper echelons of their industry and bring big-spending diners into their restaurants. But for some in the culinary world, those stars have begun to seem more of a burden than a blessing."
Why New Yorkers pay $15 for 'sad desk salads' - "Luscious, organic, fresh-made salads dominate New York workers' lunch scene. But is eating one just about the food?"
Why Onions Make You Cry - The New York Times.
Why only 1% of the world's vanilla is real - "Fighting the vanilla thieves of Madagascar."
Why the ultimate breakfast of champions might just be wine & cheese - "The trend for pairing booze & breakfast seems unusual - and likely to get you sacked. But in certain settings, with certain foods, it starts to make sense."
>Why the world loves comfort foods - "Why not all comfort food is the same. Every food culture has certain dishes that people turn to in times of need. And no one food is a comfort food staple right across the world. Here's why."
Why there's a wait list for $200 fries - "Spending $200 on French fries or €5,000 on a burger seems utterly improbable. But consumers across the world are increasingly willing to shell out for over-the-top dishes."
Why vegans inspire irrational hatred - "The hidden biases that drive anti-vegan hatred. People love to moan that vegans are annoying: research has shown that only drug addicts inspire the same degree of loathing. Now psychologists are starting to understand why - and it's becoming clear that the reasons aren't entirely rational."
Why we should all aspire to be more like French waiters - The Telegraph.
Why we're actually in love with airplane food - "Theories on its inferiority abound. Meals are churned out in industrial kitchens near the airport. They're half-drowned in liquid (giving them a vague shot of retaining moisture) and half-frozen, before being zapped to imperfection 35,000 feet up. Spices and seasonings are used parsimoniously to appeal to easily offended palates. Cabin pressure depletes passengers' sense of smell, and therefore enjoyment - so too does the roar of the jet engines. All these theories hold water, too. But nearly two years into the Covid-19 pandemic - during which air travel has become a rare commodity - are we starting to appreciate what we had?"
Why you are probably eating plastic - "How microplastics are infiltrating the food you eat. Plastic pollution is one of the defining legacies of our modern way of life, but it is now so widespread it is even finding its way into fruit and vegetables as they grow."
Why you should go animal-free: 18 arguments for eating meat debunked - "Unpalatable as it may be for those wedded to producing and eating meat, the environmental and health evidence for a plant-based diet is clear."
WHY YOU SHOULD LET A ROBOT COOK YOUR NEXT MEAL - The Verge.
Why you should NEVER order the daily special in a restaurant - "And you should steer clear of the salad too. Chefs and waiters have lifted the lid on what really goes on in the kitchens - and it might put you off these dishes."
Why You Should Never Use A Metal Knife To Slice An Avocado - "Since stainless steel knives contain copper and iron, says Allrecipes, these metals activate the enzymes in avocados that cause the fruit's flesh to turn brown in the presence of oxygen. Slicing into an avocado with a metal knife speeds up the browning process, which can lead your avocado to go bad prematurely."
Why you've never had 'real' sushi - "Funazushi: The fermented predecessor of modern sushi. For the past 18 generations, one family has preserved a 400-year-old recipe showing how sushi once tasted, and it doesn't use raw seafood, but fish aged for three years."
Why your cereal boxes & ice cream cartons are shrinking - "The reason? A tactic known as 'shrinkflation,' deployed by consumer product brands and grocery stores. The phenomenon - getting less for your money because a manufacturer has reduced the size of the product - has been going on for decades, but it typically becomes more common when companies' costs go up like the inflation surge we are seeing today."
Will Americans Ever Go Meat-Free for Thanksgiving? - "The wide availability and improving taste of meat alternatives - like Impossible Foods and Beyond Meat products - make going vegetarian much easier."
Will coronavirus spell an end to the great Chinese buffet? - "Designated serving spoons, no double-dipping and individual portions have all been floated as part of a new need for safety."
With a new Michelin guide, Moscow's best-kept culinary secrets are out - "It's been described as one of the Russian capital's best-kept secrets: Moscow's restaurants are excellent."
Wolfgang Puck Returns To Sunset Boulevard With Two New Restaurants - "Chef Wolfgang Puck is credited with many things - inspiring the birth of 'California Cuisine,' winning two James Beard Outstanding Chef of the Year awards, pioneering the open kitchen concept, and building a culinary empire - but what he is most proud of right now are the two new restaurants he's preparing to open in Los Angeles, Merois and Ospero. These openings mark his return to Sunset Boulevard, where, back in 1982, he opened his first restaurant Spago. Now, he's set up shop in the luxurious confines of the newly-minted Pendry West Hollywood, a hotel that Puck says offers so many entertaining diversions 'you never have to leave.'"
World Pizza Championship - since 1991. Event held annually to determine the world's best pizza makers.
World Steak Challenge: the world's best sirloin steak revealed - The Telegraph.
WORLD'S BEST PIZZA? - Forbes.
world's best places for extreme eating - Lonely Planet.
world's greatest cities for food - The Telegraph.
world's 50 best foods - "'There is no love sincerer than the love of food,' George Bernard Shaw said. Judging by the number of amazing dishes out there, he was right."
World's 50 Best Restaurants 2019 - "Since 2002, The World's 50 Best Restaurants has reflected the diversity of the world's culinary landscape. Thanks to its panel of more than 1,000 culinary experts, as well as its structured and audited voting procedure, the annual list of the world's finest restaurants provides a snapshot of some of the best destinations for unique culinary experiences, in addition to being a barometer for global gastronomic trends."
World's 50 Best Restaurants 2022 | The best restaurants in the world - "Geranium, Copenhagen. The World's Best Restaurant 2022."
world's best food delivery service - "The unsurpassed 125-year-old network that feeds Mumbai. Dabbawalas deliver hundreds of thousands of meals on foot and by bike in one of India's busiest cities every day. The new wave of food-delivery start-ups wants to know how they do it."
world's best food photographs of 2022 - "An exhibition of the 2022 finalists will be shown at The Royal Photographic Society, one of the world's oldest photographic societies, in Bristol, England. It will run from November 20 to December 12, 2022. Entry will be free."
world's best Indian restaurant 2020? - "On March 24, the Oscars of fine dining in Asia saw swanky Singaporean restaurant Odette clinch first place for the second year running."
world's best potato dishes - "Fried, baked, mashed and beyond - whether the recipe calls for Russets or Yukon Gold, red-skinned or purple potatoes - these are some of the most popular ways to enjoy a potato around the world."
World's best restaurants honored in culinary awards - "In travel news this week: epic continental trips by bike and bus, new airline routes making transatlantic trips easier and the world's top restaurants, from Asia to the United States to the Middle East."
World's best restaurants in 2019 - "Former Beijing temple named world's best restaurant."
world's best rooftop restaurants - The Telegraph.
world's best steak restaurants - In pictures - The Telegraph.
'World's best sushi restaurant' stripped of its three Michelin stars - "Guide will not rate Sukiyabashi Jiro in Tokyo as it is no longer open to the public."
World's cheapest Michelin meal loses its star - "Famed Singaporean eatery Hawker Chan loses its Michelin star."
world's greatest dessert: 10 superb pavlovas - from peach melba to beautiful banoffee - "There are no end of delicious variations on the meringue, cream and fruit original, whether you're a vegan, have a sweet tooth or like sophisticated pink peppercorns."
World's largest urban farm to open - on a Paris rooftop - "The 14,000 sq m farm is set to open in the south-west of Paris early next year."
world's longest pizza – in pictures - The Guardian.
world's most beautiful new restaurants & bars - The Telegraph.
World's most delicious pancakes - "The traditional Christian feast day before the start of Lent on Ash Wednesday is celebrated as a chance to eat well before the 40 days of sacrifices in the lead-up to Easter."
world's most expensive food & drink revealed - The Telegraph.
World's most Michelin-starred chef dies - "French celebrity chef Joël Robuchon will be remembered for many reasons: earning more than 30 Michelin stars, creating the world's best mashed potato, and hurling a plate at a young and "difficult" Gordon Ramsay."
world's most prized pepper? - "Only by the late '90s, long after the Khmer Rouge lost power, did local farmers - many with generations' of peppercorn farming running through their veins - return to their roots."
world's oldest hamburger? - "Roujiamo: China's 2,200-year-old 'burger'. The Chinese pork-and-flatbread sandwich known as roujiamo has been called 'the world's oldest hamburger'. Like much in China, its precise origins are shrouded in the mists of time."
World's oldest-known recipes decoded - "A team of international scholars versed in culinary history, food chemistry and cuneiform studies has been recreating dishes from the world's oldest-known recipes."
world's oldest sourdough? - "The search for the oldest sourdough starter spans continents and countries, science labs and libraries, and involves everyone from the Ancient Egyptians to Jesus Christ."
world's oldest vegetarian restaurant - "For more than a century, one family has helped transform the way Europe eats."
world's sexiest foods: from pine nuts to pomegranate juice - "Want to get your pulse racing? Oysters are a recognised aphrodisiac, but there are plenty of alternatives, including two varieties of 'red Viagra'."
world's smallest restaurant is opening in Sweden - "Table for one? Sweden pop-up restaurant to serve solo diners only."
Would you pay $100 for this 'haute' hot dog? - The Telegraph.

A B C D E F G H I J K L M N O P Q R S T U V W X Y Z

- Y -

YACHTCHEFS.COM - chef recruitment for yachts.
You Don't Want Fries With That - "French fries might be derived from potatoes but they're no substitute for green leafy vegetables, nutritionists say."
You're vaccinated now, so can you go to a restaurant? What you should know - "Indoor dining and drinking at restaurants and bars is riskier than some other places for a few reasons, according to the US Centers for Disease Control and Prevention: Not only are people from different households gathering in the same space, but you have to take your mask off to eat and drink."

A B C D E F G H I J K L M N O P Q R S T U V W X Y Z

- Z -

Zero-calorie sweetener linked to heart attack & stroke, study finds - "A sugar replacement called erythritol - used to add bulk or sweeten stevia, monkfruit and keto reduced-sugar products - has been linked to blood clotting, stroke, heart attack and death, according to a new study."
zuppa alla Pavese - ('Pavia-style soup') is an Italian soup consisting of broth into which fried slices of bread and poached eggs are placed. It is usually served with grated cheese.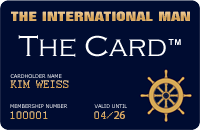 Upcoming VIP Privilege Membership Card
The International Man will in the near future be launching its own PRIVILEGE & BENEFIT VIP MEMBERSHIP CARD - named simply 'The Card'. Members will receive special privileges, benefits and preferential rates with selected partner hotels, restaurants, our LUXURY WEBSHOP, and more. Enter your name and e-mail address to receive FREE INFO about 'The Card' HERE.
RETURN TO TOP OF PAGE