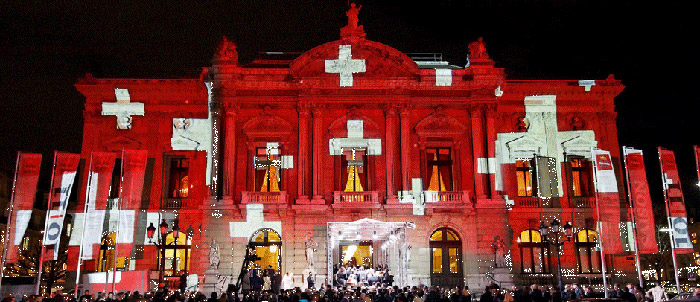 Top 20 Watch Events, Exhibitions, Fairs, Trade Shows

A TRADE FAIR (trade show, trade exhibition, or expo) is an exhibition organized so that companies in a specific industry can showcase and demonstrate their latest products and services, meet with industry partners and customers, study activities of rivals, and examine recent market trends and opportunities. In contrast to consumer fairs, only some trade fairs are open to the public, while others can only be attended by company representatives (members of the trade, e.g. professionals) and members of the press, therefore trade shows are classified as either "public" or "trade only". A few fairs are hybrids of the two; one example is the Frankfurt Book Fair, which is trade only for its first three days and open to the general public on its final two days. They are held on a continuing basis in virtually all markets and normally attract companies from around the globe. For example, in the U.S., there are currently over 10,000 trade shows held every year, and several online directories have been established to help organizers, attendees, and marketers identify appropriate events.

Top 20 Watch Events, Exhibitions, Fairs, Trade Shows

2023 NYC WINDUP WATCH FAIR - "After a two-year hiatus, we're excited to bring the Windup Watch Fair back to NYC in October 2023. The Windup Watch Fair is a three-day-long shopping event that brings watch brands and customers together in a fun, approachable, and engaging environment. Always free and open to the public, Windup encourages everyone from seasoned collectors to first-time watch buyers to come in, take a look, and talk watches. The Windup Watch Fair has become the most popular consumer watch event in America with events annually in San Francisco and New York City. See you soon!" October 21-23, 2023, 135 W 18th ST, NYC.
BASELWORLD - since 1917. "Embarking on a new journey." With Baselworld having been put to rest, the MCH teams have put all their expertise and the feedback from customers, buyers, visitors into giving birth to a new platform concept: HOUR UNIVERSE. An innovative platform to meet today's needs, this new concept is gearing up to unite and support a whole community that wants to regroup, make a new start and is receptive to change. Open, modern, inclusive, user-friendly, interconnected, both virtual and live, active all year round, the HOUR UNIVERSE is dedicated to players in the watch, jewellery and gemstone industries, but not exclusively.
Dubai Jewelry & Watch Fair 2022 (DJWF) - "The professional Jewelry & Watch Fair for designers, traders, manufacturers & wholesalers." Postponed.
DUBAI WATCH WEEK - "Reunited for a moment in time." Founded in 2015 by Ahmed Seddiqi & Sons, Dubai Watch Week is a biennial event that provides an educational platform for the purpose of sharing knowledge, building connections and celebrating watchmaking. A pioneer in the industry, Dubai Watch Week aims to bridge communities and establish itself as a key event in the Dubai calendar.
Euro Watch Fair: Uhren BÖrse MÜnchen - since 1989. Over 30 years, more than 200 Exhibitors and in the excess of 100 brands, it is by far the best place to source and sell vintage and second-hand clocks and watches. Due to the recent developements we can not give you any information about when the next show will take place. So far, 2021 is still very uncertain and no one really can foresee, when we can start again with shows you are familiar to. Please visit us again for further developments. When there are any news concerning our show, you will find it here.
Geneva Watch Days 2023 - "Geneva Watch Days is a decentralized and self-managed multibrand watch event during which you will discover brands' novelties in their individual showrooms." We can't all convene for the usual trade shows, but several brands have gotten together to showcase their new products in Geneva. Here you can find up-to-the-minute news and all the new releases from Geneva Watch Days. August 29th to September 2nd 2023.
23rd 2023 Grand Prix d'Horlogerie de GenÈve | Geneva Watchmaking Grand Prix | GPHG - created in 2001. Held annually at Geneva's Grand Théâtre. The main objective of the Foundation of the GPHG is to contribute, thanks to its label, to promoting Swiss watchmaking and its values around the world. The 15 regular categories for 2022 are: Ladies, Ladies Complication, Men's, Men's Complication, Iconic, Tourbillon, Chronograph, Mechanical Exception, Calendar and Astronomy, Diver's, Jewellery, Artistic Crafts, Petite Aiguille (watches with retail prices between 3,500 and 10,000 Swiss francs), Challenge (watches with retail prices under 3,500 Swiss francs), and a new one called Mechanical Clock. The main prize of the evening is the Aiguille d'Or, the best watch overall among the entrants, which will be voted in the room by a smaller jury chosen from the 850 Academy members. The 23rd GPHG awards ceremony will be held on 9 November 2023 at the Théâtre du Léman in Geneva.
Hong Kong Watch & Clock Fair - since 1982. Timepiece trade show held annually in Hong Kong. It is organised by the Hong Kong Trade Development Council (HKTDC), Hong Kong Watch Manufacturers Association Ltd., and The Federation of Hong Kong Watch Trades and Industries Ltd. The fair showcases both Hong Kong and international labels. Due to the latest venue availability at the Hong Kong Convention and Exhibition Centre (HKCEC), the schedules for the Hong Kong Watch & Clock Fair and Salon de TE have to be modified. After consultation with industry representatives and key stakeholders, the organisers have adjusted the schedules from September 6-10, 2022.
Inhorgenta Munich - since 1973. "International Trade Fair for Jewelry, Watches, Design, Gemstones and Technology." April 15-19, 2021.
4th LVMH Watch Week 2023 - fourth edition from January 10-12, 2023. Following the tremendous success of previous editions, LVMH Watch Week is now a must rendezvous for watch industry professionals around the world, a key event that complements traditional watch trade shows.
Masterpiece Online London Jewellery & Watches - since 2010. "Masterpiece's exhibitors span all eras and disciplines and include many of the world's most distinguished art dealerships. Scrupulous vetting and thoughtful juxtaposition allow one to encounter beautiful works of art, have one's eyes opened to the unfamiliar, and buy with confidence." June 24-29, 2021.
50th Mideast Watch & Jewellery Show - since 1993. Bi-annual exhibition. The success story of the MidEast Watch & Jewellery Show is unparalleled in the history of the regional jewellery industry. From the first event back in 1993 to the 50th edition, the show has grown to be an indispensable part of the jewellery industry and the flagship event of Expo Centre Sharjah, UAE. In light of the recent global developments around the COVID-19 virus and for health & safety reasons, in accordance with the precautionary measures taken by the UAE Government, the management of Expo Centre Sharjah has decided to combine the editions of the Watch & Jewellery Middle East Show. April 6-10, 2021.
Midora Leipzig - since 1996. "Trade Fair for Watches & Jewellery." Leipziger Messe GmbH, Messe-Allee 1, 04356 Leipzig, Germany. September 3-5, 2022.
New York City Jewelry & Watch Show - "The New York City Jewelry & Watch Show will take place in downtown Manhattan at the Metropolitan Pavilion this October 22-25, 2021. Over 100 distinguished dealers will showcase lavish array of antique and estate jewelry, vintage pieces, modern collections and fabulous watches."
10th Only Watch Charity Auction 2023 - since 2001. "Only Watch is a caritative biennial auction founded by Luc Pettavino that aims at raising funds to finance research to develop effective treatments for Duchenne Muscular Dystrophy, a neuromuscular genetic disease affecting nearly 1 boy 3,000 at birth." More than 70 million euros raised in 8 editions. 99% of proceeds go directly to research projects thanks to generous participants and partners.
PHILLIPS Perpetual Announces A. Lange & SÖhne Exhibition in London - "Phillips Perpetual is honoured to showcase an exhibition dedicated to the early production Lange 1 and Datograph from 1994 through to 2008." Dates: 9-14 March, 2022. Location: 3rd Floor, 30 Berkeley Square, London, W1J 6EX, U.K.
Salon International de la Haute Horlogerie | SIHH - since 1991. "New dates, new name, new format, new audiences... For its 30th edition, SIHH becomes Watches and Wonders Geneva. This must-attend event for professionals and the public confirms Geneva as the epicentre of watchmaking excellence. Since 1991, Salon International de la Haute Horlogerie has evolved in keeping with market trends. On the eve of its 30th edition, it embarks on the biggest change in its history. Watches & Wonders Geneva is an event in two parts. The exclusive Salon is the place for professionals, media and special guests of the exhibiting maisons. New for the public, 'In the City' transforms the centre of Geneva into a week-long discovery of the many facets of watchmaking excellence." March 27 - April 2, 2023.
The London watch show 2023 - "The capital's largest ever Watch Event." The London Watch Show is like no other. We have worked hard to bring you the kind of show we want to provide to you as traders, as well the public who will be attending. We expect a minimum of 2500 public visitors over the weekend. March 25-26, 2023.
Time to Watches 2023 - since 2022. "Time to Watches is dedicated to creating and organising events for brands and their audiences in the field of watchmaking. Time to Watches is born out of a simple observation: the world of the past, organized around a unique and global event, will no longer exist. With the gathering of the Haute Horlogerie in Geneva, it has become necessary to offer a quality alternative to the independent, resolute and creative brands not present at Watches and Wonders."
20th TOP MARQUES Watches & Jewels - since 2003. At The Grimaldi Forum, 10, Princess Grace Avenue, MC 98000 MONACO. June 7-11, 2023.
U.S. Antique Jewelry & Watch Shows - "The Producer of some of the most prestigious antiques events in the world. Presenting the most well-respected vintage and antiques purveyors from across the globe, U.S. Antique Shows serves the unique needs of the entire antiques community by showcasing a wide range of antiques, jewelry, watches, art, furniture and home décor. U.S. Antique Show events attract antique and vintage collectors, enthusiasts, designers and decorators, and world-renown vendors representing a wide range of eras and categories. Las Vegas Antique Jewelry & Watch Show: August 24-26, 2021.
Watches and Wonders - (formerly SIHH). "Talking watches, 365 days a year. Watches and Wonders is a global concept that celebrates fine watchmaking worldwide, with Geneva as its first destination." In what is an unprecedented context, and in support of the whole watch industry, the Fondation de la Haute Horlogerie has fast-tracked the digital launch of its Watches and Wonders ecosystem. This innovative platform, which goes live on April 25, 2020, gives the entire community of industry professionals, journalists, retailers, clients, collectors and everyone with an interest in watches a unique opportunity to discover the latest releases and trends for 2020 from our prestigious Maisons. Product launches, brand announcements, expert analyses, interviews with industry insiders, brand immersions and more... no matter where, no matter when, be sure to connect and stay up-to-date with all our latest news, online! March 27 - April 2, 2023.
WatchTime New York - "WatchTime New York brings the watch community together—live and in person in 2022! Join us for a three-day event featuring watch brand presentations, industry panel discussions, and opportunities for watch collectors to engage with brands and join the conversation."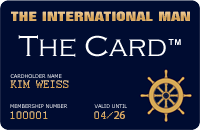 Upcoming VIP Privilege Membership Card
The International Man will in the near future be launching its own PRIVILEGE & BENEFIT VIP MEMBERSHIP CARD - named simply 'The Card'. Members will receive special privileges, benefits and preferential rates with selected partner hotels, restaurants, our LUXURY WEBSHOP, and more. Enter your name and e-mail address to receive FREE INFO about 'The Card' HERE.
RETURN TO TOP OF PAGE