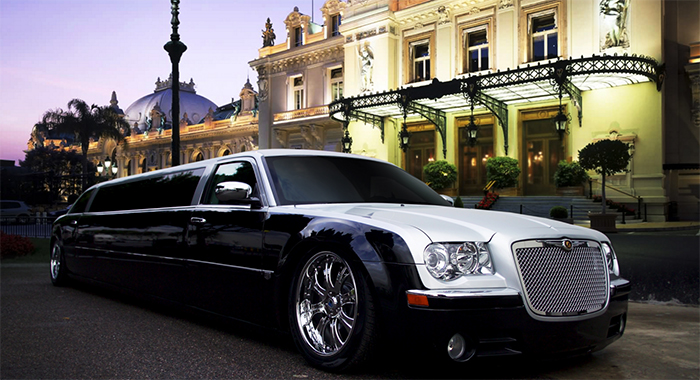 Top 20 High-End Limousine Services /Luxury Car Hire

A LIMOUSINE (or limo) is a luxury sedan or saloon car generally driven by a chauffeur and with a partition between the driver and the passenger compartment. Limousines often have a lengthened wheelbase.

In modern use, a limousine is a luxury sedan or saloon car, especially one with a lengthened wheelbase or driven by a chauffeur. The chassis of a limousine may have been extended by the manufacturer or by an independent coachbuilder. These are called "stretch" limousines and are traditionally black or white. Limousines are usually liveried vehicles, driven by professional chauffeurs. As the most expensive form of automobile ground transportation, limousines are culturally associated with wealth or power and are commonly cited as examples of conspicuous consumption. Among the less wealthy, limousines are often hired during special events (most commonly weddings, proms, and bachelor parties).

While some limousines are owned by individuals, many are owned by governments to transport senior politicians, by companies to transport executives and guests. Most stretch limousines, however, operate as livery vehicles, providing upmarket competition to taxicabs. Builders of stretch limousines purchase stock cars from manufacturers and modify them, and most are in the United States and Europe and cater mainly to limousine companies. Few stretch limousines are sold new to private individuals. In addition to luxuries, security features such as armoring and bulletproof glass are available.

France

Blacklane - since 2011. "Your professional limousine service in Paris."
Limo4Paris - since 2009. "Ride in Style." Our mission is to deliver exceptional chauffeured transportation services at the most competitive prices, without compromising our commitment to professional ethics and integrity.

Germany

EDEL & STARK - since 2006. "Wide range of luxury cars - we have something for every taste. Rent with us the most luxurious car brands in the world. Whether Lamborghini, Ferrari, Aston Martin, Maserati, Bentley, McLaren, Porsche, Rolls Royce, Jaguar, Mercedes Benz or BMW, we deliver each car wherever you want all over Europe."

Monaco

Blacklane - since 2011. "Professional limousine service in Monaco." With itís many glorified casinos, yacht harbors and high-quality restaurants, itís imperative to get around the city in the style the city asks for. This is where Blacklaneís limousine service comes in. Hire your own private limousine to get you from A-to-B in the utmost style and comfort you can only find with a black car service. With three premium vehicle classes to choose from, youíre bound to find a car that is perfect for all your transportation needs when visiting town, the ideal taxi alternative in Monaco.
Cristal Limousine Service - since 2010. "The Premier Monaco Limo Service."
Monaco Prestige Limousines (M.P.L) - since 1998. "Chauffeured car rental in Monaco & The French Riviera." Since many years, Monaco Prestige Limousines provides luxury chauffeured transportation 24 hours a day, 7 days a week: from airport transfer to on-call tailored service operating day and night in Monaco, the French Riviera, and other destinations.

Switzerland

Golden Limousine Services (GLS) - "Our professionnal experience of 37 years in the very special business of chauffeur-driven limousine service is bringing our company since 1984 on the top market in Geneva. While the equipment of our fleet is smartly new, the management have revived yesterday's personalized standard of customer handling. Our chauffeurs are experienced and safe drivers, expertly qualified to handle a distinguished clientele with utmost courtesy and discretion. Every driver has a command of several languages and is well acquainted with the peculiarities of the country."

United Kingdom

ASTON MARTIN HIRE - since 2003. "The Home of Aston Martin Rentals Since 2003." We are the UK's leading Aston Martin hire specialist with over 20 Aston's available. We have been renting Aston Martin's since 2003 and offer a service like no other. All of our Aston Martin rentals are available from a 2 hour wedding chauffuer all the way through to weekly / monthly / yearly self drive hire. Our current favourite Aston Martin is the lovely DB11. It really changed the game for Aston Martin and since our first in 2017, they have been loved by every single one of our clients.
COMPARE CHEAP CAR HIRE - since 2008. "We search and Compare over 40 Car Hire companies to Get You the Cheapest Price."
Empire Luxury Club - since 2009. "Rent Luxury & Sports Cars. Wherever You Go." Choose a car of your dreams and enjoy the ride across Europe, United States and Emirates with Empire Luxury Club.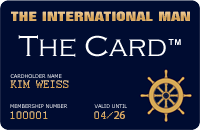 Upcoming VIP Privilege Membership Card
The International Man will in the near future be launching its own PRIVILEGE & BENEFIT VIP MEMBERSHIP CARD - named simply 'The Card'. Members will receive special privileges, benefits and preferential rates with selected partner hotels, restaurants, our LUXURY WEBSHOP, and more. Enter your name and e-mail address to receive FREE INFO about 'The Card' HERE.
RETURN TO TOP OF PAGE