400 Backgammon, Lotteries, Tabletop & Video Games

"All intellectual improvement arises from leisure." - Samuel Johnson.

"You have to learn the rules of the game. And then you have to play better than anyone else." - Albert Einstein.

"Play the game for more than you can afford to lose... only then will you learn the game." - Winston Churchill.

"He liked it that everything was one's own fault. There was only oneself to praise or blame. Luck was a servant and not a master. Luck had to be accepted with a shrug or taken advantage of up to the hilt. But it had to be understood and recognized for what it was and not confused with a faulty appreciation of the odds, for, at gambling, the deadly sin is to mistake bad play for bad luck." - James Bond on gambling in Casino Royale (1953), Chapter 7, by Ian Fleming.

LEISURE or free time, is a period of time spent out of work and essential domestic activity. It is also the period of recreational and discretionary time before or after compulsory activities such as eating and sleeping, going to work or running a business, attending school and doing homework, household chores, and day-to-day stresses, not including eating, and sleeping, it is often referred to as "free time". This category is for leisure activities such as those which one voluntarily spends away from such stresses, so called 'down time activities'.

A GAME is structured playing, usually undertaken for enjoyment and sometimes used as an educational tool. Games are distinct from work, which is usually carried out for remuneration, and from art, which is more often an expression of aesthetic or ideological elements. However, the distinction is not clear-cut, and many games are also considered to be work (such as professional players of spectator sports/games) or art (such as jigsaw puzzles or games involving an artistic layout such as Mahjong, solitaire, or some video games).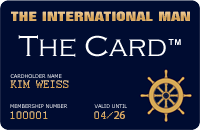 Upcoming VIP Privilege Membership Card
The International Man will in the near future be launching its own PRIVILEGE & BENEFIT VIP MEMBERSHIP CARD - named simply 'The Card'. Members will receive special privileges, benefits and preferential rates with selected partner hotels, restaurants, our LUXURY WEBSHOP, and more. Enter your name and e-mail address to receive FREE INFO about 'The Card' HERE.
RETURN TO TOP OF PAGE