Top 100 Backgammon Sets, Clubs, Events, Resources

BACKGAMMON is one of the oldest board games for two players. The playing pieces are moved according to the roll of dice, and a player wins by removing all of his pieces from the board before his opponent. Backgammon is a member of the tables family, one of the oldest classes of board games in the world.

Although luck is one of the determining factors in the outcome, strategy plays a more important role in the long run. With each roll of the dice, players must choose from numerous options for moving their checkers and anticipate possible counter-moves by the opponent. In variants that originate from early 20th century New York, players may raise the stakes during the game. There is an established repertoire of common tactics and occurrences.

Like chess, backgammon has been studied with great interest by computer scientists. Owing to this research, backgammon software has been developed capable of beating world-class human players.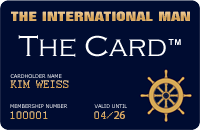 Upcoming VIP Privilege Membership Card
The International Man will in the near future be launching its own PRIVILEGE & BENEFIT VIP MEMBERSHIP CARD - named simply 'The Card'. Members will receive special privileges, benefits and preferential rates with selected partner hotels, restaurants, our LUXURY WEBSHOP, and more. Enter your name and e-mail address to receive FREE INFO about 'The Card' HERE.
RETURN TO TOP OF PAGE