Top 50 High-End Travel Books, Guides and Magazines

A guide book or TRAVEL GUIDE is "a book of information about a place, designed for the use of visitors or tourists". Travel guides can also take the form of travel websites.

It will usually include full details relating to accommodation, restaurants, transportation, and activities. Maps of varying detail and historical and cultural information are often included. Different kinds of guide books exist, focusing on different aspects of travel, from adventure travel to relaxation, or aimed at travelers with different incomes, or focusing on sexual orientation or types of diet.

A travel website is a website on the world wide web, that is dedicated to travel. The site may be focused on travel reviews, the booking of travel, or a combination of both. Approximately seventy million consumers researched travel plans online in July 2006. Travel bookings are the single largest component of e-commerce, according to Forrester Research.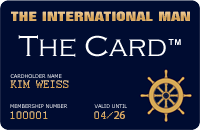 Upcoming VIP Privilege Membership Card
The International Man will in the near future be launching its own PRIVILEGE & BENEFIT VIP MEMBERSHIP CARD - named simply 'The Card'. Members will receive special privileges, benefits and preferential rates with selected partner hotels, restaurants, our LUXURY WEBSHOP, and more. Enter your name and e-mail address to receive FREE INFO about 'The Card' HERE.
RETURN TO TOP OF PAGE