Top 700 Popular Musical Artists, Bands & Rock Groups

POPULAR MUSIC belongs to any of a number of musical genres "having wide appeal" and is typically distributed to large audiences through the music industry. It stands in contrast to both art music and traditional music, which are typically disseminated academically or orally to smaller, local audiences. The original application of the term is to music of the 1880s Tin Pan Alley period in the United States. Although popular music sometimes is known as "pop music," the two terms are not interchangeable. Popular music is a generic term for music of all ages that appeals to popular tastes, whereas pop music usually refers to a specific musical genre.

ROCK MUSIC is a genre of popular music that originated as "rock and roll" in the United States in the 1950s, and developed into a range of different styles in the 1960s and later, particularly in the United Kingdom and the United States. It has its roots in 1940s' and 1950s' rock and roll, itself heavily influenced by rhythm and blues and country music. Rock music also drew strongly on a number of other genres such as blues and folk, and incorporated influences from jazz, classical and other musical sources.

Musically, rock has centered on the electric guitar, usually as part of a rock group with electric bass guitar and drums. Typically, rock is song-based music usually with a 4/4 time signature using a verse-chorus form, but the genre has become extremely diverse. Like pop music, lyrics often stress romantic love but also address a wide variety of other themes that are frequently social or political in emphasis. The dominance of rock by white, male musicians has been seen as one of the key factors shaping the themes explored in rock music. Rock places a higher degree of emphasis on musicianship, live performance, and an ideology of authenticity than pop music.

SOUL MUSIC Soul music is a popular music genre that originated in the United States in the 1950s and early 1960s. It combined elements of African-American gospel music, rhythm and blues, and often jazz. Soul music became popular for dancing and listening in the United States – where record labels such as Motown, Atlantic and Stax labels were influential during the period of the civil rights movement. Soul also became popular around the world, directly influencing rock music and the music of Africa.

RHYTHM AND BLUES, often abbreviated to R&B or RnB, is a genre of popular African-American music that originated in the 1940s. The term was originally used by record companies to describe recordings marketed predominantly to urban African Americans, at a time when "urbane, rocking, jazz based music with a heavy, insistent beat" was becoming more popular. In the commercial rhythm and blues music typical of the 1950s through the 1970s, the bands usually consisted of piano, one or two guitars, bass, drums, saxophone, and sometimes background vocalists. R&B lyrical themes often encapsulate the African-American experience of pain and the quest for freedom and joy. Lyrics focus heavily on the themes of triumphs and failures in terms of relationships, freedom, economics, aspirations, and sex.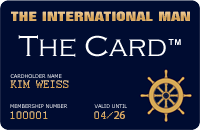 Upcoming VIP Privilege Membership Card
The International Man will in the near future be launching its own PRIVILEGE & BENEFIT VIP MEMBERSHIP CARD - named simply 'The Card'. Members will receive special privileges, benefits and preferential rates with selected partner hotels, restaurants, our LUXURY WEBSHOP, and more. Enter your name and e-mail address to receive FREE INFO about 'The Card' HERE.
RETURN TO TOP OF PAGE