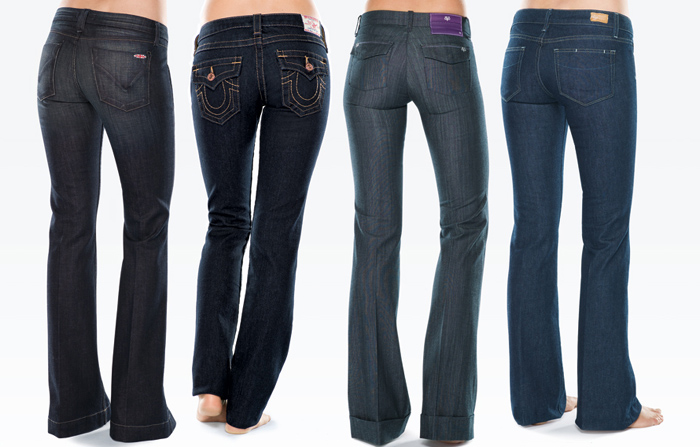 Top 300 Best High-End (Designer) Jeans Brands

"I wish I had invented blue jeans. They have expression, modesty, sex appeal, simplicity - all I hope for in my clothes." - Yves Saint Laurent.

DENIM (which gets its name from the French for "from Nïmes" (de Nïmes)) is a rugged cotton twill textile, in which the weft passes under two (twi- "double") or more warp threads. This twill weaving produces the familiar diagonal ribbing of the fabric, which distinguishes denim from cotton duck.

It is characteristic of any indigo denim that only the warp threads are dyed, whereas the weft threads remain plain white. As a result of the warp-faced twill weaving, one side of the fabric shows the blue warp threads, the other side shows the white weft threads. This is why jeans are white on the inside and what makes denim's fading characteristics unique compared to every other fabric.

JEANS are trousers made from denim or dungaree cloth. Often the term "jeans" refers to a particular style of trousers, called "blue jeans" and invented by Jacob Davis and Levi Strauss in 1873. Starting in the 1950s, jeans, originally designed for cowboys, became popular among teenagers, especially members of the greaser subculture. Historic brands include Levi's, Lee, and Wrangler. Jeans come in various fits, including skinny, tapered, straight, boot cut, Narrow bottom, Low waist, anti-fit and flare.

Jeans are now a very popular article of casual dress around the world. They come in many styles and colors; however, "blue jeans" are particularly identified with American culture, especially the American Old West.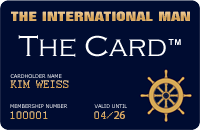 Upcoming VIP Privilege Membership Card
The International Man will in the near future be launching its own PRIVILEGE & BENEFIT VIP MEMBERSHIP CARD - named simply 'The Card'. Members will receive special privileges, benefits and preferential rates with selected partner hotels, restaurants, our LUXURY WEBSHOP, and more. Enter your name and e-mail address to receive FREE INFO about 'The Card' HERE.
RETURN TO TOP OF PAGE