Interior Decoration | Interior Decorators and Designers

"A man's house is his castle." - Sir Edward Coke (1628).

"Luxury must be comfortable, otherwise it is not luxury." - Coco Chanel.

"We shape our homes..., and then our homes shape us." - Sir Winston Churhill.

"The difference between good design and great design is intelligence." - Graphic Designer Tibor Kalman.

"Minimalist rooms can be so beautiful, but I can't live in one; I love objects too much." - Interior designer Bunny Williams.

"Having a comfortable home has been one of my greatest encouragement and comfort in my earthly life." - Søren Kierkegaard.

INTERIOR DESIGN is a multi-faceted profession in which creative and technical solutions are applied within a structure to achieve a built interior environment. These solutions are functional, enhance the quality of life and culture of the occupants, and are aesthetically attractive.

When doing up a house, if you choose antiques and furnishings that you really like yourself, even if the things do not appear at first glance to belong together, and even if they are not valuable or in fashion, the general effect will be harmonious. Taste is always an individual thing.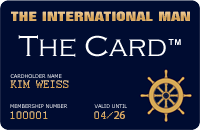 Upcoming VIP Privilege Membership Card
The International Man will in the near future be launching its own PRIVILEGE & BENEFIT VIP MEMBERSHIP CARD - named simply 'The Card'. Members will receive special privileges, benefits and preferential rates with selected partner hotels, restaurants, our LUXURY WEBSHOP, and more. Enter your name and e-mail address to receive FREE INFO about 'The Card' HERE.
RETURN TO TOP OF PAGE