Top 45 Sport Fishing Equipment/Gear/Services/Tackle

Angling is a method of fishing by means of an "angle" (fish hook). The hook is usually attached to a fishing line and the line is often attached to a fishing rod. Fishing rods are usually fitted with a fishing reel that functions as a mechanism for storing, retrieving and paying out the line. The hook itself can be dressed with lures or bait. A bite indicator such as a float, and a weight or sinker are sometimes used.

Angling is the principal method of sport fishing, but commercial fisheries also use angling methods such as longlining or trolling. Catch and release fishing is increasingly practiced by recreational fishermen. In many parts of the world, size limits apply to certain species, meaning fish below and/or above a certain size must, by law, be released.

Recreational fishing, also called sport fishing, is fishing for pleasure or competition. It can be contrasted with commercial fishing, which is fishing for profit, or subsistence fishing, which is fishing for survival.

The most common form of recreational fishing is done with a rod, reel, line, hooks and any one of a wide range of baits. Other devices, commonly referred to as terminal tackle, are also used to affect or complement the presentation of the bait to the targeted fish. Some examples of terminal tackle include weights, floats, and swivels. Lures are frequently used in place of bait. Some hobbyists make handmade tackle themselves, including plastic lures and artificial flies. The practice of catching or attempting to catch fish with a hook is known as angling.

Big-game fishing is conducted from boats to catch large open-water species such as tuna, sharks and marlin. Noodling and trout tickling are also recreational activities.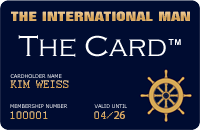 Upcoming VIP Privilege Membership Card
The International Man will in the near future be launching its own PRIVILEGE & BENEFIT VIP MEMBERSHIP CARD - named simply 'The Card'. Members will receive special privileges, benefits and preferential rates with selected partner hotels, restaurants, our LUXURY WEBSHOP, and more. Enter your name and e-mail address to receive FREE INFO about 'The Card' HERE.
RETURN TO TOP OF PAGE