Top 200 Scotch Whisky Brands, Distilleries & Suppliers

"Whisky is liquid sunshine." - George Bernard Shaw.

"Too much of anything is bad, but too much of good whiskey is barely enough." - Mark Twain.

"The water was not fit to drink. To make it palatable, we had to add whisky. By diligent effort, I learnt to like it." - Sir Winston Churchill.

SCOTCH WHISKY (often referred to simply as "Scotch") is whisky made in Scotland. Scotch whisky is divided into five distinct categories: Single Malt Scotch Whisky, Single Grain Scotch Whisky, Blended Malt Scotch Whisky (formerly called "vatted malt" or "pure malt"), Blended Grain Scotch Whisky, and Blended Scotch Whisky. All Scotch whisky must be aged in oak barrels for at least three years. Any age statement written on a bottle of Scotch whisky, in the form of a number, must reflect the age of the youngest whisky used to produce that product. A whisky with an age statement is known as guaranteed age whisky.

SINGLE MALT SCOTCH is whisky made in Scotland using a pot still distillation process at a single distillery, with malted barley as the only grain ingredient. As with any Scotch whisky, a Single Malt Scotch must be distilled in Scotland and matured in oak casks in Scotland for at least three years (most single malts are matured longer).

"Malt" indicates that the whisky is distilled from a single "malted" grain. Several types of grains can be malted (for example, barley, rye and wheat are all grains which can be malted); however, in the case of single malt Scotch, barley is always the (only) grain used.

"Single" indicates that all the malts in the bottle come from a single distillery. Multi-distillery malts are usually called "blended malt", "vatted malt" or "pure malt".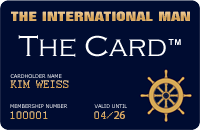 Upcoming VIP Privilege Membership Card
The International Man will in the near future be launching its own PRIVILEGE & BENEFIT VIP MEMBERSHIP CARD - named simply 'The Card'. Members will receive special privileges, benefits and preferential rates with selected partner hotels, restaurants, our LUXURY WEBSHOP, and more. Enter your name and e-mail address to receive FREE INFO about 'The Card' HERE.
RETURN TO TOP OF PAGE