Top 200 High-End Brands and Makers of Luxury Shirts

A SHIRT is a cloth garment for the upper body. Originally an undergarment worn exclusively by men, it has become, in American English, a catch-all term for almost any upper-body garment other than outerwear such as sweaters, coats, jackets, or undergarments such as bras, vests or base layers. In British English, a shirt is more specifically a garment with a collar, sleeves with cuffs and a full vertical opening with buttons. (North Americans would call that a "dress shirt", a specific type of "collared shirt".)

The world's oldest preserved garment, discovered by Flinders Petrie, is a "highly sophisticated" linen shirt from a First Dynasty Egyptian tomb at Tarkan, ca. 3000B.C. : "the shoulders and sleeves have been finely pleated to give form-fitting trimness while allowing the wearer room to move. The small fringe formed during weaving along one edge of the cloth has been placed by the designer to decorate the neck opening and side seam."

The shirt was an item of men's underwear until the twentieth century. Although the woman's chemise was a closely related garment to the man's, it is the man's garment that became the modern shirt. In the Middle Ages it was a plain, undyed garment worn next to the skin and under regular garments. In medieval artworks, the shirt is only visible (uncovered) on humble characters, such as shepherds, prisoners, and penitents. In the seventeenth century men's shirts were allowed to show, with much the same erotic import as visible underwear today. In the eighteenth century, instead of underpants, men "relied on the long tails of shirts ... to serve the function of drawers. Eighteenth century costume historian Joseph Strutt believed that men who did not wear shirts to bed were indecent. Even as late as 1879, a visible shirt with nothing over it was considered improper.

The shirt sometimes had frills at the neck or cuffs. In the sixteenth century, men's shirts often had embroidery, and sometimes frills or lace at the neck and cuffs, and through the eighteenth century long neck frills, or jabots, were fashionable. Colored shirts begin to appear in the early nineteenth century, as can be seen in the paintings of George Caleb Bingham. They were considered casual wear, for lower class workers only, until the twentieth century. For a gentleman, "to wear a sky-blue shirt was unthinkable in 1860 but had become standard by 1920 and, in 1980, constituted the most commonplace event."

European and American women began wearing shirts in 1860, when the Garibaldi shirt, a red shirt as worn by the freedom fighters under Giuseppe Garibaldi, was popularized by Empress Eugénie of France. At the end of the 19th century, the Century Dictionary described an ordinary shirt as "of cotton, with linen bosom, wristbands and cuffs prepared for stiffening with starch, the collar and wristbands being usually separate and adjustable".

To learn about the different types of shirts: click here.

COLLAR STAYS are smooth, rigid strips of metal (such as brass, stainless steel, or sterling silver), horn, baleen, mother of pearl, or plastic, rounded at one end and pointed at the other, inserted into specially made pockets on the underside of a man's shirt collar to stabilize the collar's points. The stays ensure that the collar lies flat against the collarbone, looking crisp and remaining in the correct place. Collar stays should be removed from shirts before dry cleaning or pressing, but then should always be put back by the dry cleaning company.

A SHIRT STUD is a decorative fastener that fits onto a buttonhole on the front of a pleated shirt, or onto the starched bib of a stiff-front shirt. Such shirts have special buttonholes solely for shirt studs. A shirt stud may be fashioned from alloys, precious metals, and gemstones—materials uncommon to buttons sewn on shirts. The stud may have an inlay, such as of pearl or onyx. Dress code of the modern western world reserves shirt studs for men's formal wear and some semi-formal occasions. In the western world, shirt studs were first used in the mid-19th century, when some shirt fronts were too stiff to close with buttons. So remains the case for the heavily starched, modern full dress shirts worn with white tie.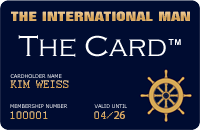 Upcoming VIP Privilege Membership Card
The International Man will in the near future be launching its own PRIVILEGE & BENEFIT VIP MEMBERSHIP CARD - named simply 'The Card'. Members will receive special privileges, benefits and preferential rates with selected partner hotels, restaurants, our LUXURY WEBSHOP, and more. Enter your name and e-mail address to receive FREE INFO about 'The Card' HERE.
RETURN TO TOP OF PAGE