Top 800 Women's Fashion Brands & Designers: A-Z

"When in doubt, wear red." - Bill Blass.

"Only the rich can afford cheap clothes." - Elsa Schiaparelli.

"You are only as good as the people you dress." - Halston.

"Fashion fades, only style remains the same." - Coco Chanel.

"Simplicity is the keynote of all true elegance." - Coco Chanel.

"I'm a kind of fashion nymphomaniac who never gets an orgasm." - Karl Lagerfeld.

"One is never over-dressed or under-dressed with a Little Black Dress." - Karl Lagerfeld.

"Fashion is never made by designers. Fashion is made by fashionable people." - Halston.

"Fashion starts with fashionable people. The fact that they're wearing it makes it a fashion." - Halston.

"A woman's dress should be a like a barbed-wire fence: serving its purpose without obstructing the view." - Sophia Loren.

FASHION DESIGN is the art of the application of design and aesthetics or natural beauty to clothing and accessories. Fashion design is influenced by cultural and social latitudes, and has varied over time and place. Fashion designers work in a number of ways in designing clothing and accessories. Some work alone or as part of a team. They attempt to satisfy consumer desire for aesthetically designed clothing; and, because of the time required to bring a garment onto the market, must at times anticipate changing consumer tastes.

FASHION DESIGNERS attempt to design clothes which are functional as well as aesthetically pleasing. They must consider who is likely to wear a garment and the situations in which it will be worn. They have a wide range and combinations of materials to work with and a wide range of colors, patterns and styles to choose from. Though most clothing worn for everyday wear falls within a narrow range of conventional styles, unusual garments are usually sought for special occasions, such as evening wear or party dresses.

Some clothes are made specifically for an individual, as in the case of haute couture or bespoke tailoring. Today, most clothing is designed for the mass market, especially casual and every-day wear.

HAUTE COUTURE (French for "high sewing" or "high dressmaking") refers to the creation of exclusive custom-fitted clothing. Haute couture is made to order for a specific customer, and it is usually made from high-quality, expensive fabric and sewn with extreme attention to detail and finished by the most experienced and capable seamstresses, often using time-consuming, hand-executed techniques. Couture is a common abbreviation of haute couture and refers to the same thing in spirit.

It originally referred to Englishman Charles Frederick Worth's work, produced in Paris in the mid-nineteenth century. In modern France, haute couture is a "protected name" that can be used only by firms that meet certain well-defined standards. However, the term is also used loosely to describe all high-fashion custom-fitted clothing, whether it is produced in Paris or in other fashion capitals such as Milan, London, New York and Tokyo.

PRÊT-À-PORTER or READY-TO-WEAR (often abbreviated RTW; "off-the-rack" or "off-the-peg" in casual use) is the term for factory-made clothing, sold in finished condition, in standardized sizes, as distinct from made to measure or bespoke clothing tailored to a particular person's frame. Off-the-peg is sometimes used for items which are not clothing.

Ready-to-wear has rather different connotations in the spheres of fashion and classic clothing. In the fashion industry, designers produce ready-to-wear clothing intended to be worn without significant alteration, because clothing made to standard sizes fits most people. They use standard patterns, factory equipment, and faster construction techniques to keep costs low, compared to a custom-sewn version of the same item. Some fashion houses and fashion designers produce mass-produced and industrially manufactured ready-to-wear lines, while others offer garments that, while not unique, are produced in limited numbers.

A B C D E F G H I J K L M N O P Q R S T U V W X Y Z

- A -

3.1 PHILIP LIM - since 2004. American fashion designer of Chinese descent. "Shop women's ready-to-wear, bags, and shoes. Always cool, easy, chic."
16ARLINGTON - "16Arlington - the cult London label questioning the idea of glamour with an infectious eccentricity. Hailed by British Vogue as the cool girl's go-to for 'conversation-starting' evening-wear, 16Arlington proposes a maximalist fashion language that expertly, deliciously negotiates the boundaries of trash - as well as a deeply accomplished skill for pattern cutting and hand-embroidery."
6397 - since 2013. "Ready to wear womens collection of essentials."
A--Company - Fall 2023 Ready-to-Wear Collection.
A. Potts - since 2018. "Aaron Potts Is Proving Genderless Fashion Can Be Fun, Too."
A. ROEGE HOVE - since 2019. "A. Roege Hove is a conceptual knitwear brand that challenges traditions with a modern and artistic approach to original craftsmanship and an aim for silhouettes to be both effortless and extravagant."
ACNE studios - since 1996. Multidisciplinary luxury fashion house based in Stockholm, Sweden that specializes in men's and women's ready-to-wear fashion, footwear, accessories and denim.
Adam Lippes - "In 2013, the Adam Lippes brand made its debut. The Adam Lippes brand is based on Lippes's core concept of understated and luxurious designer sportswear with an emphasis on refined fabrics and tailoring. The collection was met with critical acclaim and appears regularly in the press and on style influencers worldwide."
Adeam - "ADEAM is a luxury fashion brand founded by designer Hanako Maeda in 2012. A native Japanese, Hanako was born in Tokyo, but spent most of her childhood in New York, developing a sensibility that fuses both Eastern and Western cultures."
Adeola - "The young designer subverting the ruffle to empower women."
ADOLFO - Cuban-born American fashion designer who started out as a milliner in the 1950s. While chief designer for the wholesale milliners Emme, he won the Coty Award and the Neiman Marcus Fashion Award. In 1963 he set up his own salon in New York, firstly as a milliner, and then focusing on clothing. He retired from fashion design in 1993.
ADRIAN - (1903-1959). Was an American costume designer whose most famous costumes were for The Wizard of Oz and hundreds of Metro-Goldwyn-Mayer films between 1928 and 1941. He was usually credited onscreen with the phrase "Gowns by Adrian". In 1942 Adrian established Adrian, Ltd., at 233 North Beverly Drive, Beverly Hills, in the building formerly occupied by the Victor Hugo restaurant. Adrian's fashion line filled the gap left by Paris, which could not export during the German occupation. American women responded to Adrian's clean-lined designs, and he exerted a strong influence on American fashion until the late 1940s.
Agbobly - since 2022. "Luxury brand examining culture & ancestry - creating joy through handcrafted garments."
AGENT PROVOCATEUR - British lingerie retailer founded in 1994 by Joseph Corré and Serena Rees. The company has stores in 13 countries.
AgnÈs B. - "Iconic French Designer."
Ahluwalia World - "Explore the world of Ahluwalia. Discover and shop the new collection of men's T-shirts, jeans, jackets and shirts."
aiayu - Danish label of sustainable, luxurious cashllama knitwear, from the highlands of Bolivia.
AKRIS - Swiss high-end fashion label since 1922.
ALAÏA - since 1980. Tunisian couturier and shoe designer, particularly successful beginning in the 1980s. He opened his first atelier in his little rue de Bellechasse apartment in the late 1970s. It is in this tiny atelier that for almost 20 years he privately dressed members of the world's jet set, from Marie-Hélène de Rothschild to Louise de Vilmorin (who would become a close friend) to Greta Garbo, who used to come incognito for her fittings. Known as the 'King of Cling'. "Discover the latest ALAÏA collections of Ready-to-Wear, Bags, Accessories & Shoes."
ALAN FLUSSER - "Flusser Femme Bespoke Tailoring for Women."
Alber Elbaz - (1961-2021). Was an Israeli fashion designer. He was the creative director of Lanvin in Paris from 2001 until 2015, after having done stints at a number of other fashion houses, including Geoffrey Beene, Guy Laroche, and Yves Saint Laurent.
Alber Elbaz (1961-2021) - "Despite his thousands-cheer talent and unlike many of his contemporaries, Alber—who died today at 59 from Covid-19—wasn't larger than life."
ALBERTA FERRETTI - "She launched her namesake label in 1974 and, having garnered a cult following through her boutique, expanded her reach to Milan in the early eighties, founding her first showroom and debuting at Milan Fashion Week."
ALBERTO MAKALI - since 1987. " Alberto's phenomenal designs have landed him the Dallas Fashion Bridge Designer Award and has adorned iconic women such as Melanie B., Jennifer Lopez, Vanessa Hudgens, Nicole Scherzinger, Carrie Underwood, Zooey Deschanel, Chandra Wilson, and Alfre Woodard."
A.L.C. - "A.L.C. is a Los Angeles-based women's ready-to-wear fashion brand, founded in 2009 by Andrea Lieberman."
Alejandra Alonso Rojas - since 2014. Madrid-born designer Alejandra Alonso Rojas learned her craft from the women on both sides of her family, a tradition enriched and passed down for generations. Informed by her Manhattan life and a plethora of archival photographs of her family in knitwear,
ALEX PERRY - "Undoubtedly Australia's premier couturier."
Alexander McQueen - since 1992 "The House of Alexander McQueen is distinctive for its innovative and uncompromising expression of unbridled creativity. Founded by Lee Alexander McQueen in 1992, the House joined the Kering Group in 2001. Sarah Burton was appointed Head of Design for womenswear in 2000 and named Creative Director in 2010.
Alexander McQueen - British luxury fashion house founded by designer Alexander McQueen in 1992. Its current creative director is Sarah Burton.
Alexandra Rich - "Founded in 2010, the brand has its headquarters in London and an office in Milan. The collections are made in Italy and presented during Paris Fashion Week. Each collection celebrates women, because the woman is the main subject for Alessandra Rich, fusing elegance, irony and confidence."
Alexandre Vauthier - since 2009. French haute couture fashion designer. Alexandre Vauthier has chosen to work hand-in-hand with French artisans, from Lesage embroidery to Lemarié feathers, craftsmanship he has discovered and mastered over the course of his career in couture fashion. The Maison's collections are characterized by their radical nature, expressed through both the precision in the cuts of his designs as well as the consistently reinvented volumes.
Alexis Mabille - since 2005. "Whether playing with traditional codes, giving silhouettes a savvy twist or mixing different eras, with every collection, Alexis Mabille cultivates a spirit that is equal parts chic and fun-loving. In lifting from both masculine and feminine styles, the brand revisits men's and women's wardrobes alike. Elegance and a natural casual attitude come together with a sporty-chic attitude. Graphic lines structure the looks; movement suggests sensuality."
ALICE AND OLIVIA - by Stacey Bendet.
ALLEGRI - "The Architects Of Fabrics." Inventor of water-resistant cashmere called Rain Cashmere.
Alwyne Camble - (1925-1977). Fashion label: Alwynn.
Alyx - since 2015. Designed by Matthew Williams.
Amanda Wakeley - since 1990. British luxury lifestyle brand.
Ambush - "In 2008, Ahn and Verbal officially launched their joint high fashion jewelry label Ambush."
AMI PARIS - ALEXANDRE MATTIUSSI - since 2010. Shop the AMI PARIS Official Website. Explore our online assortment of Clothing, Accessories and Shoes. Browse the new collection today.
Andra Gabrielle - women's custom clothing, Chelsea, NYC, in films, Vogue, New York Times, international celebrity clients, artists, models, actresses: 305 W 21st St New York, NY 10011, U.S.A.
Andrew Gn - "Andrew GN (born 1966) is a Paris-based fashion designer from Singapour. He studied at Saint Central Martins in London, UK, and Domus Academy in Milan, IT. In 1996, he founded his own label."
Angel Chen - "ANGEL CHEN is a vanguard Chinese designer brand founded in 2014 by Angel Chen. The brand's signature colorful approach to fashion coupled with its core-concept of fusion of Eastern and Western aesthetics has deemed it to be one of the most popular young fashion brands internationally."
Angela Kelly - designer, dressmaker and milliner, who has served as Personal Assistant and Senior Dresser to Queen Elizabeth II since 2002.
Anine Bing - since 2012.
Anita Dongre - recognized as India's leading Fashion house.
ANN DEMEULEMEESTER - since 1985. Belgian fashion designer whose label, Ann Demeulemeester, is mainly showcased at the annual Paris Fashion Week. She is known as one of the Antwerp Six in the fashion industry.
ANNA October - since 2010. "Celebration of love, life, and femininity." Anna October is a Ukrainian womenswear brand expressing a spirit of sensitivity and freedom. Anna October design aspires women to perceive oneself happily and courageously. It is a brand contribution to the female empowerment movement - by blessing women's desire to be pleased by the way they look.
ANNA SUI - since 1981. "Anna Sui is one of New York's most beloved and accomplished fashion designers, known for creating contemporary original clothing inspired by spectacular amounts of research into vintage styles and cultural arcana. Sui joined New York's intensely creative cultural underground in the 1970s, forging important relationships in the worlds of fashion, photography, art, music, and design."
Anna Valentine - since 1986. British luxury fashion house launched in 1986. The label's biggest client is Camilla, Duchess of Cornwall.
Anne Klein - since 1968. "Shop the official Anne Klein USA online shop for luxury designer clothing, suits, jewelry, handbags, watches, shoes, sunglasses more."
Anne Klein - (1923-1974). Was an American fashion designer and businesswoman, the founder and namesake of Anne Klein & Company.
Anonlychild - since 2012. "Officially founded in 2021, anOnlyChild is conceptually based in the inventive spirit of a kid with no built-in playmates who, as the website describes, "[lives] in their imagination, giving life and silence to solitude. ... they can turn water into fire, a cloud into a rainstorm, and scraps of fabric into the finest clothes." Osborne repurposes deadstock, the discarded remainders of other projects, into pieces that dazzle on the catwalk."
Another Tomorrow - since 2018. "Clothing is one of society's most personal forms of self-expression, yet its path from concept to creation rarely reflects our values; the impact on Earth and its inhabitants often in opposition to our collective vision for the future. Another Tomorrow exists to realign this relationship for the curious, compassionate global citizen seeking elevated, thoughtful design, education, and tools for advocacy."
ANTONIO BERARDI - popular designer among Hollywood celebrities.
Antonio Castillo - (1908-1984). Together with Pierre Balmain, Cristóbal Balenciaga, and Christian Dior, was considered one of the most promising of the new generation of Paris designers to emerge after World War II.
Antonio Grimaldi - since 2010. "Mixing Tradition With Innovation." The stylistic value of Antonio Grimaldi originates in a magical combination of artisanal work and innovation. His philosophy consists of mixing tradition with innovation, reworking the concept of feminine beauty.
Antonio Marras - "Enter the world of Antonio Marras: fashion, design, art and more. Collections with a distinctive style and unique creativity, entirely made in Italy." The first collection Piano Piano Dolce Carlotta was tailored in 1988. He made his debut in the world of haute couture in July 1996.
A.P.C. - Atelier de Production et de Création, or A.P.C., is a French ready-to-wear brand founded in 1987 by the Tunisian Jewish fashion designer Jean Touitou in Paris.
APIECE APART - since 2008. "At Apiece Apart, we believe in supporting, inspiring, and bringing women together by designing clothing to be a part of your story."
Armarium - since 2022. "Translating to 'wardrobe' in Latin, armarium is the result of founder Giorgia Gabriele's ambition to create a truly trans-seasonal wardrobe that can be slowly updated over the years. Informed by her time as creative director with Wandering, Gabriele established the Milan-based label in 2022. The designer eschews both trends and man-made fibres, focussing instead on artful Italian craftsmanship and natural materials to create impactful everyday staples. Don't miss our edit of tailored blazers, low-key trench coats, sumptuous cashmere sweaters and impeccably cut denim jeans." Women's.
AQUASCUTUM - since 1851. "Understated British elegance."
ARMANI - since 1975.
ARNOLD SCAASI - (1930-2015). Canadian fashion designer who has created gowns for First Ladies Mamie Eisenhower, Barbara Bush, Hillary Clinton, and Laura Bush, in addition to such notable personalities as Joan Crawford, Ivana Trump, Princess Yasmin Aga Khan, Lauren Bacall, Diahann Carroll, Elizabeth Taylor, Catherine Deneuve, Brooke Astor, Arlene Francis, Mary Tyler Moore and The Baroness Wendy DeVere-Austin. Bucking the trend for affordable fashions, Scaasi opened a couture salon catering to a clientele of socialites and celebrities in 1964. He was noted for his tailored suits and glamorous evening wear and cocktail dresses trimmed with feathers, fur, sequins, or fine embroidery. In 1968, he caught the eye of a worldwide audience when Barbra Streisand wore his sheer overblouse and pants ensemble to collect her Academy Award for Funny Girl. The media attention made him a household name overnight.
Arthur Arbesser - since 2013. Milanese brand by designer Arthur Arbesser, an Austrian graduate from London's Central Saint Martins College.
ASHISH - since 2004. "Discover the latest Collections, Ready To Wear, Clothing, and Runway by Ashish." Ashish Gupta is an Indian fashion designer. Ashish has been called as the rising star of London's fashion scene. He has been named one of the top new generation creators by the British Fashion week. He designs in London, has workshops in India, where he gets complex hand embroidery done, and sells in London and Toronto.
Ashlyn - "Following stints with high profile designers like Yohji Yamamoto, Alexander Wang, and Raf Simons, South Korean designer Ashlynn Park founded her eponymous label in 2019 in New York. Led by creative director Ashlynn Park, ASHLYN reflects a strong design language shaped through her decades of experience in Japan and New York."
aspesi - since 1969. "The Milanese's Go-To Label for Normal Clothes."
Atlein - French fashion house based in Paris founded in 2016 by designer Antonin Tron committed to sustainable creation.
Attachment - "Kazuyuki Kumagai launched his label, ATTACHMENT, in 1999, beginning to show it as part of Paris Men's Fashion Week in 2006, quickly attracting stockists around the world, including Browns (London), L'Eclaireur (Paris) and Lane Crawford (Hong Kong), bringing his distinct brand of Japanese design to a global audience."
ATXV - since 2010. "ATXV Brings Fashion to the Metro."
AUSTIN REED - British fashion retailer founded in 1900, and the brand was acquired by Edinburgh Woollen Mill in 2016.
AUTUMN Adeigbo - since 2019. "Autumn Adeigbo is an American designer of Nigerian heritage. She is the founder of the eponymous women's ready-to-wear and accessories brand. Adeigbo's company became the first brand led by a female, black designer to raise more than $1 million in venture capital funding."
AVAVAV - founded by the Swedish duo Linda and Adam Friberg, in Firenze (Italy) in 2017. "High-end fashion with as much love for our planet as for luxury fabrics." Driven by creative design and conscious production. Based in Florence and Stockholm. Led by Creative Director Beate Karlsson.
AVON CELLI - founded in Milan in 1922. One of the oldest Italian knitwear fashion houses.
A.W.A.K.E. MODE - founded in London in 2012. "A.W.A.K.E. MODE is exploring the idea of creating avant-garde yet versatile wardrobe, recognisable for its innovative cuts, unexpected details, light-heartedness and subtle cross-cultural and historical references from art and film. In the world driven by fast-changing trends, A.W.A.K.E. MODE is determined to produce unique and almost art-object like pieces, adaptable to fit into a woman's daily life."
AZ Factory - since 2019. "High-End Designer Fashion Clothes for Women." Featuring sporty silhouettes in colorful couture and technical fabrics, our tribute showcased the innovative athletic-couture direction that Alber always dreamt of for AZ Factory. We will forever be inspired by his creativity, generosity, and mission to create smart fashion that cares.
AZZARO - French-Italian fashion designer. He rose to prominence in the 1960s with his flamboyant dresses and he went on to become well known for his perfumes.
AZZEDINE ALAÏA - (1940-2017). Known as the 'King of Cling'. Tunisian-born couturier & shoe designer, particularly successful beginning in the 1980s. For almost 20 years he privately dressed members of the world's jet set. Devotees included both fashion-inclined celebrities & fashionistas: from Marie-Hélène de Rothschild, Louise de Vilmorin, Grace Jones, Tina Turner, Raquel Welch, Madonna, Janet Jackson, Brigitte Nielsen, Naomi Campbell, Stephanie Seymour, Tatiana Sorokko, Shakira, Franca Sozzani, Isabelle Aubin, Carine Roitfeld to Carla Sozzani.

A B C D E F G H I J K L M N O P Q R S T U V W X Y Z

- B -

Bach Mai - since 2019. "Born and raised in Houston, Texas to Vietnamese immigrant parents, Bach developed a love for fashion and particularly haute couture at a young age. Following design stints at Calvin Klein and Oscar de la Renta, he moved to Paris and received a master's degree in fashion design from the Institut Français de la Mode. Bach returned to New York in 2019 with the goal of creating his own eponymous brand. Bach Mai launches in a partnership with Hurel."
BADGLEY MISCHKA - since 1988. Hailed by Vogue as one of the "Top 10 American Designers" and as the darling of the Hollywood set.
BALENCIAGA - luxury fashion house founded in 1917 by the Spanish designer Cristóbal Balenciaga in San Sebastian, Spain and now based in Paris. Balenciaga had a reputation as a couturier of uncompromising standards and was called "the master of us all" by Christian Dior. The brand is now owned by the luxury group Kering.
BALLANTYNE - established 1921.
BALLY - since 1851.
BALMAIN Paris - French luxury fashion house that was founded by Pierre Balmain in 1945. It operates 16 monobrand stores, including locations in New York City, London, Los Angeles, Las Vegas, Miami, and in Milan's Via Montenapoleone.
Banana Republic - since 1978. Upscale clothing and accessories retailer owned by The Gap.
Band of Outsiders - (2004-2015).
Baracuta - since 1937. Maker of the Harrington jacket is a lightweight waist-length jacket, made of cotton, polyester, wool or suede — usually with traditionally Fraser tartan or check-patterned lining. In 2007, to celebrate the 70th anniversary of its brand, Baracuta released three special edition G9 jackets with quotes by Presley, Steve McQueen and Frank Sinatra - all of them frequent wearers of the Harrington - printed on the lining.
BARBARA TFANK - "Barbara Tfank launched her eponymous label in 2001, forging new opulence with a line of beautiful brocade cocktail coats and colorful, classically-shaped dresses. Pairing flattering silhouettes with luxuriant fabrics and fine hand-tailored craftsmanship, she has made herself a notable force in fashion. Best known for designing the lavender Prada gown worn by Uma Thurman at the 67th Academy Awards."
BARBOUR - since 1894. "Women's Countrywear Collection." The heart of the Barbour brand, this season's classic countrywear celebrates the colours found in the British countryside. A range of jackets, gilets and knitwear in new textures and yarns hang alongside established favourites. Understated, practical clothing designed with the outdoors in mind.
Basile - "Italian Fashion."
Batsheva - since 2016. "Batsheva is a New York-based ready-to-wear brand for women and girls." Batsheva plays with American styles of feminine dress - from Victorian to Pioneer; from Housewife to Hippie - by taking elements symbolic of restraint and repression (high collars, voluminous sleeves and skirts) and giving them a modern inflection.
BCBGMaxAzria - "When Max Azria's LA-based womenswear brand BCBGMaxAzria launched in 1989, it was one of the first labels to make designer-quality clothing accessible to women outside of traditional designer price points."
Belstaff - since 1924. Belstaff was the first company to use wax cotton in the manufacturing of waterproof apparel for motorcycling.
BETSEY JOHNSON - American fashion designer best known for her feminine and whimsical designs.
BEVERLY HILLS POLO CLUB - "The Beverly Hills Polo Club brand was established in 1982. Inspired by both the elegance and glamour of Beverly Hills as well as the heritage sport of polo, the Brand captures the excitement of this competitive sport along with membership in an exclusive social club."
BEVZA - since 2006. "Timeless elegance from Kiev."
Bibhu Mohapatra - "Bibhu's eponymous label, Bibhu Mohapatra, launched its first collection during New York Fashion week in 2009. Since then, the fashion house is currently being sold at Bergdorf Goodman, Neiman Marcus, Lane Crawford and select specialty boutiques across North America, Europe, Russia and the Middle East."
BILL BLASS - since 1970. American fashion designer, born in Fort Wayne, Indiana. He was the recipient of many fashion awards, including seven Coty Awards and the Fashion Institute of Technology's Lifetime Achievement Award (1999).
BLUMARINE - "Women's apparel, accessories, fragrances." Anna Molinari and Gianpaolo Tarabini are the husband-and-wife duo that founded Blumarine in Capri in 1977 and the sister brands that followed. The name Blumarine was derived from the founders' love of the colour blue and the ocean surrounding Capri.
Boglioli Milano - since 1974.
BOTTEGA VENETA - since 1966. Italian luxury fashion house based in Milan, Italy. Its product lines include ready-to-wear, handbags, shoes, accessories, and jewelry.
Brandon Maxwell - "Brandon Maxwell is a luxury women's ready-to-wear label launched in New York in 2015. The brand was born out of the desire to make women feel beautiful, sophisticated and powerful, with timeless garments that are impeccably tailored. With a focus on craftsmanship, the entire collection is designed in New York City."
BRIONI - Italian fashion house founded in 1945. "To be one of a kind."
BROWNS FASHION - the latest fashion collections from Lanvin, Bottega Veneta, Balenciaga, Marni, Marc Jacobs, Azzedine Alaia and more.
BRUCE OLDFIELD - British fashion designer, best known for his couture occasionwear. Notable clients have included Sienna Miller, Barbra Streisand, Catherine Zeta-Jones, Diana Ross, Emmanuelle Seigner, Rihanna, Kelly Brook, Taylor Swift, Elizabeth McGovern, Rosamund Pike, Anjelica Huston, Faye Dunaway, Jacqueline Jossa, Melanie Griffith, Charlotte Rampling, Jerry Hall, Joan Collins, Diana, Princess of Wales, Queen Noor of Jordan, Camilla, Duchess of Cornwall, Sophie, Countess of Wessex & Queen Rania of Jordan. Today, couture, bridal and custom made, together with complementing accessories, can be found at 27 & 34 Beauchamp Place, London SW3.
BRUNELLO CUCINELLI - since 1978. "Be inspired by the spirit of the season. Discover the new arrivals from the ready-to-wear, shoes, bags, small leather goods and accessories collections for Women."
BULGARI - since 1884.
BURBERRY - since 1856. "Women's Designer Clothing | Luxury Womenswear." Explore clothing for women with house codes reimagined. A chevron design breathes new life into check shirt dresses, shorts and trousers, while botanical sketch and label prints elevate sweatshirts and T-shirts. Shop new-season outerwear, dresses and tailoring - designed by Riccardo Tisci.
BY MALENE BIRGER - since 2003. Worn by Kate Middleton, Duchess of Cambridge.

A B C D E F G H I J K L M N O P Q R S T U V W X Y Z

- C -

CACHAREL - since 1962.
CÂllas Milano - since 2020. "The ultimate wardrobe." Inspired by the chic and practical style of the Milanese, Câllas Milano creates the ultimate luxury wardrobe for modern women—no matter where they happen to live. Câllas Milano was founded by friends and fellow fashion entrepreneurs, Marco Panzeri and Jan-Hendrik Schlottmann, during one of the most challenging times for the Italian fashion industry in 2020.
Callot SŒurs - was one of the leading French fashion design houses of the 1910s and 1920s.
CALVIN KLEIN - since 1968. American fashion designer who launched the company that would later become Calvin Klein Inc., in 1968. In addition to clothing, he also has given his name to a range of perfumes, watches, and jewellery.
CALVIN Luo - since 2014. "The label has predominantly shown womenswear collections epitomized by the blurring of boundaries separating menswear and womenswear. Calvin Luo launched his first stand-alone menswear collection for Spring/Summer 2019."
CANADA GOOSE - since 1957. "Committed to producing the best extreme cold weather outerwear in the world." Canada Goose markets a wide range of jackets, parkas, vests, hats, gloves, shells and other apparel through various avenues, both wholesale and direct to customer with their own retail stores.
Carhartt - since 1889. American apparel company founded in 1889, known for heavy-duty working clothes such as jackets, coats, overalls, coveralls, vests, shirts, jeans, dungarees, fire-resistant clothing and hunting apparel.
Carla Zampatti - since 1965.
Carlota Barrera - since 2018. London-based label celebrating evolving identities.
CAROLINA HERRERA - since 1981. Venezuelan fashion designer known for her personal style, and for dressing various First Ladies, including Jacqueline Onassis, Laura Bush, Michelle Obama, and Melania Trump.
CAROLINE HU - since 2018. "HU is a New York-based luxury label with a romantic attitude toward daily life."
Carven - since 1945.
CARVIL - Paris since 1952.
Casablanca Paris - since 2018. "Casablanca is a contemporary luxury fashion house dedicated to protecting and promoting a holistic approach to design and craftsmanship."
CASASOLA - since 2013.
CATHERINE WALKER - (1945-2010). The quintessential royal couturier was the designer who Diana, Princess of Wales, consistently came back to.
CDLM - "CDLM is a fashion brand founded in 2018 by designer and creative director, Christopher John Rogers. The brand is known for its bold and vibrant designs that are inspired by the designer's own personal style. CDLM offers a range of ready-to-wear clothing, accessories, and shoes for both men and women."
Cecilie Bahnsen - "Iconic femininity and romance, Cecilie Bahnsen's sculptural approach comes together in exquisite materials to achieve beautiful silhouettes in every dress created. Dresses to celebrate every moment in life."
Ceil Chapman - was an American fashion designer who worked in New York City from the 1940s to the 1960s. She was noted for creating glamorous cocktail and party dresses and for working with celebrity clients including television and movie actresses.
CÉLINE - founded in Paris in 1945 by Céline Vipiana.
CERRUTI 1881 - since 1967.
CESARE PACIOTTI - since 1980.
CFCL | Clothing For Contemporary Life - since 2020.
Chalayan - since 1984. Chalayan is a fashion label founded by designer Hussein Chalayan in 1994. The brand uses an innovative mix of design, science and art to create iconic pieces such as the skirt that turns into a table. He is known as fashion's big thinker. Chalayan offers men's and women's clothing, leather goods, and jewellery. Shop the latest collection now. Alternative luxury fashion since 1994.
CHANEL - founded by the couturier Gabrielle "Coco" Chanel in 1909. Was a French fashion designer and businesswoman. The founder and namesake of the Chanel brand, she was credited in the post-World War I era with popularizing a sporty, casual chic as the feminine standard of style.
CHARLES FREDERICK WORTH - (1825-1895). Was an English fashion designer who founded the House of Worth, one of the foremost fashion houses of the 19th and early 20th centuries. He is considered by many fashion historians to be the father of haute couture. Worth is also credited with revolutionising the business of fashion.
CHARLES JAMES - (1906-1978). English-American fashion designer. He is best known for his ballgowns and highly structured aesthetic. James is one of the most influential fashion designers of the 20th century and continues to influence new generations of designers. Known as "America's First Couturier".
Charles Jeffrey Loverboy - since 2015. Scottish fashion designer known for his punk-inspired, gender-fluid designs influenced by his Scottish heritage and London's queer club scene. Jeffrey has been described as "speaking to young London the way Alexander McQueen spoke to his generation," and by Vogue as "the upholder of all that is human, creative and cheerful about British fashion." Jeffrey launched his label Charles Jeffrey LOVERBOY in 2015, after graduating from Central St Martins. He has been nominated for and won numerous industry awards. Charles Jeffrey LOVERBOY has been worn by figures as wide-ranging as Harry Styles, Tilda Swinton, Bimini Bon Boulash, and K-Pop stars BTS.
CHARLES JOURDAN - "Fondée en 1921, Charles Jourdan a plus de cent ans. Trop âgé pour se réinventer? Pas lorsque l'audace est chevillée à vos souliers depuis toujours. En 2022, la maison renaît et renoue avec la culture de la créativité qui constitue son identité."
Cherevichkiotvichki - "Viktorija is a selft- taught designer whose first collection, created in 2011, was presented in Paris fashion week." All collections.
CHET LO - since 2020. "This London-based Asian American fashion designer is pushing the boundaries of classical knitwear design by using distinctively unique techniques."
CHEZ NINON - (1928-1996).
CHIKA KISADA - "Chika Kisada established her eponymous brand in 2014 which strongly reflects her sense of value as a designer."
CHLOÉ - French luxury fashion house founded in 1952 by Gaby Aghion.
Chopova Lowena - "Chopova Lowena was founded by BFF duo, Emma Chopova and Laura Lowena back in 2017, following the pair's graduation from Central Saint Martins Fashion MA program."
CHRISTIAN COWAN - Christian Cowan is a designer who founded his eponymous label in 2016. Graduating from London College of Fashion in 2016, the Central Saint Martins alumnus garnered a strong celebrity following before having even left school, with clients including Lady Gaga, Naomi Campbell and Beyoncé.
CHRISTIAN SIRIANO - since 2008. Christian Siriano is a red carpet favorite for celebrities. Michelle Obama wore a royal blue dress designed by Siriano for the speech she made at the Democratic National Convention on July 25, 2016.
christina economou - "Christina Econoumou was born and raised in Greece. She started her career in fashion by attending Parsons and Istituto Marangoni in Paris at the end of which she won the 2011 International Award at London Graduate Fashion Week. Her collections reflect her own effortless and eclectic style, resulting in a line that is as cool and progressive as it is timeless and respectful."
christina stambolian - "My Story." I designed and produced 15 full-scale catwalk shows at prestigious venues such as The Park Lane Hotel, The Intercontinental and Claridges. Between 1983 and 1994, my designs were sold in 'Christina Stambolian' boutiques in Paris and London. I have contributed to charitable organisations by donating various of my creations: The 'Revenge Dress' worn by Princess Diana at the 'Serpentine Gallery' was bought by Graeme Mackenzie, the Scottish collector, and has been used for worthy causes like 'Children First', the Royal Scottish Society for the Prevention of Cruelty to Children.
Christopher John Rogers - "Fashion's Next Big Name." Since launching his eponymous brand only a few seasons ago, the designer's voluminous silhouettes, sharp tailoring and unabashed use of color have already earned him a CFDA/#&47;Vogue Fashion Fund Award and a legion of fans, including Zendaya, Tracee Ellis Ross and Michelle Obama.
Chufy - "Founded in 2017, Chufy is a fashion brand that features ready-to-wear clothing and accessories, with a focus on sustainable fabrics and hand-painted patterns."
Claude Montana - French fashion designer. His company, The House of Montana, founded in 1979.
Clovis Ruffin - (1946–1992). "as an American fashion designer specializing in sportswear, active from 1972 to 1992. In 1973 he became the youngest designer to win a Coty Award.
CO - since 2011. "Minimal & Essential Clothing." Discover the world of CO. Shop our assortment of clothing, shoes, handbags and accessories.
COMME DES GARçONS - since 1969. Japanese fashion label based in Paris created and led by Rei Kawakubo. Its French flagship store is located in Paris.
Commission - "Established in 2018 by Huy Luong, Dylan Cao, and Jin Kay, New York-based label Commission draws inspiration from the '80s and '90s, merging the designers' East Asian heritage with western codes of dress."
Coperni - "Coperni is a Parisian ready-to-wear and accessories brand designed by Sébastien Meyer and Arnaud Vaillant, established in 2013."
CosTUME NATIONAL - CoSTUME NATIONAL is an Italian fashion house founded in 1986 by Ennio Capasa. CoSTUME NATIONAL has a highly recognizable style, which is the result of Ennio Capasa's ability to merge his Italian background of perfect tailoring to sensitivity toward what is modern and chic.
COURRÈGES - since 1961. French fashion designer, known for his ultra-modern designs. Emblematic of the 1960s with its miniskirts, white boots or pants, it upsets the established codes of fashion from its beginnings, and knows a great success during twenty years to be more discreet from the 1980s.
CROMBIE - since 1805.
Cult Gaia - since 2012. "Cult Gaia is inspired by nature and women. This is where the brand's name comes from. Great brands are cult-like, uniting like-minded people in their aesthetic ..."
CUYANA - since 2013. "Our mission is to inspire and enable simple elegance with fewer, better things."

A B C D E F G H I J K L M N O P Q R S T U V W X Y Z

- D -

DAKS - British luxury fashion house, founded in 1894 by Simeon Simpson in London. Design, manufacture and retail of tailored garments and accessories for men and women.
Danielle Frankel - "A Bridal label made in New York." Danielle Frankel is inspired by celebration and the beauty of bridal. With a respect for nostalgia and tradition, but a forward and directional approach to a modern woman's desires, designer Danielle Hirsch creates a new perspective of what it means to be a woman getting married.
David Emanuel - Welsh fashion designer who is best known for having designed (along with his then wife Elizabeth Emanuel) the wedding dress worn by Diana, Princess of Wales in 1981.
DAVID KOMA - since 2009. Georgian fashion designer based in London, England. Celebrities, including Beyonce, Jennifer Lopez, Cara Delevingne, Kendall Jenner and Rosie Huntington-Whiteley and Adele have worn his clothes.
Del Core - "Del Core is a fashion house founded in Milan in 2020 by Daniel Del Core. The first collection has been presented in February 2021."
Demna Gvasalia - Georgian fashion designer. Since 2015 the creative director of Balenciaga and the co-founder of Vetements.
DENNIS BASSO - "Handmade in New York City."
DEREK LAM 10 CROSBY - since 2003/2011. "A native of San Francisco, Lam attended Parsons School of Design in New York and worked for Michael Kors before launching his own brand. The DEREK LAM brand features luxury products with a modern sensibility, known for its calculated simplicity and thoughtful detailing."
Diane von Furstenberg (DvF) - since 1970. Belgian fashion designer best known for her wrap dress. Her fashion company, Diane von Furstenberg (DvF), is available in over 70 countries and 45 free-standing shops worldwide.
DIESEL - since 1978. Italian retail clothing company, located in Breganze, Italy. It sells denim, and other clothing, footwear, and accessories. The clothing line has two different brands: Diesel and Diesel Black Gold.
Dion Lee - fashion designer hailing from Sydney, Australia where his eponymous brand was established in 2009.
DIOR - since 1946. Christian Dior SE commonly known as Dior (stylized DIOR), is a French high-end luxury fashion house controlled and chaired by French businessman Bernard Arnault, who also heads LVMH, the world's largest luxury group. Dior holds 42.36% shares of and 59.01% voting rights within LVMH.
Diotima - since 2020. "A fashion ode to the Caribbean."
(di)vision - "(di)vision is a Copenhagen based design and fashion label founded in late 2018, directed by the siblings Nanna and Simon Wick. "Create from what already is", has always been our go-to work ethic and most of our collections are made from pre-existing materials."
DKNY - since 1984.
Dodo Bar Or - since 2014. "Drawing on her Middle Eastern heritage for inspiration, Dodo fuses references to traditional design, art and architecture with a cool, fashion-forward outlook."
DOLCE&GABBANA - also known by initials D&G, is an Italian luxury fashion house founded in 1985 in Legnano by Italian designers Domenico Dolce and Stefano Gabbana. The house specializes in ready-to-wear, handbags, accessories, and cosmetics and licenses its name and branding to Luxottica for eyewear.
DOMENICO VACCA - since 2002. "Domenico Vacca is responsible for bringing back exceptional luxury and quality to fashion. Born in Italy, Vacca's family was for decades deeply rooted in the craft of fashion."
DOMINIQUE SIROP - haute couture.
DONNA KARAN - since 1984. Born Donna Ivy Faske), also known as "DK", is an American fashion designer and the creator of the Donna Karan New York and DKNY clothing labels.
DRIES VAN NOTEN - since 1986. Belgian fashion designer. One of the 'Antwerp Six,' the third-generation designer has built a profitable fashion business, known for its intelligent prints, on his own terms. Explore the latest collections, projects and events.
DSQUARED - "DEAN AND DAN CATEN, TWIN BROTHERS FROM WILLOWDALE IN TORONTO, STARTED THEIR PATH IN FASHION AT THE PARSON'S SCHOOL OF DESIGN IN NEW YORK CITY IN 1984."
Duckie Brown - New York-based fashion line. It was founded in 2001 by Steven Cox and Daniel Silver. Duckie Brown's mission, "dressing men beautifully," is accomplished through hand tailoring, unique fabrics, and bold colors.
Dundas - since 2016. "Founded in 2017 by acclaimed designer Peter Dundas. DUNDAS was created for the unapologetically bold - for those who want to stand out in any room and be remembered."
Duro Olowu - since 2004. "Nigerian-born British fashion designer. He is best known for his innovative combinations of patterns and textiles that draw inspiration from his international background. Olowu enjoyed early support from American First Lady Michelle Obama, who frequently wore his designs."

A B C D E F G H I J K L M N O P Q R S T U V W X Y Z

- E -

Eckhaus Latta - since 2011. "American fashion label established in 2011 by Mike Eckhaus and Zoe Latta. The pair met at the Rhode Island School of Design where they studied Sculpture and Textile Design respectively. They work between studios in Los Angeles and New York City."
Edeline Lee - "Canadian-British, London-based EDELINE LEE graduated from Central Saint Martins and launched her eponymous label in 2014. She is known for her immersive and performative shows at London Fashion Week."
Edith Head - (1897-1981). American costume designer who won a record eight Academy Awards for Best Costume Design, starting with The Heiress (1949) and ending with The Sting (1973).
Edward Molyneux - (1871-1974).
ELIE SAAB - since 1982. Lebanese fashion designer. Discover and shop online the latest ready-to-wear fashion designer clothing, ... bridal and fragrances collections from world-renowned designer Elie Saab.
ELISE GUG - 2011 Oscar-winning director Susanne Bier's favorite designer.
ELIZABETH EMANUEL - best known for her 1981 wedding dress for the wedding of Diana, Princess of Wales valued at £9000 with a 25-foot (8-metre) train. Her 'fairytale ballgown' sold at auction on December 3, 2013 for £102,000.
Exploring a memory: Designer re-creates a dress for Diana - "Shocking pink with a plunging, ruffled neckline and body-hugging shape, the gown was designed by Emanuel for Lady Diana Spencer to wear at a Buckingham Palace party a few days before her marriage to Prince Charles in 1981. It was a visual coming-out event for the future princess, until then largely known for her conservative sweater-and-pearls look."
ELSA SCHIAPARELLI - (1890-1973).
EMANUEL UNGARO - in 1965 with the assistance of Swiss artist Sonja Knapp and Elena Bruna Fassio, Ungaro opened his own fashion house in Paris.
EMILIA WICKSTEAD - "Established in 2008, the designer RTW label Emilia Wickstead has become the epitome of modern femininity." Her clothes are worn by the Duchess of Cambridge, Gwyneth Paltrow, Brie Larson, Diane Kruger and Kate Bosworth.
EMILIO PUCCI - Italian aristocrat, fashion designer and politician. He and his eponymous company are synonymous with geometric prints in a kaleidoscope of colors. Explore the World of PUCCI and purchase online our latest collections at the official online store and enjoy free international delivery.
EMPORIO ARMANI - Emporio Armani was founded in 1975 by Giorgio Armani, fashion's most influential and celebrated fashion designer from Italy. Armani provides quality, sophisticated and timeless style clothing ranging from luxury garments, apparel, jewellery and aftershaves.
Engineered Garments - "Engineered Garments was founded by Daiki Suzuki in New York in 1999, after taking inspiration from his years buying for the Nepenthes stores in their early stages, and combining it with his own vision. As a brand, our aim is to make garments that become more personal through the experiences you have with them. We value unique garment construction with attention to detail, with meaning and hidden qualities behind each design. We venture into conflicting themes, straying from 'perfect design'. We are not designed but engineered."
EPONINE - "Bespoke Fashion."
Equihua - "Pronounced 'e-KEE-wah' One of a kind. Like you. No basics WEB EXCLUSIVE. Made in LA by Kitana and dreamers."
Erdem - "Synonymous with versatile yet powerful femininity."
ERL - since 2018. "Eli Russell Linnetz is the designer behind ERL, a creative director and Ye and Lady Gaga collaborator. Since launching his brand in 2018, the multi-hyphenate has taken fashion by storm - most recently, teaming up with Kim Jones on Dior's menswear resort collection in May 2022."
ERMANNO SCERVINO - since 2000. Italian fashion house headquartered in Florence, Italy. Entrepreneur Toni Scervino and designer Ermanno Daelli founded the fashion label in 2000.
ERNESTO NARANJO - "Southern Spain born designer Ernesto Naranjo established his namesake label in 2014 shortly after winning the Mercedes Benz Fashion Talent during Madrid Fashion Week."
ESCADA - since 1978.
ET OCHS - since 2008. "Et Ochs by Michelle Ochs." Et Ochs is a luxury womenswear collection based in New York City.
ETRO - family-managed Italian fashion house founded in 1968. It is mainly known for its paisley patterns, which the company started making in 1981. "The ETRO women's collection blends tradition with contemporary style, to create iconic, sophisticated clothing. Long floral dresses, Paisley prints, jacquard fabrics and patchworks are the result of continuous design research that embraces innovation and poeticism. Get inspired and discover all of our styles and products online, and locate your nearest ETRO boutique."
Eudon Choi - "Established in 2009 by Korean designer Eudon Choi, the brand takes inspiration from art, architecture and historical figures. With solid experiences in menswear, Eudon Choi combines masculine tailoring with feminine sensibility to aim the uniqueness, understatement but sophisticated." London based contemporary womenswear designer whose collections offer masculine tailoring with a feminine sensibility.
EUGEN KLEIN - since 1975.
Eytys - since 2013. Pronounced as "eighties", is a fashion brand based in Stockholm, Sweden.

A B C D E F G H I J K L M N O P Q R S T U V W X Y Z

- F -

Feben - since 2020. "Not Just A Label." The Celebrity-Favourite Fashion Designer Whose Priority Is To Give Back. One of the brightest (and kindest) upcoming stars of the British Fashion Council's Newgen cohort.
Federica Cavenati - (1993-2021).
Felipe Varela - Spanish fashion designer. He dresses Queen Lete,' is being suspended indefinitely, luxury conglomerate LVMH announced today."
Fendace women's Collection - since 2022. "The Versace by Fendi Collection." A coming together of two Italian brands, the Fendi by Versace collection stems from mutual friendship and respect. Discover women's hoodies, belt bags, shoes and more with signature Greca, Barocco and FF motifs in unique Fendace designs.
FENDI - founded in 1925. Italian luxury fashion house producing fur, ready-to-wear, leather goods, shoes, fragrances, eyewear, timepieces and accessories.
FERRAGAMO - founded 1927.
FERRARI - since 1939. "Women's Ferrari clothing is the line designed for fans of the legendary Maranello Team."
Fforme - since 2022. "Effortless clothes. Made meticulously. Discover and shop Edition 01 online now."
Fiona Clare London - "Couture Designer." The award-winning fashion and couture designer, Fiona Clare is one of the Duchess Of Cornwall's favourite designers.
FILIPPA K - since 1993. "Scandinavian Sensual Minimalism." The Filippa K Woman collection offers timeless essentials with a touch of modern inspiration. Discover classic pieces such as tailored blazers, ...
Fiona Clare - "The designer shaping the Duchess of Cornwall's elegant royal wardrobe."
For Restless Sleepers | F.R.S. - "Founded by Francesca Ruffini is an Italian brand born with the aim of propose a different, very personal and indipendent style. With F.R.S, the pajama finally leaves the realm of the strictly private and its specifically nocturnal purpose, transforming itself into an attitude comprising lightweight fabrics that look good anywhere. In so doing, it reveals itself as a display of independence, reflecting a new and surprising self-declaration."
Fortuny - (1871-1949).
Francisco Costa - Brazilian designer and the Women's Creative Director of Calvin Klein Collection.
Frederick Anderson - since 1996. Spring 2023 Collection.
Fruit of the Loom - since 1851. Women's.
fumito ganryu - since 2018. "Conceptual wear for the 21st century."

A B C D E F G H I J K L M N O P Q R S T U V W X Y Z

- G -

Gabriela Hearst - since 2015. "Built on the principles of timelessness, uncompromising quality and sustainability." New York-based men's and womenswear designer who launched her sustainable, eponymous label in 2015, and made headlines with the Nina Bag, which launched in 2016 and boasts an extensive waiting list.
Gaby Aghion - (1921-2014). French fashion designer and the founder of the French fashion house Chloé. She is said to have coined the phrase "prêt-à-porter".
Galitzine - site of Princess Irene Galitzine. Best known for "palazzo pyjama".
GANNI - since 2000. "Ganni is a Danish contemporary ready-to-wear fashion brand. Founded in 2000 by gallerist Frans Truelsen, it started gaining cult popularity as a designer label in the late 2010s under the tutelage of husband-and-wife duo Nicolaj Reffstrup and Ditte Reffstrup."
GANT - since 1949. American Swedish clothing brand, headquartered in Stockholm, Sweden.
Garage Italia - "Garage Italia Official Jumpsuits."
Gaurav Gupta - since 2005. "The brand's sculptural silhouettes regularly appear on the world's Best Dressed Lists for The Oscars, The Emmy Awards, the Tony Awards and the Festival de Cannes to name a few. His designs have graced magazine covers, billboards, music videos and red carpets around the globe dressing Lizzo, Cardi B, Megan Thee Stallion, Deepika Padukone, Priyanka Chopra, Aishwarya Rai, Mary J. Blige, Jennifer Hudson, Saweetie."
GEORGES CHAKRA - international haute couture fashion house. Beirut-based Lebanese haute couture fashion designer. Established his brand in 1985. What started as a customized workshop for local and regional clientele has grown into an international haute couture fashion house, having dressed the likes of Rihanna, Beyoncé, Tyra Banks, Jennifer Lopez, Helen Mirren and more. Since 2001, he has presented collections at Paris Fashion Week.
GIAMBATTISTA VALLI - since 2005. Italian fashion designer. He is from Rome, Italy. His collections, both ready to wear and Haute couture are presented semi-annually during Paris Fashion Week. The go-to designer for the rich and royal (e.g. Mrs. Amal Alamuddin Clooney).
Gina Fratini - (1931-2017). Among the top personalities who wore Fratini designs was Elizabeth Taylor, who wore a Fratini wedding dress for her second wedding to Richard Burton. Diana, Princess of Wales, also wore Fratini designs to public events.
GIORGIO ARMANI - since 1975. Italian fashion designer. By 2001 Armani was acclaimed as the most successful designer of Italian origin, and is credited with pioneering red-carpet fashion. In 2010, he opened the Armani Hotel in Burj Khalifa, the world's tallest building. He is also the richest openly LGBT (bisexual) person in the world. According to Bloomberg Billionaires Index, Armani has an estimated net worth of US$9.53 billion, as of 2021.
Giorgio di Sant' Angelo - (1933-1989). Italian-born American fashion designer. He created romantic clothing that reflected the hippie culture of the era.
Giovanni Battista Giorgini - (1898-1971). Staged and hosted 'First Italian High Fashion Show' on February 12, 1951 in Florence, Italy.
GIVENCY - since 1952. French luxury fashion and perfume house. It hosts the brand of haute couture and ready-to-wear clothing, accessories, perfumes and cosmetics of Parfums Givenchy. It is currently owned by luxury conglomerate LVMH.
GmbH - since 2016. "The Berlin-Based Fashion Collective That Just Impressed in Paris."
Greta Constantine - since 2006. "Special occasion womenswear." Line of women's wear designed by Kirk Pickersgill and Stephen Wong in Toronto, Ontario, Canada.
GUCCI - since 1921. "Redefining Luxury Fashion."
GUCCI'S LATEST RETAIL CONCEPT IS FOR VIPS ONLY - "8409 Melrose Avenue: Los Angeles has a prominent new luxury storefront - but you'll probably never get inside. Sure to be frequented by celebrities, Gucci Salon harkens back to the house's 1970s heyday. 8409 Melrose Avenue has reached its final form: Gucci Salon, a new brick-and-mortar concept that takes luxury retail to a new level. Its doors will only be opened for VIP clients with appointments. Gucci Salon is located at the intersection of Melrose Place and Melrose Avenue - a highly trafficked shopping area of West Hollywood. Melrose Avenue, in particular, is one of L.A.'s toniest stretches of retail. Neighbors include Balmain, The Row, Oscar de la Renta and Chloé (most of whom followed Marc Jacobs to the quaint area)."
GUDRUN & GUDRUN - since 2002. "Slow clothing." The company specializes in exclusive designs that are all knitted by hand. Sweaters used by the character Sarah Lund in the Danish TV series "The Killing". Pop in and discover our new collection of sustainable quality knitwear. Worldwide delivery. Order now and wear forever.
Guest in residence - "Supermodel and fashion icon Gigi Hadid has added a new job to her extensive resume: founder. She's now the creative director and founder of her first brand, Guest in Residence, a cashmere and knitwear company launching today, September 7th, 2022."
Guo Pei - 'The Queen of China's Haute Couture'.
GUY LAROCHE - founded in 1957.
Gypsy Sport - since 2012. Gypsy Sport is an American fashion brand based in New York City. Creative director Rio Uribe grew up in Koreatown, Los Angeles. After working for Balenciaga, rising to head of merchandising, he founded Gypsy Sport in 2012.

A B C D E F G H I J K L M N O P Q R S T U V W X Y Z

- H -

H&M - since 1947. Multinational clothing company based in Sweden that focuses on fast-fashion clothing for men, women, teenagers, and children. As of 23 June 2022, H&M Group operates in 75 geographical markets with 4,801 stores under the various company brands, with 107,375 full-time equivalent positions.
HALSTON - since 1953. Was an American fashion designer who rose to international fame in the 1970s. His minimalist, clean designs, often made of cashmere or ultrasuede, were a new phenomenon in the mid-1970s discotheques and redefined American fashion. Halston was known for creating a relaxed urban lifestyle for American women.
Hanae Mori, renowned Japanese fashion designer, dies at 96 - "Nicknamed 'Madame Butterfly', Mori was the first Japanese designer to make it in the world of French haute couture."
HANEY - "The epitome of classic elegance, unabashed glamour and modern luxury."
Hanifa - since 2011. "For Women Without Limits." We believe that women should be empowered to break barriers, achieve excellence in every aspect of their lives, and make their own rules. We know that women can do anything they set their minds to - and we want to help them do it.
Hardwick Clothes - American clothing manufacturer headquartered in Cleveland, Tennessee specializing in tailor-made suits for men and women. Founded on July 28, 1880, Hardwick Clothes is the oldest maker of tailored clothing in America.
Hardy Amies - (1909-2003). Was an English fashion designer, founder of the Hardy Amies label and a Royal Warrant holder as designer to Queen Elizabeth II. The association began in 1950, when Amies made several outfits for the then-Princess Elizabeth's royal tour of Canada. He established the monarch's crisp, understated style of dress. "I don't think she feels clothes which are too chic are exactly very friendly," he told one fashion editor. "The Queen's attitude is that she must always dress for the occasion".
Harunobumurata - L"uxury fashion label founded by designer Harunobu Murata after returning from Milan, Italy in 2018. Brand's mission is to establish a luxury brand from Japan, using the best materials and techniques from both Italy and Japan mixed with the designer's own sense of experience and background, to provide people around the world who love beauty and elegance with special emotions through encounters with top level creations."
Hattie Carnegie - (1880-1956). Fashion entrepreneur based in New York City from the 1920s to the 1960s. Known for her elegant couture collection and secondary ready-to-wear lines. Her company was revolutionary in the sense that it was one of the first to introduce ready-to-wear to the high-end market. She pioneered the 'head-to-hem' boutique concept that paved the way for the future success of Ralph Lauren in America.
HAWES & CURTIS - since 1913. Jermyn Street, London.
HEDI SLIMANE - "French photographer and grand couturier. From 2000 to 2007, he held the position of creative director for Dior Homme (the menswear line of Christian Dior). From 2012 to 2016, he was the creative director for Yves Saint Laurent. Since February 1, 2018, Slimane has been the creative, artistic and image director of Celine."
Helen Rose - (1904-1985). American costume designer and clothing designer who spent the bulk of her career with Metro-Goldwyn-Mayer. In the late 1960s, Rose left the studio to open her own design business and continued to provide fancy attire for the famed and the wealthy.
HELEN YARMAK - Milan, New York, Moscow. "One of the top international brands in the world today."
HÉlÈne Rochas - (1927-2011).
Heliot Emil - "Julius and Victor Juul, the geniuses behind the subversive Danish brand Heliot Emil, are redefining the fashion world. Beginning the brand together in 2017, the two have pioneered their Industrial Elegance aesthetic while laying the foundations for the Heliot Emil universe."
Helmut Lang - Fashion brand was created by Austrian fashion designer Helmut Lang in 1986. The Helmut Lang brand was acquired from its founder by fashion label Prada in 2004.
HENRI LLOYD - since 1963.
HENRIK VIBSKOV - since 2003.
HERMÈS since 1837. "Six generations of artisans." New women boots or booties, earrings, pendants or bracelets. Find out about our latest creations now available on the official Hermès online store.
Heron Preston - since 2017. American artist, creative director, content creator, designer and DJ. Former Nike designer who joined Kanye West's creative team and started his own clothing brand. He is one of the co-founders of the men's streetwear brand Been Trill alongside Virgil Abloh of Off-White fame and Justin Saunders of JJJJound among others. Mostly known for re-branding iconic images, he also designs for his own brand, Heron Preston.
HERVÉ LÉGER - bandage dress.
HERVÉ Pierre - French-American fashion and costume designer. In 1987, he received the first Christian Dior award from the Comité Colbert. Pierre has designed fashions for four United States first ladies including Laura Bush, Hillary Clinton, Michelle Obama, and Melania Trump since the 1990s.
HERVÉ PIERRE - since 1987. Designed Melania Trump's inauguration gown.
HÉST - since 2019. Former princess Märtha Louise of Norway joined the company after a few months. Anne-Kari, Monica, and Märtha Louise consider themselves "Pippi Longstockings", who live by the motto: "I've never tried that before, so I could definitely do it". And it turned out to be correct. We love making clothes for the active woman, and eventually, something for the active man will also appear.
HETTABRETZ DONNA - founded in 1960. Hettabretz has become a leading brand for international aristocracy and celebrities.
HILL HOUSE - since 2016. "We design products that bring beauty and joy to everyday rituals." Since launching with bedding in 2016, we have extended our collection to offer home, accessories, baby & kids, bridal, and apparel including the widely beloved Nap Dress. With a design-centric approach, we offer impeccable quality, and timeless, delicate styles through quality products designed to enhance and celebrate life. Our aesthetic point-of-view and customer-led approach bring a fresh, accessible perspective to these time honored categories.
HOBBS - "Since opening its first store in Hampstead, London, in 1981, Hobbs has grown from a small yet sought-after shoe label to a global womenswear brand synonymous with the best of British design."
Hodakova - "With a high admiration for methods from the past, The House of HODAKOVA aims to create a utilitarian culture for the conventional. By converting old materials into luxurious goods, stories are told through portraits of time. Hodakova is based in Stockholm, Sweden and was founded in 2021 by Ellen Hodakova Larsson."
HOLMES & YANG - "Katie Holmes and longtime stylist Jeanne Yang have come together to create Holmes & Yang."
Hope for Flowers by Tracy Reese - since 1998. "Tracy Reese is an American designer whose signature rich, daring colors and unique prints are crafted into joyful, feminine clothing for modern women. Tracy Reese's design philosophy is rooted in a commitment to bringing out the beauty in women of all shapes, sizes and colors."
House of Worth - "Founded in 1858 by Charles Frederick Worth, considered the father of what the modern fashion business knows as 'Haute Couture'. The House of Worth was a French fashion house that specialized in haute couture, ready-to-wear clothes, and perfumes. It continued to operate under his descendants until 1952 and closed in 1956. The House of Worth fashion brand was revived in 1999."
HUGO BOSS - since 1924. Luxury fashion house headquartered in Metzingen, Baden-Württemberg, Germany. The company sells clothing, accessories, footwear, and fragrances. Hugo Boss is one of the largest German clothing companies, with global sales of €2.9 billion in 2019.
HUISHAN ZHANG - "London based luxury brand HUISHAN ZHANG was launched in 2012. As a Chinese-born, London-based designer, Huishan has mapped out his signature style, finding inspiration and direction through his national identity."
Huntsman - since 1849. 11 Savile Row, London W1S 3PS, U.K. "Women in suits have never looked better with Huntsman Bespoke."
Hyke - "HYKE Designs Techwear for the Nightlife Set." These two disparate ideas form the ethos of Hyke, a Japanese womenswear label founded in 2013 by husband-and-wife team Hideaki Yoshihara and Yukiko Ode.

A B C D E F G H I J K L M N O P Q R S T U V W X Y Z

- I -

Ibu Movement - "The Ali MacGraw Collection."
Inbal Dror - "The leading designer of Bridal Gowns and evening drehttp://www.altfordamerne.dk/mode/gastestylister/Ivan-Grundahl-Mode-skal-vare-kunst-ellers-er-det-ligegyldigt/sses in Israel."
Ines de la Fressange Paris - "La Maison du Chic Parisien."
INIS MEÁIN KNITTING COMPANY - contemporary Irish knitwear, men's wear & women's wear.
Institut FranÇais de la Mode - "In 2019, Institut Français de la Mode, founded in 1986 and a pioneer in fashion management education, merged with Ecole de la Chambre Syndicale de la Couture Parisienne, founded in 1927 and recognized for the excellence of its training in couture savoir-faire."
Interior - "Interior was established in 2020 by Jack Miner and Lily Miesmer. The collection offers a nuanced and idiosyncratic approach to daily dressing - each product-driven assortment is a pastiche of sportswear, tailoring and eveningwear that is future-facing with a tinge of nostalgia."
Irene Galitzine - (1916-2006). Russian-Georgian-born fashion designer whose most renowned creation was the "palazzo pyjama". She was named to the International Best Dressed List Hall of Fame in 1965.
Irene Sharaff - (1910-1993). Was an American costume designer for stage and screen. Her work earned her five Academy Awards and a Tony Award.
Iris van Herpen - Founded in 2007, the brand showcases its collections bi-annually at the exclusive Paris Haute Couture Week as a member of the Fédération de la Haute Couture.
Isabel Marant - since 1995. French fashion designer, owner of the eponymous fashion brand. She won the Award de la Mode (1997), the Whirlpool Award for best female designer (1998), Fashion Designer of the Year at British Glamour's Women of the Year Awards (2012). She was named Contemporary Designer of the Year at the Elle Style Awards in 2014. Her collaboration with H&M in 2013 was so successful that company's website crashed under the demand and the collection was sold out within 45 minutes. Celebrities wearing Marant's designs include Alexa Chung, Katie Holmes, Victoria Beckham, Kate Moss, Sienna Miller, Kate Bosworth, and Rachel Weisz.
ISABEL TOLEDO - (1960-2019). Was a Cuban-American fashion designer based in New York City.
ISABELL KRISTENSEN - "Luxurious Evening & Cocktail Dresses." London & Monaco.
ISABELLA OLIVER - maternity womenswear.
ISSEY MIYAKE - since 1971. Japanese fashion designer. He is known for his technology-driven clothing designs, exhibitions and fragrances, such as L'eau d'Issey, which has become his best-known product. ISSEY MIYAKE's first collection was launched in New York in 1971, and began to be shown in Paris Fashion Week from AUTUMN WINTER 1973. From the very beginning to this day, Issey Miyake's design has focused on the concept of "A Piece of Cloth". ISSEY MIYAKE broke the boundaries between East and West and pursued "the body, the fabric covering it and a comfortable relationship between the two" as a fundamental concept, both shocking and resonating with people the world over.
IVAN GRUNDAHL - since 1973. "Ivan Grundahl remains to this day a Danish fashion house with a heritage of dark Nordic aesthetics, a rebellious spirit and bespoke fashion. The founder Ivan Grundahl was an unchallenged avant-garde créateur in Denmark - finding his inspiration in utility wear and deconstruction, also highly inspired by the Japanese designers such as Yohji Yamamoto and Comme des Garcons; he made his brand one of the most interesting and long-lasting brands in Denmark..."

A B C D E F G H I J K L M N O P Q R S T U V W X Y Z

- J -

J6 - since 2021. "J6 Is About to Be Every Party Girl's Favorite Brand." Emerging label J6 by James Garland has all the makings of an instant hit. Launched in 2021 by designer James Garland, J6 draws from R&B, hip-hop fashions, and his own story of growing up in Brooklyn. Through alluring silhouettes, J6 evokes the quintessential cool of late '90s and early '00s glamour. The label's elevated classics featuring silky textiles, bold cuts, and fluid lines express smooth and sensual minimalism.
J.CREW - since 1947. American multi-brand, multi-channel, specialty retailer. The company offers an assortment of women's, men's, and children's apparel and accessories, including swimwear, outerwear, lounge-wear, bags, sweaters, denim, dresses, suiting, jewelry, and shoes.
J. MENDEL Paris - "J. Mendel, a fifth-generation French atelier, has evolved into a global luxury fashion house under the auspices of creative director Gilles Mendel. Founded in St. Petersburg in the 1870s as furriers to the Russian aristocracy, the house of J. Mendel relocated to Paris's famed rue Saint-Honoré following the Russian Revolution."
JACK WILLS - "Jack Wills is a British clothing brand founded in Salcombe, Devon, in 1999. Replenish your wardrobe this season with the on-trend Jack Wills women's fashion collection. Discover the fresh array of women's clothing and accessories that will upgrade your off-duty attire. Fill your wardrobe with signature hoodies and jackets, comfy tees and women's joggers and leggings for a low-key look with logo detailing for a fashion finesse. Layer up with sleek Jack Wills jackets and coats with an assortment of lightweight or puffer jacket pieces to style his season."
Jacob CohËn - since 1985. "Jacob Cohën specialises in luxury denim for men and women, plus contemporary ready-to-wear designs. Made in Italy."
Jacquemus since 2010. French fashion designer and the founder of the Jacquemus fashion label.
JACQUES Doucet - (1853-1929). French fashion designer and art collector. He is known for his elegant dresses, made with flimsy translucent materials in superimposing pastel colors. A collector of art and literature throughout his life, by the time of his death he had a collection of Post-Impressionist and Cubist paintings, including Les Demoiselles d'Avignon, which he bought direct from Picasso's studio, as well as two libraries' both of which he left to the French nation.
JACQUES FATH - (1912-1954). French fashion designer who was considered one of the three dominant influences on postwar haute couture, the others being Christian Dior and Pierre Balmain.
Jakob Schlaepfer - luxury fashion fabrics & textiles.
James Galanos - (1924-2016). Was an American fashion designer and couturier. Galanos is known for designing clothing for America's social elite, including Nancy Reagan, Marylin Monroe, Elizabeth Taylor, and others.
JASON WU - "In 2006 Wu established his own eponymous label, which reflected a design aesthetic that he characterized as feminine. Manhattan socialites, including Vogue contributing editor Marina Rust and business tycoon Ivanka Trump, were early fans of his polished ready-to-wear line. Also, deesigner of Michelle Obama's inauguration dress."
J.CREW - since 1947. "American multi-brand, multi-channel, specialty retailer. The company offers an assortment of women's, men's, and children's apparel and accessories, including swimwear, outerwear, lounge-wear, bags, sweaters, denim, dresses, suiting, jewelry, and shoes."
Jean DessÈs - (1904-1970). Was a world leading fashion designer in the 1940s, 1950s and 1960s. His designs reflected the influences of his travels, specializing in creating draped evening gowns in chiffon and mousseline, based on early Greek and Egyptian robes.
Jean Louis - (1907-1997). French-born, Hollywood costume designer and an Academy Award winner for Costume Design. His most famous works include Rita Hayworth's black satin strapless dress from Gilda (1946), Marlene Dietrich's celebrated beaded souffle stagewear for her cabaret world tours, as well as the sheer, sparkling US$12,000 flesh colored gown, with 2,500 rhinestones sewn into it, Marilyn Monroe wore when she sang "Happy Birthday, Mr. President" to John F. Kennedy on May 19, 1962.
Jean Muir - (1928-1995). TThe actress Joanna Lumley was Muir's first house model, and became a muse, close friend and loyal customer. She was often photographed modelling Muir's designs in the fashion press. Other well-known Muir clients included Lauren Bacall, Maggie Smith, Judi Dench, Charlotte Rampling, Julie Walters, Joan Plowright, Dr. Miriam Stoppard and Patricia Hodge. Other fans of vintage Muir include Kate Moss and Stella McCartney.
JEAN PATOU - (1880-1936). French fashion designer, and founder of the Jean Patou brand.
JEAN PAUL GAULTIER - French haute couture and prêt-à-porter fashion designer. He is described as an "enfant terrible" of the fashion industry and is known for his unconventional designs with motifs including corsets, marinières, and tin cans. Gaultier founded his self-titled fashion label in 1982, and expanded with a line of fragrances in 1993. He was the creative director for French luxury house Hermès from 2003 to 2010, and retired following his 50th-anniversary haute couture show during Paris Fashion Week in January 2020.
Jeanne Paquin - (1869–1936). She was the first major female couturier and one of the pioneers of the modern fashion business.
JENNY PACKHAM - since 1988. British fashion designer. She mostly makes ready-to-wear clothes and wedding dresses.
Jeremy Scott - since 1997. "American fashion designer. He is the sole owner of his namesake label, and from October 2013 to March 2023 was the creative director of the fashion house Moschino. Since launching his brand in Paris in 1997, Scott has built a reputation as 'pop culture's most irreverent designer', and 'fashion's last rebel'."
JIL SANDER - since 1968. German fashion designer and the founder of the Jil Sander fashion house.
JIMMY CHOO - "In 1996, the Jimmy Choo brand was born with Sandra Choi serving as the company's Creative Director. Since its inception, Jimmy Choo has grown to be an internationally recognised label with a passionate clientele worldwide."
JOHANNA ORTIZ - "Discover the latest collections by Colombian designer Johanna Ortiz. Shop lively prints and sophisticated silhouettes that portray barefoot glamour."
John Bates - (1938-). Was a fashion designer who was part of the boutique scene that blossomed in London in the 1960s. Bates was the true inventor of the miniskirt, rather than Mary Quant or André Courrèges.
John David Ridge - American costume designer. He was appointed Vice-President and Design Director for Halston Enterprises in New York, Taking over from Halston and produced a number of collections, working for the company for six years after Halston stepped down in 1984. Ridge worked closely with Halston on the couture range, as well as overall product development. Halston was ousted from the company, and Ridge took over to replace him as the main designer for the house. He then became responsible for designing the couture collection, the ready to wear line, and the Halston III collection. Ridge left Halston after the company was purchased by Revlon, who then closed the couture arm down.
JOHN GALLIANO - Gibraltar-born British fashion designer who was the head designer of French fashion companies Givenchy (July 1995 to October 1996), Christian Dior (October 1996 to March 2011), and his own label John Galliano (1988 to 2011). At present, Galliano is the creative director of Paris-based fashion house Maison Margiela.
JOHNSTON & MURPHY - since 1850.
Johnstons of Elgin - since 1797. "Women's Luxury Cashmere Clothing."
JONATHAN COHEN - since 2011. "The Mexican prints and patterns and colors, the laid-back ease of the San Diego surf culture and the modern city approach have manifested into what the brand has become. Cohen met business partner Sarah Leff while attending Parsons School of Design. Together, they formally launched Jonathan Cohen in 2011."
Joseph - since 1972.
Judy Turner - "American designer Conley Averett is the 31-year-old designer behind the label, which he founded in 2019 and named after two old Hollywood starlets: Judy Garland and Lana Turner." Glamorous, high-quality hand-knitted and crocheted dresses, cardigans and balaclavas that will stand the test of time.
Julie de Libran - since 2019. Julie de Libran Paris is devoted to the highest standards of design, of workmanship and of responsible, sustainable production. The fabrics come from the finest mills in Europe with whom Julie de Libran has worked for years. They come from their archives and end of rolls, upcycled and in very limited quantities. Many of these beautiful fabrics would otherwise be destroyed and lost.
JUNYA WATANABE - since 1992. Japanese fashion designer, a protégé of Comme des Garçons designer Rei Kawakubo. He continues to work for Comme des Garçons: His atelier is located on the second floor of its Tokyo headquarters, and he produces four shows a year in Paris.
Jupe by Jackie - "Established in 2010 by Dutch fashion designer Jackie Villevoye, Jupe by Jackie thrives through its ultimate attention to detail. Each of the renowned designs are intricately executed and characterised by the hand embroidered details."
Justin Reed - since 2017. "Justin Reed is an e-commerce and consignment shop for contemporary and vintage clothing, high-end fashion, art, and accessories. With studios in Los Angeles and New York, we are a digital-centric boutique shipping worldwide and offering a highly curated catalog that appeals to a wide range of buyers. Whether you are buying or selling with us, we believe in providing the highest quality experience and world-class customer service."
J.W.Anderson - British fashion label, founded by Jonathan Anderson. Anderson lived in Northern Ireland during his youth before establishing JW Anderson in 2008 and subsequently launched his fashion house in London. The brand initially focused on menswear, before moving into womenswear in 2010. From 2012 onwards, the brand and its designer have collaborated with a number of retail fashion brands, most notably Topshop and Versace with LVMH acquiring a minority stake in the brand in 2013.

A B C D E F G H I J K L M N O P Q R S T U V W X Y Z

- K -

KARL LAGERFELD - (1933-2019). German fashion designer, creative director, artist and photographer.
KAREN MILLEN - since 1981. "Karen Millen is a premium British fashion retailer selling womenswear. Founded by Millen and partner Kevin Stanford in 1981, the retailer initially sold white shirts. Since then, its product range has developed, but the brand is particularly known for its tailoring, coats and eveningwear."
KATE MIDDLETON STYLE BLOG - since 2011. "A royal fashion blog about Kate Middleton (Catherine, Princess of Wales). We look at her outfits, clothing choices & news from royal engagements."
Kate Spade New York - since our launch in 1993 with six essential handbags, we've always stood for optimistic femininity. Today we're a global life and style house filled with handbags, of course. Also clothes, shoes, jewelry, home décor, tech accessories and so many other things that you use every day. We value thoughtful details. We think a layer of polished ease looks (and feels) so chic. And to us, modern, sophisticated colors make a personal style statement all their own.
Keisukeyoshida - "Established in 2015, designer Keisuke Yoshida launched the eponymous brand with the belief that the emotional distress that arises during adolescence poses no meaning. A bold statement indeed, though the intrepidity does go hand in hand with his daring designs. Mixing sharp tailoring and an eclectic range of textures, KEISUKEYOSHIDA believes in letting go and embracing oddities."
KENNETH IZE - "It's a new dawn, it's a new day, it's a new life ... coming soon - sign up for early invitation."
KENZO - "Kenzo is a French luxury fashion house founded in 1970 by Kenzo Takada, born in Japan and moved to Paris in 1964. Owned by the luxury conglomerate LVMH, the label is known for its Asian influence on traditional European designs, delivering borderless fashion that celebrates cultural diversity."
KHAITE - "Founded in 2016 by creative director Catherine Holstein, New York-based KHAITE evolves with each new season, building upon a foundation of robust yet polished items distinguished by exceptional materials and subtle yet striking details. The collection (pronounced "Kate") takes its name from the Greek word meaning 'long, flowing hair'. KHAITE is a women's ready-to-wear collection that reimagines classic American sportswear for the twenty-first century. Designed to be cherished, each piece proposes a fresh balance of opposing elements - past and future, masculine and feminine, strength and softness, structure and fluidity - while embodying a signature sensuality and ease."
Khoki - "KHOKI was established in 2019 by members who have gained experience in various luxury Japanese brands. Since its establishment, their modern designs respect craftmanship, they blend a wide variety of cultures and traditional techniques for their clothes with nostalgic feelings which provides relaxing atmosphere for all."
Kiko Kostadinov - since 2017. Bulgarian fashion designer based in London.
KITH - "Established in 2011, Kith operates on two planes - a multifunctional lifestyle brand for men, women, and kids, as well as a progressive retail establishment. Our seven brick-and-mortar flagship stores were designed in partnership with Snarkitecture, as we push the boundaries to deliver customers a completely unique experience."
Kitx - since 2015. "Sustainable Luxury."
KochÉ - since 2015. "Fashion brand established in Paris by Christelle Kocher."
Kolor - Japanese fashion brand founded in 2004 by Junichi Abe.
KRIS VAN ASSCHE - since 2005. "Kris Van Assche's website goal is to provide you with the newest information on the fashion, adventure, gear, and technology products that you'll require."
Krizia - since 1954. Designer label and manufacturer of ladies' handbags, clothing, footwear and perfumes. The ready-to-wear fashion label was established in 1954 in Milan, Italy.

A B C D E F G H I J K L M N O P Q R S T U V W X Y Z

- L -

LA Double J - since 2015. "Welcome To a Maximalist World." Calling all print-loving maximalists: our happy fashion and homeware is for you. Mood-boosting, vibration-raising fashion and homeware in toe-tapping prints. La DoubleJ is a multi-tasking Milanese brand that edits the very best of Italy. Founded by J.J. Martin in 2015, the company has expanded from a shoppable magazine selling just vintage clothing and jewelry, to a full lifestyle label offering new fashion made with archival prints, cool home design and rare vintage.
LA Martina - "Shop The Look."
LACOSTE - since 1933.
LALA BERLIN - since 2003. "Women's Designer Clothing & Urban Fashion."
LANE BRYANT - "Fashionable plus size clothes, sizes 10-40."
LANVIN - French multinational high fashion house, which was founded by Jeanne Lanvin in 1889. It is the third oldest French fashion house still in operation.
Lanz Trachtenmoden - since 1922. "Everyman is wearing Lanz." The history of Lanz starts in the twenties. The vision to make traditional costumes acceptable for everybody became true. Today the name Lanz is a synonym for high quality "Tracht" and for Salzburg and the Austrian lifestyle. One word describes everything – lanzy. That means tradition with innovation. Or simple: elegance and comfort combined.
LaPointe - since 2020. "LAPOINTE is a color-driven luxury fashion brand known for making a statement with bold monochromatic palettes and head-to-toe sets that embrace a simple, effective empowerment of individual expression."
LaQuan Smith - "Smith's signature style has found a devoted following amongst Hollywood A-Listers such a Beyoncé, Jennifer Lopez and Kim Kardashian each of whom have selected the brand on and off the red carpet."
LAURA ASHLEY - since 1953. "Dresses, Tops, Bottoms & More." Refresh your wardrobe with signature Laura Ashley styles. Our women's fashion includes dresses, blouses, skirts, pants and outerwear.
Laura Biagiotti - since 1965. Laura Biagiotti is one of Italy's greatest fashion designers, famous around the globe for her extraordinary creations.
LAUREN MANOOGIAN - "Manoogian founded her fabrication-focused, organically hued knitwear label in 2010. She began her career creating knitwear for other labels, but became frustrated with their unerring desire for novelty, opting instead to design pieces in organic, pared-back tones."
Larusmiani Milano - "Handmade in Italy since 1922."
Lawrence Steele - "Two major events occurred in 2000 that brought more attention to Steele. When Jennifer Aniston and Brad Pitt wed in July of 2000, the bride wore one of Steele's designs. But this was not the first time Aniston wore his design. She chose to wear one of his creations to the 2000 Oscars."
LAZOSCHMIDL - since 2014. "Conceptual, non-binary menswear and womenswear. Discover our signature cut-out underwear, lurex knitwear and sparkly party attire."
Lela Rose - since 1998. "Sustainable Brand." Lela Rose is an NYC based American fashion designer who created her own brand, Lela Rose, in 1998. Since then she's gone on to release bridal and ready-to-wear collections, all of which have an elegant and sophisticated feel to them. Some of her well-known clientele include Jessica Alba, Molly Sims, Mindy Kaling, Ashley Judd, Mariska Hargitay, Mary-Kate Olsen, Ashley Olsen, Selma Blair and the Princess of Wales.
Les Tien - since 2008. "Timeless Unisex Clothing | Made in USA." Founded on the basis of making exceptional timeless basics, Les Tien elevates the concept of minimalism with a line of refined silhouettes. Les Tien crafts luxurious unisex leisure staples out of its factory in downtown Los Angeles. All fabrics are treated in house before they are cut, sewn and garment-dyed—a production method that yields a soft hand feel and a coveted level of lived-in comfort.
Leset - since 2019. LESET, founded by Lili Chemla, is a play on the French term for "The Set." Whether it is the set of people in your life, finding yourself in the right set of circumstances, or pairing together the perfect outfit, there is no greater feeling than when things are all set.
Libertine - since 2001. Johnson Hartig is an American fashion designer. He co-founded Libertine and is the current CEO and Creative Director of the fashion line. "The clothes are joyful, multimedia, collaged art pieces as likely to be worn by society matriarchs as twentysomething rock 'n' rollers," according to Los Angeles Times.
Lilly DachÉ - (1898-1989). Was a French-born American milliner and fashion designer.
Lindka Cierach - British couturier and fashion designer. Notable clients include members of British and European Royal Families, Helen Mirren, Lady Victoria Hervey and Cherie Blair among others.
L.K.Bennett - since 1990. International luxury fashion brand, based in London, England. Reflecting its modern British heritage.
Lodenfrey - since 1842.
LOEWE - since 1846. "Luxury womenswear for women." Shop the latest collections of luxury womenswear on the official LOEWE online store. Discover distinctive design, handcrafted by artisans.
LONGCHAMP - Ready to Wear.
Loris Azzaro - French-Italian fashion designer. He rose to prominence in the 1960s with his flamboyant dresses and he went on to become well known for his perfumes.
LORO PIANA - since 1924. "Discover the world of luxury Loro Piana." Italian company specialized in clothing and textile products. It is considered the largest cashmere manufacturer and the world's leading artisan company processing luxury fibers.
Louis Shengtao Chen - since 2020. "An unashamedly feminine brand challenging traditional notions of glamour, Louis Shengtao Chen takes an experimental approach to luxury fashion."
LOUIS VUITTON - since 1854. "Designed by Artistic Director Nicolas Ghesquière, Louis Vuitton's ready-to-wear for women expresses news facets of feminine fashion each season. From elevated essentials to experimental silhouettes, these collections cover the key pieces of a modern woman's wardrobe: dresses, knitwear, pants, skirts and tops, meticulously cut and crafted in styles that range from sporty to retro, futuristic to romantic - and always refined."
LOUISE GOLDIN - "Louise Goldin created her clothing brand in 2005. The knitwear specialist soon became known for its futuristic collections of mini-dresses and tunics."
LoveShackFancy - "Since its inception in 2013, LSF has gained a dedicated following and garnered international appeal."
LRS - since 2014. LRS Studio is a fashion label founded by Raul Solis, a designer, artist and stylist from Mexico, raised in Los Angeles, CA, and currently based in New York City. His visual lexicon is infused with the spirit of sculpture, photography, music, street and and nightclub culture.
Lucien Lelong - (1889-1958). French couturier who was prominent from the 1920s to the 1940s. Among Lelong's clients were Marie Duhamel, Jeanne Ternisien (wife of the banker Georges Nelze), the Duchess de la Rochefoucauld, Greta Garbo, Gloria Swanson, Colette, and Rose Kennedy.
Ludovic de Saint Sernin - since 2017. Ludovic de Saint Sernin is for guys and girls, with many pieces designed without one gender in mind.
LUIS ESTÉVEZ - (c.1930-2014). Was a Cuban-born American fashion designer and costume designer, active between 1951 until 1997. According to the New York Times, "Luis Estevez always did make a lady look like a vamp", known for his high slits, slinky dresses and dramatic necklines. Estévez was a founding member of Council of Fashion Designers of America (CFDA). He dressed many important people in his career including Betty Ford, Lynda Bird Johnson, Nancy Reagan, Eva Gabor, Marlene Dietrich, Grace Kelly, Zsa Zsa Gabor, Natalie Wood, Carol Channing, among others.
Luis Onofre - since 1990.
LUISA Beccaria - since 1991. "Luisa Beccaria encompasses a bespoke lifestyle that extends to fashion, homeware, accessories, interior design, and even special Italian delicacies produced in a time-honoured way - sustainably and biologically."
LUISA CERANO - since 1998.
LUISA SPAGNOLI - since 1928. "Movement & harmony are the quintessence of class."
Lululemon - since 1998. "Lululemon makes technical clothing for yoga, running, and most other sweaty pursuits."
Lutz Huelle - since 2000. German-born Lutz Huelle is a fashion designer based in Paris. This Fashion collection is about the pleasure of dressing and feeling special in any kind of situation, and any moment. All our upcycled denim pieces are artisan hand-made in Paris.

A B C D E F G H I J K L M N O P Q R S T U V W X Y Z

- M -

Mackintosh - since 1846. "One of the world's most influential coat makers for almost 200 years." The Mackintosh raincoat (abbreviated as mac) is a form of waterproof raincoat, first sold in 1824, made of rubberised fabric.
Madame GrÈs - (1903-1993).
MADELEINE VIONNET - (1876-1975). Called the "Queen of the bias cut" and "the architect among dressmakers."
MAGEE CLOTHING - est. 1866.
MAGGY ROUFF - (1896-1971).
MAINBOCHER Paris - founded by the American couturier Main Rousseau Bocher (1890-1976).
Maisie Wilen - "Maisie Wilen is a women's fashion label launched by Maisie Schloss in June 2019. Before launching the brand Schloss worked as a womenswear designer at YEEZY. Admiring her unique style and design talent Kanye West provided Schloss with seed funding and support, allowing her to launch Maisie Wilen."
Maison Margiela Paris - since 1988. MAISON MARTIN MARGIELA is a label that is famed for its progressive aesthetic and enigmatic approach. The house produces both haute couture-inspired artisanal collections and ready-to-wear collections, with the former influencing the designs of the latter.
Maiyet - "Pioneering a new luxury by creating a fashion brand that celebrates rare artisanal skills from unexpected places."
Malaikaraiss - since 2010. Berlin based Fashion Brand. Fairly produced, handcrafted and partially made of recycled material. Malaika Raiss started her fashion label 2010 in Berlin, and her persistence is already a strong statement against the short life of the fashion world.
MANÉMANÉ - ManéMané is the fashion brand founded by designer Miguel Becer.
MANS - "Jaime Álvarez likes a challenge. At the helm of Mans, the Spanish designer's seasonal starting points tends to be ideas he doesn't quite agree with at first. 'We try to get out of our comfort zone by taking a concept and making it our own,' he said. For his fall collection, he tackled minimalism, a style he has never been passionate about."
Mara Hoffman - "Mara Hoffman founded her label in 2000 after graduating from Parsons School of Design in New York City. As President and Creative Director of her privately owned company, Hoffman uses her platform to share empowering messages on the way we live, care for the world, and treat others."
MARC JACOBS - since 1984. American fashion designer. He is the head designer for his own fashion label, Marc Jacobs, and formerly Marc by Marc Jacobs. He was the creative director of the French design house Louis Vuitton from 1997 to 2014.
Marcel Rochas - (1902-1955).
Margaret Howell - "Margaret Howell is a contemporary British clothing designer. Established in 1970 and incorporated in 1987 Margaret Howell Limited is an internationally recognised design company with more than 100 shops and concessions including London, Paris, Florence and throughout Japan."
Maria Grazia Chiuri - Italian fashion designer. After Fendi, she spent seventeen years at Valentino before being named creative director at Dior.
MARIA McManus - since 2020. "During her many years working in the fashion industry, Maria grew increasingly alarmed at fashion's detrimental impact on the environment and so in 2020 she started Maria McManus: an eponymous collection of meticulously designed clothing, created with the lowest environmental impact."
Mariano Fortuny - (1871-1949).
Marine Serre - since 2017. French fashion designer who won the 2017 LVMH Prize for Young Fashion Designers.
MARKARIAN - "Alexandra O'Neill founded luxury womenswear label Markarian in 2017. Named after a particularly radiant grouping of galaxies, Markarian combines Alexandra's love of celestial romanticism with timeless design and modern grace."
MARNI - Italian luxury fashion house founded in 1994 by Consuelo Castiglioni in Milan, Italy.
MARTINE SITBON - since 1986. "Martine Sitbon started her career as a freelance designer for various fashion houses around the world after graduating from the highly-creative fashion school Studio Berçot. She decided to launch her eponymous label in 1986."
Mary McFadden - American fashion designer & writer.
Mary Quant - Welsh fashion designer and British fashion icon. She was one of the designers who took credit for the miniskirt and hotpants. "It is given to a fortunate few to be born at the right time, in the right place, with the right talents. In recent fashion there are three: Chanel, Dior, and Mary Quant." (Ernestine Carter).
Mary Quant, 1960s fashion queen - a life in pictures - "The designer of the iconic miniskirt that epitomised the swinging 60s has died aged 93."
Mary Quant dies aged 93 - "Family says she was 'an outstanding innovator of the Swinging Sixties' and died peacefully at home."
Maryam Nassir Zadeh - since 2012. "Women's Designer Clothing." Unisex Shapes In Fresh Textures. Discover designer women's clothing, accessories, jewelry, shoes, objects and much more.
MASSIMO Alba - since 2006. "I often wonder - what's the most respectful way to approach womenswear, to design a collection for women? The more I think about that question, the more I am convinced that a dress - or a coat, a jacket, a shirt - don't have to overwhelm women: they must accompany them throughout their day."
Matchless - "The Innovator Since 1899."
Matty Bovan - since 2015. "British fashion's most colourful new star ditched Paris and London to return to York and start his own studio."
MAX MARA Atelier - established in 1951. Luxury Italian fashion house known for its ready-to-wear clothing.
Meindl - "Lederhosen."
Melitta Baumeister - since 2014. Independent Fashion Brand, designed and produced in New York City.
MICHAEL KORS - since 1981. American fashion designer. He is the chief creative officer of his brand, Michael Kors, which sells men's and women's ready-to-wear, accessories, watches, jewelry, footwear, and fragrance. Kors was the first women's ready-to-wear designer for the French house Celine, from 1997 to 2003.
Michael Sherard - (1910-1998).
Mila SchÖn Milano - since 1965. "Schön's clients included Jacqueline Kennedy, Lee Radziwill, Marella Agnelli, Farah Diba, Imelda Marcos, and Brooke Astor. At Truman Capote's 1966 black-and-white ball, Marella Agnelli was voted the best-dressed guest in a kaftan embroidered by Schön's craftswomen. The third in the best-dressed guest contest was Lee Radziwill in a sequined Schön shift."
Ming Ma - since 2018. "Shanghai's Breakout Designer." Chinese fashion designers are rising, and Ming Ma is leading the pack. Establishing his eponymous label in 2018 after graduating from London's Central Saint Martins, he has quickly become one of China's breakout fashion stars. With a vision to provide modern women with more effortless fashion choices, he is known for his sculptural silhouettes and ability to juxtapose modernity and tradition.
Mira Mikati - since 2015. "Collections of carefree-meets-cool designs span the realms of playfully gamine and candidly feminine—all while channelling inspirational undertones hatched from art world collaborations with personal idols like KAWS and Darcel, adventure-filled travels, and a resistance to the idea of sartorial conventionality. The infectious, whimsical spirit that carries through emoji patch duds, hand-painted leather jackets, and childlike doodles is reflective of Mikati's own ultra-upbeat outlook on life."
Misha Nonoo - since 2011. US-based British-Bahraini fashion designer, best known for her eponymous line of women's ready-to-wear. Misha Nonoo is a close friend of Meghan Markle, and is believed to have introduced her to Prince Harry.
Miss Sohee - since 2020. Sohee Park is a South Korean womenswear designer based in London, United Kingdom. She is known for the clothing label Miss Sohee, which has been worn by Miley Cyrus, Cardi B, Bella Hadid, Ariana Grande, Gemma Chan, Naomi Campbell, Gigi Hadid, Julia Fox, and Christina Aguilera.
MISSONI - since 1953. Italian luxury fashion house based in Varese, and known for its colorful knitwear designs. The company was founded by Ottavio ("Tai") and Rosita Missoni in 1953.
MIU MIU - since 1993. Italian high fashion women's clothing and accessory brand and a fully owned subsidiary of Prada. It is headed by Miuccia Prada and headquartered in Paris, France.
MoisÉs Nieto - Moisés Nieto is a women's fashion brand based in Madrid, founded in 2011 by the designer who gives the brand it's name.
Molly Goddard - London-based, British fashion designer. The success of her label in the United States has been attributed to singer Rihanna wearing her designs on red carpets since 2016, and celebrity muses, like model Edie Campbell, who first walked for Goddard in Spring/Summer 2018. More recently, Molly Goddard dresses featured in the BBC and BBC America television show Killing Eve on actress Jodie Comer.
Molly Parnis - (1899-1992). Was an American fashion designer. She belongs to the first generation of American designers to be known to the public by name rather than by affiliation to a department store and is best known for designing clothing worn by many First Ladies.
Moncler - since 1952. Italian high-end luxury fashion house specialized in ready-to-wear outerwear headquartered in Milan, Italy. Since its start as a down jacket boutique, Moncler has expanded to design vests, raincoats, windbreakers, knitwear, leather goods, footwear, fragrance, and related accessories. Its core branding includes the rooster (cockerel), "M" monogram, felt appliqué badge, crossed skis and cartoon goose mascot.
Moncler Genius - since 2018. "Moncler Genius evolves from collaborations to a platform for co-creation with varied creative spheres." Founded by Remo Ruffini to function as a hub for exceptional minds and was officially unveiled at Milan Fashion Week on 20 February 2018.
Monique Lhuillier - Monique Lhuillier is internationally recognized as one of America's foremost designers. Established in 1996 by Monique Lhuillier and her husband Tom Bugbee, the company is one of the leading fashion houses in design, quality and creativity.
MONTEDORO - since 1958. Urban sportwear.
MORRIS & SONS - since 1952.
Moschino - Italian luxury fashion house founded in 1983 by Franco Moschino in Milan known for over-the-top, campy designs. The company specializes in ready-to-wear, handbags, and fashion accessories.
Mossi - since 2018.
MOTR - since 2012. "MOTR may not exist to carry on his legacy, but it might be the first new brand since Abloh's death last year to uphold his values so explicitly."
MOVIMENTO APPAREL - "Luxury Streetwear For Humans." MOVIMENTO is a luxury streetwear line designed for humans that move. Known for its exquisite cuts and one of kind eco-friendly end of limited run fabrics, making each collection of MOVIMENTO a truly collectable piece of movable art that celebrates individuality, the curve of woman's body, her strength and power. MOVIMENTO is created and designed by professional dancer/choreographer and celebrity trainer, Whitney Shannon. She found she was not alone in her need for a functional, haute couture look that could be worn seamlessly from day to night. Thus MOVIMENTO was born.
Mowalola Ogunlesi - since 2017. Nigerian-born fashion designer and singer working and living in London. She is known for working with a wide variety of textiles such as leather and PVC to produce non-traditional silhouettes inspired by Nigerian and London youth culture.
MSGM - Massimo Giorgetti founded MSGM in 2009. His designs combine traditional tailoring with contemporary sportswear fabrics, cuts, and finishes, while staying true to his Italian heritage.
MUGLER - "Mugler is a fashion and fragrance house, founded by Strasbourg-born Thierry Mugler in 1973. From his first collection 'Café de Paris', Mugler developed his version of the Parisian woman through classical references and a futuristic filter, using exaggerated forms to create a modern erogeneity."
Murray Arbeid - (1935-2011). Was a British fashion designer, known for his eveningwear. His notable clients included Princess Diana and Shirley Bassey. He once joked that if there were a Nobel Prize for creations in taffeta, he would have won it.

A B C D E F G H I J K L M N O P Q R S T U V W X Y Z

- N -

Nanushka - since 2006. "The Modern Bohemian." Nanushka delivers a modern, versatile, day to night wardrobe for the modern human with the aim of creating a new informal form of beauty.
NARCISO RODRIGUEZ - since 1887. His first major attention came in 1996 when he designed the wedding dress of fellow Calvin Klein employee Carolyn Bessette for her wedding to John F. Kennedy Jr. American fashion designer. On November 4, 2008, Michelle Obama wore a dress from Narciso Rodriguez's spring 2009 collection when she joined her husband, Barack Obama, appearing for the first time as president-elect of the United States, on the stage at Grant Park in Chicago; it received substantial attention in the press. Michelle Obama wore Narciso Rodriguez for her final State of the Union appearance as First Lady.
Nayon - "New York based brand established in 2022. NAYON focuses on the gender neutral collection, taking inspiration from the bodies of both genders and translating it into innovative avant-garde designs and elegantly constructed and deconstructed garments."
Nehera - "Originally a pioneer fashion label flourishing in the 1930s, NEHERA was relaunched in 2014 during SS15 Paris Fashion Week NEHERA focuses on clothing that combines unique shapes and timeless craftsmanship. NEHERA prepares four collections a year and aims to provide a singular silhouette in high quality natural fabrics with precise attention to details."
Nells Nelson - since 2017. "The distinctive tailoring that is the foundation of a Nells Nelson piece is the culmination of designer Sisi Li's decades-long career in design."
Nensi Dojaka - "The Albanian-born Dojaka graduated from London's Central Saint Martins and launched her namesake label in 2017. Studying lingerie, she's taken inspiration from underpinnings to create her uniquely powerful, sheer mini dresses with asymmetrical sleeves. Nensi Dojaka has solidified herself as the creator of a look that truly reflects today's woman. She explores the space between strength and fragility by reworking wardrobe staples in fabrics like organza, tulle and jersey. The result is ready-to-wear that feels both avant-garde and wearable."
Newman - "A cultural phenomenon dreamed in California in 1967."
NiccolÒ Pasqualetti - "Niccolò Pasqualetti is an Italian-born fashion and jewellery designer based between Paris and Tuscany."
Nicolas GhesquiÈre - French fashion designer and the current creative director of the house of Louis Vuitton (owned by LVMH).
NIKE - since 1964.
Nili Lotan - since 2003. "Clothing for the modern urban woman, made in New York. Nili Lotan's clothing design philosophy is pure and sophisticated." Israeli-American fashion designer best known as the founder of the Nili Lotan Design Studio, a designer clothing company.
NINA RICCI - fashion house founded by Maria "Nina" Ricci and her son Robert in Paris in 1932, and owned by the Spanish beauty and fashion group Puig since 1998.
Nº. 21 - since 2010. "Discover the exclusive shoes, dresses, shirts and coats designed by Alessandro dell'Acqua." The Nº. 21 brand is aimed at a young contemporary woman that never forgets her femininity matching masculine shapes with sparkling details, natural transparencies and pastel shades.
No Sesso - Italian for "no sex/no gender," No Sesso is the Los Angeles fashion house founded by Pierre Davis in 2015.
NOMIA - NYC based clothing line designed by Yara Flinn since 2007. A sophisticated yet minimalist collection influenced by art, architecture, utilitarian ...
Norma Kamali - since 1969. American fashion designer. Norma Kamali has been in the fashion industry for over 50 years and is known for her innovative designs. She is best known for the "sleeping bag" coat, garments made from silk parachutes, and versatile multi-use pieces.
Norman Hartnell - (1901-1979). "To me, simplicity is the death of the soul." Leading British fashion designer, best known for his work for the ladies of the Royal Family. Hartnell gained the Royal Warrant as Dressmaker to Queen Elizabeth The Queen Mother in 1940; and Royal Warrant as Dressmaker to Queen Elizabeth II in 1957. Princess Beatrice also wore a dress designed for Queen Elizabeth by Hartnell for her wedding in 2020.
Norman Norell - (1900-1972). Was an American fashion designer famed for his elegant gowns, suits, and tailored silhouettes.
norwegian wool - since 2008. Luxury outerwear company based in New York. All of the coats are waterproof. The main manufacturing facility is located in Tuscany, just outside of Florence, Italy.

A B C D E F G H I J K L M N O P Q R S T U V W X Y Z

- O -

Odeeh - since 2008. "Bold. Creative. Eclectic." Sometimes Casual. Elegant, occasionally formal and strict. Dealing creatively with the different tempers brings the special tension and complexity to the collection. Be it regarding the silhouettes or the range of the materials.
Off-White - Italian streetwear and luxury fashion label founded by American creative designer Virgil Abloh in Milan, Italy in 2012.
Officine GÉnÉrale - since 2012. French men's and women's clothing brand founded by Pierre Mahéo. The brand is based in Saint-Germain-des-Prés, Paris and uses French, British and Italian fabrics.
OLEG CASSINI - (1913-2006). French-born American fashion designer. Cassini dressed numerous stars creating some of the most memorable moments in international fashion and film. He garnered admiration and fame for his designs for First Lady Jacqueline Kennedy. His designs for the First Lady, 'The Jackie Look' are recognized as being the "single biggest fashion influence in history".
Olivier Rousteing - Balmain's new head designer & Creative Director.
Olivier Theyskens - since 1997. Belgian fashion designer who has worked with major design houses, including Rochas, Nina Ricci and Theory.
Omar Mansoor - London-based fashion designer, best known for his couture occasion wear. He dresses British actresses, European aristocracy, and international royalty. He is widely credited with re-introducing fusion clothing into modern fashion.
OSCAR DE LA RENTA - since 1965. Dominican fashion designer. De la Renta became internationally known in the 1960s as one of the couturiers who dressed Jacqueline Kennedy. He worked for Lanvin and Balmain. His eponymous fashion house has boutiques around the world including in Harrods of London and Madison Avenue in New York.
THE FIRST DESIGNER: ALL THE FIRST LADIES WHO HAVE WON HEARTS IN OSCAR DE LA RENTA - "'Fashion is nonpolitical and nonpartisan.' The fashions of a First Lady have intrigued Americans for decades. From Jackie Kennedy to Michelle Obama, each FLOTUS has her own unique sense of style that, in a way, solidifies their legacy."
Ossie Clark - vintage collection online.
Ottolinger - since 2015. "A Berlin based brand, and a sustainable one too, Christa Bösch and Cosima Gadient founded Ottolinger with the inspiration of everyday life. They have described it 'couture-level tailoring juxtaposed alongside radical deconstruction'. The brand uses material that is always recycled or organic, up-cycling old fabrics whilst also ensuring production remains local and everyone is paid equally."
Our Legacy - since 2005. "Known for applying custom-developed fabrics on signature shapes, OUR LEGACY has amassed a devoted following over the years establishing the role of a cult brand."

A B C D E F G H I J K L M N O P Q R S T U V W X Y Z

- P -

PACO RABANNE - since 1966. "Discover the unique world of Paco Rabanne. Between perfume and fashion, find all the originality and creativity of Paco Rabanne." Spanish fashion designer who became known as an enfant terrible of the 1960s French fashion world. Founded his own fashion house in 1966. From the very origins of Paco Rabanne, there has always been an obsession with materiality, radical textures, non-organic silhouettes. Silver chains and grungy prints. Vibrant colours and sensual lace. Electrify your looks with the punkiest looks of the Spring-Summer 23 collection by Julien Dossena.
Palm Angels - luxury fashion label founded in 2015 by Italian art director and photographer, Francesco Ragazzi who is also the former artistic director of Moncler. Palm Angels is part of the New Guards Group and has collaborated with brands such as Moncler Genius, Playboi Carti, BBC Ice Cream, Under Armour & Clarks.
palmer//harding - since 2012. "Interesting clothes for interesting people. The iconic pieces that solidified the brand as the king of shirting." London based international fashion brand known for women's shirting created by fashion designers Levi Palmer and Matthew Harding. palmer//harding have gained presence by dressing notable women such as Michelle Obama and former Prime Minister Theresa May. They were recipients of the BFC/Vogue Designer Fashion Fund in 2017.
Paolina Russo - since 2020. "Paolina Russo is a Knitwear Designer and Illustrator Residing in London, UK, studying Fashion Design with Knitwear at Central Saint Martins."
P.a.r.o.s.h. - where Meghan Markle bought her engagement dress.
Partow - since 2011. "Nellie Partow's effortless and modernist approach to dressing women garners devotees of eminent women worldwide. Partow established an aesthetic rooted in minimalism, unstudied luxury, and a tension between modern femininity and masculinity."
Patagonia - since 1973. American clothing company that markets and sells outdoor clothing.
Patou - since 1914. Formerly known as Jean Patou or Jean Patou Paris, is a French fashion house. In September 2018, the LVMH group announced a strategic partnership with Designer Parfums Ltd, assimilating majority shares in the Jean Patou portfolio. As soon as the partnership was announced, LVMH relaunched the brand's couture activity, renamed "Patou", and appointed Guillaume Henry as artistic director. "Discover the latest Patou collection for women designed by Guillaume Henry."
PARTOW - "Upon graduating from Parsons and working for top American designers such as Calvin Klein, Donna Karan, and John Varvatos for ten years, Nellie Partow launched her eponymous label, Partow, in 2011. Partow established an aesthetic rooted in minimalism, unstudied luxury, and a tension between modern femininity and masculinity. 'My intention is for women to feel empowered. Clothing is an extension of self-expression, and should be dictated by what feels good, not by what trend presents.'"
Patrick McDowell - Since launching in 2018, McDowell bases all their projects around the three founding pillars. An independent brand based in the heart of London. The brand has solidified itself as a leading voice on the global fashion stage that embodies the designer's mission for reinventing luxury through a sustainable mindset. Discover our new collection of sustainable made to measure pieces.
PAUL POIRET - (1879-1944).
PAUL SMITH - since 1970. British fashion designer. His reputation is founded on his designs for men's clothing, but his business has expanded into other areas as well. Smith was made a Royal Designer for Industry in 1991. His eponymous fashion company was founded in 1970 and has expanded into over 70 countries, selling its products via standalone stores, departments in high-end stores or malls.
Paul Stuart - since 1938. "Discover iconic style and the perfect outfit for every occasion."
Pauline TrigÈre - (1908-2002). Was a Franco-American couturière. Her award-winning styles reached their height of popularity in the United States during the 1950s and 1960s. Recognized early in her career as an innovator of cut and construction, Trigère brought to women of all ages all over the world such novelties as the jumpsuit, the sleeveless coat, the reversible cape and the embroidered sheer bodice. She reinvented ready-to-wear fashion, matching form to function with bold prints and architectural silhouettes to create a distinctly modern female aesthetic. Trigère's loyal clients included Grace Kelly, Jacqueline Kennedy Onassis, Elizabeth Taylor, Kay Wiebrecht, and Evelyn Lauder.
Petar Petrov - since 2009. "Uncompromising when it comes to quality and craftsmanship, Petar Petrov has become renowned for creating a dynamic, elegant aesthetic."
PETER DO - "Before launching his namesake label in 2018, FIT alum Peter Do cut his teeth designing under Phoebe Philo and Derek Lam and won the inaugural LVMH Graduates Prize in 2014. The collections include menswear-inspired silhouettes and innovative cuts that demonstrate his impeccable skills with both fabric and drape."
PH5 - "Established in New York in 2014, PH5 is an advanced contemporary women's knitwear brand founded by Wei Lin, the daughter of a large knitwear manufacturer, and designed by a Parsons-trained, award-winning designer, Zoe Champion. Innovative, functional and whimsical knitwear is at the heart of PH5. Empowered by its scientific name, PH5 is set out to inspire people to completely rethink knitwear and tell the world that knitwear is more than just a winter fabric. Knitwear is breathable, lightweight, colorful and fun!"
PHILIPP PLEIN - since 2008. "The Ultimate Fashion Luxury E-Shop." Discover our latest women, men and kids collection. Shop our fashion luxury handbags and shoes exclusively made in Italy.
philosophy - "Clothing for women on the move."
Philosophy Di Lorenzo Serafini - since 1984. "Women's clothes and accessories by Philosophy." Discover the new Philosophy collection by Lorenzo Serafini, featuring flowing lines, dynamic prints and made with natural fabrics. Purchase online!
Phoebe Philo - since 2022. British fashion designer. She was the creative director of fashion brands Céline from 2008 to 2018 and Chloé from 2001 to 2006. In 2021, Philo announced she would launch a brand under her own name. LVMH is a minority stakeholder.
PiÈces Uniques - since 2016. "Paris-based clothing brand created by Edmond Luu, Inspired by the heroes of his favourite mangas, science fiction movies & video games. Pièces Uniques aims to create the armor allowing people to feel like the heroes of tomorrow."
Pierre Cardin - since 1950. "Italian-born naturalised-French fashion designer. He is known for what were his avant-garde style and Space Age designs. He preferred geometric shapes and motifs, often ignoring the female form. He advanced into unisex fashions, sometimes experimental, and not always practical. He founded his fashion house in 1950 and introduced the 'bubble dress' in 1954."
PLAN C - since 2018. "Edgy design, daring color sensibility, experimentation and uncompromising quality are the distinguishing elements of high-end women's and accessories label Plan C. The daughter of Marni's founders, Carolina for 10 years developed special projects for her family's business, prior to launch Plan C in 2018, with the support of her father Gianni and her brother Giovanni."
PlÜmo - since 1998. "Our new collection is filled with modern but functional pieces that are crafted consciously in Britain and beyond. With a wardrobe of fine jumpers from the Scottish Borders, three piece gingham suits from Italy, tumbled leather bags from Northern Italy, directional modern footwear from Denmark and colourful socks to accentuate from Japan, you will be well dressed for any occasion."
POLICE - since 1983. Italian brand of fashion accessories.
POLYVORE - "Founded in 2007, Polyvore gave users the tools to create collages of clothing, beauty, and home products, and in doing so, created a community of people getting creative and following each other's work."
Ports 1961 - international luxury fashion house founded by Japanese Canadian fashion designer Luke Tanabe (1920–2009) in Toronto in 1961. It specializes in luxury women's and men's ready-to-wear as well as accessories.
POUR MOI - since 2015. "Our fabulous range of women's clothing has been designed with personality and style in mind. Refresh your look with our gorgeous collection of women's clothing, sportswear, hosiery, beachwear and accessories. Choose from this season's must-have trends and everyday essentials, from dresses to sports bras and kaftans to flip flops, you can update your style or simply add a few new favourite pieces. If your wardrobe needs an update, you've come to the right place..."
PORSCHE DESIGN - since 1972. "With women's clothing from Porsche, you not only express your passion for fast cars, but above all for design and premium quality."
PORSCHE DESIGN P1140 RawTec Blazer - awarded the international Red Dot Design Award for 2012 in the Fashion, Lifestyle and Accessories category.
PRABAL GURUNG - "Prabal Gurung launched his eponymous collection in February 2009 with a philosophy encompassing modern luxury, indelible style and an astute sense of glamour. Gurung was born in Singapore and raised in Kathmandu, Nepal."
PRADA - Italian luxury fashion house that was founded in 1913 by Mario Prada. It specializes in leather handbags, travel accessories, shoes, ready-to-wear, perfumes and other fashion accessories.
PRINGLE OF SCOTLAND - since 1815. Fashion brand specialising in cashmere knitwear and holds the royal warrant as manufacturers of knitted garments. It is one of the world's oldest continually operating fashion companies.
PROENZA SCHOULER - womenswear and accessories brand founded in 2002 by designers Jack McCollough and Lazaro Hernandez. Based in New York City.
PUCCI - since 1947. Italian aristocrat, fashion designer and politician. He and his eponymous company are synonymous with geometric prints in a kaleidoscope of colors. Explore the World of PUCCI and purchase online our latest collections at the official online store and enjoy free international delivery.
Pyer Moss - "Founded in 2013, as mens and womenswear fashion label concerned with building a narrative that speaks about heritage and activism."

A B C D E F G H I J K L M N O P Q R S T U V W X Y Z

- R -

R13 - since 2009. "Designer Clothing & Accessories." Shop R13 Denim for premium denim, including skinny, distressed, high-waisted styles, leather jackets, boots & more.
RACHEL ANTONOFF - since 2008. American fashion designer based in New York City. She is known for presenting her designs in creative ways, including in the form of a murder mystery, as a "sock hop," and in a dollhouse.
RACHEL COMEY - since 2001. American independent fashion designer based in New York City. She is the founder of Rachel Comey, a clothing, shoes, and accessories brand known for its "intellectual, arts-and-crafts aesthetic."
RACHEL ZOE - Stylist, Editor & Designer.
RAG & BONE - "Founded in 2002, Rag & Bone had one very clear vision in mind: to make clothes that they and their friends would love to wear every day. Effortless urban style, with expert craftsmanship."
Rahul Mishra - since 2005. Indian fashion designer based in Delhi. He is the first Indian designer to be invited to showcase at the Haute Couture Week in Paris. He won the International Woolmark Prize in 2014 at Milan Fashion Week, becoming the first Indian designer to win the award. The winning collection was sold in stores around the world.
RAINMAKER - "Japanese label RAINMAKER is based out of Kyoto and was started back in 2012 by designer Watanabe Kouichi and creative director Kishi Ryutaro."
Rains - since 2012. "The Danish Brand You Need To Know About." Rains is a Danish brand committed to making sure that no-one can rain on your parade. This innovative fashion company started life in 2012, intending to replace the boring rubber raincoat with something a little more fun!
Ralph & Rosso - since 2006. "Discover unparalleled Haute Couture & accessories." Ralph & Russo is a high fashion house that specializes in haute couture and ready-to-wear clothes, luxury goods, and fashion accessories.
RALPH LAUREN - The Ralph Lauren Corporation started in 1967 with men's ties. Drawing on his interests in sports, Lauren named his first full line of menswear 'Polo' in 1968. In 1971, Ralph Lauren Corporation launched a line of tailored shirts for women, which introduced the Polo player emblem to the world for the first time, appearing on the shirt's cuff. The first full women's collection was launched the following year. In 1971 Lauren also opened a store on Rodeo Drive in Beverly Hills, California; this was the first freestanding store for an American designer.
Ralph Rucci - American fashion designer and artist. He is known in particular for Chado Ralph Rucci, a luxury clothing and accessories line.
RAQUEL ALLEGRA "In June 2016 Raquel Allegra opened her first flagship store in Los Angeles. Raquel remains dedicated to the tradition of artistry and craftsmanship in the fashion industry. With the exception of some of our knitwear, we manufacture and dye everything here in Los Angeles. Each one of our tie dye pieces is individually hand tied and dyed. We are also proud to support the CanopyStyle campaign to protect ancient and endangered forests during our fabric choice selection."
Rave Review - "In 2017, Rave Review was born. The goal of the designers was to create a fashion brand that would not exist at the expense of the environment but on the contrary, that would be sustainable and eco-friendly. Rave Review identifies innovative ways of transforming home textiles into desirable garments. All remake fashion sourced and produced in Europe."
Redfern - was a British tailoring firm founded by John Redfern (1820-1895) in Cowes on the Isle of Wight that developed into a leading European couture house (active: 1855–1932; 1936–1940). By the early 1890s the business had branches in London, Edinburgh, Paris and New York. The Paris extension was operated as a couture establishment while its other branches functioned primarily as tailors and importers.
REEM ACRA - "Inspire the Passion of Imagination." Founded in 1997, Reem Acra New York represents the height of fashion in Ready to Wear, Bridal and Haute Couture, attracting a clientele of discerning women, royalty and celebrities.
Renaissance Renaissance - Since founding Renaissance Renaissance in 2016, Cynthia has been nominated for the LVMH Prize and the Fashion Trust Arabia Prize and has been the recipient of ...
Rent The Runway - membership-based website that rents high-end designer apparel and accessories on a 4- or 8-day basis. The website now offers over 25,000 dresses and accessories from over 200 designers.
Rentrayage - since 2019. "Rentrayage was born out of the concept of reimagining and reanimating what has already existed; creating beauty and value, new shape, new form, new style from what has been discarded."
R H U D E - "R H U D E, founded by Rhuigi Villaseñor in 2015, is a design venture born out of Los Angeles, balancing luxury techniques with streetwear elements, ..."
Riccardo Tisci - Creative Director for Givenchy.
RICHARD Quinn - since 2016. "Raised in South East London, Quinn received a Fashion MA from Central Saint Martins and established his label in 2016. Specialising in womenswear and textiles, he has been praised for his bold use of colour and print, which he produces in his Peckham studio."
RICK OWENS - since 1994. Owens launched his fashion line in 1994, operating out of a store in Hollywood Boulevard. One of the first boutiques to carry his clothes was Charles Gallay, who was known for carrying avant-garde designers. He gained notability after Kate Moss was photographed by Corrine Day for Vogue Paris in one of his signature leather jackets. Shop the latest Rick Owens womenswear, shoes and accessories now on the official Rick Owens online store with worldwide express shipping.
Rifat Ozbek - Turkish-born fashion designer, known for his exotic, ethnically-inspired outfits. He was named British Designer of the Year in 1988 and 1992.
RIKA - by Ulrika Lundgren.
ROBERT PIGUET - (1901-1953). Swiss-born, Paris-based fashion designer who is mainly remembered for training Christian Dior & Hubert de Givenchy.
ROBERTO CAVALLI - since 1972. Italian fashion designer and inventor. He is known for exotic prints and for creating the sand-blasted look for jeans. The high-end Italian fashion house Roberto Cavalli sells luxury clothing, perfume and leather accessories.
Rochas - since 1925. Rochas is a fashion, beauty, and perfume house founded in 1925 by French designer Marcel Rochas, the first designer of 2/3-length coats and skirts with pockets and one of the two designers, along with Elsa Schiaparelli, who launched the fashion for padded shoulders in 1931.
ROCK & REPUBLIC - American jeans brand founded by Michael Ball in 2002.
RODARTE - "RODARTE was founded in Los Angeles, California in 2005 by Kate and Laura Mulleavy. RODARTE is distinguished by the romantic, conceptual way Kate and Laura approach inspiration, storytelling and how they see the world though landscape, art, film, poetry, culture and music."
Rodebjer - "Founded in New York in 2000, Carin Rodebjer set out not with a business plan but with a philosophy rooted in feminist and environmental values. Since then, Rodebjer has grown steadily, becoming a cult staple for women on the move who find comfort in the brands draped caftans, jaunty tailoring and iconic prints."
RÓISÍN PIERCE - since 2019. "Róisín Pierce is an Irish-based womenswear designer committed to combining innovative and artisanal techniques whose brand explores the tradition of craftsmanship and its symbiosis with Irish women's history."
Roksanda - since 2005. "In over a decade since founding her label, Roksanda has evolved an unmistakable woman-centred design aesthetic. As a woman consciously designing for women, she started ROKSANDA with a view of creating a platform to celebrate the equality of women whilst seeking to challenge the perceptions of traditional beauty through a blend of opposites. Roksanda creates pieces that reveal a woman's personality while providing a sense of shelter and refuge through their unique design."
ROLAND MOURET - "Established in London in 1998, the Roland Mouret fashion house fast became known for the use of drape, cut and understanding of the female form, with its designs worn by the world's most recognised women."
ROMANCE WAS BORN - since 2005. "Australian fashion house, founded by Anna Plunkett and Luke Sales in 2005. Producing haute couture and women's ready-to-wear garments and accessories, the brand produces designs that 'freely toy with the relationship between fashion and art', often evoking an influence of Australiana."
Ronald van der Kemp - since 2014. "RVDK Ronald van der Kemp is the world's first sustainable couture label." Dutch fashion designer and founder of demi-couture fashion house RVDK Ronald van der Kemp, his namesake label. Net-a-Porter, the luxury ecommerce group, was the first retailer to buy van der Kemp's demi-couture collection, which has since been worn by celebrities including Selena Gomez, Kate Moss, Lady Gaga, Katy Perry, Dakota Johnson, Adriana Lima and Karlie Kloss.
Rose Bertin - (1747-1813). French milliner and dressmaker to Queen Marie Antoinette. She was the first celebrated French fashion designer and is widely credited with having brought fashion and haute couture to the forefront of popular culture.
Rosetta Getty - "Rosetta Getty established her fashion line in 2015. The brand's philosophy is derived from Rosetta's personal bi-coastal lifestyle and intuition for dressing effortlessly for work, travel and family life. The collection focuses on transitional pieces that work fluidly through the seasons, and from day to night, and reflects the alternate attitudes of east coast and west coast dressing. Discerning and timeless design plays into a line of elevated ready-to-wear and accessories that is considered, relaxed and sophisticated."
ROSIE ASSOULIN - since 2012. "Luxury womenswear, made in NYC."
RTA - "Established in Los Angeles in 2013, RTA is a luxury women's and men's ready-to-wear and accessories collection founded upon the belief that the journey should be as extraordinary as the destination."
RUDI GERNREICH - (1922-1985). Austrian-born American fashion designer whose avant-garde clothing designs are generally regarded as the most innovative and dynamic fashion of the 1960s. He was the first to use cutouts, vinyl, and plastic in clothing. He designed the first thong bathing suit, unisex clothing, the first swimsuit without a built-in bra, the minimalist, soft, transparent No Bra, and the topless monokini.
Rue Agthonis - since 2018. "Intertwined with a Southern French name, the cunning creation of the founder's name, Syl(Yanling Sha), came into being. The RUE AGTHONIS series is overwhelmed with classic and charming details, covering sequins, ostrich hair, crystal diamonds, animal prints and RUE AGTHONIS' signature double R logo."
Ryan & Walter Bridal - Beverly Hills.

A B C D E F G H I J K L M N O P Q R S T U V W X Y Z

- S -

Sabyasachi Calcutta - since 1999. Indian fashion designer, jewelry designer, retailer and couturier from Kolkata, India.
SACAI - "Sacai was established by Chitose Abe in 1999 in Tokyo, Japan." Maternity leave changed Chitose Abe's life. It was while she was home tending to her baby daughter, Tohko, that the designer came up with the concept of hybridization—clothes that look different coming and going, combining, for example, a jacket and a skirt—which has become her signature. "All I was wearing were jeans, chinos, V-neck sweaters, T-shirts, polo shirts," Abe has explained. "I thought, is this it? I started to experiment to see if I could maybe fuse two garments—say, a sweater with a shirt." This new way of thinking about fashion is also helping to drive it in a new direction. So indelible is Abe's touch that Vogue's Sarah Mower has suggested that the designer's "idiom has almost broken through to become part of the common language of fashion."
SAFiYAA - London-based fashion label founded in 2011 by Daniela Karnuts and named after her daughter. Famous fans of the brand include Jennifer Lopez and Kate Winslet. In 2018, the Duchess of Sussex, Meghan Markle, wore a SAfiYAA evening gown while at a State dinner in Fiji with Prince Harry and the following month in London at her first Royal Variety Performance.
Saint James French Clothing - since 1889.
SAINT LAURENT - Founded in 1962, today Saint Laurent markets a range of women's and men's ready-to-wear products, leather goods, shoes and jewellery. He is regarded as being among the foremost fashion designers of the twentieth century.
Saint Sintra - since 2020. "Sintra Martins is a women's wear designer based in New York City. She designs romantic pieces inspired by nostalgia, for all body types."
SALONI - worn by the Duchess of Cambridge.
Salvatore FERRAGAMO - founded 1927.
Sara Battaglia - since 2010. Mostly renowned for the use of vibrant colors combined with a sharp tailoring, Battaglia offers the modern women with revised 50s and 60s looks, taking inspiration from Slim Aarons, Ettore Sottsass and Jean Prouvè.
SARAH BURTON - designed Kate Middleton's wedding dress for her marriage to Prince William, Duke of Cambridge in April 2011.
SC103 - since 2019. "A New Cult, Downtown Fashion Label Emerges." SC103 is a New York City label by Sophie Andes-Gascon and Claire McKinney. Designing for other brands after graduating from Pratt, it was only natural for their collaborative relationship to form their own label in 2019. All items are made in-house, with their four hands under one roof.
SCHIAPARELLI - since 1927. Fashion designer from an Italian aristocratic background. She created the house of Schiaparelli in Paris in 1927, which she managed from the 1930s to the 1950s. Starting with knitwear, Schiaparelli's designs celebrated Surrealism and eccentric fashions. Her collections were famous for unconventional and artistic themes like the human body, insects, or trompe-l'œil, and for the use of bright colors like her "shocking pink". "Maison Schiaparelli - Haute Couture and Ready-to-Wear. Discover Maison Schiaparelli, its latest collections, news and the history of the brand created by Elsa Schiaparelli in 1927."
SEA - since 2007. "Sea is born out of the friendship between childhood friends Sean Monahan and Monica Paolini. Together, they share a vision that is distinctively Sea - combining Monica's eye for vintage - feeling pieces and Sean's leaning towards more modern, clean styles. Their considered perspective forms an aesthetic that is quietly inviting and elegantly balanced. Classic silhouettes with a distinctive use of lace, embroidery, knits and technical fabrics result in collections that are at once both effortless and optimistic, romantic and boyish."
Seidensticker - since 1919. "Classic blouses and women's fashion."
Self-Portrait - since 2013. "Han Chong is the designer behind Self-Portrait, the contemporary luxury label which has experienced a rapid rise to commercial success. After launching in 2013, Self-Portrait gained commercial and media attention thanks in part to its accessible pricing strategy, a key point of differentiation for the label."
SENTALER - "Luxury Outerwear." With a commitment to timeless designs and superior quality, each Sentaler coat is precisely crafted with hand finishing using the world's finest fabric.
Seraphine - since 2002. "Fashionably Pregnant." Maternity Clothes - Designer Pregnancy Clothing.
Sergio Hudson - aince 2014. "Sergio Hudson is a luxury women's ready-to-wear label designed and produced entirely in Los Angeles and New York."
SF1OG - since 2019. "With SF1OG's genderless, extraordinary and partly experimental design, the Berlin fashion label exists in the spirit of time and is especially based on inspirations from the past. The design studio was founded in 2019 by Rosa Marga Dahl during her fashion design studies, as she always missed a place where she could design clothes on her own terms. The relentless pursuit of her own vision intrigued her business partner Jacob Langemeyer from the start, leading to a long-lasting working relationship. While Rosa carries out the design process, Jacob takes care of the management side."
Sharon Wauchob - since 1998. "Sharon Wauchob brings an unpredictable, unconventional edge to the world of contemporary luxury. She develops a constantly evolving vision of femininity - an attribute which consistently draws a loyal and growing following. Her work is distinguished by a unique experimental use of materials and fabrics and consists of pieces that incorporate folds, drapes, pleats and exquisite detailing - characteristics of the elegance and sophistication defining the designer's work."
SIMKHAI - "Established in 2010 in New York, the Jonathan Simkhai brand provides luxury ready-to-wear for the modern woman. SIMKHAI designs for the elevated everyday with innovative techniques and timeless craftsmanship."
SIMONE ROCHA - since 2010. Irish fashion designer. Harper's Bazaar named Rocha their Young Designer of the Year in 2014, and in 2016 she was named Womenswear Designer of the Year at the British Fashion Awards. Rocha's work has previously been worn by the Princess of Wales and Michelle Obama.
SinÉad O'Dwyer - "Sinéad O'Dwyer launched her London-based eponymous label in 2018 with unorthodox designs that accommodate non-sample-size bodies and challenge industry beauty standards."
SMART Clothing Lab - "Smart Clothing Gives Us Super Powers."
Snow Xue Gao - "New York-based designer Snow Xue Gao launched her eponymous womenswear label in 2017 after she received her Master's degree in Fashion Design and Society from Parsons School of Design. The designer's asymmetric draping and tailored line break away from conventional definitions of feminine and masculine."
SONIA RYKIEL - since 1968. Was a French fashion designer and writer. She created the Poor Boy Sweater, which was featured on the cover of French Elle magazine. Her knitwear designs and new fashion techniques led her to be dubbed the 'Queen of Knits'. The Sonia Rykiel label was founded in 1968, upon the opening of her first store, making clothing, accessories, and fragrances.
Sophie Gimbel - (1898-1981). The first American designer to appear on the cover of Time.
Sportmax - "Launched in 1969, in the heart of Northern Italy, as the world swung from tailor-made garments, towards ready-to-wear fashion. Sportmax is a modern design house, built on a strong heritage of daring innovation and beautiful Italian craftsmanship. Not afraid of clean, intelligent line and form, we embrace the new and set future directions in fashion. We design for discerning, self-assured, style conscious women, who choose to wear Sportmax for our attention to detail, unconventional femininity and timeless style."
SPYDER - Colorado-based manufacturer of high-end skiing apparel. World's largest ski specialty brand.
ST. JOHN - since 1962. St. John Knits International Inc., commonly referred as St. John, is a luxury American fashion brand that specializes in women's knitwear founded in 1962 by Robert and Marie Gray. The company is best known for its classic wool and rayon yarn knits, Chanel inspired jackets, and extensive use of primary colors.
STAUD - since 2015. "Explore STAUD Clothing." When it comes to wardrobe staples, STAUD has it down to a science - if that science were based on emotion instead of formulas, technicolor dreamcoats instead of those meant for a lab, and the idea that "matter" is just stuff in the universe while a good handbag is anything but.
STEIN - "Kiichiro Asakawa is a softly spoken polymath that takes an overhead, almost scientific view of fashion rather than an introspective one. This is partly informed by his retail background. In addition to his brand Stein, he also runs the Shibuya-based clothing boutique Carol, which he continues to do some of the buying for (though he admitted his design work for Stein is taking up more and more time)."
STELLA JEAN - "Stella Jean is a rome based fashion label since 2011. The brand is characterized by a cultural métissage of Italian-Haitian heritage which echoes and evokes the designer's personal roots and story."
STELLA McCARTNEY - since 2001. English fashion designer. She is a daughter of English singer-songwriter Paul McCartney and the late American photographer and animals rights activist Linda McCartney.
Stephen Burrows - since 1966. American fashion designer based in New York City.
Stewart Parvin - Belgravia, London, U.K. The Queen's dressmaker. Couture ladieswear shop & bridal boutique.
STINE GOYA - Danish designer Stine Goya founded the namesake brand in 2006 after years of working in the fashion industry and witnessing a lacklustre colour palette in the Scandinavian market.
StÜssy - Worldwide Since 1980.
Sukeina - "Sukeina was founded in 2012 by Senegalese designer Omar Salam, and is known for its high-drama pieces that feature intricate origami folds, elaborate detailing, and statement silhouettes."
Suzannah London - "Suzannah is a luxury womenswear brand designed by British designer Suzannah Crabb which specialises in making unique premium cloth into modern silhouettes reflective of vintage couture classics. Suzannah is regularly commissioned to make dresses and complete outfits for many celebrities and distinct members of society who need appropriate modern dress and immaculate fit and make for special occasions."

A B C D E F G H I J K L M N O P Q R S T U V W X Y Z

- T -

TADASHI SHOJI - since 1982. American-based Japanese fashion designer known for his evening wear and bridal collections, and his red-carpet fashion. Maintains signature boutiques in the United States and China and is carried in more than 700 major department and specialty stores worldwide.
Takahiromiyashita The Soloist - since 1996. "Founded by famous Japanese fashion designer Takahiro Miyashita."
TALBOT RUNHOF - founded in 2000.
TALBOTS - established 1947.
Talia Byre - "Talia Byre is a ready to wear fashion label that was launched in 2020 Central Saint Martins grad designer Talia Lipkin-Connor. Talia Byre is known for its signature deconstructed knitwear pieces, taking an experimental take on classic silhouettes. Shop the latest collection from Talia Byre, ranging in knit dresses, cardigans, tops, trousers and skirts."
Tanner Fletcher - "Tanner Fletcher is a genderless fashion and lifestyle brand based in Brooklyn, New York. The brand was founded in 2020 by Tanner Richie and Fletcher Kasell. Browse our latest collections and discover our online assortment of responsibly designed handbags, ..."
Tanya Taylor - "Tanya Taylor is an independent fashion brand based in New York City. Founded in 2012, the brand presents a unique and refreshing vision inspired by the city's energy, art, and the diverse women who inhabit it. Tanya's world is modern, artful, and liberating."
Temperley London - "Alice Temperley MBE founded her eponymous label Temperley London in 2000, a year after graduating from the Royal College of Art. Alice continues to head up the creative direction of this British independent brand, now in its twenty second year of business. Temperley Bridal, which launched in 2006, is defined by ethereal, timeless silhouettes and is inspired by the romance and decadence of a bygone era. The brand currently operates standalone stores, including its flagship store in Somerset which houses a Bridal Boutique, as well as stores in Chelsea and Dubai."
THAKOON - since 2004. "Thakoon is a fashion brand founded in 2004 by Thailand-born designer Thakoon Panichgul. The label mirrors the diversity of Panichgul's background - he left Thailand as a child to be raised in Omaha, Nebraska before relocating to New York City."
The Attico - The Attico, with a definite article, is the brainchild of Gilda Ambrosio and Giorgia Tordini. The Milan based designers launched the project in 2016 out of a shared love for glamour and sparkle.
The Elder Statesman - The Elder Statesman is a luxury clothing, fashion and lifestyle brand based in Los Angeles founded in 2007 by Greg Chait.
The Fold - contemporary British label focused on dressing and inspiring the modern, professional woman.
The Row - "The Row establised in 2006 by Ashley Olsen and Mary-Kate Olsen. Timeless ready-to-wear, handbags and accessories."
Theadora Van Runkle - (1928-2011). Was an American costume designer.
Thebe Magugu - since 2016. Fashion designer Thebe Magugu founded his namesake label in Johannesburg, South Africa, in 2016 and quickly garnered critical acclaim for his thoughtful and inventive collections that comment on history, culture, and politics.
Theory - Theory is a contemporary fashion brand launched in New York in 1997. The Theory brand offers unfailingly elegant style. Its acclaimed comfort stems from perfectly fitting designs and superior materials. At the end of August 2022, Theory boasted 437 stores worldwide.
Thierry Mugler - "Mugler is a fashion and fragrance house, founded by Strasbourg-born Thierry Mugler in 1973. From his first collection 'Café de Paris', Mugler developed his version of the Parisian woman through classical references and a futuristic filter, using exaggerated forms to create a modern erogeneity."
Thierry Mugler, iconic French fashion designer, dies aged 73 - "French fashion designer Thierry Mugler, whose flamboyant creations transformed haute couture, has died at the age of 73, according to a message posted to his official Instagram account."
THOM BROWNE - American fashion designer. He is the founder and head of design for Thom Browne, a New York City-based luxury fashion brand. Browne debuted his womenswear collection in 2014.
TIBI - "Founded in 1997 by Amy Smilovic, Tibi delivers an ever-evolving perspective on what clothing should give us, mixing heritage and new on a foundation of a chill, modern, and classic sensibility."
Tiger of Sweden - since 1903. Luxury fashion house specialising in ready-to-wear fashion, footwear and accessories.
T.M.Lewin - founded in 1898. T.M.Lewin established themselves in Jermyn Street, the home of English shirt making, in 1903.
TOD'S - Made in Italy since 1920. "An icon of Italian design, Tod's encapsulates a lifestyle that marries timeless elegance with supreme quality. A lifestyle linked innately to the concept of Italian flair, good taste and savoir vivre."
Todd Oldham Studio - since 1990. American-born designer and president of L-7 Designs Inc and Todd Oldham Studios. His approach to fashion and style has become known to millions through his fashion lines, interior designs, books and by appearing in television shows. Oldham is based in New York City.
Toga - "In 1997 TOGA was established in Tokyo. In 2005 TOGA began presenting its collections in Paris and in 2014 the brand started showing at London Fashion Week. In 2007 TOGA won the prestigious ANDAM award. In 2017 TOGA held their 20th anniversary show in The National Art Centre, Tokyo. In addition to its main collection 'TOGA', which it continues to present in runway shows, TOGA also currently produces its shoe line 'TOGA PULLA SHOE', pre-collection line 'TOGA PULLA', and menswear line 'TOGA VIRILIS', and exclusively offers one-off pieces under the label 'TOGA PICTA' at its directly managed shops."
TOM FORD - American fashion designer and filmmaker. He launched his eponymous luxury brand in 2005, having previously served as the creative director at Gucci and Yves Saint Laurent. He currently serves as the chairman of the Board of the Council of Fashion Designers of America.
Tomo Koizumi - "Koizumi launched his namesake brand in 2011 after a boutique owner bought one of his creations made while he was still in university. Then he pivoted to styling and costume design, once dressing Lady Gaga, until the New York showing made him an international star and fashion darling."
TORY BURCH - since 2004. American fashion designer, businesswoman, and philanthropist. She is the Executive Chairman and Chief Creative Officer of her own brand, Tory Burch LLC. She was listed as the 88th most powerful woman in the world by Forbes in 2020.
TRACY REESE - designer for the first lady Michelle Obama.
TRASH COUTURE - future vintage, hand made couture dresses.
TRILLION - "Luxury clothing for Men and Women. We have the best selection of the finest cashmere."
Trussardi - founded in 1911. Italian luxury fashion house based in Milan, Italy, and specialized in leather goods, ready-to-wear, perfumes, and accessories.

A B C D E F G H I J K L M N O P Q R S T U V W X Y Z

- U -

Ulla Johnson - "Johnson launched her label in 1998 and quickly made a name for herself for her feminine, bohemian aesthetic. A-listers love the brand, with everyone from Sarah Jessica Parker to Jennifer Lawrence to Greta Gerwig counting themselves as fans."
Undercover - "Japanese label Undercover is the work of designer Jun Takahashi, who originally studied at the Bunka Academy of Fashion. Takahashi created Undercover in 1990. The embodiment of Japanese cool, the brand fuses American inspirations with British punk references. The cult-status brand is a staple in the wardrobe of streetwear enthusiasts. Takahashi describes his style as 'cute but scary, beautiful but ugly'. His womenswear collections reveal the light feminine side of Undercover's darkest influences and are always finely detailed and beautifully finished."
understated leather - since 2014. "Understated Leather believes that the style and quality of our pieces should speak for the brand & not the other way around. Coined by its name, the unpretentious intention of the brand is to focus on the wearer. Owner Jennifer Kassell fuses her Australian roots with her Texan lifestyle creating a refreshing & relatable Aussie-Americana vibe."
UNGARO Paris - French fashion designer who founded the eponymous fashion house in 1965.
uniqlo - since 1984. Japanese casual wear designer, manufacturer and retailer.
United Colors of Benetton - since 1965. "United Colors of Benetton is one of the world's most popular and loved brands. Strongly tied to its Italian roots and its DNA of knitwear and color, it is an ambassador of contemporary casual chic style."

A B C D E F G H I J K L M N O P Q R S T U V W X Y Z

- V -

Vain - "VAIN is an interdisciplinary design project by the Helsinki based artist Jimi Vain. What started as a one-man design project back in 2019 has since evolved into a prominent independent fashion label. VAIN and it's story is a testament to the very nature of what it means to be creative in the Digital Age. Selected high quality materials, subtle cultural references and extreme attention to detail are the defining hallmarks of VAIN."
VALENTINA - (1899-1989). Was a Ukrainian émigrée fashion designer and theatrical costume designer active from 1928 to the late 1950s. She dressed such actresses of the era as Lynn Fontanne, Katharine Cornell, Greta Garbo, Gloria Swanson, Gertrude Lawrence, and Katharine Hepburn. Her Broadway successes included the costumes for the play The Philadelphia Story. She also dressed prominent New York society women including members of the Whitney and Vanderbilt families. In 1950 Valentina also introduced a perfume, "My Own".
VALENTINO Garavani - since 1960. "Discover the iconic clothing, bags, shoes and accessories collections by Valentino Garavani."
Vanessa Seward - the Duchess of Cambridge's favorite designer.
VAWK - leading Canadian luxury brand founded in 2004.
Vera Maxwell - (1901-1995). Was a pioneering sportswear and fashion designer.
VERA WANG - "A native New Yorker who spent her career at the forefront of fashion, Vera Wang began a sweeping makeover of the bridal industry in 1990 with the opening of her flagship salon at the Carlyle Hotel in New York City."
Veronica Beard - since 2010. American entrepreneur and fashion designer who co-founded Veronica Beard, a New York-based fashion company, with her sister-in law Veronica Swanson Beard. "From dickey jackets to jeans, the Veronica Beard collections feature the latest styles in women's clothing."
Versace - since 1978. "Find the perfect style for a modern look. Shop this season's most glamorous ready-to-wear from dresses, blouses, trousers and jackets. Elegant T-shirts, knitwear, beachwear and lingerie for a stylish wardrobe."
vicedomini - since 1962.
VICOMTE A. Paris - since 2005. French high-end ready-to-wear brand.
Victor Edelstein - former couturier best known for his fashion designs for Diana, Princess of Wales, in the 1980s. In 1989 he was described as the English equivalent to Oscar de la Renta, and "the master of the English thoroughbred look". He now works as a painter. His most famous design is probably the ink-blue velvet gown he created in 1985 for Diana, Princess of Wales, to wear to the White House, where she danced with John Travolta.
Victor Stiebel - (1907—1976). Was a South African-born British couturier. A founder member of the Incorporated Society of London Fashion Designers, he was among the top ten designers in Britain during the war and post-war years. Among his more notable designs were the uniforms for the Women's Royal Naval Service in 1951 and the going-away outfit for Princess Margaret's wedding in 1960.
VICTORIA BECKHAM - "Victoria Beckham founded her eponymous fashion label in 2008. The transition from designer muse to Creative Director of her own brand was a natural one, fuelled by a longtime obsession with fashion, a natural, meticulous attention to detail and an undeniable ability to influence. Today the brand is the modern woman's true wardrobe - versatile and wearable yet rooted in a distinctly luxury sensibility that ignites the imagination."
VICTORIA'S SECRET - lingerie and women's clothing, accessories, and more.
VIKTOR & ROLF - Dutch avant-garde luxury fashion house founded in 1993 by Viktor Horsting (born 1969, Geldrop) and Rolf Snoeren (born 1969, Dongen). For more than twenty years, Viktor & Rolf have sought to challenge preconceptions of fashion and bridge the divide between fashion and art. Viktor & Rolf have designed both haute couture and ready-to-wear collections. The duo is renowned for their avant-garde designs, which rely heavily on theatrical and performative fashion runways.
VIONNET - haute couture label founded by the French couturier Madeleine Vionnet in 1912.
Virgil Abloh - American fashion designer, DJ, and music producer who has been the artistic director of Louis Vuitton's men's wear collection since March 2018.
VIVETTA - since 2009. "VIVETTA is a new fashion label from Milan created by fashion designer Vivetta Ponti."
Viviano - since 2015.
VIVIENNE WESTWOOD - since 1971. "Clothing & Accessories." Fashion Icon and Activist. Vivienne Westwood began designing in 1971 along with her then partner Malcolm McLaren in London. At the time, they used their shop at 430 Kings Road, London, to showcase their ideas and designs. Enter the world of Vivienne Westwood Official Store: Discover men's and women's clothes & accessories with bold silhouettes and punk spirit.
Vivo Masks - "Handmade designer masks." Authentic Venetian masquerade masks.
VONROSEN - Berlin-based by-invitation-only luxury fashion label.

A B C D E F G H I J K L M N O P Q R S T U V W X Y Z

- W -

Wales Bonner - "Established in 2014 by Grace Wales Bonner as a menswear brand, Wales Bonner's soulful tailoring soon expanded to womenswear."
Walter Albini - (1941-1983). One of the godfathers of Italian ready-to-wear.
We11done - since 2015. "With K-Pop Credentials & A Global Fan Base, Meet South Korean Label We11done." With a famous following including Billie Eilish, Yang Mi, Angelababy, Kylie Jenner, Justin Bieber, and G-Dragon, it's no surprise that the South Korean brand is back on the Paris Fashion Week schedule.
Whistles - since 1976.
Wiederhoeft - "Launched in 2019 via an overdrawn story ballet, Wiederhoeft is a design house obsessed with theatre, dance, and the magic of live performance. Buffoonery! Bamboozlement! Mockery! These are the virtues and muses of the Wiederhoeft dreamscape..."
William Fan - since 2015. The Berlin-based label William Fan was founded in 2015 and quickly become a favourite on the German fashion scene. The son of immigrants from Hong Kong, Fan grew up in Lower Saxony and still counts his upbringing among his greatest inspirations.
William Lockie - William Lockie & Company has been creating luxurious knitwear in the world's purest fibres at their riverside mills in Hawick, Scotland, since 1874. "We specialize in natural fibres such as Cashmere, Camelhair, Merino, Geelong & Lambswool. Amazing handmade quality using traditional techniques that have been passed down for generations."
William Sharp - "Luxury 100% cashmere womenswear."
Willie Norris for Outlier - since 2008.
Wooyoungmi Paris - since 2002. "The Korean fashion label known for its fine attention to detail, architectural cuts and sharp, skilled tailoring."
WORTH PARIS - since 1858. "The House of Worth was a French fashion house that specialized in haute couture, ready-to-wear clothes, and perfumes. It was founded in 1858 by English designer Charles Frederick Worth. It continued to operate under his descendants until 1952 and closed in 1956. The House of Worth fashion brand was revived in 1999."

A B C D E F G H I J K L M N O P Q R S T U V W X Y Z

- X -

XULY.BËT - "XULY.Bët which means 'keep your eyes open' in wolof, is a Parisian fashion house founded in 1991. Born in Lamine Kouyaté's mind, who moved from his native Bamako, Mali to Paris around 1982. While studying architecture in Strasbourg, Kouyaté fell in love with the Parisian fashion scene and moved to Paris to begin working as a clothing designer. He soon launched a subversive type of fashion, sustainable but also modern and offering women a new liberty."

A B C D E F G H I J K L M N O P Q R S T U V W X Y Z

- Y -

Yeezy - luxury fashion label founded by Kanye West in 2015. Initially launched as a series of knit sneakers, which sold out online in the US in 12 minutes, the label is backed by Adidas Originals and offers elevated, monochromatic streetwear.
Yeohlee - since 1981. "Luxury apparel and fashion house with a zero-waste ethos." American fashion designer originally from Malaysia and of Chinese heritage.
Yeti - "The lightest down fashion collection: downcoats | downjackets | downvests."
YIGAL AZROUËL - "Yigal Azrouël launched his eponymous women's wear label in New York in 1998 to critical acclaim. Azrouël defines his signature aesthetic using high-quality fabrics to drape structured, ultra-feminine, modern silhouettes with a precise attention to detail."
Yohei Ohno - since 2014. "Ohno continually creates pieces in a unique way that is not restricted by the traditions of dressmaking, drawing inspiration from anything that is not in a form of clothing such as art, architecture and everyday objects. He is dedicated to modern women of any ethnicities, who are naturally inquisitive and appreciative of cultures."
yohji yamamoto - since 1984. Japanese fashion designer based in Tokyo and Paris. Considered a master tailor alongside those such as Madeleine Vionnet, he is known for his avant-garde tailoring featuring Japanese design aesthetics.
Y/Project - since 2010. "Since the appointment of Glenn Martens as Creative Director of Y/Project in 2013, the Paris based label has combined conceptual and inventive detailing with playful proportions and a witty take on historical references." The Y/PROJECT Evergreen collection is a series of classic carry over styles manufactured in an ethical and sustainable fashion. Each season, a select number of pieces will be added to this collection, creating garments with longevity to be worn for years to come. Raw materials are sourced to ensure their traceability and their contribution to the preservation of biological diversity. Production is carried out through environmentally conscious processes, ensuring a fully sustainable and traceable supply chain.
Yueqi Qi - "Yueqi Qi founded her namesake label in 2019 which explores narrative-driven and personal themes. She is a strong proponent of the Chinese handicraft revitalization movement and places emphasis on intricate beadwork. Since launching her brand, she has collaborated with Gucci on GUCCIFest and VAULT Gucci. She was selected to join the panel of Vogue Forces of Fashion 2021."
YUIMA NAKAZATO - since 2009. "A custom-designed garment can provide not only a great functionality, but also a sense of enrichment and liberation to the person who wears it. Having had designed many costumes for artists all over the world, YUIMA NAKAZATO developed a desire to bring the joy and comfort of one-of-a-kind garments to more people."
YVES SAINT LAURENT - Founded in 1962, today Saint Laurent markets a range of women's and men's ready-to-wear products, leather goods, shoes and jewellery. He is regarded as being among the foremost fashion designers of the twentieth century.

A B C D E F G H I J K L M N O P Q R S T U V W X Y Z

- Z -

ZAC POSEN - since 2001. Celebrity-adored designer Zac Posen is known for creating some of the most iconic gowns in red carpet history.
ZADIG & VOLTAIRE - since 1997.
ZANKOV - since 2019. "Henry Zankov is a Russian-born, American designer working in New York City. After holding design positions at several brands under LVMH as well as consulting for different emerging and well-established designers in New York and in Europe, he launched his brand ZANKOV in 2019. ZANKOV is a knitwear collection that establishes a new visual language in fashion and textiles. With a strong emphasis on color, shape and pattern, ZANKOV builds an adventurous graphic lexicon, going beyond the realms of clothing."
ZARA - since 1975. Spanish multi-national retail clothing chain. It specialises in fast fashion, and sells clothing, accessories, shoes, beauty products and perfumes.
Zero + Maria Cornejo - since 1998. "Buy Better, Wear Forever." Luxury fashion with a conscience. Designed and Produced in New York. By women for women.
ZIMMERMANN - luxury Australian brand of fashion. Zimmermann was founded in 1991 by sisters Nicky and Simone Zimmermann.
ZUHAIR MURAD - "Murad founded his brand in 1997, and quickly built up a loyal following for his sensuous, feminine designs. In 2001 he began showing on the official Haute Couture schedule in Paris, and soon his designs were regularly worn by singular stars, such as Beyoncé and Jennifer Lopez."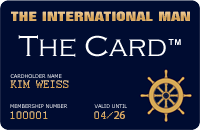 Upcoming VIP Privilege Membership Card
The International Man will in the near future be launching its own PRIVILEGE & BENEFIT VIP MEMBERSHIP CARD - named simply 'The Card'. Members will receive special privileges, benefits and preferential rates with selected partner hotels, restaurants, our LUXURY WEBSHOP, and more. Enter your name and e-mail address to receive FREE INFO about 'The Card' HERE.
RETURN TO TOP OF PAGE