Top 125 Best High-End Home Accent & Décor Brands

HOME ACCESSORIES are furniture items which are easy to replace and easy to move, and include almost any items that aren't strictly functionally necessary in the decorated space. These accessories include such items as curtains, sofa sets, cushions, tablecloths and decorative craft products, decorative wrought iron, and so on. These items are commonly used in indoor furnishings and layout and can include cloth items, paintings, and plants.

Home accessories, as movable decorations, reflect the owner's taste and create a personal atmosphere where they are placed. These items can break the boundaries of traditional decoration industry, using handicrafts, textiles, collectibles, and things such as lamps, floral items, and plants re-combined to form a new concept. Home accessories vary according to size and shape of room space, the owner's living habits, hobbies, tastes, and their economic situation.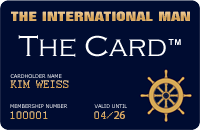 Upcoming VIP Privilege Membership Card
The International Man will in the near future be launching its own PRIVILEGE & BENEFIT VIP MEMBERSHIP CARD - named simply 'The Card'. Members will receive special privileges, benefits and preferential rates with selected partner hotels, restaurants, our LUXURY WEBSHOP, and more. Enter your name and e-mail address to receive FREE INFO about 'The Card' HERE.
RETURN TO TOP OF PAGE