Top 75 Best High-End (Designer) Bedrooms and Beds

"Never go to bed mad. Stay up and fight." - Phyllis Diller.

"What do I wear in bed? Why, Chanel No. 5, of course." - Marilyn Monroe.

"Don't stay in bed, unless you can make money in bed." - George Burns.

"Besser gut schlafen, als gut essen." - German saying meaning It is better to sleep well than eat well.

"The bed has become a place of luxury to me! I would not exchange it for all the thrones in the world." - Napoleon Bonaparte.

"I regard going to bed as one of the most splendid inventions, to say 'Good day' to the whole world - or 'Good night'." - Søren Kierkegaard.

"A man would prefer to come home to an unmade bed and a happy woman than to a neatly made bed and an angry woman." - Marlene Dietrich.

A BED is a piece of furniture used as a place to sleep or relax. It has a secondary use as a location to engage in sexual relations. Most modern beds consist of a soft mattress on a bed frame, with the mattress resting either on a solid base, often wooden slats, or a sprung base. In North America many beds include a box spring inner-sprung base, a large mattress-sized box containing wood and springs that provide additional support and suspension for the mattress.

Most beds have a headboard for resting against, with others also having side rails and footboards (or "footers"). "Headboard only" beds often incorporate a "dust ruffle", "bed skirt", or "balance sheet" to hide the bed frame. For greater head support, most people use a pillow, placed on the top of a mattress. Also used is some form of covering blanket to insulate the sleeper, often bed sheets, a quilt, or a duvet, collectively referred to as bedding. Bedding is the removable non-furniture portion of a sleeping environment. A bed can be thought of as a body and the bedding its clothing.

Also, some people prefer to dispense with the box spring and bed frame, and replace it with a platform bed style. This is more common in Europe, Australia, and Japan.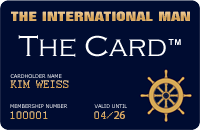 Upcoming VIP Privilege Membership Card
The International Man will in the near future be launching its own PRIVILEGE & BENEFIT VIP MEMBERSHIP CARD - named simply 'The Card'. Members will receive special privileges, benefits and preferential rates with selected partner hotels, restaurants, our LUXURY WEBSHOP, and more. Enter your name and e-mail address to receive FREE INFO about 'The Card' HERE.
RETURN TO TOP OF PAGE