Europe's Top High-end Hotels, Inns, Resorts and Spas

"The great advantage of a hotel is that it's a great refuge from home life" - George Bernard Shaw.

A BOUTIQUE HOTEL is a small hotel which typically has between 10 and 100 rooms in unique settings with upscale accommodations.

A GRAND HOTEL is a large and luxurious hotel, especially one built in a traditional architectural style.

A HOTEL is an establishment that provides paid lodging on a short-term basis. The provision of basic accommodation, in times past, consisting only of a room with a bed, a cupboard, a small table and a washstand has largely been replaced by rooms with modern facilities, including en-suite bathrooms and air conditioning or climate control. Additional common features found in hotel rooms are a telephone, an alarm clock, a television, a safe, a mini-bar with snack foods and drinks, and facilities for making tea and coffee. Luxury features include bathrobes and slippers, a pillow menu, twin-sink vanities, and jacuzzi bathtubs. Larger hotels may provide additional guest facilities such as a restaurant, swimming pool, fitness center, business center, childcare, conference facilities and social function services.

Hotel operations vary in size, function, and cost. Most hotels and major hospitality companies that operate hotels have set widely accepted industry standards to classify hotel types. General categories include the following:

THE HOTEL STAR CLASSIFICATION & RATING SYSTEM EXPLAINED:

******* Seven Star (Burj Al Arab, Dubai. The world's most luxurious and only 7-star hotel).

***** Five Star - (Deluxe)
These are hotels that offer only the highest level of accommodations and services. The properties offer a high degree of personal service. Although most five star hotels are large properties, sometimes the small independent (non-chain) property offers an elegant intimacy that can not be achieved in the larger setting. The hotel locations can vary from the very exclusive locations of a suburban area, to the heart of downtown. The hotel lobbies are sumptuous, the rooms complete with stylish furnishing and quality linens. The amenities often include: VCR's, CD stereos, garden tubs or Jacuzzis, in-room video library, heated pools and more. The hotels feature up to three restaurants all with exquisite menus. Room service is usually available 24 hours a day. Fitness Centers and valet and/or garage parking are typically available. A concierge is also available to assist you.

**** Four Star - (Superior)
Mostly large, formal hotels with smart reception areas, front desk service and bellhop service. The hotels are most often located near other hotels of the same caliber and are usually found near shopping, dining and other major attractions. The level of service is well above average and the rooms are well lit and well furnished. Restaurant dining is usually available and may include more than one choice. Some properties will offer continental breakfast and/or happy hour delicacies. Room service is usually available during most hours. Valet parking and/or garage service is also usually available. Concierge services, fitness centers and one or more pools are often provided.

*** Three Star - (First Class)
Typically these hotels offer more spacious accommodations that include well appointed rooms and decorated lobbies. Bellhop service is usually not available. They are often located near major expressways or business areas, convenient to shopping and moderate to high priced attractions. The hotels usually feature medium-sized restaurants that typically offer service breakfast through dinner. Room service availability may vary. Valet parking, fitness centers and pools are often provided.

** Two Star - (Moderate)
Typically smaller hotels managed by the proprietor. The hotel is often 2 - 4 stories high and usually has a more personal atmosphere. It's usually located near affordable attractions, major intersections and convenient to public transportation. Furnishings and facilities are clean but basic. Most will not have a restaurant on site but are usually within walking distance to some good low-priced dining. Public access, past certain hours, may be restricted.

* One Star - (Moderate)
Usually denotes independent and name brand hotel chains with a reputation for offering consistent quality amenities. The hotel is usually small to medium-sized and conveniently located to moderately priced attractions. The facilities typically include telephones and TV's in the bedroom. Some hotels offer limited restaurant service; however, room service and bellhop service is usually not provided.

Hotels included on Condé Nast Traveller's Gold List of the world's best hotels have been marked with CNT. It spans six continents and 49 countries.

5-star International Star Diamond Award Recipients selected by The American Academy of Hospitality Sciences have been marked with SDA.

Established in France in 1954, Relais & Châteaux's mission is "to spread its unique art de vivre across the globe by selecting outstanding properties with a truly unique character." Prospective and current members are evaluated by the group's traditional "five C" motto: Character, Courtesy, Calm, Charm and Cuisine. The members of Relais & Châteaux exclusive collection of 580 of the finest hotels and gourmet restaurants in 60 countries on 5 continents have been marked with R&C.

The members the Small Luxury Hotels of the World organization (a collection of over 500 luxury boutique hotels and resorts in more than 80 countries) have been marked with SLH.

Comprised of more than 400 hotels in over 80 countries, The Leading Hotels of the World is one of the largest luxury hotel collections in the world. The members have been indicated with LHW.

Palace Distinction – since 2009. One step higher than five stars - by the French Agency for Tourism Development. Marked with P.

What hotel star ratings actually mean today - "There isn't a single answer to the question of what star ratings actually mean, since there are so many systems shaped by so many factors. Some tourism marketers now even give exceptional luxury properties an unofficial six-star designation. (Think stunning over-water villas in the Maldives with private butlers). And bear in mind not all of a brand's properties are created equal when making assumptions about a chain's star category - newer hotels are usually more modern and deserving of a higher rating."

HOTELS, RESORTS & SPAS BY REGION:

Bulgaria

Channel Islands, U.K.

Estonia

Finland

Ylläsjärvi

SNOW VILLAGE - each year in late November, about one thousand truck loads of snow are used to create the Snow Village.

Greenland

Ilulissat

HOTEL ARCTIC - "The world's most northerly 4 star hotel with a 5 star conference center."

Hungary

Kutas-Kozmapuszta (County Somogy)

Iceland

Grindavík

Latvia

Liechtenstein

Lithuania

Luxembourg

Kirchberg

MeliÁ **** 1 Park Dräi Eechelen.
Sofitel Europe ***** 4, rue du Fort Niedergrunewald, Quartier Européen Nord.

Malta

Northern Ireland, U. K.

Belfast

Europa Hotel - four-star hotel with 272 bedrooms, including 92 executive suites. It has hosted presidents, prime ministers and celebrities, including President Bill Clinton during his visits to Belfast in 1995 and 1998. It is known as the "most bombed hotel in Europe" and the "most bombed hotel in the world" after having suffered 28 bomb attacks during 'The Troubles'.
Malmaison - Boutique Hotel: 34-38 Victoria Street.
THE MERCHANT HOTEL - In July 2009, Merchant Hotel won the "World's Best Hotel Bar" competition.

Russia

Serbia

Slovakia

Slovenia

Ukraine

Wales, U.K.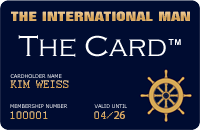 Upcoming VIP Privilege Membership Card
The International Man will in the near future be launching its own PRIVILEGE & BENEFIT VIP MEMBERSHIP CARD - named simply 'The Card'. Members will receive special privileges, benefits and preferential rates with selected partner hotels, restaurants, our LUXURY WEBSHOP, and more. Enter your name and e-mail address to receive FREE INFO about 'The Card' HERE.
RETURN TO TOP OF PAGE