Top 50 Best Bespoke / Made-To-Measure Shirtmakers

BESPOKE is a British English word that means a clothing item made to a buyer's specification (personalised or tailored). While the term historically is applied to only men's tailored clothing, it now generally includes footwear, fine jewellery and other apparel, implying measurement and fitting. For most non-clothing items, the term build to order is usually used instead, although the term 'bespoke applications' is often used to refer to custom software built by a company for its own use by a department other than the IT department.

The distinguishing points of bespoke tailoring are the buyer's total control over the fabric used, the features and fit, and the way the garment should be made. More generally, "bespoke" describes a high degree of customisation, and involvement of the end-user, in the production of the goods. Cad & the Dandy, a modern Savile Row tailor, describes true bespoke as having a full floating canvas, basted fitting and detailed hand finishing.

MADE-TO-MEASURE typically refers to clothing that is sewn from a standard-sized base pattern. A tailored suit is a common example of a made-to-measure garment. The fit of a made-to-measure garment is expected to be superior to that of a ready-to-wear garment, because ready-to-wear garments are constructed to fit the manufacturer's definition of an average customer, while made-to-measure garments are constructed to fit each customer individually. However, made-to-measure items are seen by many to involve less workmanship than bespoke or "custom made" garments, as made-to-measure garments always involve some form of standardization in the patterning and manufacturing processes, whereas a bespoke garment is made entirely from scratch based on a customer's specifications. Typically, a made-to-measure garment will be more expensive than ready-to-wear garment but cheaper than a bespoke one.

Bespoke Shirtmakers News, Reviews & Resources

Top 50 Best Bespoke / Made-To-Measure Shirtmakers

List of Charvet customers - its list of customers is notable for its time span, Charvet existing since 1838 and having been the first shirt store ever, and as a paradigm of an international "aristo-dandy crossover community". In the 19th century, the shirtmaker both specialized in "royal haberdashery" and attracted the patronage of artists. In the 20th century, with the development of fashion design, designers and fashion journalists became a significant customer group. Some other customers' interest in the brand has become a notable aspect of their personality.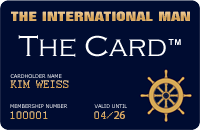 Upcoming VIP Privilege Membership Card
The International Man will in the near future be launching its own PRIVILEGE & BENEFIT VIP MEMBERSHIP CARD - named simply 'The Card'. Members will receive special privileges, benefits and preferential rates with selected partner hotels, restaurants, our LUXURY WEBSHOP, and more. Enter your name and e-mail address to receive FREE INFO about 'The Card' HERE.
RETURN TO TOP OF PAGE