North America's High-End Department Stores & Shops

Canada

Edmonton, Alberta

WEST EDMONTON MALL - the largest shopping mall in North America and the tenth largest in the world. West Edmonton Mall covers a gross area of about 490,000 sq m (5,300,000 sq ft). There are over 800 stores and services and parking for more than 20,000 vehicles. More than 24,000 people are employed at the property. The mall receives 32.2 million visitors per year; it also attracts between 90,000 and 200,000 shoppers daily, depending on the day and season.

Mexico

Mexico City

Centro Comercial Santa Fe - large enclosed shopping mall in the Santa Fe area of Mexico City, approximately 400,000 square metres (4,305,564 sq ft) in size. Centro Santa Fe is the largest shopping center in Latin America, 108,000 square metres (1,162,502 sq ft). It offers a unique upscale shopping experience featuring around 285 stores selling top brands and the top boutiques of Mexico.
Perisur - located in the southwest part of the city, Perisur is one of the largest and classiest shopping centres of Mexico City. It houses over 230 stores with high-end designer labels and a large selection of clothing, shoes, accessories, items for the home and many more. The centre also provides beauty salons, banks, travel agencies and other service providers as well as 25 eateries and a 20-screen cinema for entertainment.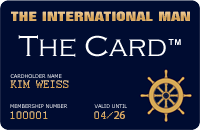 Upcoming VIP Privilege Membership Card
The International Man will in the near future be launching its own PRIVILEGE & BENEFIT VIP MEMBERSHIP CARD - named simply 'The Card'. Members will receive special privileges, benefits and preferential rates with selected partner hotels, restaurants, our LUXURY WEBSHOP, and more. Enter your name and e-mail address to receive FREE INFO about 'The Card' HERE.
RETURN TO TOP OF PAGE