Books | Bookstore | Fairs | Libraries | Prizes | Writers

To acquire the habit of reading is to construct for yourself a refuge from almost all the miseries of life. - W. Somerset Maugham.

"Beware of the man of one book." - Author unknown.

"The pen is mightier than the sword." - Sir Edward Bulwer-Lytton.

"Beware of the one who has read only one book." - Thomas Aquinas.

"A library is not a luxury but one of the necessities of life." - Henry Ward Beecher.

"There is more treasure in books than in all the pirate's loot on Treasure Island." - Walt Disney.

"The reading of all good books is like a conversation with the most cultivated men of past centuries who have been their authors." - John Ruskin.

"I must have books everywhere. They're the soul of a room - they reveal the taste, the interests, and the secrets of whoever lives there." - Fashion designer Diane von Furstenberg.

A BOOK is a set or collection of written, printed, illustrated, or blank sheets, made of paper, parchment, or other material, usually fastened together to hinge at one side. A single sheet within a book is called a leaf, and each side of a leaf is called a page. A book produced in electronic format is known as an e-book.

Books may also refer to a literature work, or a main division of such a work. In library and information science, a book is called a monograph, to distinguish it from serial periodicals such as magazines, journals or newspapers. The body of all written works including books is literature.

In novels, a book may be divided into several large sections, also called books (Book 1, Book 2, Book 3, etc).

A lover of books is usually referred to as a bibliophile, a bibliophilist, or a philobiblist, or, more informally, a bookworm.

A store where books are bought and sold is a bookstore or bookshop. Books can also be borrowed from libraries.

MORE QUOTES ABOUT BOOKS:

"A good book has no ending." - R.D. Cumming.

"People die, but books never die." - Anonymous.

"A library is a hospital for the mind." - Anonymous.

"No furniture is so charming as books." - Sydney Smith.

"Reading is to the mind what exercise is to the body." - Joseph Addison.

"A good book on your shelf is a friend that turns its back on you and remains a friend." - Anonymous.

"Books are not made for furniture, but there is nothing else that so beautifully furnishes a house." - Henry Ward Beecher.

"Books are the quietest and most constant of friends; they are the most accessible and wisest of counselors, and the most patient of teachers." - Charles W. Eliot.

Audiobooks

Authors

Ian Fleming & James Bond Resources

E-Books

AMAZON.COM'S E-BOOK STORE - as of May 10, 2014: 2,644,690 titles Kindle Edition.
BARNES & NOBLE - over 1 million titles!
Belle Bridge Books - "Books for every reader's imagination."
BOOKS-A-MILLION - eBooks, bestsellers, hard-to-find books.
BOOKTRACK - "Soundtracks for Books." A new chapter in the evolution of storytelling, and an industry "first" in publishing, by creating synchronized soundtracks for e-books that dramatically boost the reader's imagination and engagement. Booktrack is already well on its way to creating a new genre of entertainment. Download Booktracks in the Apple App store for your iPhone, iPad, and iPod Touch.
CLASSIC LITERATURE LIBRARY - free public domain ebooks and classic books.
DAILYLIT - "DailyLit lets you read literary classics and great new fiction in short installments that you can pick up and put down anytime. Once you've found a book, just select when you want your installments to arrive in your inbox."
DE GRUYTER - the De Gruyter e-dition makes over 60,000 high-quality titles available from De Gruyter's more than 260-year publishing history.
Forgotten Books - "Read free books online at Forgotten Books." 484,473 free books. Largest online eBooks library.
FOYLES - range of more than 73,000 fiction and non-fiction eBooks
GOOGLE E-BOOK STORE - "Buy anywhere, read anywhere." More than 3 million Google eBooks.
Harlequin - "Entertain, enrich, inspire."
IBOOKS - for iPhone, iPod touch, and iPad on the iTunes App Store.
INDIEBOUND BOOKSTORE - offers more than 4 million eBook titles.
Kensington - America's Independent Publisher."
KINDLE E-BOOK STORE - as of May 10, 2014: 2,644,690 titles.
Kindle Unlimited - "Enjoy unlimited access to over 600,000 titles and thousands of audiobooks on any device for just US$9.99 a month."
KOBO - "With Kobo, you can browse, search, buy and read your favorite eBooks on just about any device you choose - from select Smartphones, tablets, computers, eReaders and more."
Ludvig Holberg's Writings - "Ludvig Holberg (1684–1754) is one of the main figures of the Scandinavian Enlightenment. His numerous and multifaceted writings occupy a central position in the literature of both Denmark and Norway. This is the first digital critical edition of Holberg's collected writings. The texts are fully searchable and equipped with commentaries, introductions, critical apparatus, and facsimiles."
Metabook - "for iPad and iPhone." The new patent-pending digital publishing platform and reading experience for the 21st Century.
Open Library - "Open Library is yours to borrow, read & browse." The World's classic literature at your fingertips. Over 1,000,000 free ebook titles available.
Oyster - since 2012. "Oyster is simply the best way to read." Streaming service for digital ebooks, available for Android, iOS, Kindle Fire, and NOOK HD/HD+ devices. It is also available on any web browser on a desktop or laptop computer. Oyster holds over 1 million books in its library, and as of September 2015, the service is only available in the United States.
PENGUIN EBOOKS - "Whether you're looking for something new, want to catch up on the latest bestsellers or just fancy browsing, we have something here for everyone."
POTTERMORE - Harry Potter e-books.
PROJECT GUTENBERG - "Free ebooks." The first producer of free electronic books (eBooks). The place where you can download over 49,000 free ebooks to read on your PC, iPad, Kindle, Sony Reader, iPhone, Android or other portable device.
REFERENCE GLOBAL - Walter de Gruyter is among the first academic publishers in the world to provide electronic access to its journals, books, and databases on a single platform.
SMASHWORDS - "Your ebook. Your way." "Smashwords is the world's largest distributor of indie ebooks. We make it fast, free and easy for any author or publisher, anywhere in the world, to publish and distribute ebooks to the major retailers."
THE DIGITAL DEAD SEA SCROLLS - in partnership with Google.
THE ONLINE BOOKS PROJECT - "Listing over 1 million free books on the Web."
W.H. SMITH - "Million of e-Books to suit all tastes."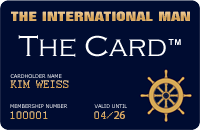 Upcoming VIP Privilege Membership Card
The International Man will in the near future be launching its own PRIVILEGE & BENEFIT VIP MEMBERSHIP CARD - named simply 'The Card'. Members will receive special privileges, benefits and preferential rates with selected partner hotels, restaurants, our LUXURY WEBSHOP, and more. Enter your name and e-mail address to receive FREE INFO about 'The Card' HERE.
RETURN TO TOP OF PAGE