Top 40 Best Motorcycle Brands in the World 2022

A MOTORCYCLE (also called a motorbike, bike, moto or cycle) is a two or three wheeled motor vehicle. Motorcycles vary considerably depending on the task they are designed for, such as long distance travel, navigating congested urban traffic, cruising, sport and racing, or off-road conditions.

Motorcycles are one of the most affordable forms of motorised transport in many parts of the world and, for most of the world's population, they are also the most common type of motor vehicle. There are around 200 million motorcycles (including mopeds, motor scooters, motorised bicycles, and other powered two and three-wheelers) in use worldwide, or about 33 motorcycles per 1000 people. This compares to around 590 million cars, or about 91 per 1000 people. In the 21st century, the motorcycle industry is mainly dominated by Japanese companies.

TYPES OF MOTORCYCLES: There are many systems for classifying types of motorcycles, describing how the motorcycles are put to use, or the designer's intent, or some combination of the two. Six main categories are widely recognized: cruiser, sport, touring, standard, dual-purpose, and dirt bike. Sometimes sport touring motorcycles are recognized as a seventh category. Strong lines are sometimes drawn between motorcycles and their smaller cousins, mopeds, scooters, and underbones, but other classification schemes include these as types of motorcycles. There is no universal system for classifying all types of motorcycles. There are strict classification systems enforced by competitive motorcycle sport sanctioning bodies, or by certain legal jurisdictions for motorcycle registration, emissions, road traffic safety rules or motorcyclist licensing. There are also informal classifications or nicknames used by manufacturers, riders, and the motorcycling media.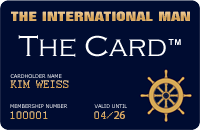 Upcoming VIP Privilege Membership Card
The International Man will in the near future be launching its own PRIVILEGE & BENEFIT VIP MEMBERSHIP CARD - named simply 'The Card'. Members will receive special privileges, benefits and preferential rates with selected partner hotels, restaurants, our LUXURY WEBSHOP, and more. Enter your name and e-mail address to receive FREE INFO about 'The Card' HERE.
RETURN TO TOP OF PAGE