Europe's Top 500 Best Bars, Cafés, Lounges and Pubs

"The problem with the world is that everyone is a few drinks behind." - Humphrey Bogart.

"A woman drove me to drink and I didn't even have the decency to thank her." - W. C. Fields.

"Always do sober what you said you'd do drunk. That will teach you to keep your mouth shut." - Ernest Hemingway.

"You're not drunk if you can lie on the floor without holding on." - Dean Martin.

A BAR (also called a pub, tavern, saloon, or taproom) is an establishment that serves drinks, especially alcoholic beverages such as beer, liquor, and cocktails, for consumption on the premises.

Bars provide stools or chairs for their patrons along tables or raised counters. Some bars have entertainment on a stage, such as a live band, comedians, go-go dancers, a floor show or strippers (see strip club). Bars that are part of hotels are sometimes called long bars or hotel lounges.

There have been many names throughout history for establishments where people gather to drink alcoholic beverages. Even when an establishment uses a different mane such as a tavern, the area of the establishment where the bartender serves the alcoholic beverage is normally called "the bar".

There are many types of bars, which can be categorized according to the types of entertainment provided at the bar and by their clientèle.

A COCKTAIL LOUNGE is an upscale bar that is typically located within a hotel, restaurant, or airport.

WINE BARS put a new spin on wine tasting. They seek to remove the association of wine with upscale clientèle and overwhelming wine lists and replace it with a more casual and relaxing atmosphere. Many of these bars are furnished with nooks and booths encased in rich colors and plush surroundings in hopes their guests will linger. Wine bars look to embrace the intellectual stimulation linked to wine and offer an alternative to the bar scene. The laid-back environment lends itself to a good socializing setting with a less crowded feel and more intimate appeal.

A CAFÉ is an informal restaurant offering a range of hot meals and made-to-order sandwiches. Depending on the jurisdiction, a café may be licensed to serve alcohol. The term can also refer to bistro or a restaurant facility within a hotel.

A Public House, informally known as a PUB, is a drinking establishment which is part of British, Irish, Australian, and New Zealand culture. There are approximately 53,500 public houses in the United Kingdom. This number has been declining every year, so that nearly half of the smaller villages no longer have a local pub. In many places, especially in villages, a pub can be the focal point of the community.

A TAVERN is a place of business where people gather to drink alcoholic beverages and be served food, and in some cases, where travelers receive lodging.

A tea house or TEA ROOM is a venue centered on drinking tea. Its function varies widely depending on the culture, and some cultures have a variety of distinct tea-centered houses or parlors that all qualify under the English language term "tea house" or "tea room."

Croatia

Monaco

La Condamine

BRASSERIE DE MONACO - "The Place to Beer." 36, route de la Piscine.
Stars'N'Bars - 6, quai Antoine 1er. Has hosted a multitude of film, music and sport legends and boasts one of the best celebrity sports museums in the world.

Netherlands

Amsterdam

TUNES BAR - at Conservatorium hotel. "An elegant yet casual haven in which to enjoy champagnes, cocktails, surprising Gin & Tonics and tasty Asian Tapas served with matching Sake."

Rotterdam

DE WITTE AAP - voted 'The Best Bar in the World' by Lonely Planet's readers.

Norway

Oslo

TheatercafÉen - at Hotel Continental, Stortingsgata 24. Since 1900. "Our legendary Vienna-style café has indisputably been the city's most popular dining and meeting place for over 100 years."

Republic of Ireland

Athlone (Co. Westmeath)

Sean's Bar - 13 Main Street. Claims to be the oldest pub in Ireland, dating back to 900 AD. In 2004 Guinness World Records listed Sean's Bar as the oldest pub in Europe.

Scotland, U.K.

Edinburgh

SCOTCH whisky bar at The Balmoral - "Settle in for a dram in SCOTCH, our world-class whisky bar. With over 500 unique varieties of Scottish whisky within the bar's hand-crafted, oak-panelled whisky cabinet, selected from distilleries in the Highlands, Lowlands, Islands, Islay and Speyside, our collection is one of the largest in Edinburgh." 1 Princes St, Edinburgh EH2 2EQ, Scotland, U.K.

Glasgow

Spain

Deià (Mallorca)

Sa Fonda - the Virgin Records mogul, Richard Branson, has a luxury residence in the town, and his label's stars have often visited the village and sometimes jammed here.

Sweden

Helsingborg

Koppi - Norra Storgatan 16. Fine Coffee Roadsters since 2007. "The roastery and coffee bar, situated in the heart of Helsingborg, offer coffee experiences out of the ordinary. Our ambition is to be one of the best roasters in the world and our aim is always to buy, roast, brew and serve coffee from the worlds best coffee producers."

Turkey

Bodrum

HADIGARI - the oldest bar in Bodrum since 1974.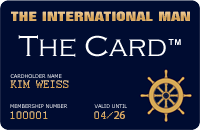 Upcoming VIP Privilege Membership Card
The International Man will in the near future be launching its own PRIVILEGE & BENEFIT VIP MEMBERSHIP CARD - named simply 'The Card'. Members will receive special privileges, benefits and preferential rates with selected partner hotels, restaurants, our LUXURY WEBSHOP, and more. Enter your name and e-mail address to receive FREE INFO about 'The Card' HERE.
RETURN TO TOP OF PAGE