Top 40 Best High-End Luxury Ski Resorts In The World

A SKI RESPORT is a resort developed for skiing, snowboarding, and other winter sports. In Europe a ski resort is a town or village in a ski area – a mountainous area, where there are ski trails and other supporting services such as hotels, restaurants, equipment rentals, and a ski lift system. In North America it is more common for ski areas to exist well away from towns, and the term ski resort is used for a destination resort, often purpose-built and self-contained, where skiing is the main activity.

ALPINE SKIING, or downhill skiing, is the sport or recreation of sliding down snow-covered hills on skis with fixed-heel bindings. It is characterized by the requirement for mechanical assistance getting to the top of the hill, since the equipment does not allow efficient walking or hiking, unlike cross-country skis which use free-heel bindings. It is typically practiced at ski resorts which provide services such as ski lifts, artificial snow making and grooming, first aid, and restaurants. Back-country skiers use alpine skiing equipment to ski off the marked pistes, in some cases with the assistance of snowmobiles, helicopters or snowcats. Alpine skiing has been an event at the Winter Olympic Games since 1936 (except for the 1940 games).

BACKCOUNTRY SKIING (US), also called OFF-PISTE (Europe) or out-of-area, is skiing in the backcountry on unmarked or unpatrolled areas either inside or outside a ski resort's boundaries. This contrasts with alpine skiing which is typically done on groomed trails benefiting from a ski patrol. Unlike ski touring, backcountry skiing can include the use of ski lifts including snowcats and helicopters. Recent improvements in equipment have increased the popularity of the sport.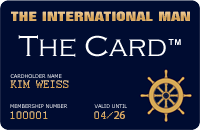 Upcoming VIP Privilege Membership Card
The International Man will in the near future be launching its own PRIVILEGE & BENEFIT VIP MEMBERSHIP CARD - named simply 'The Card'. Members will receive special privileges, benefits and preferential rates with selected partner hotels, restaurants, our LUXURY WEBSHOP, and more. Enter your name and e-mail address to receive FREE INFO about 'The Card' HERE.
RETURN TO TOP OF PAGE