2321 Michelin Starred Restaurants and Grands Chefs

| | | |
| --- | --- | --- |
| Asia - 386 Michelin starred restaurants | Europe - 1807 Michelin starred restaurants | U.S.A. - 128 Michelin starred restaurants |

"The belly rules the mind." - Spanish proverb.

"Tell me what you eat, and I will tell you what you are." – Jean Anthelme Brillat-Savarin

"The discovery of a new dish does more for human happiness than the discovery of a star." - Jean Anthelme Brillat-Savarin.

Michelin Guide starred restaurants have been marked with *** ** * RS Bib according to their rating.

THE MICHELIN GUIDE STAR & RATING SYSTEM: - three stars (***) mean: "Exceptional cuisine and worth the journey"; two stars (**): "Excellent cooking and worth a detour"; one star (*): "A very good restaurant in its category"; the Bib Gourmand label: "A Bib Gourmand rating means the restaurant is an inspector's favorite for good value. For US$40 or less, you can enjoy two courses and a glass of wine or dessert (not including tax and gratuity)." Restaurants awarded the Rising Star (RS) means that they may be in line for a MICHELIN star, or an upgrade from one to two, or from two to three stars.

First the basic definition: a RESTAURANT prepares and serves food and drink to customers. Meals are generally served and eaten on premises, but many restaurants also offer take-out and food delivery services. Restaurants vary greatly in appearance and offerings, including a wide variety of cuisines and service models.

When it comes to food and drink, it is easy - in one sense - to identify the best. There were seldom any grounds for complaint about the meals served at the late El Bulli; the Château Pétrus is good even in indifferentv years; and Krug Grande Cuvée has no bad ones. This applies even to the humbler foodstuffs: the beans can be cooked badly, the truffle sliced too thickly. The champagne and the claret can be spoiled by serving them at the wrong temperature; and even a Paul Bocuse's legendary meals are less enjoyable if eaten in the wrong surroundings or in disagreeable company.

That, of course, is why divine providence instituted restaurants - to remove these elements of haphazardness from the only pleasure most people experience three times a day.

A CHEF is a person who cooks professionally for other people. Although over time the term has come to describe any person who cooks for a living, traditionally it refers to a highly skilled professional who is proficient in all aspects of food preparation.

CHEF DE CUISINE, EXECUTIVE CHEF and HEAD CHEF: this person is in charge of all things related to the kitchen which usually includes menu creation; management of kitchen staff; ordering and purchasing of inventory; and plating design. Chef de cuisine is the traditional French term from which the English word chef is derived. Head chef is often used to designate someone with the same duties as an executive chef, but there is usually someone in charge of them, possibly making the larger executive decisions such as direction of menu, final authority in staff management decisions, etc. This is often the case for chefs with several restaurants.

CUISINE is a characteristic style of cooking practices and traditions, often associated with a specific culture. Cuisines are often named after the geographic areas or regions that they originate from. A cuisine is primarily influenced by the ingredients that are available locally or through trade. Religious food laws, such as Islamic dietary laws and Jewish dietary laws, can also exercise a strong influence on cuisine. Regional food preparation traditions, customs and ingredients often combine to create dishes unique to a particular region.

GOURMET is a cultural ideal associated with the culinary arts of fine food and drink, or haute cuisine, which is characterised by elaborate preparations and presentations of large meals of small, often quite rich courses. The term and its associated practices are usually used positively to describe people of refined taste and passion. For some, it holds a negative connotation of elitism or snobbery.

A GOURMAND is a person who takes great pleasure in food. The word has different connotations from the similar word gourmet, which emphasises an individual with a highly refined discerning palate, but in practice the two terms are closely linked, as both imply the enjoyment of good food.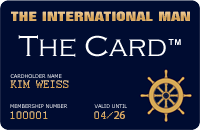 Upcoming VIP Privilege Membership Card
The International Man will in the near future be launching its own PRIVILEGE & BENEFIT VIP MEMBERSHIP CARD - named simply 'The Card'. Members will receive special privileges, benefits and preferential rates with selected partner hotels, restaurants, our LUXURY WEBSHOP, and more. Enter your name and e-mail address to receive FREE INFO about 'The Card' HERE.
RETURN TO TOP OF PAGE