Top 75 Best High-End Analog/Digital Turntable Brands

The PHONOGRAPH is a device invented in 1877 for the mechanical recording and reproduction of sound. In its later forms it is also called a gramophone (as a trademark since 1887, as a generic name since c. 1900). The sound vibration waveforms are recorded as corresponding physical deviations of a spiral groove engraved, etched, incised, or impressed into the surface of a rotating cylinder or disc, called a "record". To recreate the sound, the surface is similarly rotated while a playback stylus traces the groove and is therefore vibrated by it, very faintly reproducing the recorded sound. In early acoustic phonographs, the stylus vibrated a diaphragm which produced sound waves which were coupled to the open air through a flaring horn, or directly to the listener's ears through stethoscope-type earphones. In later electric phonographs (also known as record players (since 1940s) or, most recently, turntables, the motions of the stylus are converted into an analogous electrical signal by a transducer called a pickup or cartridge (colloquially called the "needle"), electronically amplified with a power amplifier, then converted back into sound by a loudspeaker.

Inexpensive record players typically used a flanged steel stamping for the TURNTABLE structure. A rubber disc would be secured to the top of the stamping to provide traction for the record, as well as a small amount of vibration isolation. The spindle bearing usually consisted of a bronze bushing. The flange on the stamping provided a convenient place to drive the turntable by means of an idler wheel. While light and cheap to manufacture, these mechanisms had low inertia, making motor speed instabilities more pronounced.

Costlier turntables made from heavy aluminium castings have greater balanced mass and inertia, helping minimize vibration at the stylus, and maintaining constant speed without wow or flutter, even if the motor exhibits cogging effects. Like stamped steel turntables, they were topped with rubber. Because of the increased mass, they usually employed ball bearings or roller bearings in the spindle to reduce friction and noise. Most are belt or direct drive, but some use an idler wheel. A specific case was the Swiss "Lenco" drive, which possessed a very heavy turntable coupled via an idler wheel to a long, tapered motor drive shaft. This enabled stepless rotation or speed control on the drive. Because of this feature the Lenco became popular in the late 1950s with dancing schools, because the dancing instructor could lead the dancing exercises at different speeds.

By the early 1980s, some companies started producing very inexpensive turntables that displaced the products of companies like BSR. Commonly found in all-in-one stereos from assorted far-east brands, they used a thin plastic table set in a plastic plinth, no mats, belt drive, weak motors, and often, plastic tonearms with no counterweight. Most used sapphire pickups housed in ceramic cartridges, and they lacked features of earlier units, such as auto-start and record-stacking. While no longer as common now that turntables are absent from the cheap all-in-one stereo, this type has made a resurgence in nostalgia-marketed players.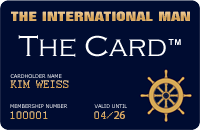 Upcoming VIP Privilege Membership Card
The International Man will in the near future be launching its own PRIVILEGE & BENEFIT VIP MEMBERSHIP CARD - named simply 'The Card'. Members will receive special privileges, benefits and preferential rates with selected partner hotels, restaurants, our LUXURY WEBSHOP, and more. Enter your name and e-mail address to receive FREE INFO about 'The Card' HERE.
RETURN TO TOP OF PAGE