Music Events of February | 2023

Saudi Arabia is hosting one of the world's biggest raves - "Why the birthplace of Islam is hosting one of the world's biggest raves. Electronic music, strobe lights, glittered faces and hundreds of thousands of people in mixed-gender gyrations are all part of a new kind of ritual in Saudi Arabia that didn't exist just three years ago. The kingdom's Soundstorm music festival, which began in 2019, is back again for its fourth year and will start on Thursday." December 1-3, 2022.
Elton John to perform his last ever UK show at Glastonbury 2023 - "Announcement comes weeks after singer's final US show and will be his second appearance ever at a UK festival."
Best red carpet fashion at the 2022 American Music Awards - "See some of the most eye-catching looks from LA's Microsoft Theater, where the music industry gathered to mark the awards' landmark 50th edition."
2023 GRAMMY Nominations: See The Complete Nominees List - "The 2023 GRAMMYs take place Sunday, Feb. 5, 2023."
MTV VMAs 2022: Taylor Swift wins & Johnny Depp surprises in chaotic ceremony - "Taylor Swift announced a new album, Nicki Minaj shouted out female genitals and Johnny Depp made a surprise appearance in a strange, profane evening."
See All the Nominees for the 2022 MTV VMAs Here - "Next month, on August 28, the MTV Video Music Awards - better known as the VMAs - will return with all the showstopping spectacle the ceremony is known for. There are already plenty of high-profile performances rumored for the night - which will take place at the Prudential Center in Newark, New Jersey - alongside the handing out of accolades to the year's best and most impactful music videos."
Macca, Greta & two sexy kangaroos: Saturday at Glastonbury - in pictures - "From the ultra-vivacious Yves Tumor, Megan Thee Stallion and Yungblud, to punters dressed as disco balls, feast your eyes on a spectacular day at Glastonbury 2022."
Greta Thunberg makes surprise appearance at Glastonbury festival - "19-year-old activist warns world faces 'total natural catastrophe' unless citizens take urgent action."
More than 100 UK festivals sign up to tackle sexual violence - "Reading, Leeds and Latitude festivals among those to commit to updated charter of best practice."
Coachella is back. But have festivals escaped the problematic legacy of 'boho chic'? - "While the event was once classed among the most stylish outings on the cultural calendar - thanks to its celebrity attendees and exclusive adjacent parties hosted by a growing list of fashion brands, from Lacoste to H&M - recent editions have hardly set the tone for the rest of the summer."
Grammy winners 2022: The full list - "You can see the full list of nominees and winners in more than 80 categories here."
19 facts about the 2022 Grammy Awards - "The first awards will be handed out in Las Vegas at 12:30 on Sunday, a thrombosis-inducing eight hours before the album of the year prize is presented at 20:30 local time (04:30 in the UK). There are 70 categories in total, with everyone from Lady Gaga to Barack Obama on the nominations list."
These 5 artists could make history at the Grammys - "After a delay of more than two months caused by an unpredictable pandemic, the Grammy Awards return Sunday with a slew of potential historical moments. For the first time, the 64th annual ceremony will be held in Las Vegas - away from its traditional home in Los Angeles. This year's event, hosted by Trevor Noah, also brings voting changes and two new categories. And several artists from this year's class of nominees - from hip hop to jazz to pop music - could potentially break records."
Can the 64th Annual Grammy Awards yield as much drama as last week's Oscars? - "The fallout from Will Smith's slap threatens to overshadow music's big night, but focus on the material and there is much to admire - particularly in 11-time nominee Jon Batiste." To be held on Sunday, April 3, at the MGM Grand Garden Arena in Las Vegas, NV, USA.
Adele sweeps gender-neutral Brit awards dominated by women - "In the first Brits ceremony to do away with gendered categories, women or female-fronted acts won 10 out of 15 overall awards."
Grammy Awards 2022: Omicron postpones music's biggest night - "The 64th annual Grammy Awards Show due to be held in the US later this month has been postponed due to coronavirus, organisers have said."
Music preview 2022: The biggest releases, tours & films - BBC Entertainment.
Grammy nominations 2022: See the list of nominees - "The Grammys will take place on Monday, Jan. 31 on CBS and will stream live and on demand on Paramount+. A list of nominees in several major categories follows below. You can see the full list of more than 80 categories here."
American Music Awards 2021: Best red carpet fashion - "The awards, held at the Microsoft Theater in Los Angeles, honors the best music by newcomers and established talent in the industry, across genres from country to R&B."
Travis Scott 'partied at Dave & Busters with Drake' after Astroworld horror - "Claims he did not know fans had died in the crowd surge."
How the Travis Scott Astroworld festival tragedy unfolded - video report - "Eight people aged from 14 to 27 were killed and dozens were injured at the Astroworld festival in Houston on Friday night, when fans were crushed against the stage. Organisers of what turned out to be one of the deadliest live music events in US history are facing mounting questions about why the rapper Travis Scott continued performing when first responders were already dealing with a mass casualty event. Eyewitness accounts of how warnings were allegedly ignored could be features of at least two investigations, one of them criminal."
'This is a public health issue': can Covid-era music festivals ever be safe? - "After backlash over the 100,000-plus crowd of mostly unmasked faces at Chicago's Lollapalooza, festival organisers reckon with a safe way forward."
'Like a horror film': revisiting the Fyre-esque disaster of Woodstock 99 - "A new documentary surveys the mess of Woodstock 1999 - a disaster of poor planning and a microcosm of toxic masculinity, raunch culture and entitlement."
The world's biggest, weirdest music event is back, and we need it more than ever - "Eurovision, the world's campest and occasionally cringeworthiest competition, is back in action a year after its first-ever cancellation."
2021 GRAMMYs Awards Show: Complete Winners & Nominees List - "Find out who won in each of the 83 categories at the 2021 GRAMMY Awards show Sunday, March, 14."
MTV VMAs 2020: Lady Gaga dominates during unusual pandemic broadcast - "Singer reigns supreme in awards show filled with calls for social justice and recognition of Covid tragedy."
Off their heads: the shocking return of the rave - "With clubs shut, thousands of young people are breaking the Covid-19 rules to attend parties organised on social media - and more are being set up every day."
Glastonbury's 50 greatest moments - "Although Covid-19 scuppered Glastonbury's 50th anniversary, organisers Michael and Emily Eavis discuss the moments that made it the world's greatest festival - from the healing fields to Stormzy."
how to recreate Glastonbury at home - "With no festival this summer, but plenty of archive performances to watch, here's your day-by-day guide to bringing Worthy Farm to your living room."
Coachella & Stagecoach festivals cancelled due to coronavirus fears - "As the US passes 2m positive tests for Covid-19, the major festivals - already postponed - have now been called off."
EUROPEAN RADIO STATIONS TO PLAY ' YOU'LL NEVER WALK ALONE' FRIDAY MARCH 20 AT 8.45AM TO SHOW UNITY IN TIMES OF CRISIS - "This is an initiative from Dutch radio presenter Sander Hoogendoorn (radio station 3FM) who asks all his colleagues around Europe to join him by playing the same song at the same time to show unity in times of crisis."
Glastonbury defies coronavirus threat to announce lineup with Kendrick Lamar - "Over 90 more names including Pet Shop Boys, Dua Lipa and Noel Gallagher have been announced for 50th-anniversary edition of the festival."
All the looks at the Grammys Red Carpet - The New York Times.
The Best & Worst of the Grammys - The New York Times.
Britain's 100 greatest music festivals - The Telegraph.
ALL THE GEAR YOU NEED for a festival - Wired.
Dirty beats, clean fun: Hong Kong's unmissable music festivals - The Guardian.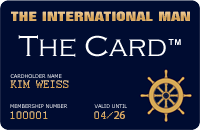 Upcoming VIP Privilege Membership Card
The International Man will in the near future be launching its own PRIVILEGE & BENEFIT VIP MEMBERSHIP CARD - named simply 'The Card'. Members will receive special privileges, benefits and preferential rates with selected partner hotels, restaurants, our LUXURY WEBSHOP, and more. Enter your name and e-mail address to receive FREE INFO about 'The Card' HERE.
RETURN TO TOP OF PAGE