Top 800 Best James Bond 007/Ian Fleming Resources

"I wanted the simplest, dullest, plainest-sounding name I could find. James Bond seemed perfect." - Ian Fleming.

"I didn't intend for Bond to be likable. He's a blunt instrument in the hands of government. He's got vices and few perceptible virtues." - Ian Fleming.

"He liked it that everything was one's own fault. There was only oneself to praise or blame. Luck was a servant and not a master. Luck had to be accepted with a shrug or taken advantage of up to the hilt. But it had to be understood and recognized for what it was and not confused with a faulty appreciation of the odds, for, at gambling, the deadly sin is to mistake bad play for bad luck." - Casino Royale, Chapter 7.

The JAMES BOND series focuses on a fictional character created in 1953 by writer Ian Fleming, who featured him in twelve novels and two short-story collections. Since Fleming's death in 1964 seven other authors have written authorised Bond novels or novelizations: Kingsley Amis, Christopher Wood, John Gardner, Raymond Benson, Sebastian Faulks, Jeffery Deaver and William Boyd. Additionally, Charlie Higson wrote a series on a young James Bond, and Kate Westbrook wrote three novels based on the diaries of a recurring series character, Moneypenny.

The fictional British Secret Service agent has also been adapted for television, radio, comic strip, and video game formats in addition to having been used in the longest continually running and the second-highest grossing film series to date, which started in 1962 with Dr. No, starring Sean Connery as Bond. As of 2014, there have been twenty-three films in the Eon Productions series. The most recent Bond film, Skyfall (2012), stars Daniel Craig in his third portrayal of Bond; he is the sixth actor to play Bond in the Eon series. There have also been two independent productions of Bond films: Casino Royale (a 1967 spoof) and Never Say Never Again (a 1983 remake of an earlier Eon-produced film, Thunderball).

The Bond films are renowned for a number of features, including the musical accompaniment, with the theme songs having received Academy Award nominations on several occasions, and one win. Other important elements which run through most of the films include Bond's cars, his guns, and the gadgets with which he is supplied by Q Branch.

IAN FLEMING (28 May 1908 - 12 August 1964) was an English author, journalist and naval intelligence officer, best known for his James Bond series of spy novels. Fleming came from a wealthy family connected to the merchant bank Robert Fleming & Co., and his father was the Member of Parliament for Henley from 1910 until his death on the Western Front in 1917. Educated at Eton, Sandhurst and the universities of Munich and Geneva, Fleming moved through a number of jobs before he started writing.

While working for Britain's Naval Intelligence Division during the Second World War, Fleming was involved in planning Operation Goldeneye and in the planning and oversight of two intelligence units, 30 Assault Unit and T-Force. His wartime service and his career as a journalist provided much of the background, detail and depth of the James Bond novels.

Fleming wrote his first Bond novel, Casino Royale, in 1952. It was a success, with three print runs being commissioned to cope with the demand. Eleven Bond novels and two short-story collections followed between 1953 and 1966. The novels revolved around James Bond, an officer in the Secret Intelligence Service, commonly known as MI6. Bond was also known by his code number, 007, and was a commander in the Royal Naval Reserve. The Bond stories rank among the best-selling series of fictional books of all time, having sold over 100 million copies worldwide. Fleming also wrote the children's story Chitty-Chitty-Bang-Bang and two works of non-fiction. In 2008, The Times ranked Fleming fourteenth on its list of "The 50 greatest British writers since 1945".

He was married to Ann Charteris, who was divorced from the second Viscount Rothermere as a result of her affair with Fleming. Fleming and Charteris had a son, Caspar. Fleming was a heavy smoker and drinker who suffered from heart disease; he died in 1964, aged 56, from a heart attack. Two of his James Bond books were published posthumously, and others have since produced Bond novels. Fleming's creation has appeared in film twenty-five times, portrayed by seven actors.

The 14 James Bond NOVELS & SHORT STORIES written by Ian Fleming by publication sequence: Casino Royale (1953), Live and Let Die (1954), Moonraker (1955), Diamonds Are Forever (1956), From Russia, with Love (1957), Dr. No (1958), Goldfinger (1959), For Your Eyes Only (collection of short stories - 1960), Thunderball (1961), The Spy Who Loved Me (1962), On Her Majesty's Secret Service (1963), You Only Live Twice (1964), The Man with the Golden Gun (1965), Octopussy and The Living Daylights (1966).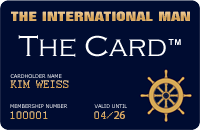 Upcoming VIP Privilege Membership Card
The International Man will in the near future be launching its own PRIVILEGE & BENEFIT VIP MEMBERSHIP CARD - named simply 'The Card'. Members will receive special privileges, benefits and preferential rates with selected partner hotels, restaurants, our LUXURY WEBSHOP, and more. Enter your name and e-mail address to receive FREE INFO about 'The Card' HERE.
RETURN TO TOP OF PAGE