Top Automotive Marques, Media, Museums and Shows

"A Horse! A Horse! My Kingdom for a horse!" - quote from Shakespeare's play Richard III, Act 5. Scene IV.

"Strive for perfection in everything we do. Take the best that exists and make it better. When it does not exist, design it." - Sir Henry Royce.

"At 60 miles an hour the loudest noise in this Rolls-Royce comes from the electric clock." - David Ogilvy - 1958 Rolls-Royce Advertisement.

"Speed is the only truly modern sensation!" - Aldous Huxley.

An AUTOMOBILE, motor car or car is a wheeled motor vehicle used for transporting passengers, which also carries its own engine or motor. Most definitions of the term specify that automobiles are designed to run primarily on roads, to have seating for one to eight people, to typically have four wheels, and to be constructed principally for the transport of people rather than goods. However, the term automobile is far from precise, because there are many types of vehicles that do similar tasks.

As of 2002, there were 590 million passenger cars worldwide (roughly one car per eleven people). Around the world, there were about 806 million cars and light trucks on the road in 2007; they burn over 260 billion gallons of gasoline and diesel fuel yearly. The numbers are increasing rapidly, especially in China and India.

The large-scale, production-line manufacturing of affordable automobiles was debuted by Ransom Olds at his Oldsmobile factory in 1902. This concept was greatly expanded by Henry Ford, beginning in 1914.

Car classification is hard to do since many vehicles fall into multiple categories or do not fit well into any.

Driving in traffic is more than just knowing how to operate the mechanisms which control the vehicle; it requires knowing how to apply the rules of the road (which govern safe and efficient sharing with other users). An effective driver also has an intuitive understanding of the basics of vehicle handling.

A person is subject to the laws of the jurisdiction in which he or she is driving. The rules of the road, driver licensing and vehicle registration schemes that apply vary considerably between jurisdictions, as do laws imposing criminal responsibility for negligent driving, vehicle safety inspections and compulsory insurance. The standard of responsibility imposed by these laws is based on the extraordinary danger of driving motor vehicles. Most countries also have differing laws against driving whilst under the influence of alcohol or drugs.

Motorists are almost universally required to take lessons with an approved instructor and pass a driving test before being granted a license. The trend has been towards increasingly tougher tests in recent decades.

A MOTORCYCLE (also called a motorbicycle, motorbike, bike, or cycle) is a single-track, two-wheeled motor vehicle. Motorcycles vary considerably depending on the task for which they are designed, such as long distance travel, navigating congested urban traffic, cruising, sport and racing, or off-road conditions.

Motorcycles are the most affordable form of motorised transport in many parts of the world, and for most of the world's population, they are also the most common type of motor vehicle. There are around 200 million motorcycles (including mopeds, motor scooters and other powered two- and three-wheelers) in use worldwide, or about 33 motorcycles per 1000 people.

Arguably, the first motorcycle was designed and built by the German inventors Gottlieb Daimler and Wilhelm Maybach in Bad Cannstatt (since 1905 a city district of Stuttgart) in 1885. The first petroleum-powered vehicle was essentially a motorised bicycle, although the inventors called their invention the Reitwagen ("riding car"). It was designed as an expedient testbed for their new engine, rather than a true prototype vehicle.[citation needed] However, if a two-wheeled vehicle with steam propulsion is considered a motorcycle, then the first one may have been American. One such machine was demonstrated at fairs and circuses in the eastern U.S. in 1867, built by Sylvester Howard Roper of Roxbury, Massachusetts.

Around the world, motorcycles have historically been associated with subcultures. Some of these subcultures have been loose-knit social groups such as the cafe racers of 1950s Britain, and the Mods and Rockers of the 1960s. A few are believed to be criminal gangs.

While people choose to ride motorcycles for various reasons, those reasons are increasingly practical, with riders opting for a powered two-wheeler as a cost-efficient alternative to infrequent and expensive public transport systems, or as a means of avoiding or reducing the effects of urban congestion.

There are three major types of motorcycle: street, off-road, and dual purpose. Within these types, there are many different sub-types of motorcycles for many different purposes.

Street bikes include cruisers, sportbikes, scooters and mopeds, and many other types. Off-road motorcycles include many types designed for dirt-oriented racing classes such as motocross and are not street legal in most areas. Dual purpose machines like the dual-sport style are made to go off-road but include features to make them legal and comfortable on the street as well.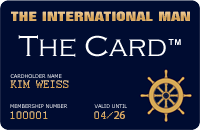 Upcoming VIP Privilege Membership Card
The International Man will in the near future be launching its own PRIVILEGE & BENEFIT VIP MEMBERSHIP CARD - named simply 'The Card'. Members will receive special privileges, benefits and preferential rates with selected partner hotels, restaurants, our LUXURY WEBSHOP, and more. Enter your name and e-mail address to receive FREE INFO about 'The Card' HERE.
RETURN TO TOP OF PAGE