Top 200 Greatest Crime and Thriller Writers of All Time

"Every murderer is probably somebody's old friend." - Agatha Christie.

"It is ridiculous to set a detective story in New York City. New York City is itself a detective story." - Agatha Christie.

"There is nothing more deceptive than an obvious fact." - Arthur Conan Doyle.

"Once you eliminate the impossible, whatever remains, no matter how improbable, must be the truth." - Arthur Conan Doyle.

"A really good detective never gets married." - Raymond Chandler.

"A good story cannot be devised; it has to be distilled." - Raymond Chandler.

"The perfect detective story cannot be written. The type of mind which can evolve the perfect problem is not the type of mind that can produce the artistic job of writing" - Raymond Chandler.

"The private detective of fiction is a fantastic creation who acts and speaks like a real man. He can be completely realistic in every sense but one, that one sense being that in life as we know it such a man would not be a private detective." - Raymond Chandler.

CRIME FICTION is the literary genre that fictionalises crimes, their detection, criminals and their motives. It is usually distinguished from mainstream fiction and other genres such as science fiction or historical fiction, but boundaries can be, and indeed are, blurred. It has several sub-genres, including detective fiction (such as the whodunnit), legal thriller, courtroom drama and hard-boiled fiction.

MYSTERY FICTION is a loosely-defined term:

1. It is oten used as a synonym for detective fiction or crime fiction - in other words a novel or short story in which a detective (either professional or amateur) investigates and solves a crime mystery. Sometimes mystery books are nonfiction. The term "mystery fiction" may sometimes be limited to the subset of detective stories in which the emphasis is on the puzzle/suspense element and its logical solution (cf. whodunit), as a contrast to hardboiled detective stories, which focus on action and gritty realism.

2. Although normally associated with the crime genre, the term "mystery fiction" may in certain situations refer to a completely different genre, where the focus is on supernatural or thriller mystery (the solution doesn't have to be logical, and even no crime is involved). This usage was common in the pulp magazines of the 1930s and 1940s, where titles such as Dime Mystery, Thrilling Mystery and Spicy Mystery offered what at the time were described as "weird menace" stories – supernatural horror in the vein of Grand Guignol. This contrasted with parallel titles of the same names which contained conventional hardboiled crime fiction. The first use of "mystery" in this sense was by Dime Mystery, which started out as an ordinary crime fiction magazine but switched to "weird menace" during the latter part of 1933.

DETECTIVE FICTION is a sub-genre of crime fiction and mystery fiction in which an investigator (often a detective), either professional or amateur, investigates a crime, often murder.

SPY FICTION, literature concerning the forms of espionage, was a sub-genre derived from the novel during the nineteenth century, which then evolved into a discrete genre before the First World War (1914–18), when governments established modern intelligence agencies in the early twentieth century. As a genre, spy fiction is thematically related to the novel of adventure (The Prisoner of Zenda, 1894, The Scarlet Pimpernel, 1905), the thriller (such as the works of Edgar Wallace) and the politico–military thriller (The Schirmer Inheritance, 1953, The Quiet American, 1955).

THRILLER is a broad genre of literature, film, and television programming that uses suspense, tension and excitement as the main elements. Thrillers heavily stimulate the viewer's moods giving them a high level of anticipation, ultra-heightened expectation, uncertainty, surprise, anxiety and/or terror. Thriller films tend to be adrenaline-rushing, gritty, rousing and fast-paced. Literary devices such as red herrings, plot twists and cliffhangers are used extensively. A thriller is a villain-driven plot, whereby he or she presents obstacles that the protagonist must overcome.

The aim for thrillers is to keep the audience alert and on the edge of their seats. The protagonist in these films is set against a problem – an escape, a mission, or a mystery. No matter what sub-genre a thriller film falls into, it will emphasize the danger that the protagonist faces. The tension with the main problem is built on throughout the film and leads to a highly stressful climax. The cover-up of important information from the viewer, and fight and chase scenes are common methods in all of the thriller subgenres, although each subgenre has its own unique characteristics and methods.

Common subgenres are psychological thrillers, crime thrillers and mystery thrillers. After the assassination of President Kennedy, the political thriller genre became very popular. Another common subgenre of thriller is the spy genre which deals with fictional espionage. Successful examples of thrillers are the films of Alfred Hitchcock. The horror and action genres often overlap with the thriller genre.

A WHODUNIT or whodunnit (for "Who done [did] it?") is a complex, plot-driven variety of the detective story in which the puzzle is the main feature of interest. The reader or viewer is provided with clues from which the identity of the perpetrator of the crime may be deduced before the solution is revealed in the final pages of the book. The investigation is usually conducted by an eccentric amateur or semi-professional detective.

A HOWCATCHEM is a murder mystery fiction structure in which the commission of the crime is shown or described at the beginning, usually including the identity of the perpetrator. The story then describes the detective's attempt to solve the mystery. There may also be subsidiary puzzles, such as why the crime was committed, but those are cleared up along the way. This format is the opposite of the more typical "whodunit", where all of the details of the crime and the perpetrator are not revealed until the story's climax.

Crime Literature News, Reviews & Resources

007 Ways to Buy James Bond 1st Editions - Artistic License Renewed.
4am starts & spinach smoothies: Da Vinci Code's Dan Brown on how to write a bestseller - "As he sets out to spill his secrets in an online masterclass, Brown talks about bad reviews, his habit of hanging upside down and the challenge of writing fiction in the age of Trump."
7 clandestine words from John le CarrÉ - "Tinker, Tailor, Soldier, Dictionary."
10 Commandments of Detective Fiction - Ronald Knox (1929).
16 Best True Crime Books of All Time - "From classics like Truman Capote's In Cold Blood to newer page-turners like Ron Stallworth's Black Klansman, these books are must reads."
50 best TV detectives & sleuths - The Telegraph.
50 crime writers to read before you die - The Telegraph.
50 great thrillers by women - " From Agatha Christie to Gillian Flynn."
Agatha Christie's race problem - "Death on the Nile and addressing racism in Agatha Christie. With Kenneth Branagh's second Hercule Poirot film out, Christie is hot Hollywood property once more. But how should adaptors navigate her books' attitude to race, asks David Jesudason."
Al Capone's family hopes auction will humanize him - "Items for sale include photographs, firearms, jewelry and furniture belonging to gangster and his family."
Al Capone's favorite gun, personal items head to auction - "Al Capone is infamous for having been a ruthless mob boss, but one of his granddaughters says Capone's softer side will shine through when the family auctions some of his personal belongings in October."
Alexander Litvinenko: the man who solved his own murder - The Guardian.
Anne Perry, killer turned crime writer, dies aged 84 - "After murdering her friend's mother as a teenager, as dramatised in film Heavenly Creatures, she turned to writing period thrillers."
Arthur Conan Doyle's estate sues Netflix for giving Sherlock Holmes too many feelings - "The estate of Sir Arthur Conan Doyle has sued Netflix over its upcoming film Enola Holmes, arguing that the movie's depiction of public domain character Sherlock Holmes having emotions and respecting women violates Doyle's copyright."
Artistic License Renewed - "An Art and Literary James Bond Blog and Tribute to Richard Chopping."
Baker Street Irregulars - fictional characters who appear in three Sherlock Holmes stories, specifically two novels and one short story, by Arthur Conan Doyle. They are street boys who are employed by Holmes as intelligence agents.
Beeton's Christmas Annual - was a paperback magazine printed in England yearly between 1860 and 1898, founded by Samuel Orchart Beeton. The November 1887 issue contained a novel by Arthur Conan Doyle entitled A Study in Scarlet which introduced the characters Sherlock Holmes and his friend Watson.
Bouchercon - annual convention of creators and devotees of mystery and detective fiction. It is named in honour of writer, reviewer, and editor Anthony Boucher; also the inspiration for the Anthony Awards, which have been issued at the convention since 1986.
Caper story - subgenre of crime fiction. The typical caper story involves one or more crimes (especially thefts, swindles, or occasionally kidnappings) perpetrated by the main characters in full view of the reader. The actions of police or detectives attempting to prevent or solve the crimes may also be chronicled, but are not the main focus of the story.
CELEBRITY MUG SHOTS: 1-50 - TMZ.
City mysteries - 19th-century genre of popular novel, in which characters explore the secret underworlds of cities and reveal corruption and exploitation, depicting violence and deviant sexuality. They were popular in both Europe & the United States.
Crime dramas are often set in English villages because they are places of 'hatred, mistrust and bitterness' - The Telegraph.
CRIME FICTION - the literary genre that fictionalises crimes, their detection, criminals, and their motives. It is usually distinguished from mainstream fiction and other genres such as historical fiction or science fiction, but the boundaries are indistinct. Crime fiction has multiple subgenres, including detective fiction (such as the whodunit), courtroom drama, hard-boiled fiction and legal thrillers. Suspense and mystery are key elements that are nearly ubiquitous to the genre.
CRIME WRITERS' ASSOCIATION - writers' association in the United Kingdom founded in 1953.
CRYPTO MUSEUM - "At present we are a virtual museum in The Netherlands, that can only be visited on the internet. We do, however, regularly organize exhibitions in co-operation with other museums."
Cui bono - literally "for whose benefit?", is a Latin phrase which is still in use as a key forensic question in legal and police investigation: finding out who has a motive for a crime. It is an adage that is used either to suggest a hidden motive or to indicate that the party responsible for something may not be who it appears at first to be.
Detection Club - formed in 1930 by a group of British mystery writers.
Do you have what it takes to be a secret agent - The Telegraph.
Domestic Noir - literary subgenre within crime fiction.
downfall of one of world's most notorious criminals - "El Chapo guilty: Will his jailing change anything? The trial and conviction of the notorious Joaquín Guzmán Loera, also known as El Chapo, told us much about the man, the multi-billion drugs trade and the attempts to stop it."
Edgar Allan Poe: the master of horror writing - The Telegraph.
ELEMENTARY, MY DEAR WATSON - origin of the phrase.
Essential John le CarrÉ - "His clever, melancholic mind produced some of the most enduring heroes in spy fiction. Here are his best books." The New York Times.
Gentleman thief - definition & explanation.
George and Ann - "John le Carré wrote one of the strangest marriages in fiction."
Golden Age of Detective Fiction - Wikipedia.
GOOD COP / BAD COP - definition & explanation.
greatest spy novel ever written? - "Why John le Carré's The Spy Who Came in from the Cold is the ultimate spy novel. As it turns 60, Adam Scovell celebrates the gritty power of this tale of a disillusioned British agent who's the opposite of James Bond, which was rooted in Le Carré's own experiences in espionage."
Had I but known - a form of prolepsis or foreshadowing that hints at some looming disaster in which the first-person narrator laments his or her course of action which precipitates some or other unfortunate series of actions.
Has the Great Train Robbery's leader finally been unmasked? - "Detective identifies gangster Billy Hill as mastermind of 1963 crime that still fascinates the public."
Historical mystery - or historical whodunit is a subgenre of two literary genres, historical fiction and mystery fiction. These works are set in a time period considered historical from the author's perspective, and the central plot involves the solving of a mystery or crime (usually murder).
History of crime fiction - Wikipedia.
Hostile Witness - witness at trial whose testimony on direct examination is either openly antagonistic or appears to be contrary to the legal position of the party who called the witness.
How maths can solve Agatha Christie's whodunnits - Daily Mail.
howcatchem - an inverted detective story, also known as a "howcatchem", is a murder mystery fiction structure in which the commission of the crime is shown or described at the beginning, usually including the identity of the perpetrator. The story then describes the detective's attempt to solve the mystery. There may also be subsidiary puzzles, such as why the crime was committed, but those are cleared up along the way. This format is the opposite of the more typical "whodunit", where all of the details of the perpetrator of the crime are not revealed until the story's climax.
'I did not let Kim Philby go. He gave me the slip' - "'What an MI6 spy told me over lunch.' A new TV series highlights the part played by the UK intelligence service's Nicholas Elliott in unmasking the 1960s Cambridge spy ring - events he recalled years later over lunch at his club."
'I just wanted my life to end': the mystery of Agatha Christie's disappearance - "In 1926 the world's bestselling author vanished for 11 days. Did she really go into hiding to frame her husband for murder? Historian Lucy Worsley reopens a case still shrouded in mystery."
Ian Fleming & the World of James Bond - "Delve into the world of James Bond and his creator, Ian Fleming. This exhibition explores the James Bond novels, showcases the manuscripts for novels, and features Fleming as a book collector." Lilly Library, Indiana University. The James Bond novels and their manuscripts.
Ian Rankin: 'The Prime of Miss Jean Brodie is a perfect gem of a story' - "The crime writer on being fascinated by A Clockwork Orange, inspired by Dr Jekyll and Mr Hyde and taking comfort in Muriel Spark's novel."
IC Codes - codes used by the British police in radio communications to describe the apparent ethnicity of a suspect.
Inside the 21st-century British criminal underworld - "There are almost 5,000 criminal gangs in the UK. But the old family firms are gone – today's big players are multinational, diversified and tech-savvy."
INVERTED DETECTIVE STORY - also known as a "howcatchem", is a murder mystery fiction structure in which the commission of the crime is shown or described at the beginning, usually including the identity of the perpetrator.
Jack the Ripper identity: mystery 'solved' in new book - The Telegraph.
JAMES BOND 007 MUSEUM - Nybro, Sweden.
JAMES BOND LIFESTYLE AUCTIONS - James Bond memorabilia, and more.
JAMES BOND PRODUCT PLACEMENT - over 50 years of financing the film franchise through product placement.
JAMES BOND WIKI - the ultimate James Bond resource.
James Bond's Weekly alcohol consumption - study by British Medical Journal.
JEAN-BAPTISTE Greuze - (1725-1805). French painter of portraits, genre scenes, and history painting. In the second chapter of Sir Arthur Conan Doyle's Sherlock Holmes story The Valley of Fear, Holmes' discussion of his enemy Professor Moriarty involves a Greuze painting in his possession, intended to illustrate Moriarty's wealth despite his small legitimate salary as an academic.
John le CarrÉ: a life in pictures - The Guardian.
John le CarrÉ, author of Tinker Tailor Soldier Spy, dies aged 89 - "Thriller writer most famous for stories of complex cold war intrigue began his career as a real-life spy in postwar Europe."
John le CarrÉ didn't invent the spy novel - he joined a tradition and made it new again - "William Boyd remembers an exemplar of the ultimate literary professional, tirelessly writing at the top of his game well into his 80s."
John le CarrÉ: I was beaten by my father, abandoned by my mother - The Guardian.
John le CarrÉ remembered by writers & friends: 'He always had a naughty twinkle in the eye' - "Margaret Atwood, John Banville, Tom Stoppard, Ralph Fiennes, John Boorman and more pay tribute to a master who transcended the limits of spy fiction."
John le CarrÉ: The Spy Novelist Who (Mostly) Kept Quiet - "'A Private Spy,' a collection of the British writer's letters, offers glimpses of unguarded moments and ruffled feathers."
Kim Philby, Lecturing in East Berlin in '81, Bragged of How Easy It Was to Fool MI6 - The New York Times.
Legal drama - Wikipedia.
LIST OF CRIME WRITERS - Wikipedia.
LIST OF EUROPEAN MYSTERY WRITERS - Wikipedia.
LIST OF THRILLER WRITERS - Wikipedia.
Locard's exchange principle - holds that the perpetrator of a crime will bring something into the crime scene and leave with something from it, and that both can be used as forensic evidence. Dr. Edmond Locard (13 December 1877 – 4 May 1966) was a pioneer in forensic science who became known as the Sherlock Holmes of France. He formulated the basic principle of forensic science: "Every contact leaves a trace".
Locked room mystery - sub-genre of detective fiction in which a crime—almost always murder—is committed under apparently impossible circumstances.
London's most infamous spy locations - The Telegraph.
Medieval Murder Maps - "The interactive Medieval Murder Maps give unique insight into violence, and justice in late medieval London, York, and Oxford." Discover the murders, sudden deaths, sanctuary churches, and prisons of three thriving medieval cities. Click on a pin to read the story based on the original record written down in the rolls of the coroner.
MI5 missed early chance to expose Soviet agent Kim Philby, files reveal - "British intelligence viewed Flora Solomon as 'inconsequential' in 1951 but her evidence later 'clinched' case against Philby."
Minor Sherlock Holmes characters - "The list excludes the titular character as well as Dr. Watson, Professor Moriarty, Inspector Lestrade, Mycroft Holmes, Mrs. Hudson, Irene Adler, Colonel Moran, the Baker Street Irregulars, and characters not significant enough to mention."
Murder In The House Of Gucci - "he call that would change everything came late in the evening of January 8, 1997. The anonymous caller asked to speak to Filippo Ninni, the head of police for the Italian region of Lombardia, and demanded a meeting. The caller did not want to say too much over the phone: 'I'm going to say just one name: Gucci.'"
My Al Capone Museum - "Now with over 130 web pages and 3385 images!" Photographs and stories about several of Capone's personal items as well as related documents, articles, and merchandise.
Mystery Readers International - fan/reader organization open to all readers, fans, critics, editors, publishers, and writers of Mystery fiction.
MYSTERY STORY - detective fiction is a branch of crime fiction in which a detective, either professional or amateur, investigates a crime, often murder.
MYSTERY WRITERS OF AMERICA - the premier organization for mystery and crime writers, professionals allied to the crime writing field, aspiring crime writers, and folks who just love to read crime fiction.
Naming Jack the Ripper: The Biggest Forensic Breakthrough Since 1888 - Amazon.com.
opposite number - a person who holds a position in an organization or system corresponding to that of a person in another organization or system; a counterpart.
Perry Mason moment - In court proceedings in the United States, a Perry Mason moment is said to have occurred whenever information is unexpectedly (to most present), and often dramatically, introduced into the record that changes the perception of the proceedings greatly and often influences the outcome. Often it takes the form of a witness's answer to a question, but it can sometimes come in the form of new evidence.
Person of interest - term used by U.S. law enforcement when identifying someone involved in a criminal investigation who has not been arrested or formally accused of a crime. It has no legal meaning, but refers to someone in whom the police are "interested," either because the person is cooperating with the investigation, may have information that would assist the investigation, or possesses certain characteristics that merit further attention.
Pipe dreams: on the trail of Maigret's Paris - The Guardian.
POLICE PROCEDURAL MYSTERY STORY - a sub-genre of the mystery story which attempts to convincingly depict the activities of a police force as they investigate crimes.
Policier - a film based on a police novel, portraying crime and its detection by police.
Potboiler - low-quality novel, play, opera, film, or other creative work whose main purpose was to pay for the creator's daily expenses.
Private eye - from private investigator and its abbreviation P.I., through the homophonic term eye in place of "I", and the used of eye as a reference to survellience.
Professor Challenger - fictional character in a series of fantasy and science fiction stories by Sir Arthur Conan Doyle.
Psychological thriller - Wikipedia.
Quiller - Quiller is a fictional character created by English novelist Elleston Trevor. Quiller, whose one-word name is a pseudonym, works as a spy, and he is the hero of a series of 19 Cold War thrillers written under the pseudonym Adam Hall, and became Trevor's most popular character.
Red herring - something that misleads or distracts from a relevant or important issue. It may be either a logical fallacy or a literary device that leads readers or audiences towards a false conclusion.
Rocambole - fictional adventurer created by Pierre Alexis Ponson du Terrail, a 19th-century French writer. Rocambole anticipates characters such as A.J. Raffles, Arsène Lupin, Fantômas, The Saint, Doc Savage, Judex and The Shadow.
Rose Line - fictional name given to the Paris Meridian popularized by Dan Brown in his 2003 novel, The Da Vinci Code.
Russian Roulette: The Life and Times of Graham Greene review - addicted to danger - "A new biography, by Richard Greene, insists there was more to the author than 'sex, books and depression'."
Sherlock Holmes will finally escape copyright this weekend - "Metropolis, To The Lighthouse, and the final Holmes stories are all entering the public domain."
Sherlock Holmes' famous memory trick really works - "Anyone can become a memory champion. Sherlock Holmes remembers everything by imagining that he's storing bits of information in a 'memory palace,' a technique that originated in ancient Greece. Now, researchers have found that this method really does work to create long-lasting memories. Users of the mnemonic technique, called the 'method of loci,' mentally navigate around a familiar place, such as a path (or Holmes' palace)."
Sisters in Crime - organization that has 3,600 members in 48 chapters world-wide, offering networking, advice and support to mystery authors.
Spy fiction - Wikipedia.
Stieg Larsson & the unsolved murder case of Olof Palme - "The assassination of Swedish prime minister Olof Palme obsessed Larsson for years - he even put several references to it in his novels. Do his secret files contain vital clues?"
STRAND MAGAZINE - "The magazine for mystery & short story lovers."
The Baker Street Journal - since 1946. "The premier publication of scholarship about Sherlock Holmes." 'An Irregular quarterly' of Sherlockiana, published by the Baker Street Irregulars.
THE BUTLER DID IT - definition & explanation.
THE CAMBRIDGE FIVE - a ring of spies in the UK who passed information to the Soviet Union during World War II and into the early 1950s.
The many lives of John le CarrÉ, in his own words - The Guardian.
The Mob Museum - Las Vegas, NV. Dedicated to featuring the artifacts, stories, and history of organized crime in the United States. E.g. the St. Valentine's Day Massacre Wall are a Tommy gun (which can be touched, held and even "pretend" shot), an electric chair, as well as the barber chair Albert Anastasia was murdered in.
THE MYSTERIOUS BOOKSHOP - "The World's Finest Mystery Specialty Store. Offering the best in Mystery, Crime, Suspense, Espionage & Detective Fiction." New York City, NY, U.S.A.
the secrets of France's top serial killer expert - "An intrepid expert with dozens of books to his name, Stéphane Bourgoin was a bestselling author, famous in France for having interviewed more than 70 notorious murderers. Then an anonymous collective began to investigate his past."
The Sherlock Holmes Pub - "The Sherlock Holmes pub is a traditional English pub serving pints and pub food. As well as a bar and restaurant, the pub has a secret - a complete recreation of Holmes and Watson's study and sitting." 10 Northumberland Street St James, London WC2N 5DB, England.
The surprising benefits of a whodunnit - "Mystery games are hugely popular and have inspired generations of amateur sleuths. But their appeal is more than trivial - they have surprising mental and emotional benefits, and can even help to explain the biases of real eyewitnesses."
The Ten Commandments of Detective Fiction - Ronald Knox (1929).
The two illusions that tricked Sir Arthur Conan Doyle - "Two real-life hoaxes managed to fool the creator of Sherlock Holmes - and they help to reveal our own 'metacognitive illusions' that influence our memory and perception."
The World's Greatest Detective - The New York Times.
THRILLER - definition & explanation.
Tom Hiddleston reads from John le CarrÉ's The Night Manager - video - "To celebrate the publication of John le Carré's first memoir, Tom Hiddleston reads from The Night Manager. Don't miss other leading actors reading le Carré's work, and an exclusive extract from The Pigeon Tunnel: Stories from My Life (Penguin), at theguardian.com on 3 September."
Top 10 golden age detective novels - "For some, 'cosy crime' of the 1920s and 30s is class-ridden and formulaic – but classic authors such as Agatha Christie and Josephine Tey paved the way for modern fiction as we know it."
Top 100 Crime Novels of All Time - Wikipedia.
Top writers choose their perfect crime novel - The Guardian.
Tozai Mystery Best 100 - "The Top 100 Mystery Novels of the East and the West."
True crime - is a non-fiction literary and film genre in which the author examines an actual crime and details the actions of real people.
True Detective - (1924-1995). Considered the first true crime magazine.
When the Creator of Sherlock Holmes Exonerated a Convicted Murderer - The New York Times.
Where Dracula Was Born, and It's Not Transylvania - The New York Times.
Whodunit - (for "Who [has] done it?" or "Who did it?") is a complex, plot-driven variety of the detective story in which the audience is given the opportunity to engage in the same process of deduction as the protagonist throughout the investigation of a crime. The reader or viewer is provided with the clues from which the identity of the perpetrator may be deduced before the story provides the revelation itself at its climax. The investigation is usually conducted by an eccentric, amateur, or semi-professional detective.
Whodunnit? Did Agatha Christie 'borrow' the plot for acclaimed novel? - "Translator uncovers twist in the tale of The Murder of Roger Ackroyd ... it may have been inspired by Norwegian author's story."
why thrillers are leaving other books for dead - The Guardian.
William Gillette - (1853-1937). American actor, playwright and stage-manager in the late 19th and early 20th centuries. He is best remembered for portraying Sherlock Holmes on stage and in a 1916 silent film long thought lost. Gillette's most significant contributions to the theater were in devising realistic stage settings and special sound and lighting effects, and as an actor in putting forth what he called the "Illusion of the First Time". His portrayal of Holmes helped create the modern image of the detective.

Top 200 Crime, Mystery, Spy & Thriller Writers: A-Z

The authors' fictional protagonist(s) is indicated in the brackets.

A B C D E F G H I J K L M N O P Q R S T U V W X Y Z

- A -

Aaron Marc Stein - 1906-1985. Wrote under the nom de plume George Bagby.
ADAM HALL - 1920-1995. (British secret agent Quiller). Pseudonym used by Elleston Trevor.
AGATHA CHRISTIE - 1890–1976. (Elderly spinster Miss Jane Marple & Belgian detective Hercule Poirot).
A. J. Quinnell - 1940-2005. Pen name of the English thriller novelist Philip Nicholson. (American-born former member of the French Foreign Legion Marcus Creasy).
ALAN FURST - 1941-.
ALAN HUNTER - 1922-2005. (Inspector George Gently).
Alexander McCall Smith - 1948-. (Motswana woman Mma Precious Ramotswe).
Alfred Alexander Gordon Clark - 1900-1958. Wrote under the nom de plume Cyril Hare.
Alistair MacLean - 1922-1987. Perhaps best known for The Guns of Navarone.
Andrea Camilleri - 1925-2019. (Sicilian detective Inspector Salvo Montalbano).
ANN CLEEVES - 1954-. British mystery crime writer. She wrote the Vera Stanhope, Jimmy Perez, and Matthew Venn series, all three of which have been adapted into TV shows. In 2006 she won the inaugural Duncan Lawrie Dagger, the richest crime-writing prize in the world. (Inspectors Ramsay, Vera Stanhope & Shetland Island series).
ANN RULE - (1930/1931-2015). American true crime author.
Anne Perry - (1938-2023). Was a British convicted murderer and writer best known as the author of the Thomas Pitt and William Monk series of historical detective fiction.
Anthony Berkeley Cox - 1893–1971. (Amateur detective Roger Sheringham). Wrote under several pen-names, including Francis Iles, Anthony Berkeley and A. Monmouth Platts.
Anthony Boucher - 1911-1968. (Former cop Nick Noble).
Anthony Horowitz - 1955-. (on 19 January 2011, he was announced by the estate of Arthur Conan Doyle to be the official writer for a new Sherlock Holmes book).
Anthony Price - 1928-. (David Audley).
ARNE DAHL - 1963-. Pen name of Jan Arnald. (A-team). "Regarded as one of the finest literary crime writers of Scandinavia. A Swedish award-winning author, critic and editor, Dahl is the creator of the bestselling Intercrime series and Opcop quartet. His books have sold more than 4 million copies, and been translated into 32 languages. For his eminent authorship, Dahl has been awarded the premier crime writing awards of Germany, Denmark and Sweden. In 2016 he began his new series about detectives Sam Berger and Molly Blom."
Arnold Bennett - (1867-1931). Bennett dabbled in crime fiction, in The Grand Babylon Hotel and The Loot of Cities (1905). In Queen's Quorum (1951), a survey of crime fiction, Ellery Queen listed the latter among the 100 most important works in the genre. This collection of stories recounts the adventures of a millionaire who commits crimes to achieve his idealistic ends. Although it was "one of his least known works," it was nevertheless "of unusual interest, both as an example of Arnold Bennett's early work and as an early example of dilettante detectivism".
Arthur Cheney Train - (1875-1945). Was an American lawyer and writer of legal thrillers, particularly known for his novels of courtroom intrigue and the creation of the fictional lawyer Mr. Ephraim Tutt.
ARTHUR CONAN DOYLE - 1859-1930. (Consulting detective Sherlock Holmes & John H. Watson, M.D., known as Dr. Watson).
Arthur Morrison - 1863-1945. (Detective Martin Hewitt).

A B C D E F G H I J K L M N O P Q R S T U V W X Y Z

- B -

Barbara Mertz - 1927-. Writes under the pseudonyms Elizabeth Peters and Barbara Michaels.
Barbara Vine - 1930-. Pseudonym used by Ruth Rendell.
Baynard Kendrick - 1884-1977. (Blind private investigator Duncan Maclain).
Ben Macintyre - 1963-. British author, historian, reviewer and columnist writing for The Times newspaper. Author of a book on the gentleman criminal Adam Worth, The Napoleon of Crime: The Life and Times of Adam Worth, Master Thief.
Benjamin Black - 1945-. Pseudonym used by John Banville. (Pathologist Quirk).
Bernard Minier - 1960-.
Bill Pronzini - 1943-.
Bill S. Ballinger - 1912-1980. (Chicago private investigator Barr Breed & native American Central Intelligence Agency agent Joaquin Hawke).
Boris Akunin - 1956-. (Fictional 19th-century Russian detective Erast Fandorin). Pen name of Grigory Chkhartishvili. Russian writer of Georgian origin.
Bram Stoker - 1847-1912. Best known for his 1897 Gothic horror novel Dracula. (Vampire Count Dracula & Professor Abraham Van Helsing).
Brian Freemantle - 1936-. He has also written as John Maxwell, Jonathan Evans, Jack Winchester and Richard Gant.
Brian Haig - 1953-. American thriller author and Fox News military analyst. Many of his books involve special forces officer turned Army JAG lawyer Major/Lieutenant Colonel Sean Drummond.

A B C D E F G H I J K L M N O P Q R S T U V W X Y Z

- C -

CAROLINE GRAHAM - 1931-. (Detective chief Inspector Tom Barnaby and Sergeant Troy).
Carr Dickson - 1906-1977. Pseudonym used by John Dickson Carr.
Carter Dickson - 1906-1977. Pseudonym used by John Dickson Carr.
Caryl FÉrey - 1967-.
Cecil Day-Lewis - 1904-1972. He also wrote mystery stories under the pseudonym of Nicholas Blake. In 1935, Day-Lewis decided to increase his income from poetry by writing a detective novel, A Question of Proof under the pseudonym Nicholas Blake. He created Nigel Strangeways, an amateur investigator and gentleman detective who, as the nephew of an Assistant Commissioner at Scotland Yard, has access to official crime investigations. He published nineteen further crime novels.
Cecil Street - 1884-1965.
Charles Dickens - 1812-1870. (Inspector Bucket is one of the first detectives in fiction in Dickens's Bleak House). His major contribution to crime novels is The Mystery of Edwin Drood left unfinished at the time of Dickens' death and his ending for it remains unknown. Consequently, the identity of the murderer remains subject to debate.
Christianna Brand - 1907-1988. (Inspector Cockrill of the Kent County Police). Wrote under the pseudonyms Mary Ann Ashe, Annabel Jones, Mary Roland, and China Thomson.
Clive Cussler - 1931-. (Dirk Pitt).
Colin Bateman - 1962-. (Journalist Dan Starkey).
COLIN DEXTER - 1930-2017. (Detective Chief Inspector Morse and Detective Sergeant Lewis).
COLLIER YOUNG - 1908-1980. (Chief of Detectives Robert T. Ironside).
Cornell Woolrich - 1903-1968. Sometimes wrote under the pseudonyms William Irish and George Hopley.
Craig Rice - 1908-1957. Sometimes described as "the Dorothy Parker of detective fiction." (John J. Malone & Jake and Helene Justus).
Curt Cannon - 1926-2005. Pseudonym used by Ed McBain.
Cyril Hare - 1900-1958. Pseudonym of Alfred Alexander Gordon Clark. (Barrister Francis Pettigrew & inspector Mallett).
Cyril McNeile - 1888-1937. (Captain Hugh "Bulldog" Drummond, DSO, MC).

A B C D E F G H I J K L M N O P Q R S T U V W X Y Z

- D -

DAN BROWN - 1964-. (Symbologist Robert Langdon). Best known for bestselling novel The Da Vinci Code.
Dan Kavanagh - 1946-. Pseudonym used by Julian Barnes. (Duffy, a bisexual ex-copper).
Daphne du Maurier - 1907-1989.
DASHIELL HAMMETT - 1894-1961. (Private detective Sam Spade, detective duo Nick & Nora Charles & private investigator The Continental Op).
David Ignatius - 1950-.
Dean Koontz - 1945-. American author best known for his novels, which can broadly be described as suspense thrillers, but also frequently incorporate elements of horror, science fiction, mystery, and satire.
Denise Mina - 1966-. Scottish crime writer and playwright. She has written the Garnethill trilogy and another three novels featuring the character Patricia "Paddy" Meehan.
Desmond Bagley - 1923-1983.
DICK FRANCIS - 1920-2010. (Ex-jockey Sid Halley).
DON WINSLOW - 1953-. (Private investigator Neal Carey).
Donald E. Westlake - 1933-2008. (Hard-boiled criminal Parker). Published under several pseudonyms.
Donald Hamilton - 1916-2006. (U.S. government counter-agent Matt Helm).
Dorothy B. Hughes - 1904-1993.
Dorothy Gilman - 1923-2012. (Mrs. Emily Pollifax).
DOROTHY L. SAYERS - 1893–1957. (Lord Peter Wimsey).
Dorothy Salisbury Davis - 1916-.
Dror Mishani - 1975-. Israeli crime writer, translator and literary scholar, specializing in the history of detective fiction. His series of crime fiction, featuring police inspector Avraham Avraham, was first published in Hebrew in 2011 and is translated to over 15 languages.

A B C D E F G H I J K L M N O P Q R S T U V W X Y Z

- E -

E. C. Bentley - 1875-1956. Edmund Clerihew Bentley was a popular English novelist and humorist of the early twentieth century, and the inventor of the Clerihew and a schoolmate of G.K. Chesterton. His detective novel, Trent's Last Case (1913), was much praised, numbering Dorothy L. Sayers among its admirers, and with its labyrinthine and mystifying plotting can be seen as the first truly modern mystery.
E. Phillips Oppenheim - 1866-1946. English novelist, in his lifetime a major and successful writer of genre fiction including thrillers.
ED McBAIN - 1926-2005. (Detective Steve Carella).
Eden Phillpotts - 1862-1960.
EDGAR ALLAN POE - 1808-1849. (Le Chevalier detective C. Auguste Dupin).
Edgar Box - 1952 - 1954. Pseudonym of Gore Vidal. Vidal published three mystery novels in the 1950s under the pseudonym "Edgar Box," and though for years he maintained relative secrecy about his authorship of books. His protagonist in each was Peter Cutler Sargeant II, a young New York public relations specialist who seemed to get caught up in murders and who became quite adept at solving them.
EDGAR WALLACE - 1875-1932. (Dept. inspector Wembury). Most famous today as the co-creator of King Kong.
Edith Pargeter - 1913-1995. (Welsh Benedictine monk Brother Cadfael).
Edmund Crispin - 1921-1978. Pseudonym used by Robert Bruce Montgomery. (Oxford don and amateur sleuth Gervase Fen). His nine detective novels whodunit have complex plots and fantastic, somewhat unbelievable solutions, including examples of the Locked room mystery.
Edward D. Hoch - 1930-2008.
Eliot Reed - 1909-1998. Pseudonym used by Eric Ambler for books co-written with Charles Rodda.
ELIZABETH GEORGE - 1949-. (Detective Inspector Thomas Lynley, 8th Earl of Asherton).
Elizabeth Haynes - British writer of crime fiction.
Elizabeth Mackintosh - 1896–1952.
Elizabeth Peters - 1927-. Pseudonym used by Barbara Mertz.
ELLERY QUEEN - 1905-1971. (Ellery Queen, the fictional character).
Elleston Trevor - 1920-1995. (British secret agent Quiller). Wrote under several pseudonyms.
Ellis Peters - 1913-1995. Nom de plume used by Edith Pargeter.
ELMORE LEONARD - 1925-2013. American novelist and screenwriter. His earliest published novels in the 1950s were Westerns, but Leonard went on to specialize in crime fiction and suspense thrillers, many of which have been adapted into motion pictures. Among his best-known works are Get Shorty, Out of Sight, Hombre, Mr. Majestyk, and Rum Punch (adapted for the movie Jackie Brown). Leonard's short stories include ones that became the films 3:10 to Yuma and The Tall T, as well as the current TV series on FX, Justified. Commended by critics for his gritty realism and strong dialogue, Leonard sometimes takes liberties with grammar in the interest of speeding along the story. In his essay "Elmore Leonard's Ten Rules of Writing" he says: "My most important rule is one that sums up the 10: If it sounds like writing, I rewrite it."
Émile Gaboriau - 1832-1873. Was a French writer, novelist, journalist, and a pioneer of detective fiction. Young police officer named Monsieur Lecoq was the hero in three of Gaboriau's later detective novels. The character of Lecoq was based on a real-life thief turned police officer, EugÈne FranÇois Vidocq (1775–1857). But when Arthur Conan Doyle created Sherlock Holmes, Monsieur Lecoq's international fame declined. In "A Study in Scarlet" Arthur Conan Doyle has Watson ask Sherlock Holmes what he thinks of Gaboriau. Holmes disparages Lecoq as "a miserable bungler".
Emma Orczy - 1865-1947.
ERIC AMBLER - 1909-1998. British author of spy novels who introduced a new realism to the genre. Ambler also used the pseudonym Eliot Reed for books co-written with Charles Rodda.
Eric Van Lustbader - 1946-. With permission from the estate of Robert Ludlum, Lustbader has continued writing Jason Bourne novels from where Ludlum left off in The Bourne Ultimatum.
ERLE STANLEY GARDNER - 1889-1970. (Lawyer Perry Mason).
Ernest William Hornung - 1866-1921. (Gentleman thief A. J. Raffles).
Erskine Childers - 1870-1922.
E. T. A. Hoffmann - 1776-1822.
EVAN HUNTER - 1926-2005. (Detective Steve Carella).

A B C D E F G H I J K L M N O P Q R S T U V W X Y Z

- F -

FAYE KELLERMAN - 1952-. (Lieutenant in the LAPD Peter Decker & (orthodox jew) Rina Lazarus).
FRANCIS DURBRIDGE - 1912-1998. (Amateur private detective and author of crime fiction Paul Temple & Fleet Street journalist Steve Trent).
Frances Fyfield - 1948-. Pseudonym of Frances Hegarty. Fyfield is a British lawyer and crime-writer of psychological thrillers. (Helen West).
Frances Hegarty - 1938-. Uses the pen name Frances Fyfield.
Franck Thilliez - 1973-.
FRANCIS ILES - 1893-1971. Pen name used by Anthony Berkeley Cox.
FRED VARGAS - 1957-. (The Evangelists, Armand Vandoosler & Jean-Baptiste Adamsberg).
FREDERICK FORSYTH - 1938-. Best known for thrillers such as The Day of the Jackal, The Odessa File, The Fourth Protocol, The Dogs of War, The Devil's Alternative, The Fist of God, Icon, The Veteran, Avenger, The Afghan and The Cobra.
Freeman Wills Crofts - 1879–1957. (Inspector Joseph French).
Friedrich DÜrrenmatt - 1921-1990. Swiss author and dramatist. The politically active author's work included avant-garde dramas, philosophically deep crime novels, and often macabre satire. His most crime novel is The Pledge, in which a policeman finds his Holmes-like powers are useless for dealing with the real world's random brutality.
Fyodor Dostoyevsky - 1821-1881. Famous for his novel Crime and Punishment about ex-student of law Rodion Raskolnikov's murder of pawnbroker Alyona Ivanovna.

A B C D E F G H I J K L M N O P Q R S T U V W X Y Z

- G -

Gavin Lyall - 1932-2003. (SAS officer Major Harry Maxim).
G. D. H. Cole - 1889-1959. (Investigators Superintendent Wilson, Everard Blatchington & Dr Tancred).
G. K. CHESTERTON - 1874-1936. (Father Brown, Bertie Wooster and Reginald Jeeves).
GASTON LEROUX - 1868-1927. (Detective/French secret agent Joseph Rouletabille). Best known for writing the novel 'The Phantom of the Opera'.
Geoffrey Household - 1900-1988. (Toby Manning). The typical Household hero is a strong, capable Englishman with a high sense of honour.
George Bagby - 1906-1985. (Chief of Homicide for the New York Police Department Inspector Schmidt). Pseudonym used by Aaron Marc Stein.
George Harmon Coxe - 1901-1984. ("Jack (Flashgun) Casey").
George Hopley - 1903-1968. Pseudonym used by Cornell Woolrich.
George Pelecanos - 1957-. The pulp fiction bard of the sleaziest side of Washington DC.
George V. Higgins - 1939-1999.
GEORGES SIMENON - 1903-1989. (Commissaire Jules Maigret).
Georgette Heyer - 1902-1974. English historical romance & detective fiction novelist (specialized in upper-class family murders). (Superintendent Hannasyde and Sergeant (later Inspector) Hemingway).
GÉrard de Villiers - (1929-2013). (Austrian prince and CIA agent Malko Linge). French writer, journalist and publisher. His SAS series of spy novels have been bestsellers, according to the New York Times, "His works have been translated and are especially popular in Germany, Russia, Turkey, and Japan. SAS series has sold about 100 million copies worldwide, which would make it one of the top-selling series in history, on a par with Ian Fleming's James Bond books. SAS may be the longest-running fiction series ever written by a single author." The title SAS is a play on initials and acronyms: Son Altesse Sérénissime (SAS) is the French version of "His Serene Highness" (HSH). In addition, the British Special Air Service (SAS) is the principal special forces unit of the British Army.
Gillian Flynn - 1971-.
GLENN CHANDLER - 1949-. (Scottish detective Taggart).
GRAHAM GREENE - 1904-1991.
Gregory Mcdonald - 1937-2008. (Journalist and ex-marine Irwin Maurice Fletcher).
Gunnar Staalesen - 1947-. (Private detective Varg Veum).

A B C D E F G H I J K L M N O P Q R S T U V W X Y Z

- H -

Harlan Coben - 1962-. American writer of mystery novels and thrillers. The plots of his novels often involve the resurfacing of unresolved or misinterpreted events in the past, murders, or fatal accidents and have multiple twists.
Harper Lee - 1926-2016. American novelist widely known for To Kill a Mockingbird, published in 1960.
Harry Kemelman - 1908-1996. He was the creator of one of the most famous religious sleuths, Rabbi David Small.
H. C. Bailey - 1878-1961. (Medically-qualified detective Reggie Fortune).
H. C. McNeile - 1888-1937. Pseudonym: Sapper. In 1920 he published Bulldog Drummond under his pen name "Sapper", whose eponymous hero became his best-known creation. The character was based on McNeile himself, on his friend Gerard Fairlie and on English gentlemen generally.
H. H. Holmes - 1911-1968. Pseudonym used by Anthony Boucher, which was also the name of a late 19th-Century American serial killer.
Helen McCloy - 1904-1994. (Dr. Basil Willing).
HENNING MANKELL - 1948-2015. (Inspector Kurt Wallander).
Henry Denker - 1912-2012.
HERBERT REINECKER - 1914-2007. (The Commissioner: DCI Herbert Keller. Derrick: Detective Chief Inspector Stephan Derrick Inspector (Kriminalhauptmeister) Harry Klein).
HERMAN CYRIL McNeile - 1888-1937. (Captain Hugh "Bulldog" Drummond, DSO, MC).
Hillary Waugh - 1920-2008.
H. R. F. Keating - 1926-2011. (Inspector Ghote of the Bombay CID).
Hugh Pentecost - 1903-1989. Pseudonym used by Judson Philips.
HÅkan Nesser - 1950-. (Retired Detective Chief Inspector Van Veeteren).

A B C D E F G H I J K L M N O P Q R S T U V W X Y Z

- I -

IAN FLEMING - 1908-1964. (Commander James Bond).
IAN RANKIN - 1960-. (Detective Inspector John Rebus in the Inspector Rebus series of detective novels).
Ian Stuart - 1922-1987. Pseudonym used by Alistair MacLean.
Ira Levin - 1929-2007. Best-known novel is Rosemary's Baby.
Isaac Asimov - 1920-1992.

A B C D E F G H I J K L M N O P Q R S T U V W X Y Z

- J -

J. A. Konrath - 1970-. (Hard-drinking female detective Lieutenant Jacqueline "Jack" Daniels).
Jack Finney - 1911-1995. (Simon Morley).
Jack Higgins - 1929-. (Sean Dillon). Principal pseudonym of UK novelist Harry Patterson. Breakthrough novel The Eagle Has Landed.
Jack Kilborn - 1970-. Pen name used by J. A. Konrath.
JAMES CRUMLEY - 1939-2008. (Ex-army officer turned private investigator C.W. Sughrue & P.I. Milo Milodragovitch).
JAMES ELLROY - 1948-. (LAPD detective Lloyd Hopkins).
James Grady - 1949-. Montana-born author of thriller novels.
James Hadley Chase - 1906-1985. English writer. While his birth name was René Lodge Brabazon Raymond, he was well-known by his various pseudonyms, including James Hadley Chase, James L. Docherty, Raymond Marshall, R. Raymond, and Ambrose Grant. He is one of the best known thriller writers of all time. The canon of Chase, comprising 90 titles, has earned for him a reputation as the king of thriller writers in Europe. He is also one of the internationally best-selling authors, and 50 of his books have been made into films.
James Lee Burke - 1936-. (Louisiana cop Dave Robicheaux).
James M. Cain - 1892-1977. Usually associated with the hardboiled school of American crime fiction and seen as one of the creators of the roman noir. Several of his crime novels inspired highly successful movies.
JAMES PATTERSON - 1947-. (Psychologist Alex Cross).
JAN GUILLOU - 1944-. Among his books are a series of spy fiction novels about a spy named Commander Carl Hamilton. Carl Hamilton has been called "Sweden's James Bond".
JAMES H. MCCLURE - 1939-. (Afrikaner Lieutenant Tromp Kramer & Bantu Detective Sergeant Mickey Zondi).
JAN ARNALD - 1963-. (A-team). Uses pen name Arne Dahl when writing crime fiction.
Jane Haddam - 1951-. Pen name used by Orania Papazoglou.
Janwillem van de Wetering - 1931-2008. (Amsterdam police officers Henk Grijpstra & Rinus de Gier).
Jason Goodwin - 1964-. British writer and historian. He became popular as the author of a series of historical mystery novels beginning with The Janissary Tree, which pivot on a Turkish eunuch detective, Yashim, who lives and works in 19th century Istanbul.
JASON STARR - 1966-.
JEAN-CHRISTOPHE GRANGÉ - 1961-. Master of Le style haletant.
JEFFERY DEAVER - 1950-. (John Pellam, Lincoln Rhyme, Kathryn Dance. Deaver will write the next James Bond novel: Carte Blanche).
Jeffrey Archer - 1940-.
Jessie Louisa Rickard - 1876-1963.
J. I. M. Stewart - 1906–1993.
Jim Grant - 1954-. The pen name of Lee Child.
Jim Thompson - 1906-1977. Known for his pulp crime fiction - aka "Dime Store Dostoevsky". Two of Thompson's books (The Getaway and The Killer Inside Me) were adapted as Hollywood motion pictures during his lifetime.
JO NESBØ - 1960-. (Detective Harry Hole).
JOHN BANVILLE - 1945-.
John Bingham - 1908-1988. Former MI5 spy and an English novelist who published 17 thrillers, detective novels and spy novels. During the Second World War and for two decades after 1950, Bingham worked for MI5 and was reportedly the inspiration for John Le Carré's character George Smiley.
JOHN BUCHAN - 1st Baron Tweedsmuir. 1875-1940. (Major-General Sir Richard Hannay, KCB, OBE, DSO, Legion of Honour).
John Creasey - 1908-1973. Founded the Crime Writers' Association (CWA) in the UK in 1953. Author of more than 600 novels, John Creasey published them using 28 different pseudonyms.
John D. MacDonald - 1916-1986. (Self-described "salvage consultant" Travis McGee).
John D. Voelker - 1903-1991. Better known by his pen name Robert Traver. Best known as the author of the novel Anatomy of a Murder published in 1958.
John Dickson Carr - 1906-1977. (Detectives Dr. Fell & Sir Henry Merrivale). Also published under the pen names Carter Dickson, Carr Dickson and Roger Fairbairn.
John Fowles - 1926-2005.
JOHN GRANT - 1933-. (Antiques dealer Lovejoy).
JOHN GRISHAM - 1955-. First best-seller was The Firm. (Harvard-educated tax lawyer Mitch McDeere).
John Lawton - 1949-. (Independently wealthy Scotland Yard Inspector Frederick Troy). Author of historical/crime/espionage novels set primarily in England during World War II and the Cold War.
JOHN LE CARRÉ - 1931-2020. (Intelligence officer for MI6 George Smiley).
Essential John le CarrÉ - "His clever, melancholic mind produced some of the most enduring heroes in spy fiction. Here are his best books." The New York Times.
JOHN LOCKE - the first man to sell over a million self-published digital books in Amazon.com. (Private detective Dani Ripper & former CIA assassin Donovan Creed).
JOHN MORTIMER - 1923-2009. (Barrister Horace Rumpole).
John Thomas Sladek - 1937-2000.
Jonathan Gash - 1933-. Pen name used by John Grant.
Jonathan Kellerman - 1949-. (Child psychologist & forensic psychologist Alex Delaware).
Jonathan Latimer - 1906-1983. (Private eye William Crane).
Joseph Conrad - 1857-1924. (Mr. Verloc).
Joseph Hone - (1937-2016). Irish writer of the spy novel. His most famous novels featured a British spy called Peter Marlow.
Joseph Wambaugh - 1937-.
Josephine Tey - 1896–1952. Pseudonym used by Elizabeth Mackintosh.
Joyce Porter - 1924-1990. (Eddie Brown, Constance Ethel Morrison Burke & Detective Chief Inspector Wilfred Dover).
J. S. Fletcher - (1863-1935). Was an English journalist and author. He wrote more than 230 books on a wide variety of subjects, both fiction and non-fiction, and was one of the most prolific English writers of detective fiction.
Judson Philips - 1903-1989. Wrote more than 100 mystery and detective novels under the pseudonyms Hugh Pentecost and Philip Owen.
Julian Barnes - 1946-. Writes crime fiction under the pseudonym Dan Kavanagh (his late wife's surname).
Julian Symons - 1912-1994. Highly prized by connoisseurs.
JUSSI ADLER-OLSEN - 1950-. (Superintendent Carl Mørck).

A B C D E F G H I J K L M N O P Q R S T U V W X Y Z

- K -

Karin Fossum - 1954-. Norwegian author of crime fiction, often referred to as the "Norwegian queen of crime". (Inspectors Konrad Sejer & Jakob Skarre).
Karin Slaughter - 1971-. (Will Trent).
KATE ATKINSON - 1951-. (Former police inspector, now private investigator Jackson Brodie).
KEN BRUEN - 1951-. Irish writer of hard-boiled and noir crime fiction. (Jack Taylor).
KEN FOLLETT - 1949-. Has sold more than 100 million copies of his works.
Kenneth Millar - 1915-1983.
Kin Platt - 1911-2003. Pseudonym: Nick West.
Kyril Bonfiglioli - 1928-1985. (Charlie Mortdecai is the fictional art dealer anti-hero. His character resembles, among other things, an amoral Bertie Wooster with occasional psychopathic tendencies).

A B C D E F G H I J K L M N O P Q R S T U V W X Y Z

- L -

Lawrence Block - 1938-. (Private investigator Matthew Scudder & gentleman burglar Bernie Rhodenbarr).
Lawrence Sanders - 1920-1998.
Lee Child - 1954-. (American military policeman Jack Reacher).
LEIF DAVIDSEN - 1950-.
Leif G. W. Persson - 1945-.
LEN DEIGHTON - 1929-. (Anonymous anti-hero Harry Palmer in the novel The Ipcress File. Bernard Samson is a central character in three trilogies comprises the books Berlin Game, Mexico Set and London Match, the second comprises Spy Hook, Spy Line and Spy Sinker, and the third and final trilogy comprises Faith, Hope and Charity). Most famous for his spy novel The IPCRESS File.
Leonardo Padura Fuentes - 1955-. Best known in the English-speaking world for his quartet of detective novels featuring lieutenant Mario Conde.
LESLIE CHARTERIS - 1907-1993. (Gentleman thief Simon Templar a.k.a. The Saint).
Lindsay Ashford - (Investigative psychologist Megan Rhys).
Lionel Davidson - 1922-2009.
Lisa Scottoline - 1955-.
LIZA MARKLUND - 1962-. (Crime reporter Annika Bengtzon).
LOUISE WELSH - 1965-.
LYNDA LA PLANTE - 1943-. (Detective Chief Inspector Jane Tennison & Mike Walker).

A B C D E F G H I J K L M N O P Q R S T U V W X Y Z

- M -

Maj SjÖwall - 1935-. Best known for the collaborative work with her partner Per Wahlöö on a series of ten novels about the exploits of Martin Beck.
Marcia Muller - 1944-. (Private detective Sharon McCone).
Margaret Cole - 1893-1980.
Margaret Millar - 1915-1994. (Occasional ongoing sleuths Canadians Dr. Paul Prye, Inspector Sands, private eye Joe Quinn & Hispanic lawyer Tom Aragorn).
Margery Allingham - 1904–1966. (Gentleman sleuth Albert Campion).
Mario Puzo - 1920-1999. Most famous work, The Godfather, published in 1969. (Head of the Corleone crime family, Don Vito Corleone & family).
Mark Billingham - 1961-. (Detective Inspector Tom Thorne).
Martha Grimes - 1931-. (Scotland Yard chief inspector/superintendent Richard Jury & British aristocrat Melrose Plant).
Martin Cruz Smith - 1942. (Russian investigator Arkady Renko introduced in Gorky Park).
Marvin Albert - (1924-1996). Was a writer of mystery, crime and adventure novels including ones featuring Pete Sawyer (Pierre-Ange [French: Stone Angel]), a French-American private investigator living and working in France, and detective, and private detective Tony Rome.
Mary Higgins Clark - 1927-.
Mary Roberts Rinehart - 1876-1958. Often called the American Agatha Christie. She is considered the source of the phrase "THE BUTLER DID IT", although she did not actually use the phrase. She is considered to have invented the "Had-I-But-Known" school of mystery writing. She also created a costumed supercriminal called "the Bat", who was cited by Bob Kane as one of the inspirations for his "Batman."
Mary Shelley - 1797-1851. Best known for her Gothic novel Frankenstein; or, The Modern Prometheus (1818).
Mary Stewart - 1916-.
MAURICE LEBLANC - 1864-1941. (Gentleman thief ArsÈne Lupin).
Megan Abbott - 1971-. American author of crime fiction and a non-fiction analysis of hardboiled crime fiction. Her novels and short stories have drawn from and re-worked classic subgenres of crime writing, with a female twist.
MICHAEL CONNELY - 1956-. American author of detective novels and other crime fiction, notably those featuring LAPD Detective Hieronymus "Harry" Bosch and criminal defense attorney Mickey Haller.
Michael Gilbert - 1912-2006. (British counterspies Mr. Calder & Mr. Behrens).
Michael Innes - 1906–1993. Pseudonym used by J. I. M. Stewart. (John Appleby).
Mick Herron - British mystery and thriller novelist, winner of the Crime Writers' Association 2013 Gold Dagger award for Dead Lions In 2010, with Slow Horses, he began a spy series, entitled Slough House, featuring MI5 agents who have been exiled from the mainstream for various offences.
MICKEY SPILLANE - 1918-2006. (Private investigator Mike Hammer).
Mignon G. Eberhart - 1899-1996.

A B C D E F G H I J K L M N O P Q R S T U V W X Y Z

- N -

NGAIO MARSH - 1895–1982. (British CID detective Roderick Alleyn).
Nicholas Blake - 1904-1972. Pseudonym used by Cecil Day-Lewis.
Nicholas Meyer - 1945-. Best known for his best-selling novel The Seven-Per-Cent Solution. It is written as a pastiche of a Sherlock Holmes adventure.
Nuzo Onoh - 1962-. She is a pioneer of the African horror subgenre. Onoh's books The Reluctant Dead (2014) and Unhallowed Graves (2015) are both collections of ghost stories depicting core Igbo culture, traditions, beliefs and superstitions within a horror context.

A B C D E F G H I J K L M N O P Q R S T U V W X Y Z

- P -

Patricia Cornwell - 1956-. (Private forensic consultant Kay Scarpetta).
PATRICIA HIGHSMITH - 1921-1995. (Amoral, sexually ambiguous con artist and occasional murderer Tom Ripley).
PATRICK HAMILTON - 1904-1962.
PAUL ERDMAN - 1932-2007. One of the leading business and financial writers in the United States who became known for writing novels based on monetary trends and historical facts concerning complex matters of international finance.
Paula Gosling - 1939-.
P. D. JAMES - (1920-2014). (Commander Adam Dalgliesh).
Per WahlÖÖ - 1926-1975. Best known for the collaborative work with his partner Maj Sjöwall on a series of ten novels about the exploits of Martin Beck.
PETER CHEYNEY - 1896-1951. (FBI agent / private detective Lemmy Caution).
Peter James - 1948-. (Brighton-based Detective Superintendent Roy Grace).
Peter Lovesey - 1936-. (Victorian-era police detective Sergeant Cribb & modern-day police detective Peter Diamond).
PETER ROBINSON - 1950-. (Detective Chief Inspector Alan Banks).
Philip Kerr - 1956-. He is known for the Bernie Gunther series of historical thrillers set in Germany and elsewhere during the 1930s, the Second World War and the Cold War.
Philip MacDonald - 1900-1980. (Detective Anthony Gethryn).
Philip Owen - 1903-1989. Pseudonym used by Judson Philips.
Philip Nicholson - 1940-2005. Used the pen name A. J. Quinnell.
Phyllis A. Whitney - 1903-2008. Dubbed her "The Queen of the American Gothics" by The New York Times.
Pierre Lemaitre - 1951-. (Detective Inspector Camille Verhoeven). Won the CWA International Dagger for best crime novel of 2013.
Pieter Aspe - 1953-. Belgian writer of a series of detective stories starring inspector Pieter Van In.

A B C D E F G H I J K L M N O P Q R S T U V W X Y Z

- R -

R. Austin Freeman - 1862–1943. (Medico-legal forensic investigator Dr. Thorndyke).
R. D. WINGFIELD - 1928-2007. (Detective Chief Inspector William Edward "Jack" Frost, GC).
Raymond Benson - (born September 6, 1955) is an American author best known for being the official author of the adult James Bond novels from 1997 to 2003. Benson had previously written The James Bond Bedside Companion, a book dedicated to Ian Fleming, the official novels, and the films. The book was initially released in 1984 and later updated in 1988. In total, Benson wrote six James Bond novels, three novelizations, and three short stories.
RAYMOND CHANDLER - 1888-1959. (Private eye Philip Marlowe).
REGINALD HILL - 1936-2012. (Detective Superintendent Andrew Dalziel & Detective Inspector Peter Pascoe).
REX STOUT - 1886-1975. (Detective Nero Wolfe).
Richard Condon - 1915-1996. Primarily remembered for two of his works bestseller: The Manchurian Candidate and for four novels about a family of New York gangsters named Prizzi.
Richard Jessup - 1925-1982. He also wrote under the name of Richard Telfair.
RICHARD LEVINSON - 1934-1987. (Lieutenant Columbo).
Richard Stark - 1933-2008. Pseudonym used by Donald E. Westlake.
ROBERT B. PARKER - 1932-2010. (Detective Spenser and LAPD detective Jesse Stone).
ROBERT BANKS STEWART - 1931-. (Detective Sergeant Jim Bergerac).
Robert Bruce Montgomery - 1921-1978. Used the pen name Edmund Crispin.
Robert Crais - 1953-. (Ex-ranger private detective Elvis Cole & former marine Joe Pike). Crais began his career writing scripts for television shows such as Hill Street Blues, Cagney & Lacey, Quincy, Miami Vice and L.A. Law.
Robert Erskine Childers - 1870-1922.
Robert Galbraith - 1965-. Pseudonym used by J. K. Rowling. (Private investigator Cormoran Strike).
ROBERT GODDARD - 1954-. (Harry Barnett).
ROBERT LUDLUM - 1927-2001. (Jason Bourne - real name: David Webb).
Robert Traver - 1903-1991. Pen name used by John D. Voelker. Best known as the author of the novel Anatomy of a Murder published in 1958.
Robert Wilson - 1957-. Author of the Bruce Medway series, set in and around Benin, West Africa, and the Javier FalcÓn series, set largely in Seville, Spain.
Roberto Constantini - 1952-. (Rome Commissario Michele Balistreri).
Roger Fairbairn - 1906-1977. Pseudonym used by John Dickson Carr.
Roger Jon Ellory - 1965-.
Ronald Knox - 1888-1957. English priest and theologian but made a huge contribution to Golden Age of Detective Fiction. (Miles Bredon is an insurance investigator in The Three Taps). He coined the 10 Commandments of Detective Fiction in 1929.
Ross Macdonald - 1915-1983. (Private detective Lew Archer). Pseudonym used by Kenneth Millar.
Ross Thomas - 1926-1995. (Philip St. Ives).
RUTH DUDLEY EDWARDS - 1944-.
RUTH RENDELL - 1930-2015. (Chief Inspector Wexford).

A B C D E F G H I J K L M N O P Q R S T U V W X Y Z

- S -

Sara Paretsky - 1947-. (Female private investigator V.I. Warshawski).
Sarah Caudwell - 1939-2000. (Narrated by a Hilary Tamar, a Professor of Medieval Law (gender unknown), who also acts as detective.).
Scott Turow - 1949-.
SÉbastien Japrisot - 1931-2003. His pseudonym was an anagram of Jean-Baptiste Rossi, his real name. Japrisot has been nicknamed "the Graham Greene of France".
Simon Brett - 1945-. (Charles Paris). A prolific writer of whodunnits.
SJÖWALL & WAHLÖÖ - (Police detective Martin Beck).
S. S. Van Dine - 1888-1939. Pseudonym used by Willard Huntington Wright. (Fictional detective Philo Vance).
Stanley Ellin - 1916-1986.
Stella Rimington - 1935-. British author and former Director General of MI5, a position she held from 1992 to 1996. Her heroine is 34-year-old Liz Carlyle, an MI5 intelligence officer.
StÉphane Bourgoin - 1953-. French true crime writer. He presented himself as an expert on serial killers for many years, until 2020 when he admitted that he had lied about many of his claimed experiences. Bourgoin had written 75 books and produced dozens of documentaries, with his books selling thousands of copies in France. He was regarded as France's best known serial killer expert.
STEPHEN KING - 1947-. American author of contemporary horror, supernatural fiction, suspense, science fiction, and fantasy. His books have sold more than 350 million copies, many of which have been adapted into feature films, miniseries, television shows, and comic books.
Steve Hamilton - American mystery novelist. (Antihero Nick Mason). He is one of only two authors (along with Ross Thomas) to win Mystery Writers of America Edgar Awards for both best novel and best first novel. His Alex McKnight series includes two New York Times notable books and spots on the New York Times bestseller list. Additionally, he has won or been nominated for such awards as the Private Eye Writers of America's Shamus Award, the Anthony, the Barry, the Gumshoe, and both the British Crime Writers' Association's Gold and Steel Daggers.
STIEG LARSSON - 1954-2004. (Computer hacker Lisbeth Salander and investigative journalist & editor Mikael Blomkvist).
Stuart M. Kaminsky - 1934-2009. (Private detective Toby Peters, Moscow police inspector Porfiry Petrovich Rostnikov, Chicago police officer Abe Lieberman & process server Lew Fonesca).
Sue Grafton - 1940-. (Private investigator Kinsey Millhone).
Susan Moody - 1940-. Pseudonym used by Susan Elizabeth Horwood. Stepmother of Mary, Crown Princess of Denmark.

A B C D E F G H I J K L M N O P Q R S T U V W X Y Z

- T -

THOMAS HARRIS - 1940-. (Psychiatrist Hannibal Lector M.D.).
Thomas Perry - 1947-. American mystery and thriller novelist. He received a 1983 Edgar Award from the Mystery Writers of America for Best First Novel.
TOM CLANCY - 1947-. (CIA analyst Jack Ryan).
Tony Hillerman - 1925-2008. (Joe Leaphorn and Jim Chee of the Navajo tribal police).
Truman Capote - 1924-1984. Author of the original true crime non-fiction novel In Cold Blood.

A B C D E F G H I J K L M N O P Q R S T U V W X Y Z

- U -

Umberto Eco - 1932-. Best known for his groundbreaking 1980 novel The Name of the Rose. (Franciscan friar William of Baskerville & his novice Adso of Melk).

A B C D E F G H I J K L M N O P Q R S T U V W X Y Z

- V -

VAL MCDERMID - 1955-. (Clinical psychologist Dr. Tony Hill).
Vera Caspary - 1899-1987.

A B C D E F G H I J K L M N O P Q R S T U V W X Y Z

- W -

W. SOMERSET MAUGHAM - 1874-1965.
Walter Mosley - 1952-. (Leonid McGill, et al). Mosley's fame increased in 1992 when then-presidential candidate Bill Clinton, a fan of murder mysteries, named Mosley as one of his favorite authors.
Wilkie Collins - 1824-1889. Established the genre's ground rules: red herrings; a long list of suspects; the man from Scotland Yard.
Willard Huntington Wright - 1888-1939.
William Irish - 1903-1968. Pseudonym used by Cornell Woolrich.
William L. DeAndrea - 1952-1996.
William McIlvanney - 1936-. A considerable mainstream novelist, has set three crime novels in Glasgow: Laidlaw, The Papers of Tony Veitch and Strange Loyalties. They probably inspired the TV series Taggart, but are far more intelligent and subtle.
W. J. BURLEY - 1914-2002. (Detective Superintendent Charles Wycliffe).
W. R. Burnett - 1899-1982. Best known for the 1929 crime novel Little Caesar.

A B C D E F G H I J K L M N O P Q R S T U V W X Y Z

- Y -

Yrsa SigurÐardÓttir - 1963-. Icelandic writer, of both crime-novels and children's fiction. The central character in the crime novels so far is Thóra Gudmundsdóttir, a lawyer.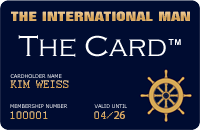 Upcoming VIP Privilege Membership Card
The International Man will in the near future be launching its own PRIVILEGE & BENEFIT VIP MEMBERSHIP CARD - named simply 'The Card'. Members will receive special privileges, benefits and preferential rates with selected partner hotels, restaurants, our LUXURY WEBSHOP, and more. Enter your name and e-mail address to receive FREE INFO about 'The Card' HERE.
RETURN TO TOP OF PAGE