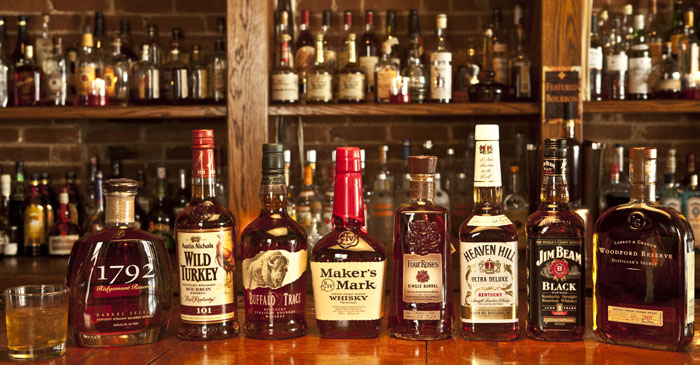 Top 50 American Whiskey Brands, Makers & Suppliers

BOURBON WHISKEY is a type of American whiskey: a barrel-aged distilled spirit made primarily from corn. The name is ultimately derived from the French Bourbon dynasty, although it is disputed whether the namesake Bourbon County in Kentucky or Bourbon Street in New Orleans inspired the whiskey's name. Bourbon has been distilled since the 18th century. The name "Bourbon" was not applied until the 1820s, and the Kentucky etymology was not advanced until the 1870s. While the liquor may be made anywhere in the United States, it is strongly associated with the American South in general, and Kentucky in particular.

CORN WHISKEY (sometimes Corn Liquor or "White Lightning") is an American liquor made from a mash made of at least 80 percent corn. Distinct from the typical American moonshine, corn whiskey uses a traditional mash process and is subject to the tax and identity laws for alcohol under CFR 27. Several commercial distillers such as Heaven Hill and Buffalo Trace have started to produce corn whiskeys for retail sale. The whiskey is typically distilled at a high proof (up to 160 proof). The unaged corn whiskey is then diluted with water to at most 62.5 percent alcohol by volume, but usually 40 percent alcohol by volume, and bottled for retail.

RYE MALT WHISKEY, under US regulations, is a whiskey produced via a mash primarily consisting of malted rye. It is distinct from rye whiskey due to the malting step, and is distinct from unqualified malt whiskey, which is made from malted barley, not rye.

RYE WHISKEY must be distilled from at least 51 percent rye.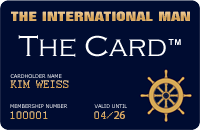 Upcoming VIP Privilege Membership Card
The International Man will in the near future be launching its own PRIVILEGE & BENEFIT VIP MEMBERSHIP CARD - named simply 'The Card'. Members will receive special privileges, benefits and preferential rates with selected partner hotels, restaurants, our LUXURY WEBSHOP, and more. Enter your name and e-mail address to receive FREE INFO about 'The Card' HERE.
RETURN TO TOP OF PAGE