Top 20 Best Brands and Makers of High-End Tablets

A tablet computer, commonly shortened to TABLET, is a mobile computer with a touchscreen display, circuitry, and battery in a single device. Tablets come equipped with sensors, including cameras, a microphone, and an accelerometer, and the touchscreen display uses the recognition of finger or stylus gestures replacing the usage of the mouse and keyboard. They usually feature on-screen, pop-up virtual keyboards for typing. Tablets may have physical buttons for basic features such as speaker volume and power, and ports for network communications and battery charging. Tablets are typically larger than smartphones or personal digital assistants with screens 7 inches (18 cm) or larger, measured diagonally.

Adonit Jot Pro Fine Point Stylus for iPad, iPad Air, iPad Mini, iPhone, & Kindle Fire
Adonit JOT SCRIPT EVERNOTE EDITION STYLUS - "The first true fine point stylus that allows your handwriting to flow as freely as your thoughts."
BEST TABLET YOU CAN BUY RIGHT NOW (2017) - The Verge.
Can an iPad Pro replace your PC? - engadget.
Have a Group Chat on an iPad - The New York Times.
Just Mobile Gum++ - "The high-style, high-capacity backup battery is reborn." Just Mobile Gum++ is the redesigned backup battery for smartphones, tablets and USB-powered devices. Available in a range of striking colours, the Gum++ is clad in a glossy, hard-wearing shell. Inside, an improved 6000mAh battery has enough capacity to recharge a smartphone up to three times, or add precious extra hours to a tablet. And its high-power USB output keeps charge times to a minimum.
Logitech Keys-To-Go - "Ultra-portable, stand-alone keyboard for iPad, iPhone, Apple TV and more."
mophie Juice Pack Powerstation PRO - "Made for Smartphones, Tablets & USB Devices." With the ruggedly powerful, impact and splash - resistant powerstation PRO, you can keep just about any USB powered device going in the most extreme conditions.
Penna - "Retro Design Bluetooth Keyboard." Fusing the old-time aesthetics of a typewriter with the technology of a modern-day mechanical Bluetooth keyboard.
Second screen - definition & explanation.
Tablet PC - definition & explanation.
Ten One Design Pogo Sketch Stylus for iPad, iPhone, and iPod touch
wild and wacky iPad setups - The Verge.

Top 20 Best High-End Brands & Makers of Tablets

ARCHOS - entertainment your way.
CISCO CIUS - Android tablet with HD video capabilities.
Cruz Tablets - "The Cruz line of tablets was crafted as a premier but still affordable alternative in the Android Market."
Dell Tablets & Convertibles - Windows 8 Touch Screen and Dell.
DELL XPS 12 ULTRABOOK - "Flip from laptop to tablet." XPS 12 covertible tablet and ultrabook with touch screen details.
FUJITSU - tablet PCs.
GALAPAGOS - Sharp's new Android tablets.
Goldgenie Gold iPads - luxury iPads, gold plated iPads, platinum iPad.
HP SLATE - multi-touch capable Windows 7 tablet computer.
HTC FLYER - with a 7" display and a superfast 1.5 GHz processor.
HUAWEI TABLETS - all models.
ICD GEMINI - the most feature complete tablet!
iPad - Apple Official Site.
iPad 2017 review: The ideal tablet - The Telegraph.
iPad Pro 10.5 review - engadget.
Microsoft SURFACE - "The most productive tablets on the planet."
Microsoft Surface Pro - by Microsoft.
MOTION J3400 TABLET PC - the rugged all-in-one device that is the ideal productivity tool.
MOTOROLA XOOM - Android 3.0 tablet, front and rear-facing cameras, camcorder, Adobe Flash Player, 10.1-inch widescreen HD display.
NEXUS 9 - Google's newest tablet. "For movers and makers." Running Android 5.0 Lollipop.
Nokia Lumia 2520 - "Work. Play. Life. In perfect sync." 4G Tablet with Keyboard.
Nokia N1 - "Thinking ahead."
SAMSUNG GALAXY TABLETS - all models.
SONY Xperia Tablets - all models.
STUART HUGHES SOLID GOLD IPAD SUPREME EDITION - price: £129,995.00.
TOSHIBA TABLETS - all models.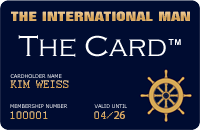 Upcoming VIP Privilege Membership Card
The International Man will in the near future be launching its own PRIVILEGE & BENEFIT VIP MEMBERSHIP CARD - named simply 'The Card'. Members will receive special privileges, benefits and preferential rates with selected partner hotels, restaurants, our LUXURY WEBSHOP, and more. Enter your name and e-mail address to receive FREE INFO about 'The Card' HERE.
RETURN TO TOP OF PAGE