Top 50 Best High-End Coffee Makers and Machines

COFFEEMAKERS or coffee machines are cooking appliances used to brew coffee. While there are many different types of coffeemakers using a number of different brewing principles, in the most common devices, coffee grounds are placed in a paper or metal filter inside a funnel, which is set over a glass or ceramic coffee pot, a cooking pot in the kettle family. Cold water is poured into a separate chamber, which is then heated up to the boiling point, and directed into the funnel.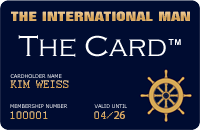 Upcoming VIP Privilege Membership Card
The International Man will in the near future be launching its own PRIVILEGE & BENEFIT VIP MEMBERSHIP CARD - named simply 'The Card'. Members will receive special privileges, benefits and preferential rates with selected partner hotels, restaurants, our LUXURY WEBSHOP, and more. Enter your name and e-mail address to receive FREE INFO about 'The Card' HERE.
RETURN TO TOP OF PAGE