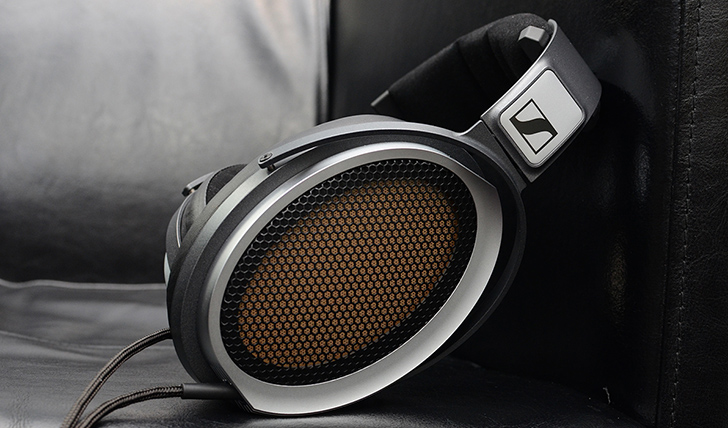 Top 80 High-End Audiophile Headphones & Earphones

HEADPHONE (or "head-phones" in the early days of telephony and radio) are a pair of small loudspeakers that are designed to be held in place close to a user's ears. They are also known as earspeakers, earphones or, colloquially, cans. The alternate in-ear versions are known as earbuds or earphones. In the context of telecommunication, a headset is a combination of headphone and microphone. Headphones either have wires for connection to a signal source such as an audio amplifier, radio, CD player, portable media player, mobile phone, electronic musical instrument, or have a wireless device, which is used to pick up signal without using a cable.

The different types of headphones have different sound reproduction characteristics. Closed-back headphones, for example, are good at reproducing bass frequencies. Headphones that use cables typically have either a 1/4 inch jack or an 1/8 inch jack for plugging the headphones into the sound source.

A B C D E F G H I J K L M N O P Q R S T U V W X Y Z

- A -

6,000+ Headphones at Amazon.com - as of December 25, 2022.
Adidas sport headphones - since 2018. "Power your workout with sport headphones that keep you tuned in so you can take your performance to new levels. From running headphones to noise-canceling wireless earbuds and self-charging headphones, our sport Bluetooth headphone range will expand your training experience. Including features such as superior sound, ergonomic design, sweat-proof and water-resistant materials, you can rely on adidas Headphones to follow all your movements and keep the music going. Our range even includes headphones that convert all forms of natural and artificial light into battery life using Exeger's Powerfoyle technology, a groundbreaking light cell material. Whether you're charging up for exercise or recharging during downtime, adidas Headphones has got you covered every step of the way."
AKG - since 1947. "Headphone with quality sound!" In-Ear, On-Ear & Over-Ear. All models.
Altec Lansing - since 1936. "Headphones & Earbuds" All models.
Amazon Echo Buds - "Wireless earbuds with immersive sound, active noise reduction, and Alexa." Immersive sound - Premium speaker drivers deliver crisp, dynamic audio. Bose Active Noise Reduction Technology and sealed in-ear design limits background noise. Hands-free with Alexa - Echo Buds work with the Alexa app to stream music, play Audible audiobooks, make calls, or get directions—just ask. Access other assistants - Supports access to Siri or Google Assistant from a supported device—just press and hold your earbud.
ampsandsound - since 2013. "Our headphone amplifiers are the truest expression of our mission to bring tested designs and minimalist values to personal audio. We have chosen to utilize only single-ended, zero feedback tube designs to bring back warmth and musicality to personal audio. Each model balances the desire for power, the need for quiet operation and the desire for wide bandwidth. The ampsandsound sonic signature closely approximates the best aspects of the classic tube sound of the 50's (maximum midrange bloom), supplementing it with a modern bass signature and transient speed. We have chosen a few of our favorite designs to bring to market."
Apple - since 1976. "Headphones & Speakers." All models.
5 new features coming to AirPods Pro 2 - "Adaptive Audio, Conversation Awareness, Mute or Unmute, Personalized Volume, and Automatic Switching improvements will be available through a free software update. We expect iOS 17 and the new AirPods firmware to be released in September."
Apple Adaptive Audio for AirPods - what it is & how it works - "Everything we know about the new AirPods feature."
APPLE AIRPODS MAX REVIEW: LUXURIOUS SOUND FOR A LUXURY PRICE - "Apple's over-ear headphones have tremendous build quality and sound, but there's no denying they're expensive."
Apple AirPods Max are getting left behind, so are new Apple headphones coming this year? - "Adaptive Audio and other genuinely useful new features are exclusive to the second-gen AirPods Pro. How long will Apple wait before turning its attention back to headphones?"
Apple AirPods Pro (second-gen) review: same look, better everything else - "Redesigned inside but not out, the new AirPods Pro are destined to be another hit - even if the magic is waning."
Apple explains how AirPods Max low-power modes work - "No, you don't need the Smart Case to enter low power mode."
Apple's $549 AirPods Max can't play lossless Apple Music - even when plugged in - "But Apple Music's new spatial audio feature will work on all AirPods."
Apple's new $19 EarPods are a smarter purchase than the $549 AirPods Max - "Lossless and USB-C for less than $20. When Apple unveiled the iPhone 15 series with USB-C last week, the company didn't forget about wired headphone fans. Apple updated its EarPods for the first time since 2016, giving them a USB-C connector too - and if you need a pair of headphones, you might want to give them a look."
Apple's next AirPods Pro may check your hearing health & take your temperature - "Along with switching to USB-C, Apple could be adding new health features - but we may not see them soon."
Bose QuietComfort Ultra Earbuds vs AirPods Pro: which is best? - "Premium ANC earbuds go up against each other - which will win? They're super convenient, sound great, pack top-notch noise cancellation, and have plenty of premium features that blast out the competition."
How to update AirPods firmware - "Learn how to update AirPods firmware to make sure you're running the latest version."
Montblanc Glossy Leather Pouch for Apple AirPods Pro - "With its shiny black color and matte black metal fittings, this pouch is specifically designed for Apple AirPods Pro. Thanks to a ring and a backside loop with press stud, the pouch can be worn according to your preference."
'Sneaky' hack to connect your wireless headphones to your airplane TV - "It's still in 'beta' mode, but you can now sneakily connect your wireless headphones to some airlines' inflight entertainment systems."
The Problem With Your Dying AirPods & Other Bluetooth Earbuds - "When earbuds' tiny lithium-ion batteries die, they can't be replaced."
Astell&Kern - since 1924. "Be the Ultimate." Earphones & headphones. All models.
Audeze - since 2008. "Uncompromised Audio." Whether you're an audio professional, experienced listener, immersion-focused gamer, or just embarking on your audio journey, there's an industry-leading Audeze product that's perfect for you. With Audeze's years of experience and ground-breaking patents, we have a series designed with you in mind. All models.
Audio-Technica - since 1962. "Always listening." All models.
AUDIOCUBES - since 2001. "Japan's Best Kept Secrets. Delivered." Headphones & Earphones. All models.
BANG & OLUFSEN - since 1925. Headphones & earsets. All models.
BEATS BY DRE - since 2008. Headphones, Earbuds & Earphones. All models.
beyerdynamic - since 1924. Headphones & Headsets. All models.
BlackPods Classic High Gloss Black Apple AirPods - BlackPods / Electronic Finishing Solutions is an aftermarket electronic customization service.
Blue - "Premium Wireless Noise-Cancelling Headphones with Audiophile Amp."
BOQARI Q1M - Metal Earbuds Headphones with Mic and Travel Case (Noir Black).
BOSE - since 1964. Earphones, over-ear headphones, wireless headphones, noise cancelling headphones & aviation headsets. All models.
Bose QuietComfort 45 review: A worthy update to a noise-cancelling classic - "The design hasn't changed, but there are notable updates to the tech inside."
BOWERS & WILKINS - since 1966. "The Purest Listen." Wired & wireless headphones & earphones. All models.
Bowers & Wilkins celebrate 60 years of Bond with Px8 007 Edition wireless headphones - "Five-star noise-cancellers get a James Bond-themed makeover."
Bowers & Wilkins Px8 review: Incredible sound comes at a cost - "The $699 headphones sound amazing, but other areas are lacking."
Bragi - The Dash - "Experience the world's first wireless smart earphones." 'The smartest earbuds on the planet' - engadget.
Bragi - The Headphone - "Bragi's New Earphones Are Perfect for the iPhone 7, Probably" - Wired.

A B C D E F G H I J K L M N O P Q R S T U V W X Y Z

- C -

CREATIVE - "Music to your ears." All models.

A B C D E F G H I J K L M N O P Q R S T U V W X Y Z

- D -

DENON - since 1910. In-Ear & Over-Ear Headphones, Noise Canceling Headphones. All models.
Devialet Gemini II - since 2007. "(Im)permeable Sound. Second generation. Second to none." Second-generation Devialet Gemini II True Wireless earbuds packs a suite of enhanced tech to take you even deeper into pure sound. Transforming fifteen years of acoustics R&D and engineering into a smaller design, now with adaptive noise cancellation, improved ergonomy, and enhanced connectivity.
Devialet's hugely expensive wireless earbuds promise luxury design & improved sound - "Will the premium Devialet Gemini II sound as good as they look?"
Dolby Dimension wireless headphones - "Binge Smarter." The first wireless headphones perfected for entertainment at home. Dolby LifeMix lets you control how much you hear of your surroundings, from a perfect blend of your entertainment and life around you (Transparency) to shutting out the world (Active Noise Cancellation). With Dolby LifeMix, Cinematic Sound, One-Touch Switching.
Dyson Zone - "Pure audio. Pure air. Anywhere." Advanced noise cancellation. Engineered for low sound distortion. Contact-free visor attaches to channel purified air. Connect to the MyDyson™ app for real-time environment updates. Air-purifying headphones with active noise cancelling. Dyson engineering expertise enabled us to develop our first wearable device. With a 2-stage purification system capable of filtering city fumes and pollutants.
Dyson's Zone air-purifying headphones start at $949 - "You can do your best Bane impression starting in March."
Here's what it's like to wear the Dyson Zone - "I channeled my inner Bane, but not a single jaded New Yorker gave Dyson's wearable air purifier a second glance."
My week with Dyson's absurd wearable air purifier - "The Dyson Zone is not the most practical device, but then again, did you really expect that from air-purifying noise-canceling headphones?"

A B C D E F G H I J K L M N O P Q R S T U V W X Y Z

- E -

Earin - since 2014. "Small Size. Big Sound." The world's smallest wireless earbuds.
Echo Buds - since 2019. "Wireless earbuds with immersive sound, active noise reduction, and Alexa." Immersive sound - Premium speaker drivers deliver crisp, dynamic audio. Bose Active Noise Reduction Technology and sealed in-ear design limits background noise. Hands-free with Alexa - Echo Buds work with the Alexa app to stream music, play Audible audiobooks, make calls, or get directions—just ask. Access other assistants - Supports access to Siri or Google Assistant from a supported device—just press and hold your earbud.
Even H3 Wireless Headphones - since 2014. "EVEN's award winning flagship Bluetooth model, featuring EarPrint technology that customizes sound to your unique hearing profile. Set your EarPrint, see how you hear and manage multiple EarPrints with the EVEN EarPrint App."

A B C D E F G H I J K L M N O P Q R S T U V W X Y Z

- F -

Final - since 1974. Earphones & Headphones. All models.
FOCAL - since 1979. "The Spirit of Sound | Listen Beyond." French manufacturer of hi-fi loudspeakers, drivers, monitors & headphones. All headphone collections.
Focal Utopia Review | What Are the Best Hi-Fi Headphones for Wild, Wired-In Sound? - "Focal's $4,999 Utopia headphones use pure beryllium drivers to transmit musical genius."

A B C D E F G H I J K L M N O P Q R S T U V W X Y Z

- G -

Google Pixel Buds Pro review: Google's best earbuds yet - "Active noise cancellation is finally part of the equation."
GRADO LABS - "Truly the world's finest Headphones and Cartridges." Our Third Generation. All models.

A B C D E F G H I J K L M N O P Q R S T U V W X Y Z

- H -

HARMAN / KARDON - since 1953. "The Harman Kardon headphone - for those who believe beautiful sound deserves to be seen." Earbuds, Over-Ear & On-Ear Headphones. All models.
Here One - "Everything else is just a headphone." Stream. Connect. Control. Create. The first all-in-one, truly wireless listening system. With two smart buds and a connected app, you can stream music, take phone calls, reduce unwanted noise, amplify speech, access Siri and Google Now, and more.
HIFIMAN - since 2007. "Innovating the Art of Listening." All models.
HIFIMAN SVANAR REVIEW - "Today we review the Hifiman Svanar, the all-new flagship IEM from the Chinese brand. A new model available for $1,999 USD. Terrific highs, great sound stage, precise vocals, you could only ask for more bass... but that was it! The catch? You could have the same sound, same performances and same design (colour aside) for one-third of the price if you got the Hifiman RE-400."
HUAWEI FreeBuds Pro - "Redefine Noise Cancellation." Cancel out the noise, dive into the beats. Voice hear-through, always stay connected. Feel the music with HUAWEI FreeBuds Pro. Immersive sound, inspiring style.

A B C D E F G H I J K L M N O P Q R S T U V W X Y Z

- I -

i.am+ - Bluetooth earphones.
iFi audio - since 2012. "Stairway to Heaven." Orpheus, Koss KS compatible headphone.

A B C D E F G H I J K L M N O P Q R S T U V W X Y Z

- J -

JABRA - "You're On." All models.
JAWBONE ERA - Bluetooth Headset.
Jaybird - "Wireless Buds | Bluetooth Headphones."
JBL REFLECT ETERNAL - "Self-Charging. Endless Playtime." Wireless headphones with virtually unlimited playtime. Powered by next-generation green tech. The JBL REFLECT Eternal is made possible by Exeger's groundbreaking light charging material that transforms natural and artificial light into free, sustainable energy.

A B C D E F G H I J K L M N O P Q R S T U V W X Y Z

- K -

KEF Ear & Headphones - all models.
Klipsch - since 1946. "Remaining true to its founder's vision, Klipsch continues to be the brand of choice for audiophiles and home theater aficionados around the world."
Kreafunk aHead - "Shut out the world and dance like nobody's watching." aHead are wireless headphones with Bluetooth and a built-in microphone that allows you to answer calls when wearing them.

A B C D E F G H I J K L M N O P Q R S T U V W X Y Z

- L -

LIBRATONE Q Adapt - "Adjust the World to Your Music." In-Ear ligtning powered earphones and Q Adapt On-Ear wireless Bluetooth headphones.
LOGITECH WIRELESS HEADSET H600 - Fold-and-Go wireless headset.
LOUIS VUITTON HORIZON BLACK & NEON GREEN EARPHONES - "Created in collaboration with Virgil Abloh, these luxurious earphones are the ideal travel companion. Their modern design combines a vibrant neon green color with an embossed Monogram signature, while the charging case evokes the concave lines of the Tambour Horizon watch. With market-leading sound quality and advanced features, they combine fashion sense with cutting edge audio technology."
Louis Vuitton Horizon Earphones - "These Louis Vuitton Horizon Wireless Earphones combine strong design with some of the best sound quality on the market. Supplied with a contemporary charging case in sandblasted stainless steel, they feature noise-cancelling and ambient-listening modes, alongside extended autonomy and wireless inductive charging. Festive and feminine, this red version is signed with red LV initials inside a polished gold-colored stud."
Louis Vuitton's Horizon Earphones Will Illuminate Your Listening Experience - "The third-gen light-up buds come in five colors and boast Master & Dynamic-approved sound quality."

A B C D E F G H I J K L M N O P Q R S T U V W X Y Z

- M -

Mark Levinson - "No. 5909 | Effortless luxury." Lose yourself in your music with the first-ever headphones from Mark Levinson, a pioneer in high-fidelity audio for the past 50 years. Reference-quality sound meets luxurious comfort in a lightweight and durable set of headphones featuring Adaptive Active Noise Cancellation (ANC) that's perfect for travel. Reveal the hidden details in your music – at home, on the go, or anywhere you find a moment to listen.
MARSHALL HEADPHONES - since 1962. "Lend Us Your Ears and We'll Play You a Song." In Ear, On Ear, Over Ear & Bluetooth. All models.
Master & Dynamic - since 2013. "High End Headphones & Sound Tools." Headphones & Earphones. All models.
Metaxas Audio Systems Metaxas Marquis Headphone Amplifier - since 1981. "The Marquis is as fast as the devil, has glow and spirit, temperament and cunning. It has fire."
Meze Audio - "Perfect natural sound. Meze wood audiophile headphones and earphones deliver high quality and warm natural sound to music lovers everywhere."
Microsoft Surface headphones - "Escape the ordinary." The smarter way to listen. Music and calls sound spectacular with active noise cancellation, rich audio, Bluetooth connectivity, and on-ear touch controls.
MONSTER - "Monster has your headphones, come get them." Headphones & In-Earphones. All models.
Montblanc MB 01 Smart Travel Over-Ear Headphone - "The Sound of Comfort." Add a new dimension to your travels with the new wireless over-ear Montblanc MB 01 headphones, combining high-end sound technology, fine materials and craftsmanship for a luxury headphone experience, no matter how far or fast you go. The new Montblanc MB 01 wireless headphones, crafted in aluminium, fine leather and robust silicon elevate the experience of travel and enjoyment of music to new levels. The ergonomic lightweight design with luxuriously soft leather ear cushions ensures lasting comfort on the longest journeys.
MrSpeakers - since 2012. "MrSpeakers designs and manufactures planar magnetic and electrostatic headphones in sunny San Diego, USA." All models.

A B C D E F G H I J K L M N O P Q R S T U V W X Y Z

- N -

Naim Audio Uniti Atom Headphone Edition - since 1973. "Relax at home, without distractions." The Uniti Atom Headphone Edition can transform any space into your own audio cocoon. Where typical headphone amplifiers demand tethering to a computer the Uniti Atom Headphone Edition has all the brains - and Naim's exclusive streaming platform. The headphone-optimised version of the multi-award-wining Uniti Atom also features Balanced 4-pin XLR and 4.4mm (Pentaconn) outputs; 6.3mm output, plus is compatible with an array of headphones - we suggest Focal as the perfect partner. Offering yet more flexibility, you can keep up to three headphones plugged in and switch sets depending on what you're listening to and when.
Naim Uniti Atom Headphone Edition REVIEW - "The Naim Uniti Atom Headphone Edition, of course, is jam-packed with all kinds of goodies. First of all, connectivity options are supremely comprehensive, at least for right now: Chromecast, Airplay, Tidal, Spotify Connect, internet Radio, Qobuz, Tidal Connect and more. (You'll get wireless updates when you're plugged into UPnP network.) Bluetooth, yes. Digital inputs (S/PDIF), yes. Analog outputs, yes. Multiroom functions, of course! Storage? Yes! HDMI ARC? Yup. Roon ready? How could it not be? Built-in Chromecast? Check. That big round Naim touch/turn dial that acts as the user interface? Naim is putting that on everything, including the monstrous Statement amps I've seen at the last couple of hi-fi shows. Yes, yes, yes."
Nothing Ear (1) - "Sound of change." Introducing Nothing ear (1). Raw beauty with precise engineering and state-of-the-art noise cancellation for a pure sound experience. Ultra light at 4.7g. Powerful 11.6mm speaker driver. Sound by Teenage Engineering. Active Noise Cancellation. Up to 34 hours of listening.
Nothing Ear 2 review: it's what's on the inside that counts - "The second-generation earbuds might look almost identical to the Ear 1s but with a $50 higher asking price. Lucky for Nothing, their sound quality is in a different league."

March 22, 2023

Nura - since 2015. "Award-winning personalised sound." NuraTrue Pro. Redefining the standard for wireless earbuds. The world's first earbuds with lossless audio and personalised sound.
I tried NuraTrue Pro's lossless audio earbuds & now I doubt my hearing - "All the odds were in my favor, but Nura's app said otherwise."

A B C D E F G H I J K L M N O P Q R S T U V W X Y Z

- O -

OnePlus Bullets Wireless - "Free Your Music."
OPPO - "Planar Magnetic Headphones." Natural, dynamic, and engaging sound quality.

A B C D E F G H I J K L M N O P Q R S T U V W X Y Z

- P -

PARROT - "The most advanced headphones."
PSB SPEAKERS - "Real Sound For Real People." All models.
PHILIPS - "The best listening experience." On- / Over- / In-Ear / Noise-Cancelling & Bluetooth headphones. All Models.
PIONEER - since 1960. "Perfect Sound on the Move and at Home." All models.
Pixel Buds Pro review: Google's best earbuds yet - "Active noise cancellation is finally part of the equation."
Pryma - "Look As Unique As You Listen."
PURITY - "Nokia Purity by Monster." On-Ear, In-Ear, Over-Ear Headphones. All models.

A B C D E F G H I J K L M N O P Q R S T U V W X Y Z

- Q -

Questyle NHB12 - "World's First True Lossless Earphone for Apple Music Lossless." The NHB12 supports Hi-Res lossless music reproduction up to 192kHz and 24bit. Enjoy the unparalleled, plug & play lossless music experience. Integrated DAC and Current Mode Amplifier, providing the unparalleled sound quality.The sample rate indicator displays one light for standard lossless quality and two lights for Hi-Res lossless quality when receiving music.
Forget AirPods Pro 2, these 'made for iPhone' wired earbuds deliver true lossless audio - "These 'made for iPhone' wired earbuds are what Apple Music lossless audio users have been waiting for, but there's a catch. Questyle's wired earbuds deliver true lossless audio for iPhones."

A B C D E F G H I J K L M N O P Q R S T U V W X Y Z

- R -

RHA - "Sound.Engineered." High Quality Headphones & Earphones. All models.
Rosson Audio Design - since 2018. "Custom Planar Magnetic Headphones." We create custom high performance unique headphones.

A B C D E F G H I J K L M N O P Q R S T U V W X Y Z

- S -

SENNHEISER - since 1945. "The Headphones You Want." No matter what you expect from your headphones or headset: There is a Sennheiser for you, offering high-quality design and the legendary Sennheiser sound. All models.
Sennheiser IE 200 earbuds review: reconnecting with music - literally - "We all get tired of Bluetooth sometimes, and the IE 200s are a nice reminder of what we've lost by trading the headphone jack for wireless convenience and platform-specific earbud features."
Sennheiser IE 600 earbuds combine audiophile sonics with aerospace materials - "New wired in-ears to slot in between the IE 300 and IE 900."
Sennheiser Momentum 4 review: tremendous noise-cancelling headphones - "The fourth-generation of the Momentum Bluetooth headphones from the renowned German audio manufacturer Sennheiser are a wholesale redesign, ditching their previous retro styling for something simpler and much more comfortable. All this with 60-hours of battery life."
SHURE - since 1925. All models.
SKULLCANDY - all models.
SONY - "Casual, studio monitor, or audiophile, Sony has headphones for all." All models.
Sony's headphone app will soon analyze your ears for 360 audio - "More immersive sound is nearly ready for your phone."
Sony's latest neckband speaker supports Dolby Atmos - "The $300 SRS-NS7 can also stream 360 Reality Audio from your phone."
SPL Phonitor xe review - "Headphone obsessives should form a queue here."
STEEL SERIES - "Gaming Headsets with Best Audio Quality." All models.

A B C D E F G H I J K L M N O P Q R S T U V W X Y Z

- T -

T+A - since 1978. "Engineering Emotion." Solitaire P & T Headphones & Headphone Amplifier.
Why These New Ultra-Premium Headphones Are Some of the Best We've Ever Tested - "The Solitaire P headphones and HA 200 amplifier work together to reveal previously unheard layers of a recording." Robb Report.
Tea - Ultraslim Hi-Res Headphone Amplifier - "High Definition Music. Lossless Streaming Audio." MagSafe compatible: "Khadas Tea" magnetically attaches to your iPhone 12 or newer smartphone, or an Android phone equipped with a MagSafe compatible case. No more messy wires and dongles, just freedom of pure style. 'Tea' measures just 7.95mm at its thickest point, which means it can still comfortably slip into your pocket even when magnetically attached to your smartphone. 'Tea' brings back the analog audio jack to your smartphone with 3.5mm output, so you can use your favourite high-fidelity headphones to listen to lossless streaming audio directly from your streaming app. Supports up to 300 ohm impedances.
Tonino Lamborghini - "Pure Italian Talent." Earphones. All models.
Trust - all models.

A B C D E F G H I J K L M N O P Q R S T U V W X Y Z

- U -

Ultimate Ears UE FITS earbuds - "A Perfect Fit in 60 Seconds." Your search for the perfect pair of earphones has finally come to an end! UE FITS are the world's first Quick Custom-Fit, Truly Wireless earbuds that mold to the unique shape of your ears in under 60 seconds. These revolutionary earphones are designed to provide you with the perfect fit, delivering all-day comfort and premium sound. Limited Units Available. Be The First To Receive Them.
Ultrasone - since 1990. "THE headphone company - Highest Quality, Innovation, Great Service!" Made with love in Bavaria. All models.
Urbanears - On-Ear, Wireless & Earbuds headphones & headsets. All models.

A B C D E F G H I J K L M N O P Q R S T U V W X Y Z

- V -

V-Moda - "Award-Winning headphones with the highest quality standards in the world. Milano Design, Globally Engineered." In ear,on ear and over ear headphones give you a unique sound signature with fashion forward design.
VERTU Bluetooth Headset - since 1998.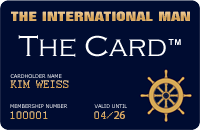 Upcoming VIP Privilege Membership Card
The International Man will in the near future be launching its own PRIVILEGE & BENEFIT VIP MEMBERSHIP CARD - named simply 'The Card'. Members will receive special privileges, benefits and preferential rates with selected partner hotels, restaurants, our LUXURY WEBSHOP, and more. Enter your name and e-mail address to receive FREE INFO about 'The Card' HERE.
RETURN TO TOP OF PAGE