Top 40 High-End Audiophile Headphones & Earphones

HEADPHONE (or "head-phones" in the early days of telephony and radio) are a pair of small loudspeakers that are designed to be held in place close to a user's ears. They are also known as earspeakers, earphones or, colloquially, cans. The alternate in-ear versions are known as earbuds or earphones. In the context of telecommunication, a headset is a combination of headphone and microphone. Headphones either have wires for connection to a signal source such as an audio amplifier, radio, CD player, portable media player, mobile phone, electronic musical instrument, or have a wireless device, which is used to pick up signal without using a cable.

The different types of headphones have different sound reproduction characteristics. Closed-back headphones, for example, are good at reproducing bass frequencies. Headphones that use cables typically have either a 1/4 inch jack or an 1/8 inch jack for plugging the headphones into the sound source.

A B C D E F G H I J K L M N O P Q R S T U V W X Y Z

- A -

79,935 Headphones & Heatsets at Amazon.com - as of November 24, 2017.
AKG - since 1947. "Headphone with quality sound!" In-Ear, On-Ear & Over-Ear. All models.
Altec Lansing - since 1936. "Headphones & Earbuds" All models.
Apple - headphones. All models.
Astell&Kern - since 1924. "Be the Ultimate." Earphones & headphones. All models.
Audeze - "Uncompromised Audio." Headphones. All models.
Audio-Technica - "always listening." All models.
AUDIOCUBES - "Japan's Best Kept Secrets. Delivered." Headphones & Earphones. All models.
BANG & OLUFSEN - since 1925. Headphones & earsets. All models.
BEATS BY DRE - Headphones, Earbuds & Earphones. All models.
beyerdynamic - Headphones & Headsets. All models.
BlackPods Classic High Gloss Black Apple AirPods - BlackPods / Electronic Finishing Solutions is an aftermarket electronic customization service.
Blue - "Premium Wireless Noise-Cancelling Headphones with Audiophile Amp."
BOQARI Q1M - Metal Earbuds Headphones with Mic and Travel Case (Noir Black).
BOSE - earphones, over-ear headphones, wireless headphones, noise cancelling headphones & aviation headsets. All models.
BOWERS & WILKINS - headphones & earphones. All models.
Bragi - The Dash - "Experience the world's first wireless smart earphones." 'The smartest earbuds on the planet' - engadget.
Bragi - The Headphone - "Bragi's New Earphones Are Perfect for the iPhone 7, Probably" - Wired.

A B C D E F G H I J K L M N O P Q R S T U V W X Y Z

- C -

CREATIVE - "Music to your ears." All models.

A B C D E F G H I J K L M N O P Q R S T U V W X Y Z

- D -

DENON - In-Ear & Over-Ear Headphones, Noise Canceling Headphones. All models.
Dolby Dimension wireless headphones - "Binge Smarter." The first wireless headphones perfected for entertainment at home. Dolby LifeMix lets you control how much you hear of your surroundings, from a perfect blend of your entertainment and life around you (Transparency) to shutting out the world (Active Noise Cancellation). With Dolby LifeMix, Cinematic Sound, One-Touch Switching.

A B C D E F G H I J K L M N O P Q R S T U V W X Y Z

- E -

Even H3 Wireless Headphones - "EVEN's award winning flagship Bluetooth model, featuring EarPrint technology that customizes sound to your unique hearing profile. Set your EarPrint, see how you hear and manage multiple EarPrints with the EVEN EarPrint App."

A B C D E F G H I J K L M N O P Q R S T U V W X Y Z

- F -

Final - since 1974. Earphones & Headphones. All models.
FOCAL - since 1979. "The Spirit of Sound | Listen Beyond." French manufacturer of hi-fi loudspeakers, drivers, monitors & headphones. All headphone collections.

A B C D E F G H I J K L M N O P Q R S T U V W X Y Z

- G -

GRADO LABS - "Truly the world's finest Headphones and Cartridges." Our Third Generation. All models.

A B C D E F G H I J K L M N O P Q R S T U V W X Y Z

- H -

HARMAN / KARDON - "The Harman Kardon headphone - for those who believe beautiful sound deserves to be seen." Earbuds, Over-Ear & On-Ear Headphones. All models.
Here One - "Everything else is just a headphone." Stream. Connect. Control. Create. The first all-in-one, truly wireless listening system. With two smart buds and a connected app, you can stream music, take phone calls, reduce unwanted noise, amplify speech, access Siri and Google Now, and more.
HIFIMAN - since 2007. "Innovating the Art of Listening." All models.

A B C D E F G H I J K L M N O P Q R S T U V W X Y Z

- I -

i.am+ - Bluetooth earphones.
iFi audio - since 2012. "Stairway to Heaven." Orpheus, Koss KS compatible headphone.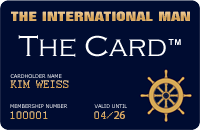 Upcoming VIP Privilege Membership Card
The International Man will in the near future be launching its own PRIVILEGE & BENEFIT VIP MEMBERSHIP CARD - named simply 'The Card'. Members will receive special privileges, benefits and preferential rates with selected partner hotels, restaurants, our LUXURY WEBSHOP, and more. Enter your name and e-mail address to receive FREE INFO about 'The Card' HERE.
RETURN TO TOP OF PAGE