World's Top 900 Best Gourmet Foods and Suppliers

"Tell me what you eat, and I will tell you what you are." - Jean Anthelme Brillat-Savarin.

"A gourmet who thinks of calories is like a tart who looks at her watch." - James Beard.

"No man under forty can be dignified with the title of gourmet." - Jean Anthelme Brillat-Savarin.

A DELICACY is a food item that is considered highly desirable in certain cultures. Often this is because of unusual flavors or characteristics or because it is rare. Delicacies are different across different countries and ages. Flamingo tongue was a highly prized dish in ancient Rome, but is not eaten at all in modern times. Lobsters were considered poverty food in North America until the mid-19th century, when they started being treated as they were in Europe, a delicacy. Some delicacies are confined to a certain culture, such as fugu in Japan, bird's nest soup (made out of swiftlet nests) in China and ant larvae (escamoles) in Mexico.

GOURMET is a cultural ideal associated with the culinary arts of fine food and drink, or haute cuisine, which is characterised by elaborate preparations and presentations of large meals of small, often quite rich courses. The term and its associated practices are usually used positively to describe people of refined taste and passion. For some, it holds a negative connotation of elitism or snobbery.

A GOURMAND is a person who takes great pleasure in food. The word has different connotations from the similar word gourmet, which emphasises an individual with a highly refined discerning palate, but in practice the two terms are closely linked, as both imply the enjoyment of good food.

Gourmet may describe a class of restaurant, cuisine, meal or ingredient of high quality, of special presentation, or high sophistication. In the United States, a 1980s gourmet food movement evolved from a long-term division between elitist (or "gourmet") tastes and a populist aversion to fancy foods. Gourmet is an industry classification for high-quality premium foods in the United States. In the 2000s, there has been an accelerating increase in the American gourmet market, due in part to rising income, globalization of taste, and health and nutrition concerns. Individual food and beverage categories, such as coffee, are often divided between a standard and a "gourmet" sub-market.

The word gourmet is from the French term for a wine broker or taste-vin employed by a wine dealer. Friand was the reputable name for a connoisseur of delicious things that were not eaten primarily for nourishment: "A good gourmet", wrote the conservative eighteenth-century Dictionnaire de Trévoux, employing this original sense, "must have le goût friand", or a refined palate. In the eighteenth century, gourmet and gourmand carried disreputable connotations of gluttony, which only gourmand has retained. Gourmet was rendered respectable by Monsieur Grimod de la Reynière, whose Almanach des Gourmands, essentially the first restaurant guide, appeared in Paris from 1803 to 1812. Previously, even the liberal Encyclopédie offered a moralising tone in its entry Gourmandise, defined as "refined and uncontrolled love of good food", employing reproving illustrations that contrasted the frugal ancient Spartans and Romans of the Republic with the decadent luxury of Sybaris.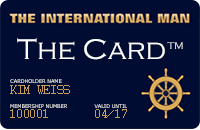 Upcoming VIP Privilege Membership Card
The International Man will in the near future be launching its own PRIVILEGE & BENEFIT VIP MEMBERSHIP CARD - named simply 'The Card'. Members will receive special privileges, benefits and preferential rates with selected partner hotels, restaurants, our WEBSHOP, and more.
Enter your name and e-mail address to receive FREE INFO about 'The Card' HERE.