Top 175 Best Jewellers & High-End Designer Jewellery

"Pearls are always appropriate." - Jackie O.

"Big girls need big diamonds." - Elizabeth Taylor.

"People will stare. Make it worth their while." - Harry Winston.

"Jewelry takes people's minds off your wrinkles." - Sonja Henie.

"If I had my way, I'd wear jewelry, a great pair of heels and nothing else." - Jada Pinkett Smith.

"Jewelry has the power to be this one little thing that can make you feel unique." - Jennie Kwon.

"I have always felt a gift diamond shines so much better than one you buy for yourself." - Mae West.

The word JEWELLERY is derived from the word jewel, which was anglicised from the Old French "jouel" circa the 13th century. Further tracing leads back to the Latin word "jocale", meaning plaything. Jewellery is one of the oldest forms of body adornment; recently found 100,000 year-old beads made from Nassarius shells are thought to be the oldest known jewellery.

Jewellery is an item of personal adornment, such as a necklace, ring, brooch or bracelet, that is worn by a person. It may be made from gemstones or precious metals, but may be from any other material, and may be appreciated because of geometric or other patterns, or meaningful symbols.

Jewellery is sometimes seen as wealth storage or functionally as holding a garment or hair together. It has from very early times also been regarded as a form of personal adornment. The first pieces of jewellery were made from natural materials, such as bone, animal teeth, shell, wood and carved stone. More exotic jewellery was probably made for wealthy people or as indications of social status. In some cases people were buried with their jewellery.

Jewellery has been made to adorn nearly every body part, from hairpins to toe rings and many more types of jewellery. While high-quality jewellery is made with gemstones and precious metals, such as silver or gold.

A gemstone or GEM (also called a precious or semi-precious stone, or jewel) is a piece of mineral, which, in cut and polished form, is used to make jewelry or other adornments. However certain rocks, (such as lapis lazuli) and organic materials (such as amber or jet) are not minerals, but are still used for jewelry, and are therefore often considered to be gemstones as well.

Amber

Gold

GOLD - Wikipedia.
WORLD GOLD COUNCIL - the World Gold Council's mission is to stimulate and sustain the demand for gold and to create enduring value for its stakeholders. The organisation represents the world's leading gold mining companies.

50-gram CombiBar - "Is There Gold in Your Wallet?" Due to global banking and European currency crises, more and more investors have started to demand a higher number of small bars rather than few larger ones to increase their flexibility in the event of an economic crisis. CombiBars are similar in dimension to a credit card. Their convenient size means that a Combi Bar can be easily and discreetly carried in your wallet. Just like standard bullion, CombiBars and the individual bars from the CombiBars can be sold at any time to precious metal dealers at the current purchasing rates.
GOLDAVENUE GENÈVE - bullion ingots, bullion pendants, minted coins, IcOns.

Jade

THE JADE MINE - world's largest producer and exporter of nephrite Jade.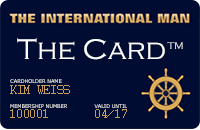 Upcoming VIP Privilege Membership Card
The International Man will in the near future be launching its own PRIVILEGE & BENEFIT VIP MEMBERSHIP CARD - named simply 'The Card'. Members will receive special privileges, benefits and preferential rates with selected partner hotels, restaurants, our WEBSHOP, and more.
Enter your name and e-mail address to receive FREE INFO about 'The Card' HERE.