Top Resources For Classical, Jazz & Popular Music

"Without music, life would be an error." - Friedrich Nietzsche.

"Where words fail, music speaks." - Hans Christian Andersen.

"Music is what feelings sound like." - Author unknown.

MUSIC is an art form whose medium is sound. Common elements of music are pitch (which governs melody and harmony), rhythm (and its associated concepts tempo, meter, and articulation), dynamics, and the sonic qualities of timbre and texture. The word derives from Greek (mousike), "(art) of the Muses". The creation, performance, significance, and even the definition of music vary according to culture and social context. Music ranges from strictly organized compositions (and their recreation in performance), through improvisational music to aleatoric forms. Music can be divided into genres and subgenres, although the dividing lines and relationships between music genres are often subtle, sometimes open to individual interpretation, and occasionally controversial.

The era of Baroque music (1600-1750) began when the first operas were written and when contrapuntal music became prevalent. German Baroque composers wrote for small ensembles including strings, brass, and woodwinds, as well as choirs, pipe organ, harpsichord, and clavichord. The music of the Classical period (1750-1800) is characterized by homophonic texture, often featuring a prominent melody with accompaniment. These new melodies tended to be almost voice-like and singable. In 1800, the Romantic era (1800-1890s) in music developed, with Ludwig van Beethoven and Franz Schubert as transitional composers who introduced a more dramatic, expressive style.

With 20th century music, there was a vast increase in music listening as the radio gained popularity and phonographs were used to replay and distribute music. Jazz evolved and became a significant genre of music over the course of the 20th century, and during the second half of that century, rock music did the same. Rock music is a genre of popular music that developed in the 1960s from 1950s rock and roll, rockabilly, blues, and country music. The sound of rock often revolves around the electric guitar or acoustic guitar, and it uses a strong back beat laid down by a rhythm section of electric bass guitar, drums, and keyboard instruments such as organ, piano, or, since the 1970s, digital synthesizers. In the late 1960s and early 1970s, rock music branched out into different subgenres, ranging from blues rock and jazz-rock fusion to heavy metal and punk rock, as well as the more classical influenced genre of progressive rock.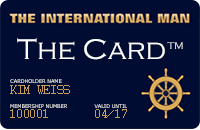 Upcoming VIP Privilege Membership Card
The International Man will in the near future be launching its own PRIVILEGE & BENEFIT VIP MEMBERSHIP CARD - named simply 'The Card'. Members will receive special privileges, benefits and preferential rates with selected partner hotels, restaurants, our WEBSHOP, and more.
Enter your name and e-mail address to receive FREE INFO about 'The Card' HERE.