Palm Beach & West Palm Beach: Millionaires Paradise

"There is more money, more champagne, more caviar, more Rolls-Royces, and of course, more affluence in Palm Beach than in all the rest of America put together." - Marjorie Merriweather Post.

The Town of PALM BEACH (called Palm Beach Island or the Island of Palm Beach to differentiate between the town and the county) is an incorporated town in Palm Beach County, Florida, United States. The Intracoastal Waterway separates it from the neighboring cities of West Palm Beach and Lake Worth. In 2000, Palm Beach had a year-round population of 10,468, with an estimated seasonal population of 30,000.

The coconut palms are the legacy of a drunken party held after a Spanish ship called the Providencia ran aground on January 9, 1878. Bound for Barcelona from Havana, the ship carried a cargo of hides, coconuts, and wine. The crew and local settlers consumed the wine, and the captain gave the Americans twenty thousand cocunuts. The palms that grew from the coconuts are still on the island, and the party is still going on.

In 1892 the palms entranced Henry Morrison Flager, a partner with John D. Rockefeller in Standard Oil Company, who decided to turn Palm Beach into America's Riviera and who made the Atlantic coast barrier island accessible via his Florida East Coast Railway. The nucleus of the community was established by Flagler's two luxury resort hotels, the Royal Poinciana Hotel and The Breakers Hotel. West Palm Beach was built across Lake Worth as a service town and has become a major city in its own right.

Flagler's houselots were bought by the beneficiaries of the Gilded Age, and in 1902 Flagler himself built a Beaux-Arts mansion, Whitehall, designed by the New York–based firm Carrère and Hastings and helped establish the Palm Beach winter "season" by constantly entertaining. The town was incorporated on April 17, 1911.

The Palm Beach SEASON begins after Thanksgiving and extends until the end of April. The HIGH SEASON - when the most prestigious social events take place - runs from January through March. George Washington's birthday being the apex of the Palm Beach season.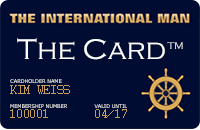 Upcoming VIP Privilege Membership Card
The International Man will in the near future be launching its own PRIVILEGE & BENEFIT VIP MEMBERSHIP CARD - named simply 'The Card'. Members will receive special privileges, benefits and preferential rates with selected partner hotels, restaurants, our LUXURY WEBSHOP, and more. Enter your name and e-mail address to receive FREE INFO about 'The Card' HERE.