Top 400 High-End Department Stores&Luxury Shops

"Right or wrong, the customer is always right." - Marshall Field.

"Only so many shopping days until Christmas." - Harry Gordon Selfridge.

"All my friends know that I'd rather shop than eat." - Wallis Simpson, Duchess of Windsor.

"The salesman knows nothing of what he is selling save that he is charging a great deal too much for it." - Oscar Wilde.

SHOPPING is the examining of goods or services from retailers with the intent to purchase at that time. Shopping is an activity of selection and/or purchase. In some contexts it is considered a leisure activity as well as an economic one.

To many, shopping is considered a recreational and diversional activity in which one visits a variety of stores in search of a suitable product to purchase. "Window shopping" is an activity that shoppers engage in by browsing shops with no intent to purchase, possibly just to pass the time between other activities, or to plan a later purchase.

More recently compulsive shopping is recognised as an addiction. Also referred as shopping addiction, "shopaholism" or formally oniomania, these shoppers have an impulsive uncontrollable urge to shop. The term "retail therapy" is used in a less serious context.

LIST OF DEPARTMENT STORES BY COUNTRY - Wikipedia.
LIST OF LARGEST SHOPPING MALLS IN THE WORLD - Wikipedia.
LIST OF LEADING SHOPPING STREETS AND DISTRICTS BY CITY - Wikipedia.
LIST OF WORLD'S MOST EXPENSIVE STREETS BY CITY - commercial & residential streets.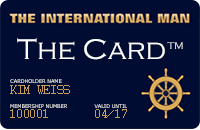 Upcoming VIP Privilege Membership Card
The International Man will in the near future be launching its own PRIVILEGE & BENEFIT VIP MEMBERSHIP CARD - named simply 'The Card'. Members will receive special privileges, benefits and preferential rates with selected partner hotels, restaurants, our WEBSHOP, and more.
Enter your name and e-mail address to receive FREE INFO about 'The Card' HERE.